seen/ read a lot and inspired by how/where all you Gs forumers keep your G Shocks; and I have been thinking of late too on creating a special place where all my Gs are within easy reach....
initially thought of buying a case like some of you, but decided against....
while at work, saw customized carton tray which my company use for storing components, and the lightbulb went off....got hold of 2 of such trays and rushed home to start work soon after.....
First, using the plastic fastener, i secure the carton tray on the window pane....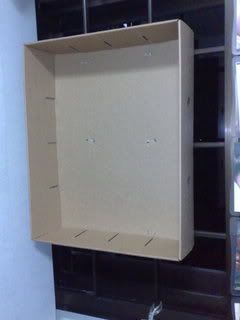 then, the compartments are added to form 16 equal pigeon holes....
then my lucky 8 G shocks find their own niches, my wife's 2 baby Gs decided to stay for the nite
and the whole thing seems to fit right into the clutter of my study :-d
costs me $0 in total!
i have 2 of such trays, meaning it can house 32 G Shocks. I have 8 so far, 24 to go :-s
can u guys also share where do you all keep your beloved g Shocks? Thanks!
P/S
BTW, I gave my 25th anni gulfman some wrist time tonite for about 2 hours, and i can safely say tt there are the most comfortable G shock i have worn by far! a stunningly beautiful and comfy watch!