Discussion Starter
·
#1
·
Walter Brennan? Singing? It can't get worse than this. Or can it?
​
A couple of weeks ago on one of the forums I was bemoaning the fact that I wanted a cheap Tudor snowflake hommage, and was having problems finding one. Then, a good pal of mine PM'd me and told me he had one that he wasn't wearing, and I could have it if I wished. I jumped at the chance, and a few days later, this bad boy showed up:
Now, a bit of backstory: My first "How Bad Can it Be?" was some months ago, when I tore Stauer a new one for their appalling bad Noire watch:
How Bad Can It Be? Part I--Stauer! - BDWF Forum Index Page
In this first review, I decided to see how difficult it was to find an automatic watch for around a hundred bucks; with the dollar weak and, let's face it, the Chinese economy strong, it should be difficult to find
any
auto for this price, but I decided to plunge in and see what was available.
The watch today is by an ebay seller and goes by the name--I think--of Tiger Concept. It's pretty much a stock Chinese case and bracelet, used, no doubt, by a hundred other fly-by-night companies to counterfeit the Rolex Submariner. It might be the exact same stock that Alpha uses in their branded watches; I don't have one on hand, so I can't say for sure. This one at least doesn't rip off Rolex too much--it's branded on the dial, and uses snowflake hands: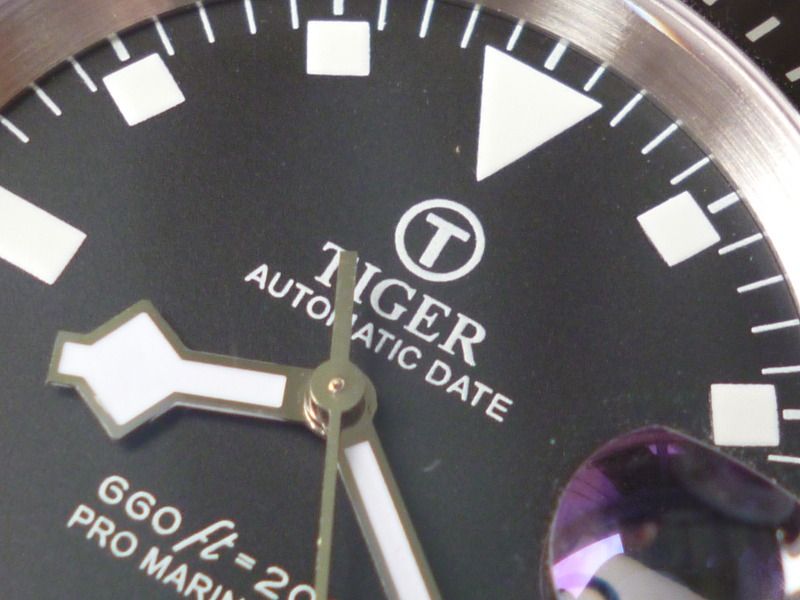 So I suppose it makes it closer to a Tudor hommage than anything else. The ebay site says it uses a "Pearl self-winding movement", whatever that is; I'm not sure, but it's definitely an automatic, with a 6-beat-per-second sweep. The same ebay seller shows a similar watch available, with Rollie-like Mercedes hands and a water resistance on the dial of 5000 meters (!). They also offer these things as kits, if you decide you can assemble a watch better than a child-laborer who's forced to work twenty hours a day.
Here's the rub: I was perfectly ready to assume that this watch would be every bit as horrible as the Stauer--but it isn't. It's not bad at all, really--and is some ways, it's quite good.
In terms of size, the TC is 40mm ten-to-four, 44.5 with the crown, 12.25mm thick. Lug to lug, it's 47.3mm. The bracelet is 19 and change at the lug, tapering pretty substantially to 16mm at the clasp. The links are a nice 3.7mm thick.
Okay, so the Chinese know how to use calipers and make a watch that's pretty much Sub-sized. How's about the rest of it?
The case is fairly well machined and finished--there's a lot of waviness in the reflection of the case sides where it's brightly polished, there are a few places where the brushing is a bit iffy, but there aren't any sharp edges left on the case--which is something that Deep Blue can't claim--and the edges of the bezel are well notched and the crown looks pretty good: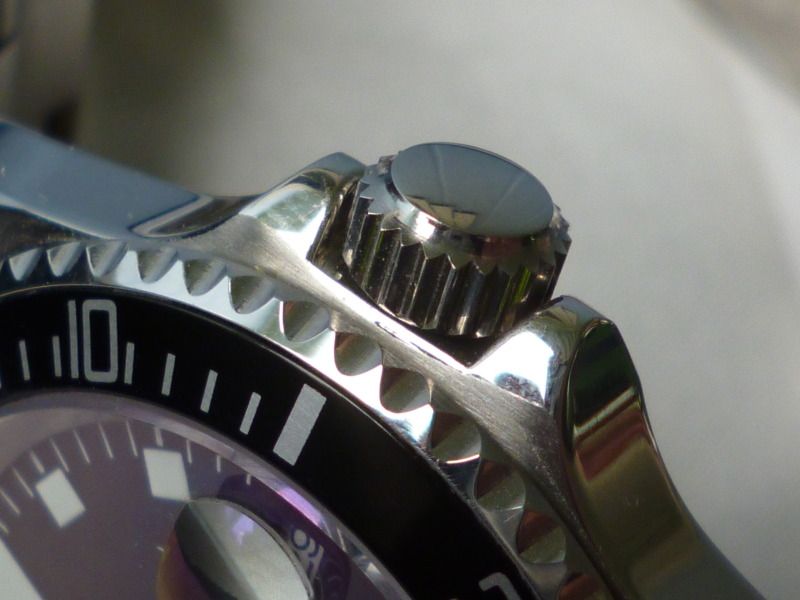 The bezel has the standard aluminum insert, turns okay (although it sits low on the case, and it's sometimes difficult to get a good grip) and seems to be a 120 click, although I really didn't bother counting. The markers on the bezel also line up perfectly with the hour markers--which is something that doesn't always happen with, say, Orient. The crystal I assume is mineral, with some sort of AR coating inside. The cyclops actually magnifies the calendar:
Which isn't something that Invicta can claim, although, admittedly, this is setting the bar pretty low.
The lume is weak, but it's there, and lasts for ten-to-fifteen minutes, long enough to drown, if somebody is dumb enough to use this as a diving instrument. It doesn't pass the Conjurer-quick-glance-inside-a-dark-car test, although, surprisingly, it is still bright enough to read after six hours on a dark early morning--it's actually better lume than on the Orient Mako XL--again, this is not saying much, but the XL costs at least twice as much as this watch.
The crown screws down--I don't know if it's water-tight to 200m, as the dial claims--and the winding doesn't sound gritty, like a Miyota 8215 can sound. The caseback is as sterile as nudist's convention at Chernobyl, but, again surprisingly, the endlinks appear to be solid: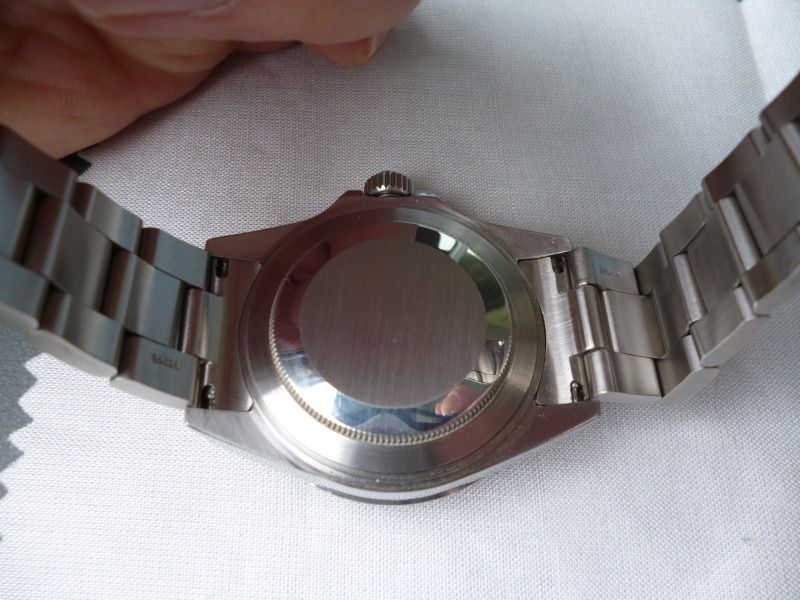 Like so many budget watches, the downfall here is in the bracelet. From the lugs to the clasp, it's OK, with screwed links and fairly substantial: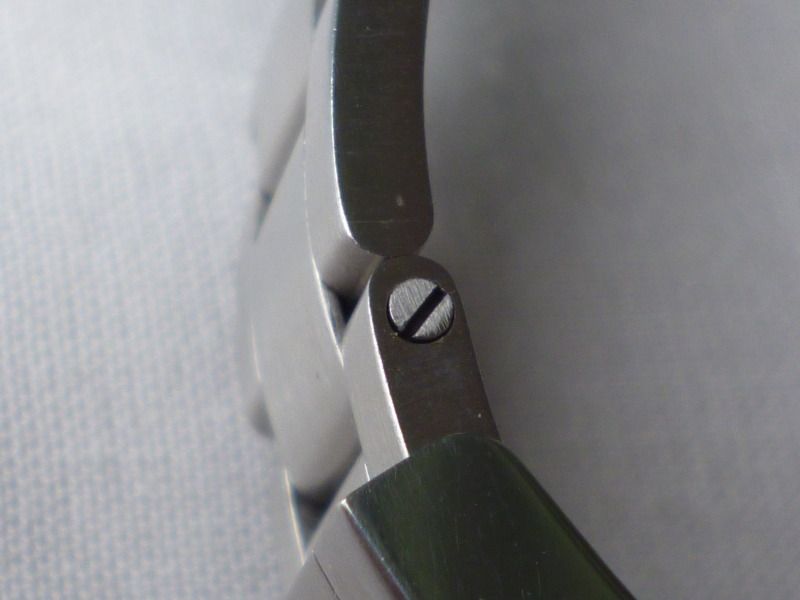 But then we get to the clasp, and if this Tiger's actually got big fangs, it's also got pyorrhea:
It's very cheap, stamped steel, with that stupid Rolex pretend-link engraving. The expansion part of the clasp is also stamped, the whole thing rattles alarmingly, and the safety-closure inspires dread. There's a diver's extension, but the less said about this, the better.
Again, I'm not sure what the "Pearl" movement is, but it's not too bad in the accuracy department--on the wrist, it runs about 20 seconds slow after about ten or twelve hours. Off the wrist, dial up on my nightstand, it stays perfectly accurate after seven hours at night. Normally I'm not that big an accuracy dork, but after wearing the TC for a few days, I was pretty impressed that I didn't have to reset it--perhaps there's so much variation in the movement--which is a bad thing, BTW--that maybe the watch, like Mr. Burns' multiple health issues on
The Simpsons
, reaches a weird stasis and runs pretty accurately.
On the wrist, the TC feels, well, good: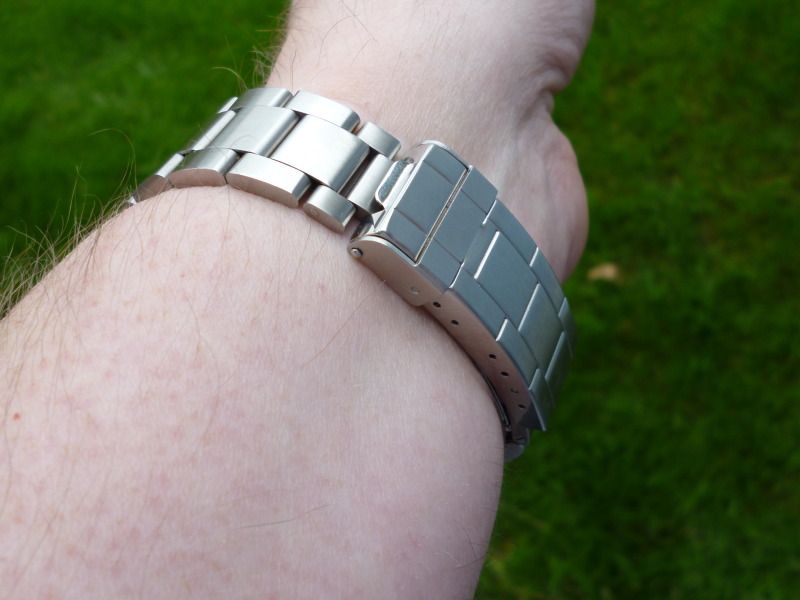 It's not like wearing a handcuff, it's light, it drapes well, and it feels OK--unlike some rather expensive boutique divers I've owned, which felt like--well, handcuffs. There's a fair amount of rattle, even on the wrist, which could be from the rotor inside, banging around, something that bodes ill for the lifespan of the watch. I've read on one of the forums somebody referring to the Rolex Sub-size as the Golden Mean in sport watches, and this may well be right.
In summation, I wore the Tiger Concept snowflake for about a week, off and on; I wore it doing a bunch of yardwork, which is about as active as I get, and no problems. One could be uncharitable and say that the Chinese have been pumping out these hommages for so long, they
should
know what they're doing by now, but Tiger Concept (or whatever the name of this company is) produced a surprisingly good watch, for pretty much no money, and that's saying something; overall, it's a better watch than some I've owned for a lot more cash.