Hello my fellow G-shock enthusiasts. I wanted to share with you guys a little mad science project that I conducted. I am a big fan of G's with colored displays, and I have often wondered what construction methods Casio used to achieve the look. As most of you know, I have been experimenting with colored gel filters with good results, but still the end product is just not quite as readable as colored displays from the factory. Through my research here, I found that most theories concluded that there was a transparent sheet of whatever color behind the LCD but in front of the rear reflective sheet that is attached to the back of the LCD with adhesive. Well tonight I discovered (others may have already known this) that it may often be much simpler than that. On some G-Shocks with colored displays there is simply a colored front polarizing sheet.
The watch I chose for this experiment was the blue 8900. I chose this watch because I have always loved the blue display and wondered how it worked, as well as the fact that the 8900 is often a relatively inexpensive model. Therefore, I have been keeping my eye on ebay for a cheap used one to use for science. Well, in a short period of time (and with some luck maybe) I was able to pick up a few that were in pretty bad condition. Of course condition didn't matter to me, as long as the module was working. I bought a few of them because I figured I could use one as a guinea pig to disassemble and figure out how the colored display was constructed, but my real hopes were that once I figured it out I may be able to harvest the materials to use on another watch. Turns out I may be able to do just that.
Here's the module from the watch as it comes from the factory. Kind of a "negative" display, but the negative part is blue, and the results are much more readable than most negative displays.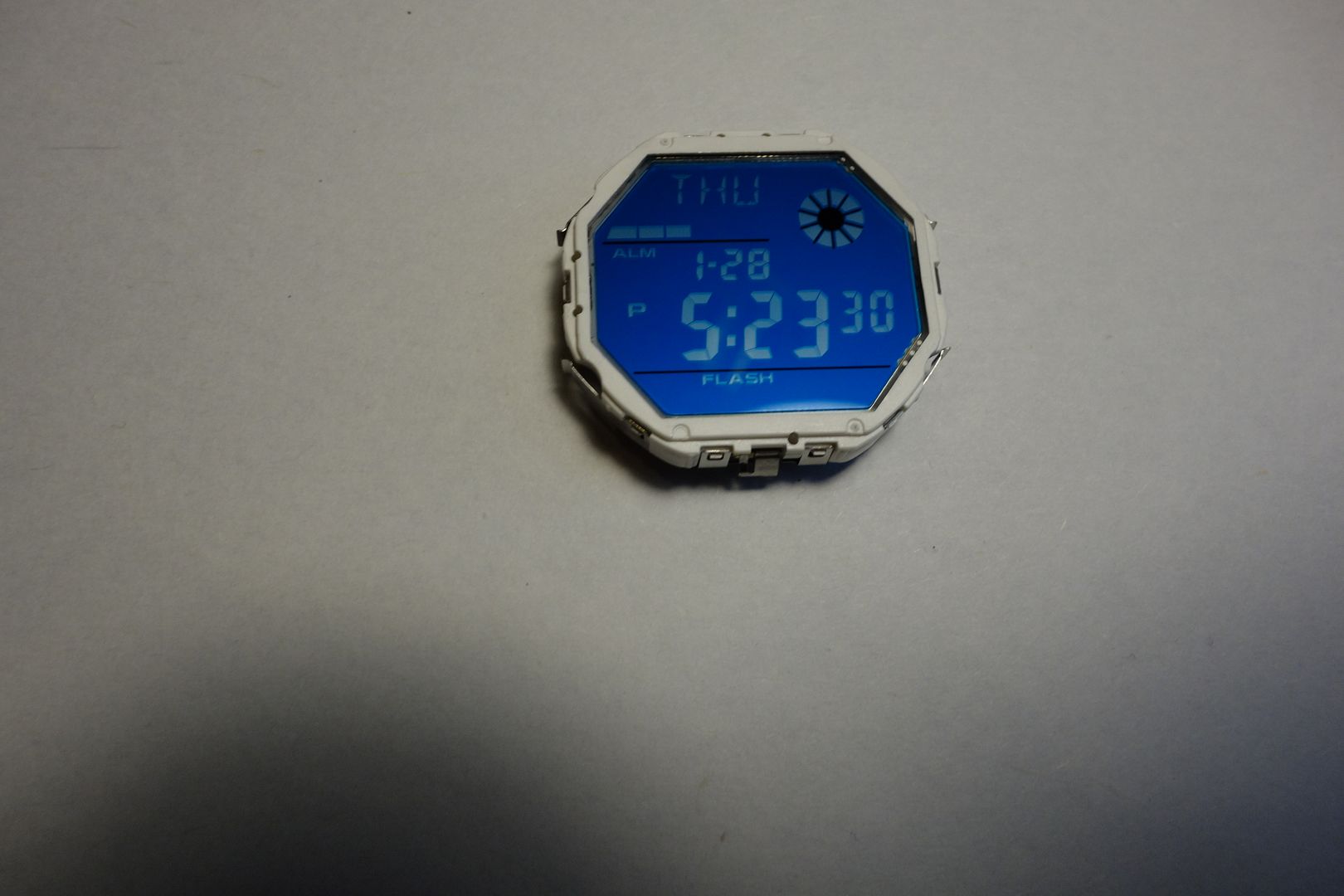 I first suspected that the blue may be in the front polarizer the other day, when I was wearing my own personal version of this watch and noticed something strange. I noticed that when wearing polarized shades and looking at this watch at an angle, unlike other G-Shocks which completely black out, on this watch only the digits blacked out but you could still read the display. Like this:
Also, I noticed that when looking at this watch straight on with polarized shades the blue appeared black. Like this: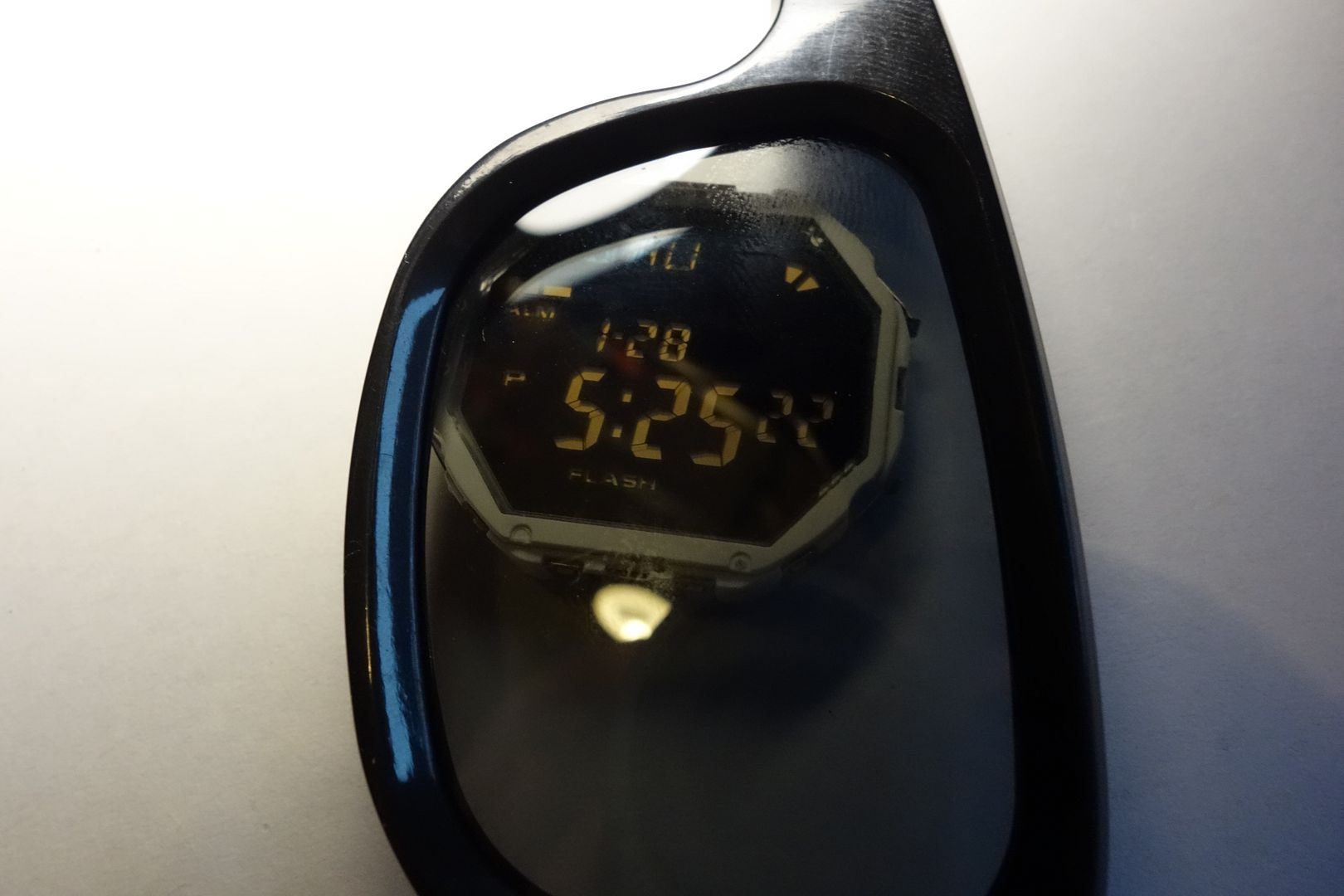 I wasn't really sure what to make of this, but I knew this obviously had something to do with the polarization film. This really got my hopes up that the blue color may come from the front polarizer, and could likely be harvested easily (and more importantly, possibly be used on other watches without disassembling the module).
Well tonight, I found that my hopes were true. I took the 8900 apart and carefully removed the front polarizer, and lo and behold...IT WAS BLUE :-!
And luckily because the 8900 has such a big display, this sheet can now be used to turn other watches blue, simply by removing the front polarizer and doing a mod similar to reversing a display. Here is the blue polarizer sitting atop a 1000 series Frogman module that I had in my parts bin, that just so happened to already have the front polarizer removed from a former project that was halted in progress.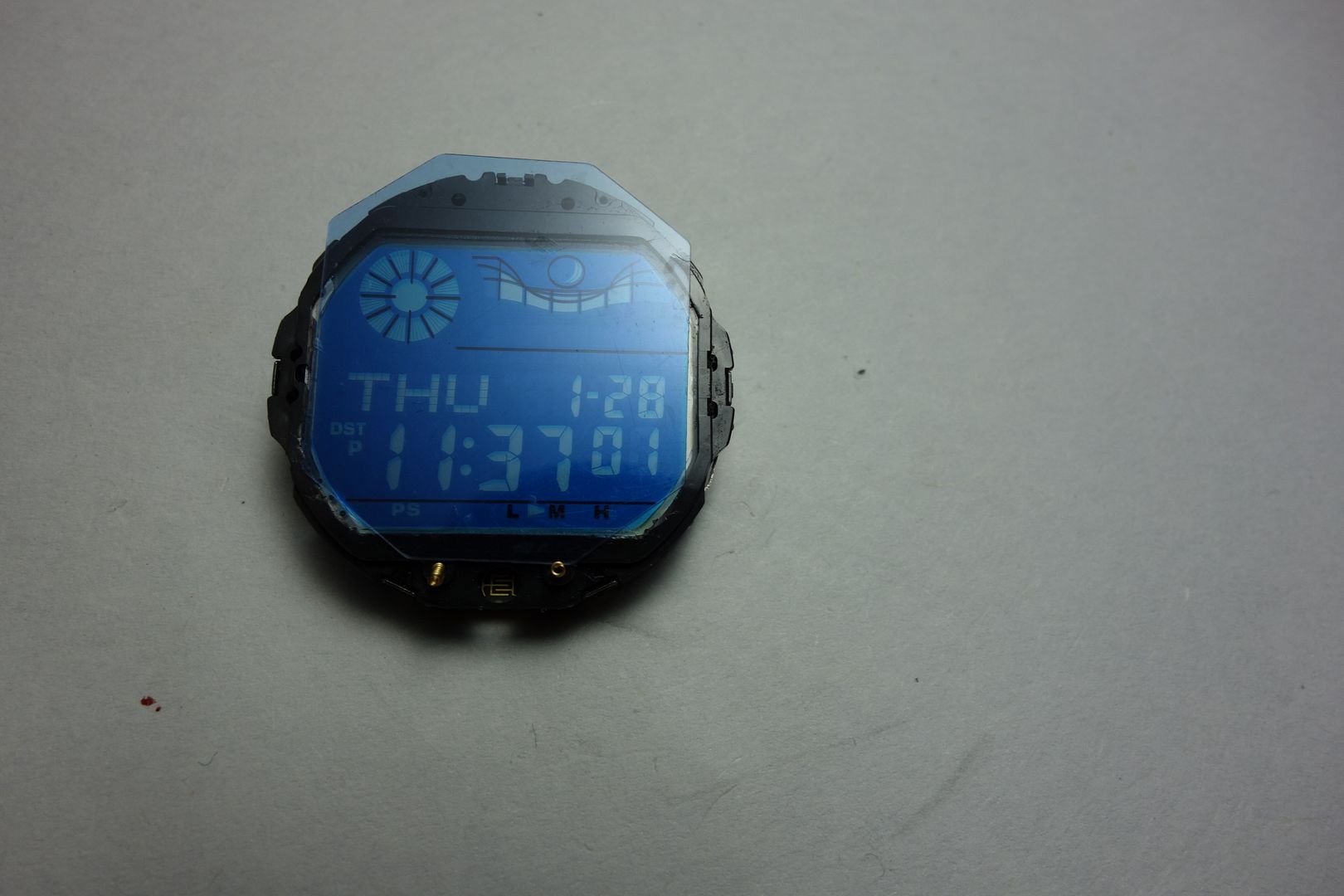 You can see that the polarizer needs to be turned sideways to achieve the desired effect, but again, due to the size of the 8900 there is plenty of material to cut it to whatever size needed. If you place the polarizer the other way, the digits turn blue with a normal gray background.
Obviously, if I were to make a watch using this material, I would have to find a way to attach it to the module because it no longer has the adhesive, but I'm sure I could figure something out. I bet I could even get it to stay in place with a press fit if I cut it properly. Also, in my haste to complete this experiment (I was just trying to figure out it's construction after all) I scratched the film a good bit when I was removing it and scraping off the adhesive. On my next try (I have two more of these modules), I may try to soak it in 99% alcohol to help remove the adhesive more delicately.
My results also beg one question. Is there anyone who knows of a source for polarizing sheets in bright colors like blue and red?? I have searched and spoken with other members via PM, and the best we could find was amber. However, if someone could find a good source, we could do these mods to our hearts desire. Until then, I will keep searching for heavily used 8900's on ebay to scavenge. As for now, I have the material to make a blue display, I just have to wait until I come up with the idea of which watch I want to use it on. It definitely looks cool on the frog...Aren't there rumors of a blue icerc Frogman this summer? Hmmm? We'll have to wait and see.
Take care friends