Hello my name is Hoochy and I am an idiot! Here is my dyeing guide!
My idea was to take a faded DW-9000 (not sure it was clear and yellowing or supposed to be yellow?) and make it more yellow!
This was partly after some of the excellent dye jobs around here and partly as I am jealous of the excellent yellow models seen here recently! ( Gawain )
Part 1
- Take your watch and remove bezel, screws pins etc

Part 2
- Get a pan (won't stain if washed afterwards) wooden spoon and a hob!)
Part 3
- Put dye in pan, boil water in the kettle and pour into the pan.
Part 4
- Use your disassembled watch to time 5 minutes.
Part 5
- Throw bezel and strap into pan. Bring water to boil again briefly and simmer whilst stiring.
Part 6
- After 5 minutes remove watch and place onto kitchen towel for a couple minutes, then rinse under tap!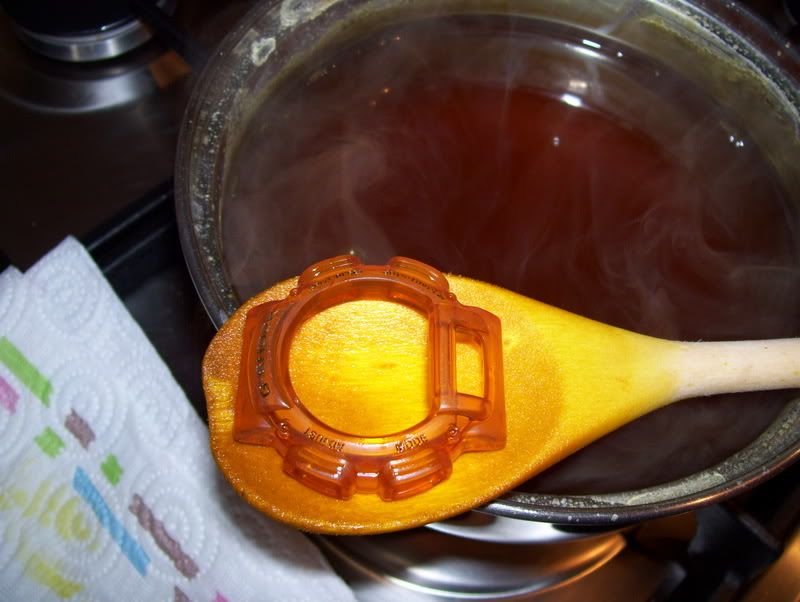 Now me being a bit of a Gimp forgot the basic colouring mixing principles and ended up with a nicotine orange colour instead of bright yellow. However it's quite nice and i am pleased!
Here's is the finished watch next to a previous dying attempt from a couple of months back with the same model watch. Both ebay bargains.
So in conclusion dying is easy and a simple way to re-juvinate an old watch (preferably a jelly) Just make sure you do your colour calculations first!