Discussion Starter
·
#1
·
Then this might be the place to go today (click the image):
LITTLE TREASURY WELCOMES
RICCARDO ZANNETTI FROM ZANNETTI HANDMADE WATCHES, ROME, ITALY
Event to be held Thursday, September 4, 2 p.m. to 8 p.m. at Little Treasury Jewelers
Special Reception 6 p.m. to 8 p.m.
[HR][/HR]Little Treasury Jewelers is hosting an event welcoming Riccardo Zannetti to the US for his first retail store visit in this country. Mr. Zannetti will present his collection and demonstrate the traditional craft techniques used in his workshops. A reception featuring Italian wine and light fare will be held from 6 p.m. to 8 p.m. Little Treasury is just one of three authorized dealers for Zannetti in the US and is proud to host this first store visit.
Right: Palatino Compass Rose.. Champlevé with semi-transparent enamel.
Zannetti Handmade Watches
operates from a personal laboratory located in Via Monte d'Oro, in the Campo Marzio area of Rome. In their workshops they produce timepieces that are unique and impossible to copy, using age-old techniques of engraving, champlevé, micromosaic, and other traditional methods. The harmony of the old-style workshop and their products stand in stark contrast to the computer generated designs and CNC machined timepieces that so dominate the current fine watch scene.
Left: Regent Sailing. Hand engraved and hand painted dial.[HR][/HR]At the event, visitors will have the chance to interact with Mr. Zannetti, who will discuss the traditional methods used in his workshops and show examples from his collections. And he will actually hand sketch custom dial designs in response to customer requests.
Right: Mr. Zannetti sketching a custom watch dial.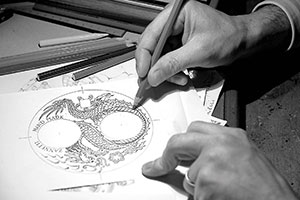 [/h] Zannetti watches express all sorts of design themes, as far as the imagination can range: autos, boats, music, gambling, erotic, animals, abstract, and on.
Left: Regent Regatta. Champlevé with semi-transparent enamel.[HR][/HR]Join us for Italian wines and canapésThursday Evening, 6 p.m. to 8 p.m.
[/URL] Little Treasury Jewelers
In the Village at Waugh Chapel
2506 New Market Lane
Gambrills, MD 21054
410-721-7100
[HR][/HR]