I've been checking in and out of this forum for a couple of weeks. It has made me realise that there are some utterly fantastic watches in this world. Sadly, the majority of the obsure makes are well beyond my budget.
I've had this one for many years. It is a Citizen Eco Drive. It's rather battered as it has been on my wrist through thick and thin. It's as hard as nails and has seen many nails as I have worked on our house and garden. It has always "just" worked and been utterly reliable.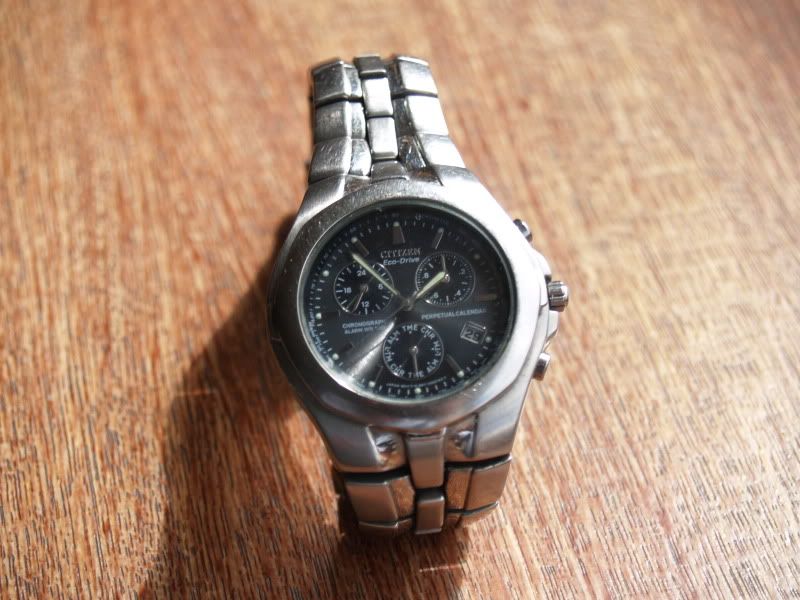 I've always wanted something a little more special. The finances have always put an end to that. The recent credit crunch hasn't helped.
Partly through this forum and partly through general surfing, I discovered that there are ways to buy pre owned watches without paying through the nose. For a while I considered approaching an internet dealer - eBay being too risky.
Then, just over a week ago I stumbled across something on TZ which interested me. My wife gave me the green light and this time piece became mine. It may not be everybody's cup of tea but I utterly love it.
The watch is two years old and has just returned from Omega following a full service and a clean. It looks like it is brand new. I totally love this thing to bits. It's so nice to wear, so understated and so lovely.
It's a keeper for me.
The start of a slippery slope......