Discussion Starter
·
#1
·
There just isn't much written about the recent Zodiac heritage models, except for a bit about the Sea Wolf 53 Skin. So, since this came to me this week, I thought I'd write a bit about if for those who search in WUS.
Zodiac is an old brand, established by Ariste Calame in 1882. It was family-owned until 1978, when they could no longer sustain operations in their traditional workshops in Le Locle.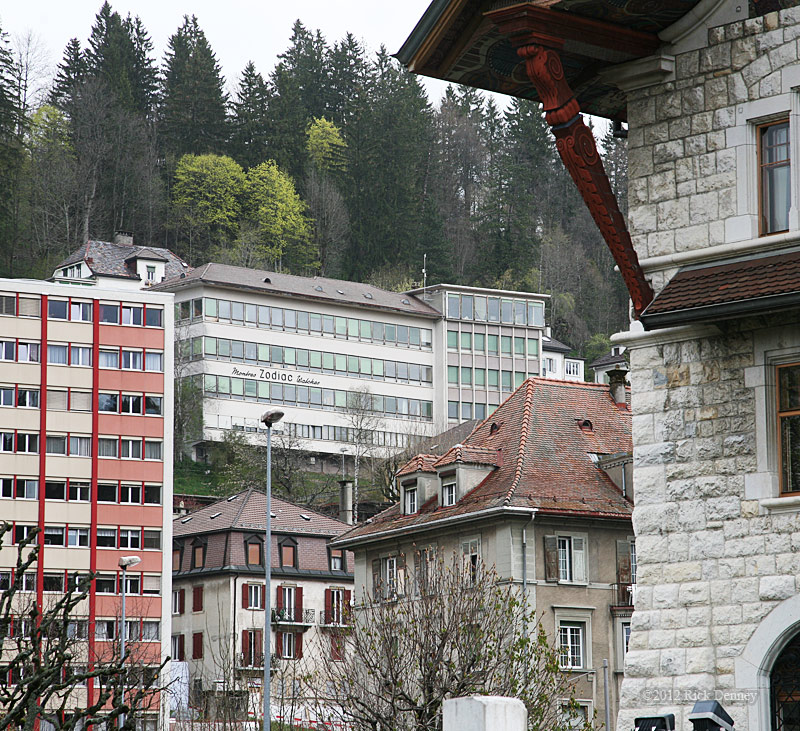 At that time, Paul Castella of Dixi Machine bought it, as he had done the same year with MZM (Movado-Zenith-Mondia). But production ceased in that building, and supposedly moved to Zenith, which is about half a mile to the left in that picture. Dixi apparently used the building for storing machine tools (which is what they make). Now, it's in less-than-wonderful condition and just cheap office space for what appear to be fairly marginal business renters.
Castella sold Zodiac to Willy Gad Monnier, who made quartz watches, and he sold the company to Genender International, who made the dot series of (mostly) quartz watches. The Genenders sold Zodiac in 2001 to Fossil.
Fossil, of course, is an American company, started by Tom Kartsokis back in the early 80's, as a company that would make cheap Asian watches with designs that would sell well in America. This is the same Tom Kartsokis who now owns Shinola.
Apparently, some guys at Fossil wanted to re-establish Zodiac as a Swiss brand of higher-priced and better-quality watches, including some with automatic movements, as part of Fossil's upper-line Swiss-Made program. So, in 2005, Fossil invested to help found Swiss Technology Production, a movement manufacture in Manno and Glovelier. Fossil makes cases, dials, and movements in Switzerland, and, of course, assembles the watches there. STP makes a reasonable version of the 2824 design, well-reviewed and with good specs for the price. The result of these actions was the Zodiac heritage watches, where they pulled Zodiac's more interesting and important designs out of the archives, updated them a bit, and enlarged them a bit (but not very much). I've seen several of these in pictures, and a Sea Wolf has been on my list for a while. I think it would go nicely with my late-60's Zodiac Aerospace GMT and SST watches.
The Redhead and I were walking past the jewelry case at our local Costco, and I have to say that she saw it first. They had a couple of Breitlings and an Omega Constellation, all of which are, shall we say, not without presence, and yet my attention was compelled by this other watch in the case--Gold, clearly 70's style, and with a good amount of wow factor. On approach, it was a Zodiac Sea Dragon, ref. ZO9903, in a gold ion-plated case and a brown leather strap. We didn't make it any further into the store.
Boy, was I surprised by what I saw. Close inspection didn't reveal the faults I was expecting. I didn't see any issues that struck a discordant note. It was shiny in the right places, brushed in the right places (and in the right ways), and attention-getting without even a hint of what we normally see on the sale table at the front of TJ Maxx.
Yup, the tag shows a retail price of $995. This is actually a great looking watch for a kilobuck. Costco had discounted that down to about half price, though.
Many will curl up their lip at the thought of a gold-colored watch. But this is a 70's watch, by a company known for selling good-qualilty and accurate watches to regular guys. Zodiac was a favorite in Vietnam-era military base exchanges for that reason. Soldiers mostly were't in the market for sold gold watches, but gold was still an extraordinarily popular color for a watch at that time. My late-60's SST is in a gold-filled case. Zodiac made solid gold watches in those days, but I bet they didin't sell very many of them. So, a watch that renders the 70's gold-loving aesthetic, and that is still priced below luxury levels, will simply have to be plated. If that's what fits the brand heritage (for the traditional Zodiac as well as the current one), then the plating should at least be decent. Best I can tell, Fossil uses a gold-color titanium nitride ion-plating process, similar to what makes nitrided drill bits look gold. The case is stainless steel underneath, and the nitride layer (which may or may not have any actual gold in it) is far harder than gold plating. We will see how well it does, but I have to work at it to wear the nitride coating off those drill bits, so I'm hopeful.
This particular watch looks stunning in gold--far better than the pictures can reveal.
The case is quite crisply designed, with polished facets and chamfering set against a brushed front and a polished bezel, and not the usual polished-everything or brushed-everything that one sees at this price.
The dial is radially brushed silver-colored metal, with applied indexes that are (unusually, it seems to me) brushed. This is quite a subtle look. The hands are made the same way, with a typical 70's square-cut design of brushed gold-colored metal. The seconds hand on the gold model is really special--it is blued steel, which sets off remarkably on a gold watch. I love blued steel hands on a gold watch. Hand length is perfect--the seconds hand extends into the seconds track on the rehaut, the minutes hand just grazes the same track, and the hours hand just grazes the inside of the chapter ring. The date is at 6 and executed quite unobtrusively. Even those who hate date windows won't be too bothered by this one.
It has lume, but this is not where this watch excels. Pretend it doesn't have lume and you won't be disappointed.
The crystal is sapphire, AR-coated on the inside, and with a very slight convexity that magnifies very slightly. It stands proud of the bezel with a rounded edge, like a box-style plastic crystal that would have been the standard choice in the 70's. The crown screws down and the watch is rated for 10 atmospheres of water resistance.
The lugs are short, faceted, and polished, with very clean lines where they meet the case. As I said, the case is really crisply designed.
From the side, the case is curved, and hugs the wrist tightly to make the watch seem less thick than its 13mm measured value. This watch will fit under just about any sleeve, despite its chunkiness. It's 40mm wide and 39mm tall (not including the lugs), so it isn't huge but it has real presence. On my huge 8-1/4" wrist, it looks rather traditionally sized, but it really won't be too big for most anybody.
The strap is excellent, with a nice pin buckle. It fits my big wrist on the second hole, and still has enough tail to fit in the keepers. But the watch does have a tendency to rotate on the wrist, because the 6-O'Clock strap is a bit long at 125mm compared to the 75mm 12-O'Clock strap. I prefer a 12-O'Clock strap that is 85 or 90mm. But this strap looks fabulous on this watch, so I'll live with it as long as I can. I may turn it around so the buckle goes the other way.
Now, for the movement. I've read really positive tear-down reviews of the STP 1-11, and I've downloaded the service materials from the STP site. The movement copies the 2824, but it adds a jewel to the barrel arbor (which is a good thing to do). The movement has a Glucydur balance, and the highest-quality springs Nivarox makes, similar to an ETA Top or Chronometer movement. The power reserve is longer than a 2824, but at the expense of some loss of isochronism, so the watch will run best if worn enough of each day to keep it in the top 12 hours of its reserve. Timing tolerances are closer to Elabore than Top, though. I measured +6 for dial down, and -5 for crown down, the two positions furthest apart. But checking it over several days is indicating that it is running in a bit (it started out about +15 three days ago, but now is running closer to 0, on the wrist), and that's not unexpected given that it is probably old stock from several years ago. I'll keep an eye on it. One would expect an Elabore ETA movement at this price point.
The movement is decorated to be pretty, but it is not deeply decorated. Again, this is in line with the price point, and in that regard, it actually hits above its weight. But it is not haute horlogerie, and it doesn't pretend to be. It looks a lot better than similarly price Hamiltons, to use an example I have in my collection. It is finished quite a bit better than the AS-based movements Zodiac used back in their 60's heyday. Those movements were simply finished, but detailed for accuracy.
And, finally, just for fun, I have compared it side-by-side with my 1978 Girard-Perregaux Gyromatic. GP was not really high-end in those days like it is now, but they were at a price point two or three times that of Zodiac, with the expectations that higher price would entail. This is a test of how true Zodiac is to the 70's aesthetic. It's a bit bigger, and a bit different shape, but the aesthetics are certainly out of the same formula book. The blue of the GP dial is superb, but the Zodiac looks pretty good to me next to it. One significant difference is that the Zodiac uses a bezel, where the GP's crystal is set directly into the body of the case.
Rick "thinking Fossil is doing right by Zodiac these days, and hoping it lasts" Denney