I have quite a few threads on the ST-16, but I can't recall one that goes into the insides of one. So here in a few pictures is the disassembly of an ST-16...
Here is the basic side of the ST-19 we all see: (pardon the finger prints and dirt, this is my spare/parts movement, so it's not the cleanest thing.)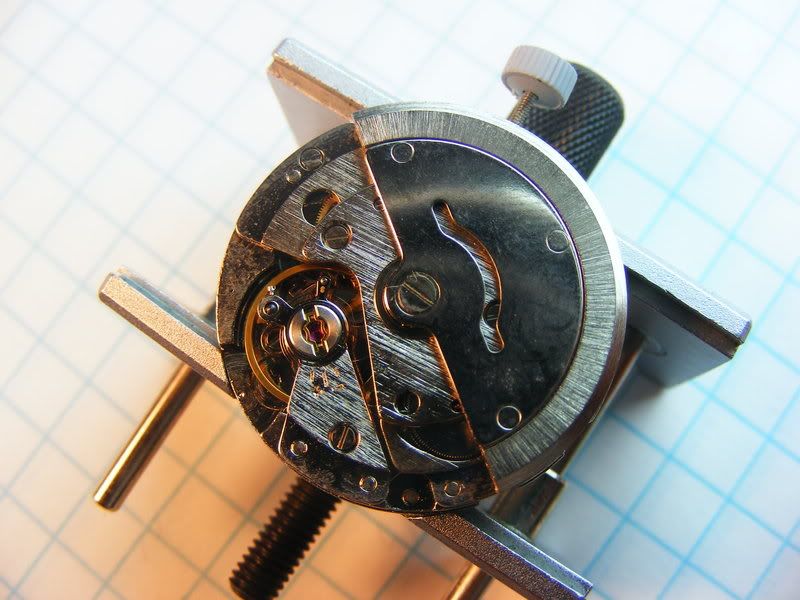 Here we have removed the auto-wind bridge, we can now see the second hand pinion friction spring, the auto winding "magic fingers" have been moved to one side to afford a better view of the spring.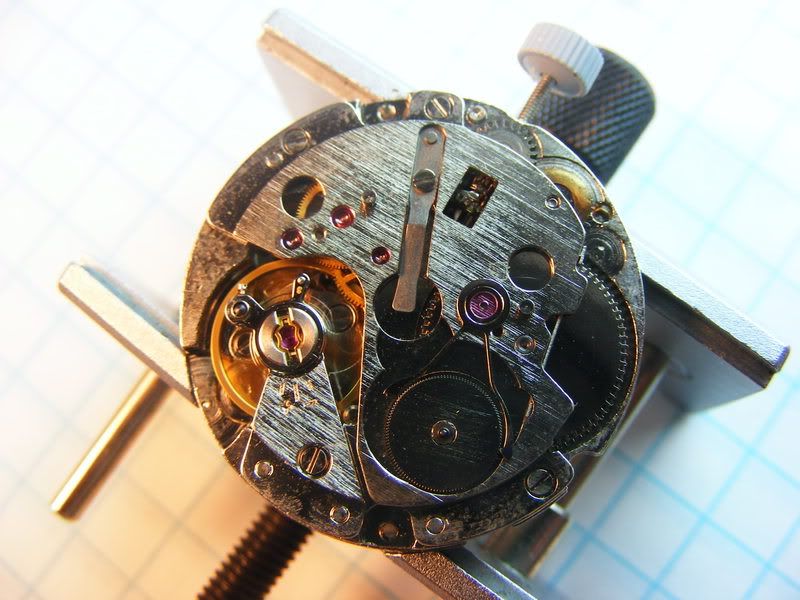 Here is the underside of the auto-wind bridge showing the magic fingers and how they work.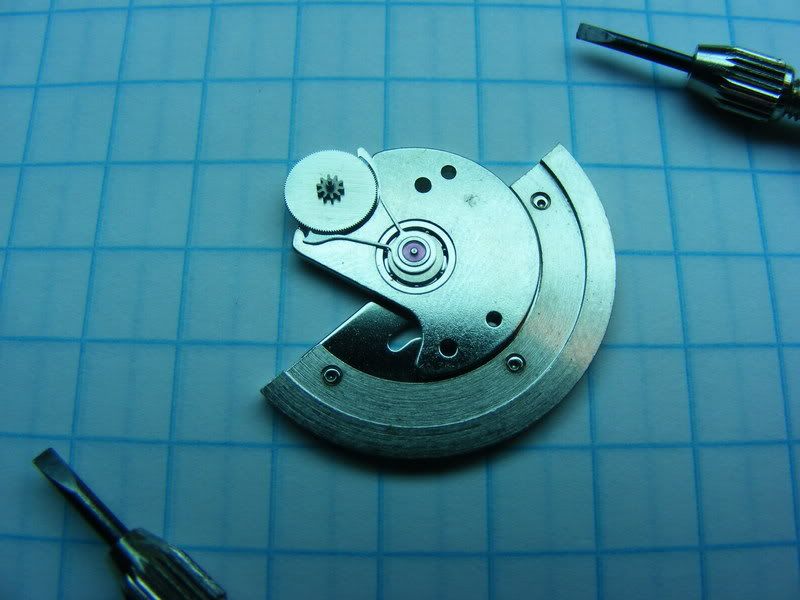 Here we have removed the 3/4 bridge exposing the inner workings of the movement. Items to note are the hack lever (the "V" shaped piece near the stem), which acts on the third wheel rather than the balance in most movements. (Sometimes hacking these movement shows particularities not seen in other designs, this is the reason.) Also, we now can see the third wheel engages both the fourth wheel and the second hand pinion.
The third, fourth and escape wheels have been removed along with the second wheel bridge and balance assembly. Items to note are the adjustable banking on the pallet cock.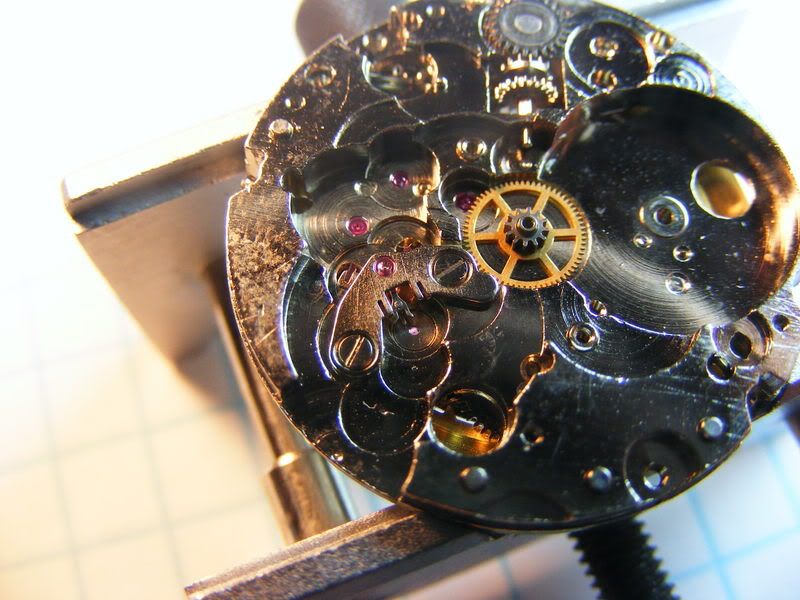 Here is the dial side, with the date wheel and the cover plate removed so you can see the quick change arm and the all the dial side wheels.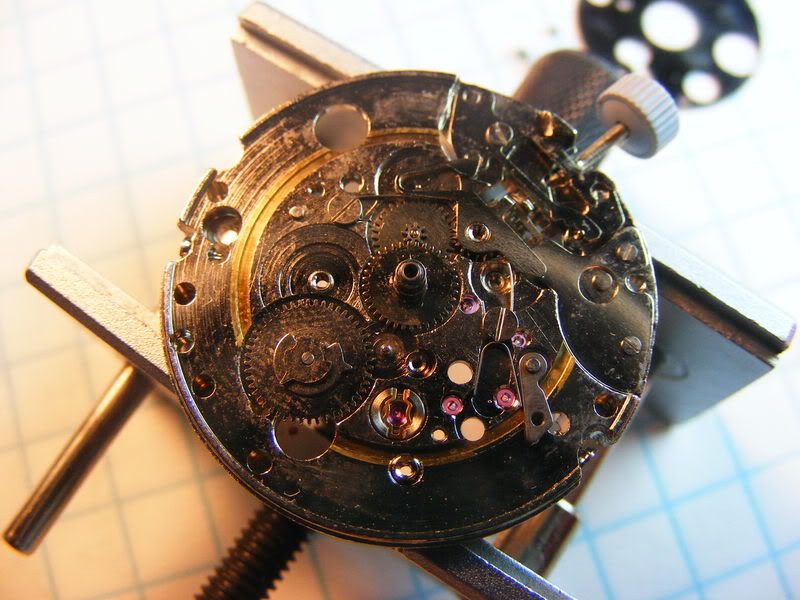 Parts: (l to r, t to b) Rotor; Rotor Screw; Transmission Wheel; Pawl Lever, with jewel; Auto Bridge Screws (2x); Auto Bridge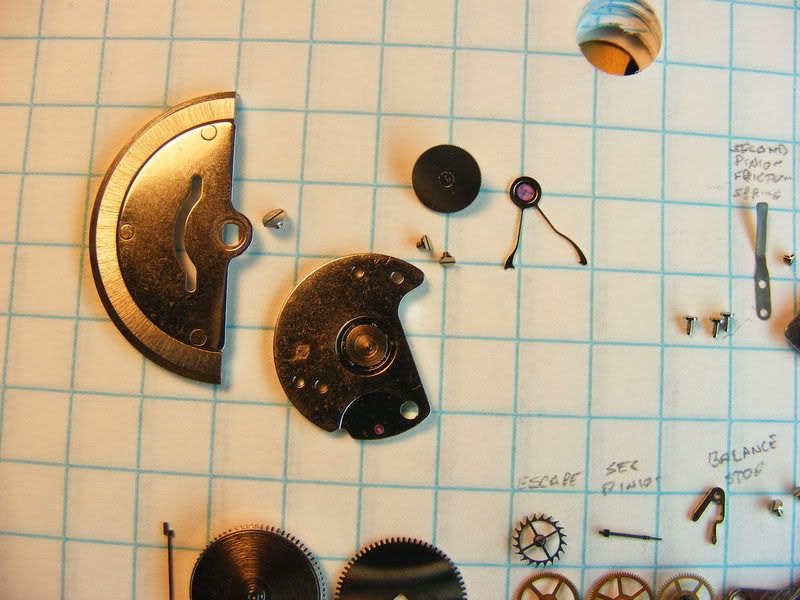 Bridge Screws (3x); Second Hand Pinion Friction Spring; Second Hand Pinion Friction Spring Screw; Main Bridge with the Floating Winding Gear still attached; Fixed Winding Gear.
Click; Barrel (Mainspring installed); Ratchet Wheel; Pallet Cock Screws; Pallet Cock; Pallet Fork.
Escape Wheel; Second Hand Pinion; Hack Lever; Second Wheel Bridge Screws (2x); Balance Cock Screw; Fourth Wheel; Third Wheel; Second Wheel; Second Wheel Bridge; Balance Cock, with Balance Assembly; Cannon Pinion.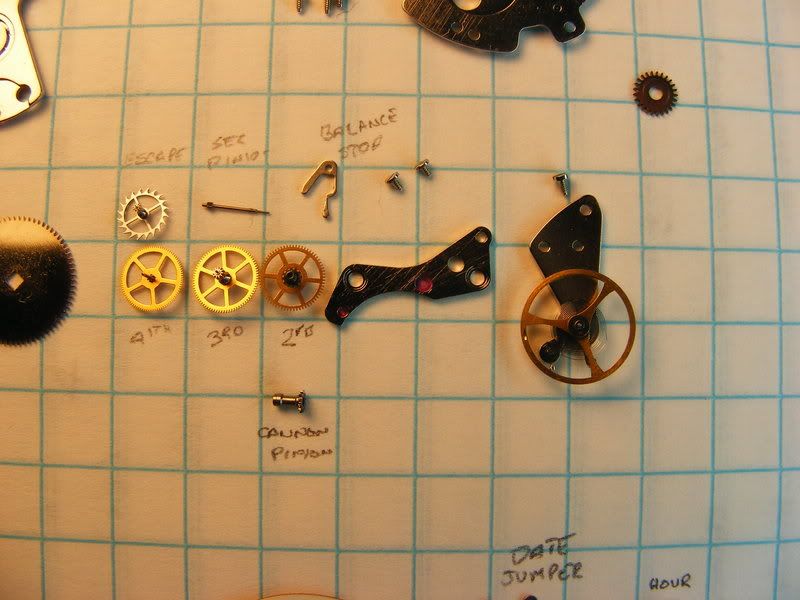 Date Dial Guard Screws (3x); Date Dial Guard; Intermediate Date Wheel; Date Dial; Date Jumper Spring; Date Jumper; Hour Wheel; Date Corrector; Date Driving Wheel; Intermediate Setting Wheel; Minute Wheel.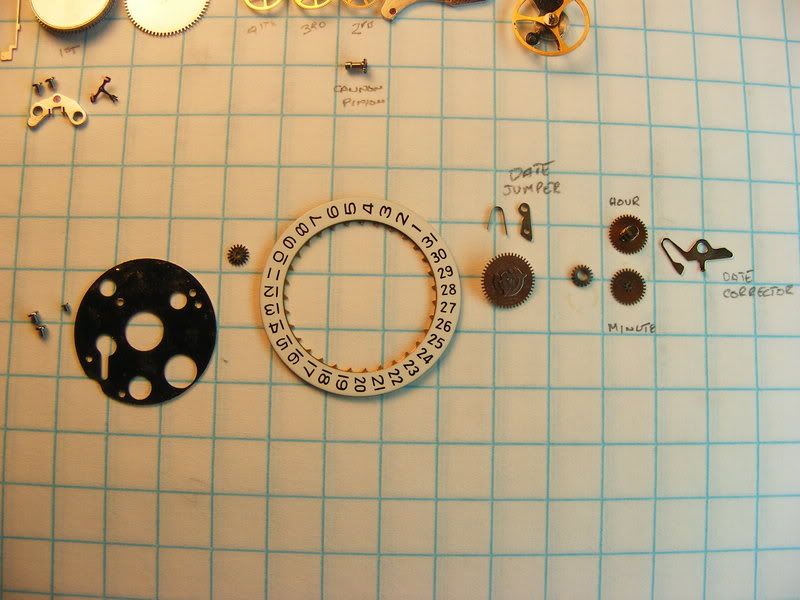 Mainplate (Stem; Clutch Wheel; Setting Lever; Setting Lever Spring and Yoke still installed)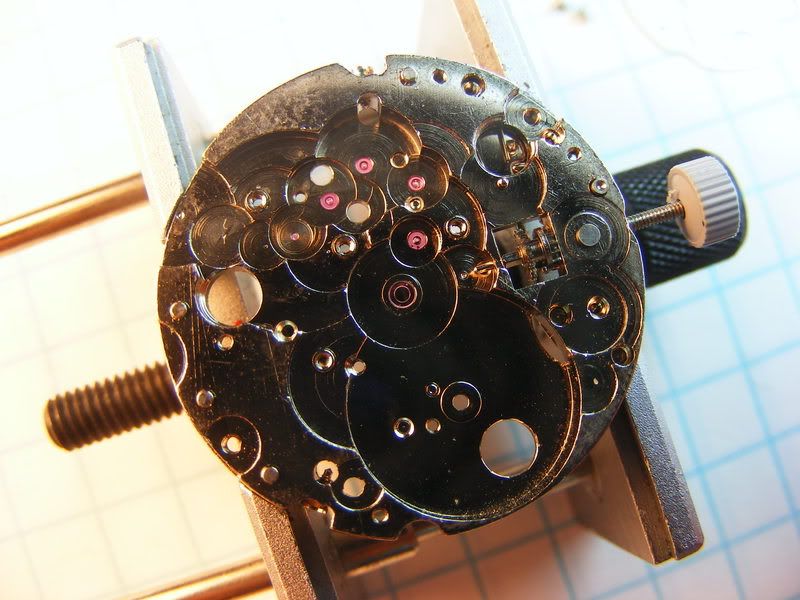 These movements are, design-wise superior to many older Swiss movement such as the AS1900 series, at least in my opinion. They are simple and robust, even if there is not much decoration or artistic arrangement of the bridges as there are in the Swiss stuff.
And one last thing, although this and the Miyota 8215 share the same design for the second hand, you do not hear of "second hand stutter" on these as much as on the Miyota.