Y'know when you see a watch render and it looks pretty good, so you get the watch, hoping against hope that the real thing comes at least close enough? I have to say: my first reaction when I opened this one up was
WoW!
I mean, I recognized it; the render I'd seen before it arrived was accurate but it looks much better in the flesh than I expected, and the render was decent enough I wanted the watch.
I've noted before that I'm very happy with my first Jiusko, a 39LSB15 diver with these specs: Dial: Sapphire / Display Type: Analog / Case material: Stainless Steel / Bezel function: Unidirectional / Calendar: Day / Item weight: 8.15 Ounces / Movement: Automatic / Water resistant depth: 200 Meters / Case diameter: 43 millimeters. Screw down crown.
It's an eye-catching casual diver, superb colour ;-), very cool two piece case construction, silk-like solid stainless bracelet. 8.5 ounces. I love wearing it. Great bracelet. 1 pic...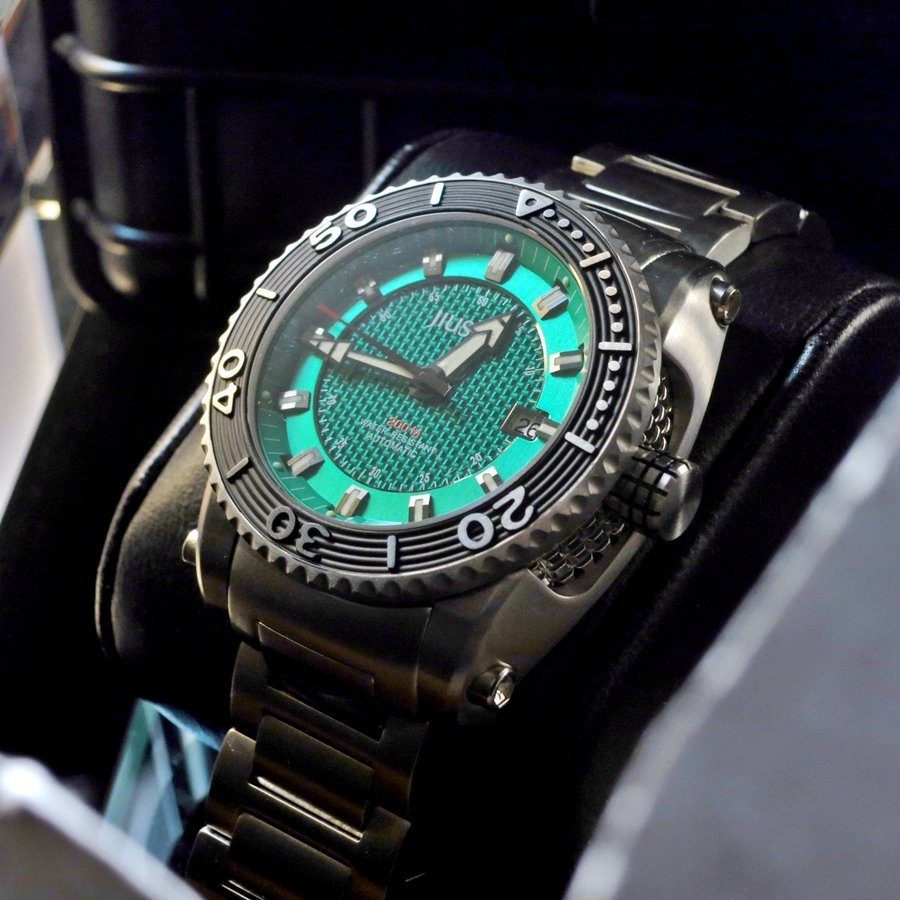 Given the build quality of my that one, and especially after seeing a few more models up close and personal at Jiusko's CWCF booth in Shenzhen...
...I went looking to pick out another Jiusko now that I'm home. TL/DR: Chinese built with Japanese movements (so far, anyways).
For my next Jiusko, I looked for something lighter but still automatic, and still with sapphire. Also, I
really
wanted to add a ceramic bezel to my collection. I love the idea of a bezel that won't scratch under any normal circumstances.
And, yup, what I found has alla that...comes in at $365. Jiusko Model 70LSB0202
The 70LSB0202 might be described as less sporty than the Jiusko 39LSB15. Crisper might be the word, or more business-like, and I think it looks great on the wrist. Something of a black Seamaster Pro-ish vibe but without being a copy in any way. I really like its looks and it's very balanced and comfortable.
Sapphire crystal, stainless case, 43.5 millimeters x 15mm, silicone band, ceramic bezel, 4.48 Ounces (roughly half the 39LSB15's 8.5oz.), 24 jewel automatic (9105? NH35A? I'll ask and get back with an answer), textured dial, lumed hands, a very respectable 300 meters WR and a helium control valve. Screw down crown.
The bezel clicks firmly with
zero
play, is shiny like the ceramic it is, and is well-defined. Centers perfectly. The case is obviously solid, beautifully brushed, with contrasting polished stainless support for the ceramic bezel. The silicone band is hardly felt at all on the wrist.
I was surprised by how nicely the dial texture works. It's the Jiusko logo repeated in very small rows. On the wrist and eye-ball-to-dial, the texture is clean, fine and elegant, much better than what I'd have been satisfied with...and I hope my poor camera-fu gives it what it deserves. It's beautifully done.
The watch comes with a sturdy dive case and a very nice steel and leather(ette? doesn't matter) business card holder used to carry the warranty and manual. (I used the business card holder
everywhere
in Shenzhen, actually everywhere I visited in China, and when it comes to handing out business cards, it's confidence building to be the best dressed guy on the block ;-) )
Nice touch, Jiusko.)
One shortcoming, and it's still common to chinese watches, in my view...the lume on the hands is approaching OK...not as bright as the 39LSB15 which I thought was quite decent. But the lume on the indices and bezel is not really there at all. I can live with that easily because I seldom need to know the time in the dark and, if I do, the hands will let me know close enough for my purposes, but if lume is your major criteria -- and I respect that -- this watch isn't for you. Get the 39LSB15 instead.
That said, if what you're you're looking for is a good, sensibly modern sized and modern looking daily wear contender, a gentleman's desk diver at a decent price, something that is gently hefty without doubling as exercise equipment, well built and that will easily keep its looks in a business environment because of the ceramic bezel, then you could do a lot worse.
I'm just as pleased with this watch as I am with my first Jiusko, and I'm convinced the quality of my first two Jiusko watches will be there in other models. I have no reason to think otherwise.