Discussion Starter
·
#1
·
Deployants by AXEL JOST, Germany
Axel Jost, located in Germany, has been producing all types of buckles & clasps for watch straps for over 30 years and specializes in gold and gold plating. They supply deployants & buckles to several top tier watch companies, of course too secretive to share, but they did confide in me as part of my qualification process.
WEBSITE:
Deployants, featuring <b>Axel Jost</b>, Germany
Product (straps or deployants) orders $39.00 and above and paid via Paypal directly will include: free shipping in the US, spring bars and the mini full service spring bar tool. The tool may be substituted for: Cape Cod cloth or additional brushed or any of the discounted tools below.
Skilled German craftsmanship, solid assembled parts, modestly priced for this level of quality.
ADD BRUSHED FINISH TO ANY AXEL DEPLOYANT (no charge for forum members)
AXEL JOST DF7 PREMIUM DOUBLE FOLD PUSH BUTTON
Double fold, push button, standard flip lock lid, Price: $52.95
Available in 16mm and 18mm. This will take up to 4mm strap, up to 5mm if mounded, length 40mm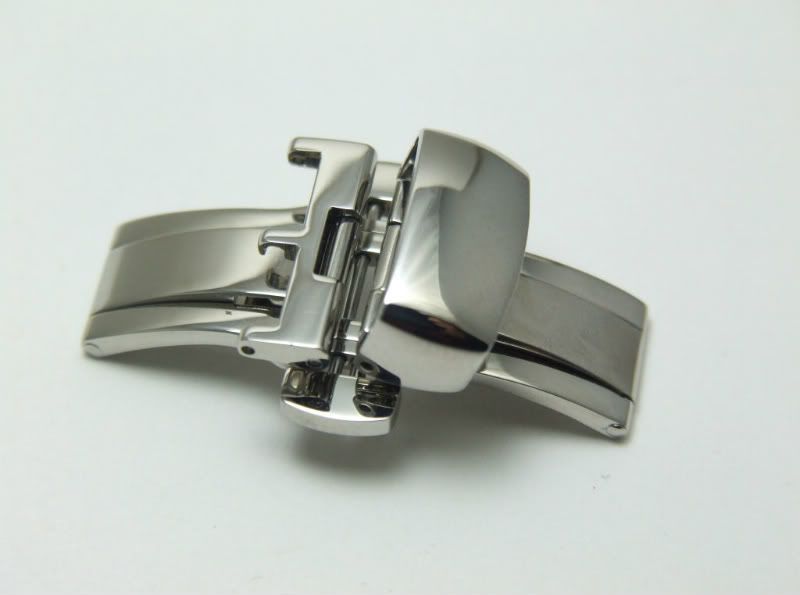 DF3 Push button Single Fold
Just in, single fold, push button, standard flip lock lid, available in 16mm, 18mm and 20mm. Rounded edges of the pushers for extreme comfort, take a close look. Excellent manufacture as you can see in the pictures (these actually cost me more then the DF1 double fold). Introductory price: $47.95
16 and 20mm only left
AXEL JOST DF2 PREMIUM Deployant
Here is something new by Axel Jost, the DF2 Premium. Push button, double fold, stainless steel with the added features of a screw to secure the end to "the point" (that is the long end ) and screw in pins ( no spring bar!) to easily add to "the buckle" (shorter side of the watch strap).
These are amazing, the best deployant on the market IMHO
. As with the DF1, made in Germany, land of craftsmanship, precision, quality.
Price is
$49.95
delivered with a set of jewelers screwdrivers (approx 1.0mm and .6mm) for each side of the buckle . Sizes 16mm, 18mm, 20mm.
Check out these pics.
ALSO, NEW 18mm matte Gold Plated $49.50
.
Price is $49.95 delivered with a free Swiss screwdriver (.8mm) for the buckle side attachment. Sizes 16mm, 18mm, 20mm and 22mm.
New 4mm pins are available (except on size 22mm) for extra thick straps, regular DF2 has 3mm pin, pls specify when ordering.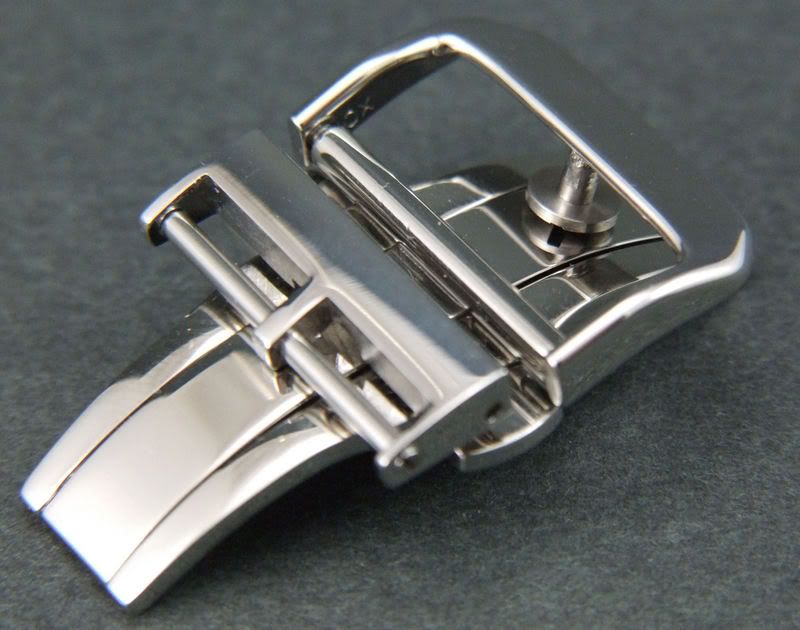 Closeup of "point" end attachment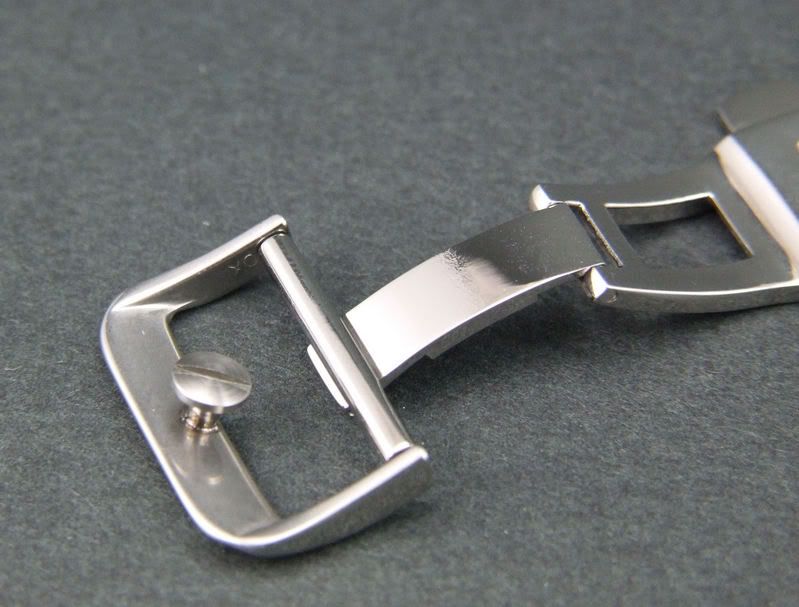 Closeup of screw in pin vs spring bar
AXEL JOST DF1 Deployant
Stainless 16,18, 20 & 22mm $47.95
Brushed any size $52.95
Yellow Gold Plated* 16 & 18mm $49.50
Rose Gold Plated* 16 & 18mm $49.50
*both the rose & yellow gold deployants are heavily plated with 5 microns of gold.
Take a look at the underside of their deployants; you'll note the edges are rounded and not square. This adds substantially to the comfort of the piece.
AXEL JOST DF4 PREMIUM DOUBLE FOLD PUSH BUTTON
Just in, double fold, push button, standard flip lock lid,. Introductory price:
$49.95
available in 16mm and 20mm
Note: this is the same deployant used by a well known watch Manufacturer in Germany that I can't mention…
GO
figure……….
Distances: From Spring bar to stem 16mm. base curve 5mm, overall length 38mm.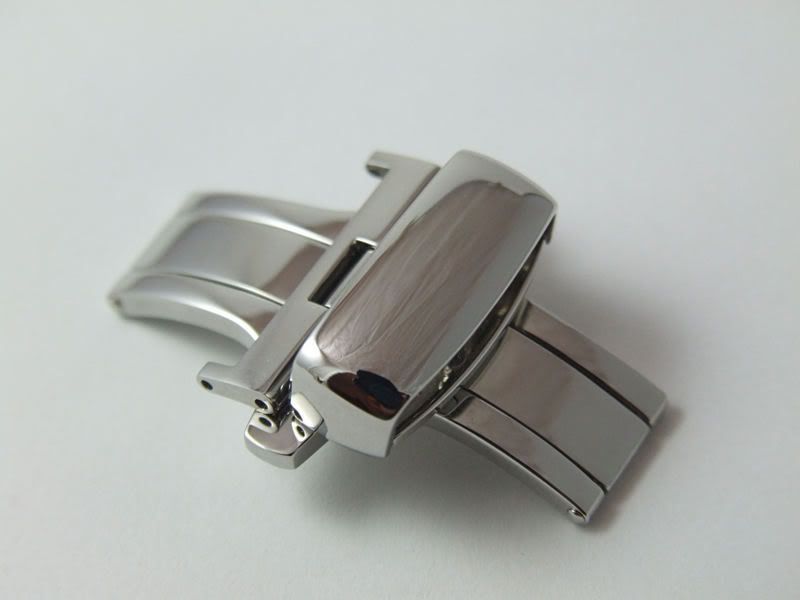 AXEL JOST DF5- now in SS & PVD
DF5 Single Fold Push Button Stainless 18, 20, 22mm $34.95
Or $37.95 with brushed finish
NOW in PVD in 18, 20mm $34.95
(note 20mm temporarily out of stock (6/29/10))
The single fold is one of the most uniquely designed & manufactured deployants I've seen. The push buttons actually hold the top unit in place and the inside height will hold a strap nearing 4mm thick, such as the Di-Modell Chronissimo.
Shipping Charges (updated April 18, 2011):
Inside the U.S. -
Order over $39 are free 1[SUP]st[/SUP] class with delivery confirmation.
1[SUP]st[/SUP] Class with delivery confirmation……..……$1.95
Need insurance?.........................................Add $1.00 per $100 coverage.
Need Signature Confirmation ………………+ $2.00
Priority Small Package (smaller mailboxes)…..$5.95
Express Mail Flat Rate………………………..$18.50 (includes $100 in insurance)
Outside the U.S
Airmail, no insurance or tracking……………...$3.50 See Comments Below***
Airmail + Registered with $43.73 insurance…...$14.55 (add'l insurance $1.00 per $100)
Priority 4-6 days, no insurance or tracking…….$15.25 See Comments Below***
Global Express w $100 ins. & tracking………..$29.95
Important notes/terms of sale
The postal system around the world generally does an outstanding job; my experience has been a worldwide delivery rate over 99%. I provide (reasonable) evidence of shipment.
***If you are concerned about in transit loss, please select a secured or insured method as the terms are FOB shipping point, seller is not responsible.
Items insured must have a visible declared value equal to the amount of insurance coverage.
Contact me or Paypal at
[email protected]
to place an order or check out my site at
Freda Watch Straps - Watch Straps by Hirsch, Di-Modell, Hadley Roma
. Shipments sent out daily.