Discussion Starter
·
#1
·
A few weeks back, I posted about the Elgin 540 'Timemaster', their 16s 23j BW Raymond movement, top of the line in 1940 (well, excluding the CH Hulburds). I thought, "I'm done with the late 16s BW Raymonds."
Then I had a thought - I have the late 478 with the regular cut balance and Elginium Y hairspring. And I have the 540 with its Invar balance and Elginium Y hairspring. And I have the 590 with its Elginium hairspring and monometallic, uncut balance. And I have the 571, the last of the 16s BW Raymonds, the keystone of Elgin's completely revamped 16s series, introduced in 1946.
But I DON'T have an
earlier
478, with the regular cut balance and blue steel hairspring! A
As luck would have it, a 478 movement came up for sale on Ebay, part of a movement lot with an 18s Waltham, a late 19th Century English lever fusee, and an unnamed Swiss movement. It was from 1927, and not only did it have a blue hairspring, but also it had a Montgomery dial! I grabbed the lot with a price I thought good enough for just the 478!
That same week, a WHITE gold filled version of the Elgin 'Mainliner' style 'B W Raymond Model' case came up for sale. I bagged it, too! It's the right age for the movement I bought, and the right model.
When the arrived, I discovered the 478 was in great condition! Complete, no rust, no hairlines on the dial, everything great, except - Busted balance staff! NUTS! Well, with the others, it's still a bargain.
So, I found someone selling the right balance staff, and bought 2 of 'em. And waited. And waited (they were coming from Australia). FINALLY they arrived!
I took down the 478, cleaned is scrupulously, and checked the fit of the pivots. PERFECT! So, I went ahead and ever-so-carefully replaced the staff. The balance stayed true, and mostly poised! I put the whole thing together, and here it is!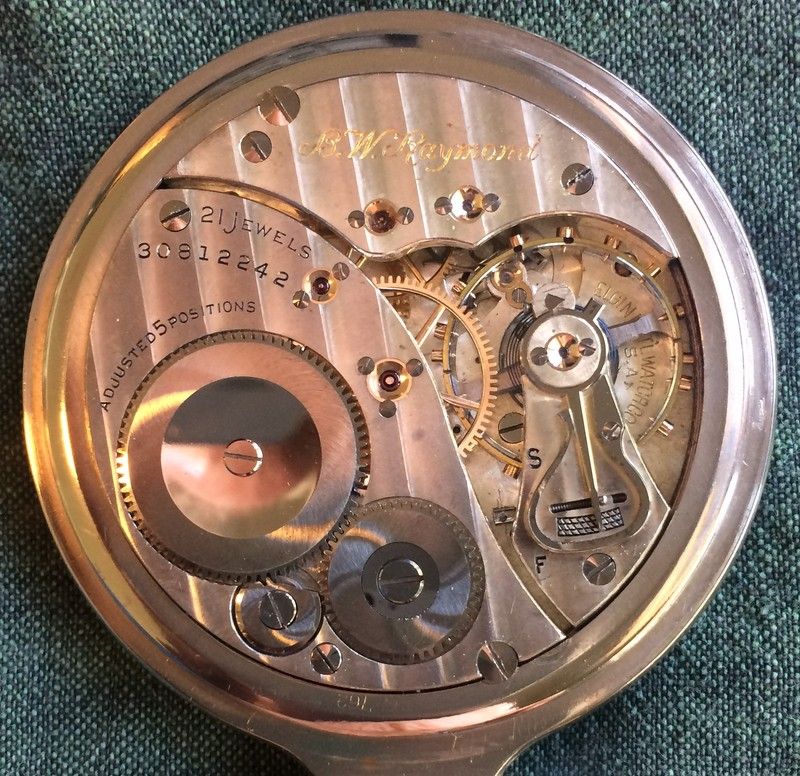 Note the cut balance and blue hairspring - I stopped the balance for the picture.
And here it is with the others in the collection. It's the one on the far left. From 12:00 going clockwise: 23j 540 from 1940; 21j 478 from 1942; 21j 571 from 1950; 21j 590 from 1944; and finally, in it's WGF case, the 21j 478 from 1927!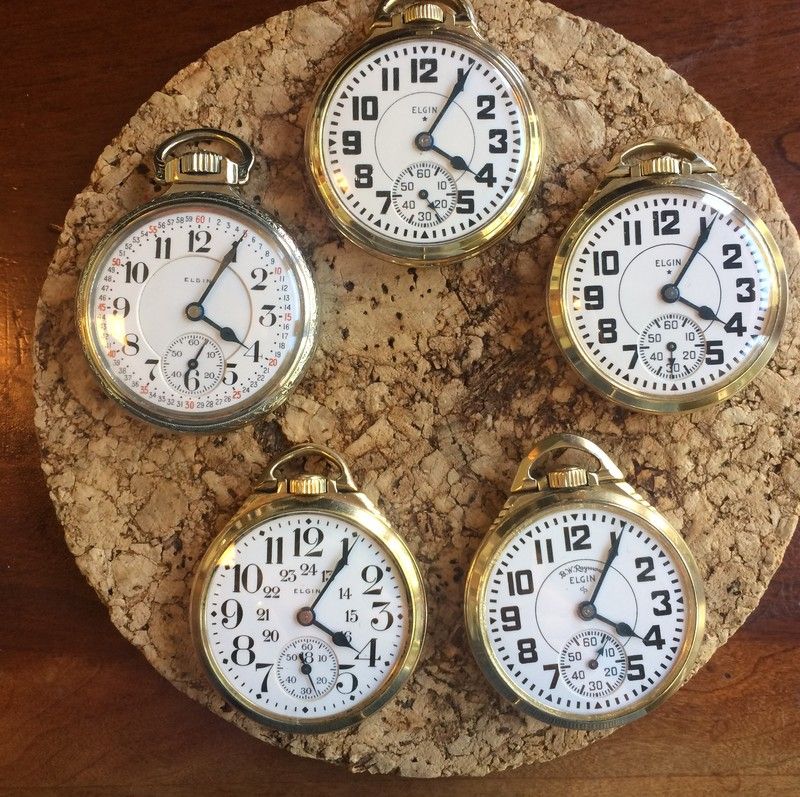 And here are the movements. Note how similar all but the 571 are. It stands out, with its friction-set jewels replacing the old screwed-down gold chatons, and the cap jewels all set in steel settings, screwed down from underneath.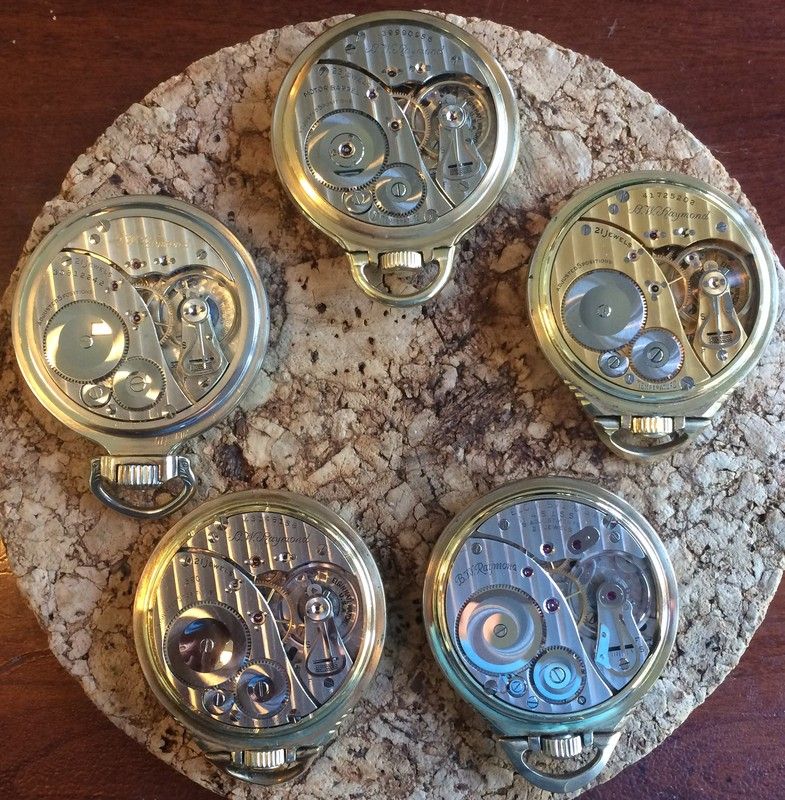 Now, I can stop. At least till the NEXT bug bites me!