Armin Strom Gravity Earth Overview by Timeless Luxury Watches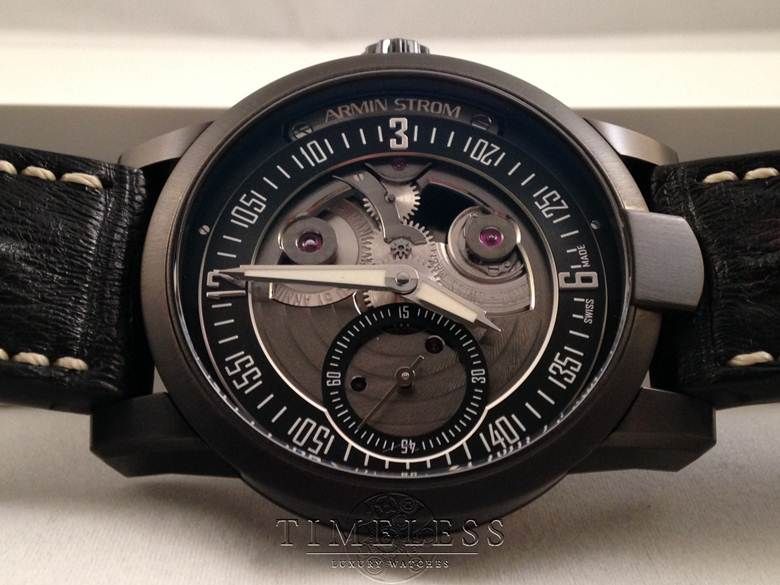 Today we have the pleasure of looking at one of the best watches in the world—the Armin Strom Gravity. Few watches combine its two main features—a 5 day power reserve and a micro-rotor, and those that do are astronomically expensive—but not the Gravity.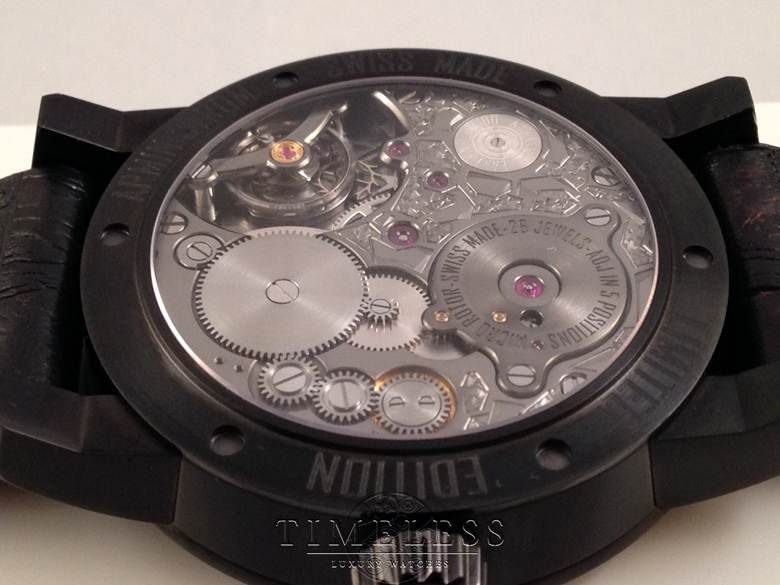 Armin Strom is a new name to many of you, but it shouldn't be. Armin Strom, the famous watchmaker, skeletonized and decorated watches for other brands in the watch industry for decades before establishing his own manufacture and making his own movements in house. He could have chosen to use pretty, but otherwise mediocre, movements—but when it came time for them to make their own all-new movement, they did anything but. This is a very sophisticated, high performance calibre.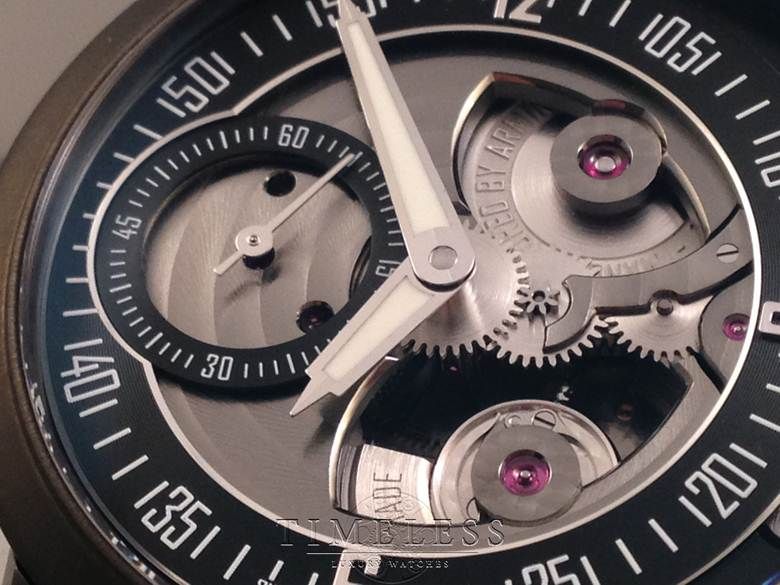 Normally I wait until the end of a review to get to the movement, but with an Armin Strom, that can't be done—because every Armin Strom has the movement visible from both sides.
Armin Strom does skeletonization their own way, however. Virtually every other brand wants to display their balance wheel as the centerpiece of the dial, but in this case, we get to look at two parts that are normally not given the attention they deserve.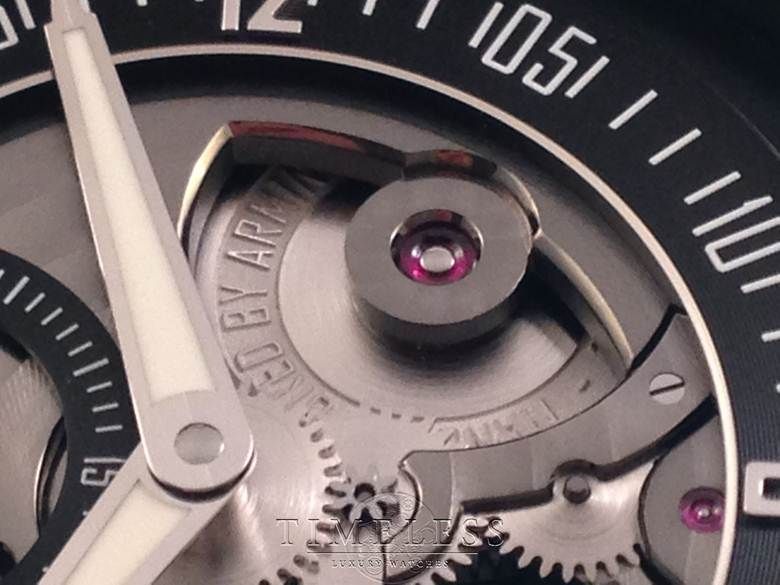 What we see at 2:00 is the mainspring barrel, the piece that supplies the amazing 5 days of power reserve to this watch. Technically this watch isn't a skeleton, so what should we call it? An open mainspring watch instead of an open heart? But as cool as seeing the giant barrel is, it's nothing compared to watching the massive micro-rotor.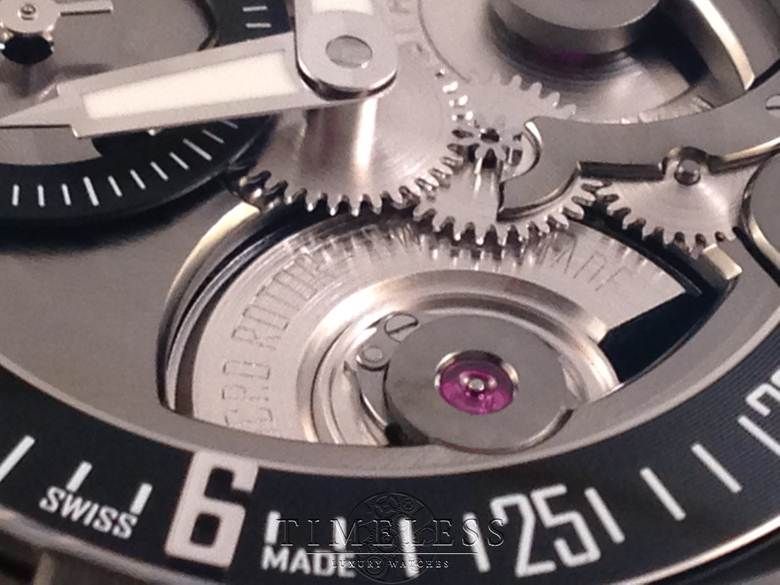 Micro-rotors are normally prohibitively expensive and while a few brands still use them, they're mainly featured in watches like Patek and Piaget that generally cost far more than this Armin.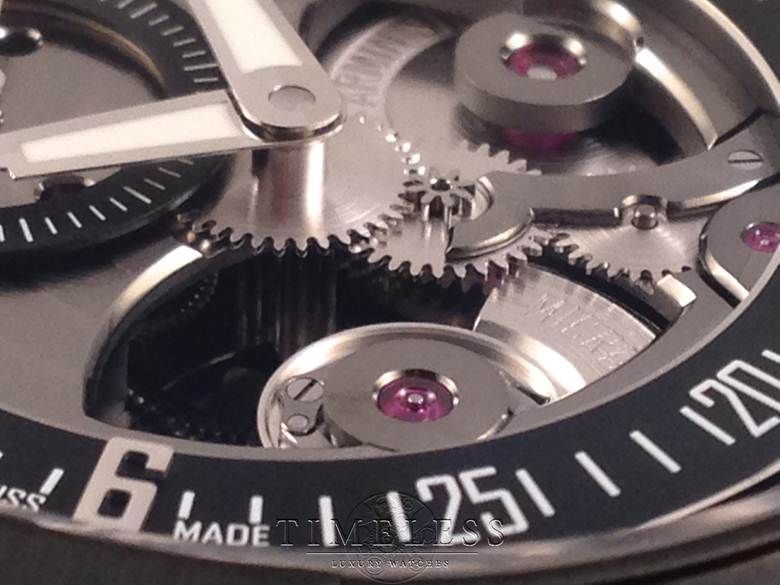 This really takes the place of the balance wheel as the most interesting aspect of the dial. The micro-rotor swings quite freely even when the watch is fully wound. The actual rotor is virtually as thick as the whole movement, meaning that despite its small size, it probably has a lot of mass behind it. Another very cool design decision by Armin is that you can actually see into the valley of the movement.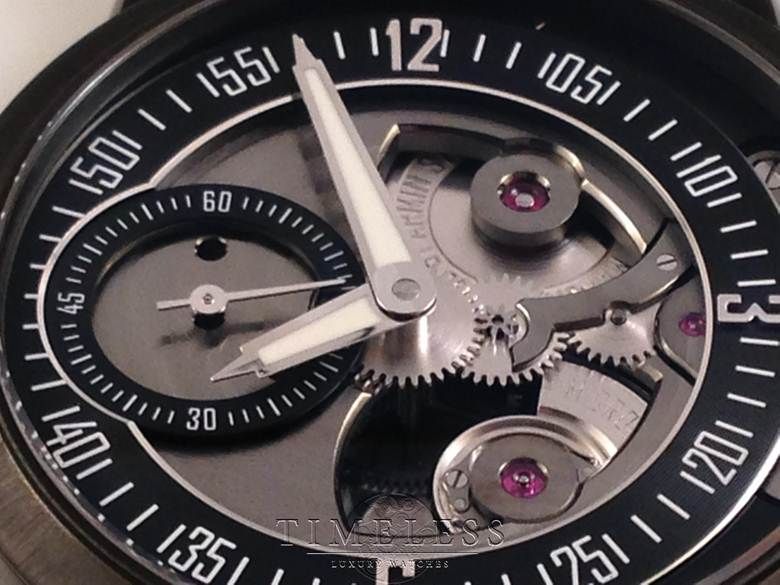 And so we see dial "openness" done Armin's way—and it's terrific. I love open hearts as much as the next guy, but everyone has one—this isn't the first time this style has been done, but it's probably the best implementation yet.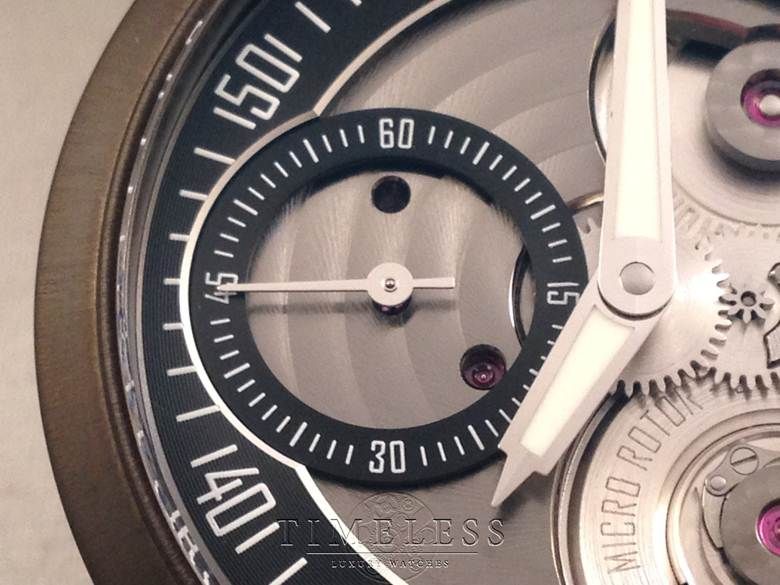 Moving to other areas of the "dial" (Armin actually refers to it as a "ring"), we see the seconds subdial. Coming soon this will be available with a date subdial as well, or a tourbillon for the more adventurous collector. The off-centered ring has a pleasing symmetry with the off-centered dial and the mainspring/rotor.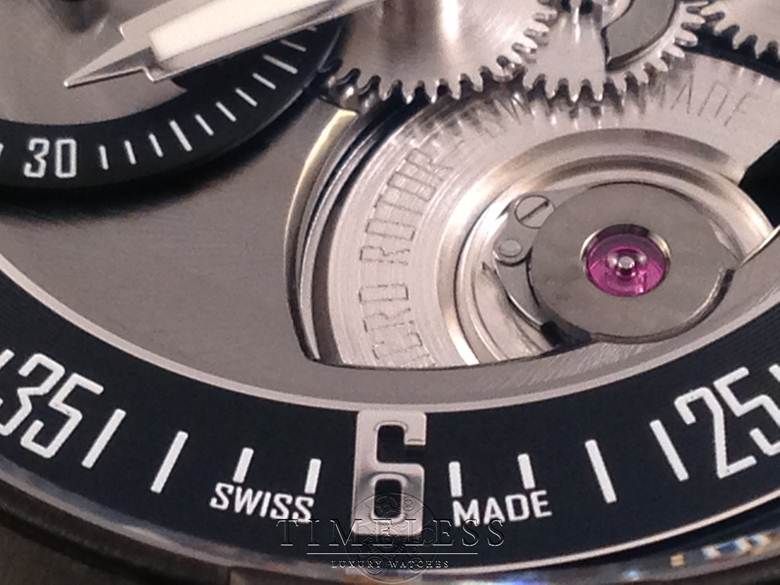 The dial is unusually sporty for a watch of this price and pedigree—and that's a good thing. So often these incredible complications are used only in dress watches. That's good, we need complicated dress watches, but kudos to Armin for taking a chance with an aggressive design. Here we see the beautifully polished applied Arabic numerals.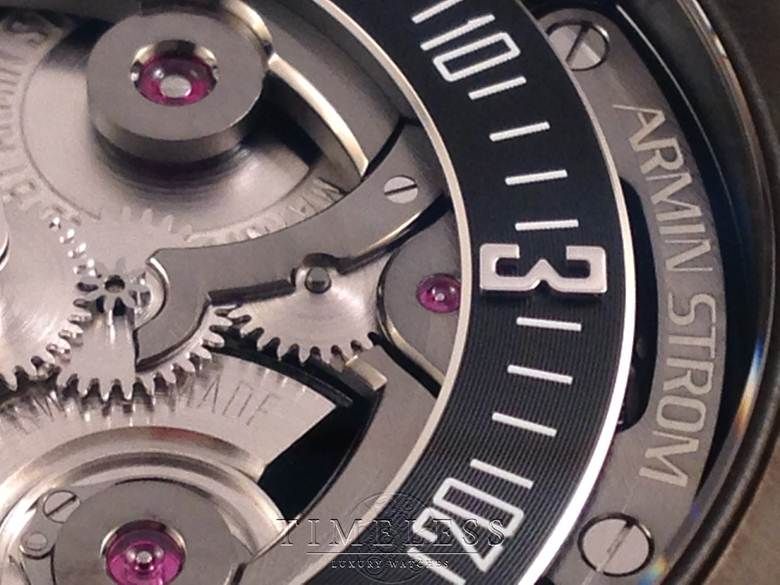 Here's the polished 3, but also shown is the beautiful guilloche finishing on the ring/dial. There is nothing that is left unfinished on this watch. The closer you get, the more details are revealed.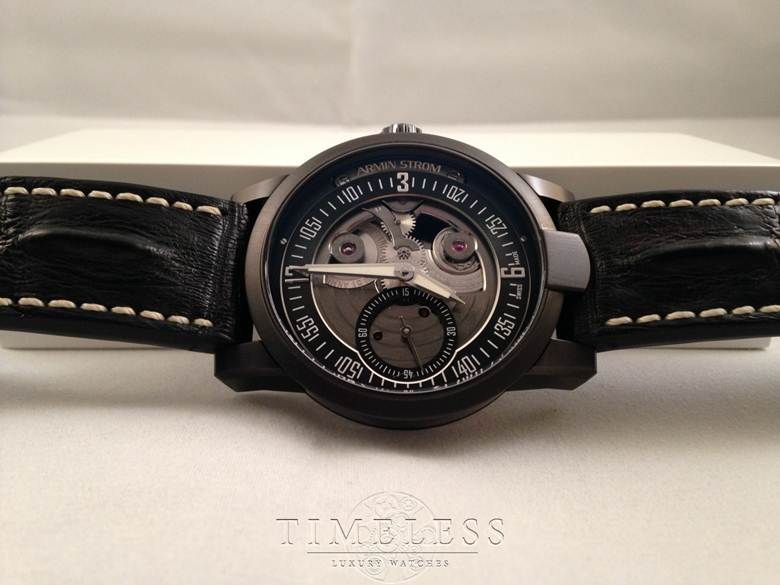 The dial is beautifully balanced, thanks to a triad formed between the barrel, rotor and seconds subdial. As Armin Strom is known for, the entire dial is slightly off centered to make room for the Armin Strom logo at 3:00. This stylistic touch is the most divisive of all, but after I had the watch for a few hours, I didn't even notice it anymore. Really, this thing is amazing on the wrist.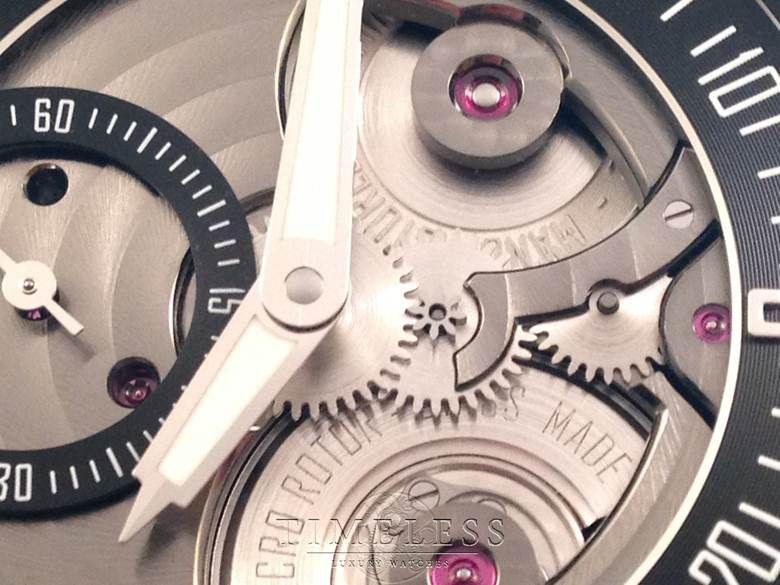 Another great touch is that you can actually see the gear train come to life when you pull the crown to set the time. Those intermediary gears are visible rotating in sync. It's almost hypnotic.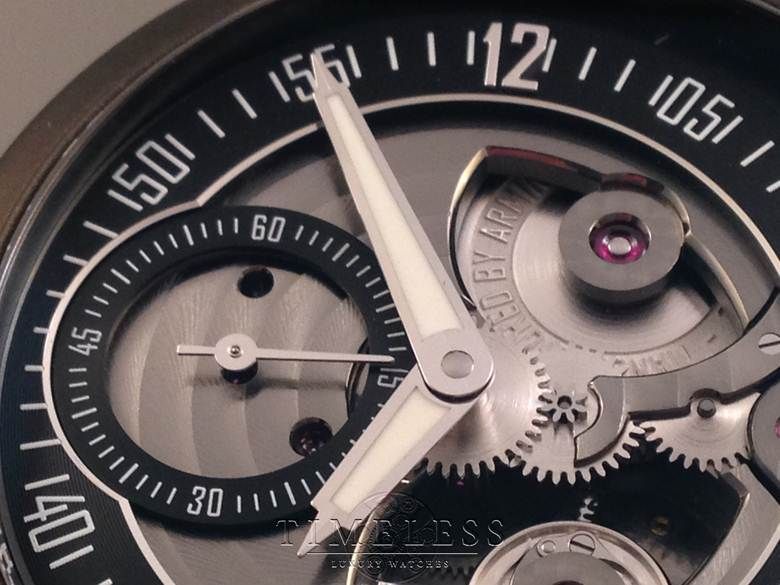 The hands continue the sporty look with a broad design and precise tips. And yes—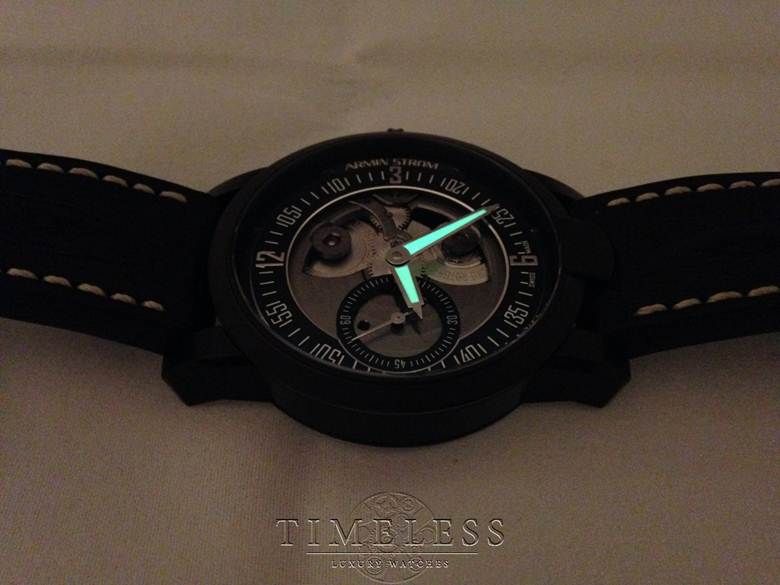 They're lumed. Quite bright, really—another feature relatively uncommon to haute horology.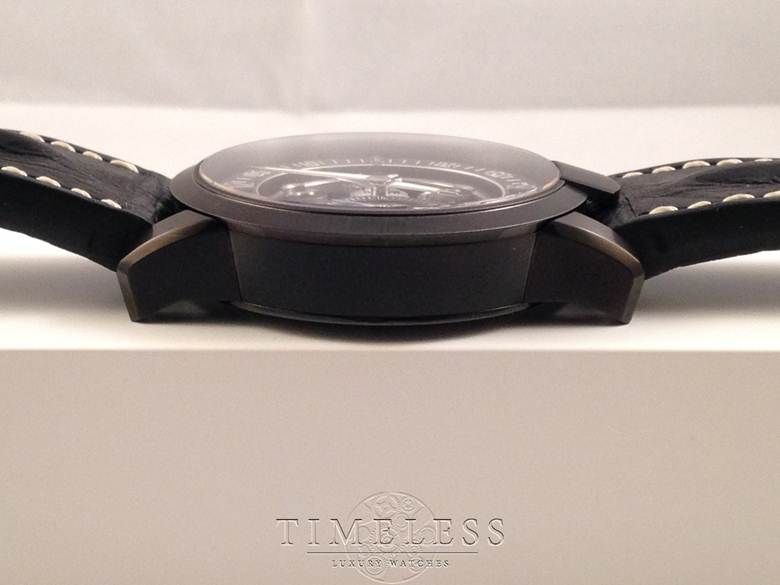 Armin Strom makes virtually all of their models in 4 highly limited editions—Earth, Air, Fire and Water. Each watch is functionally identical, but they receive different metals (titanium, rose gold, steel and steel with black pvd), straps and other flourishes. The watch we have today is the sportiest of the line, the Earth, which comes in a black PVD steel case and clasp.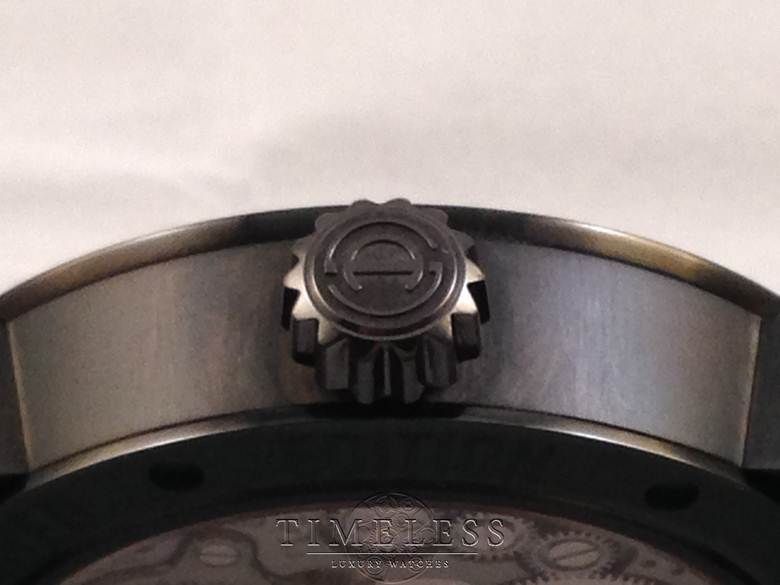 The case looks terrific and very simple. The case is here to hold the movement—Armin doesn't need to use a really eccentric case, lugs or crown because there's so much going on with the dial that they don't want to detract. That said, it is a nicely polished case and a great signed (non-screw down) crown that's easy to grip. The grip aspect is relatively important, since you're going to be winding this quite a bit if you aren't wearing it to build that 5 day power reserve.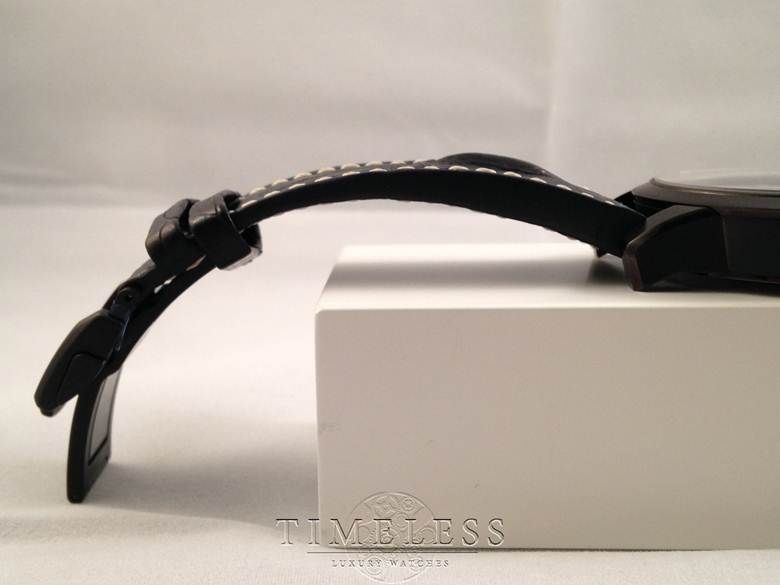 The Gravity come with an amazing and thick hornback strap that fits this watch perfectly (a different strap for each element to match the accents). It is super plush and comfortable—perfectly broken in even brand new.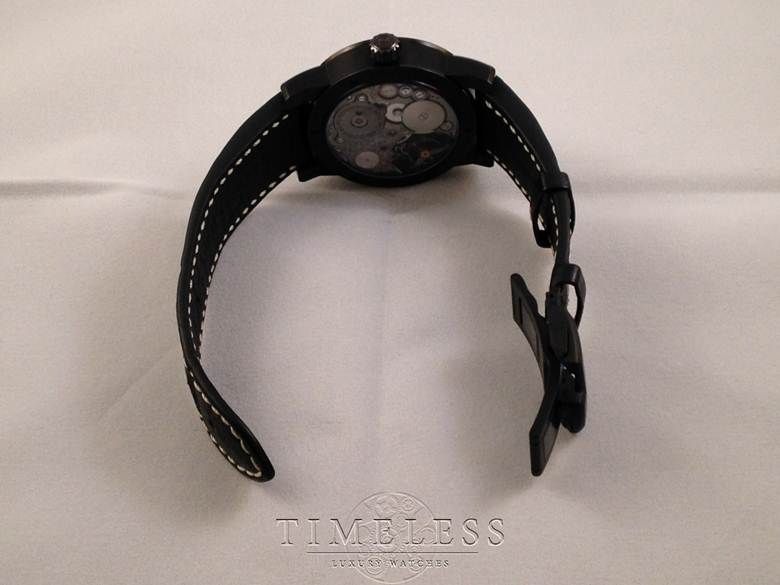 The tri-fold clasp is also very secure and again a perfect match for the watch. My only concern would be that since it's also black PVD, it might get scratched—but in terms of looks, its tremendous.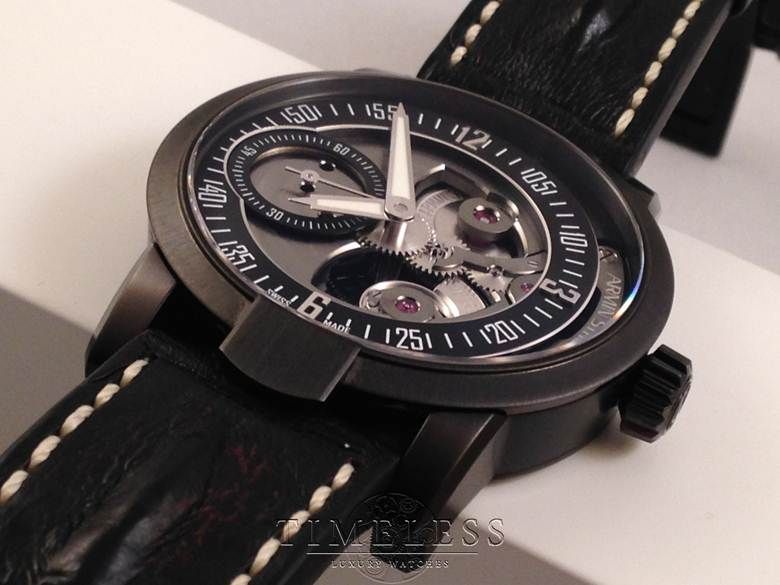 Another interesting feature of the case is the "lip" at 6:00. Originally this was created to allow customers to order custom engraving, a need that was called for because all Armin Stroms have display casebacks.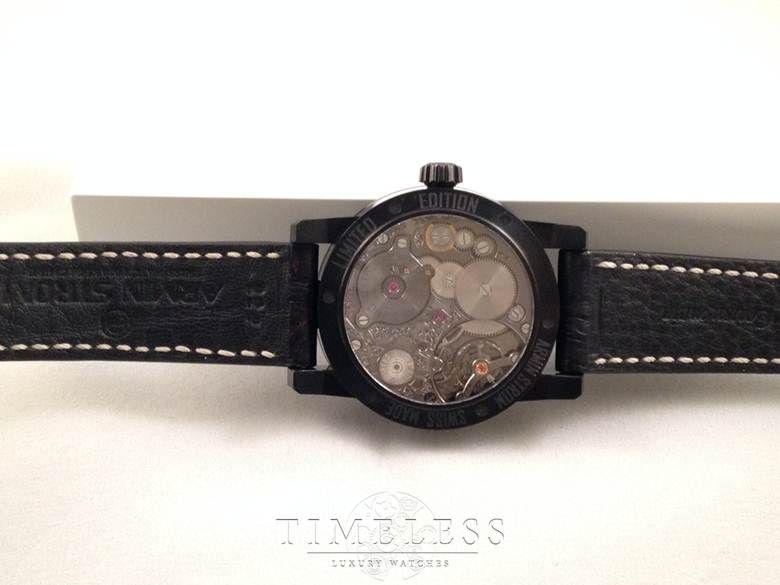 Of course, if you're interested in an Armin, what you really want to know about is the movement. Well, long story short, it's as beautiful as it is a superior performer.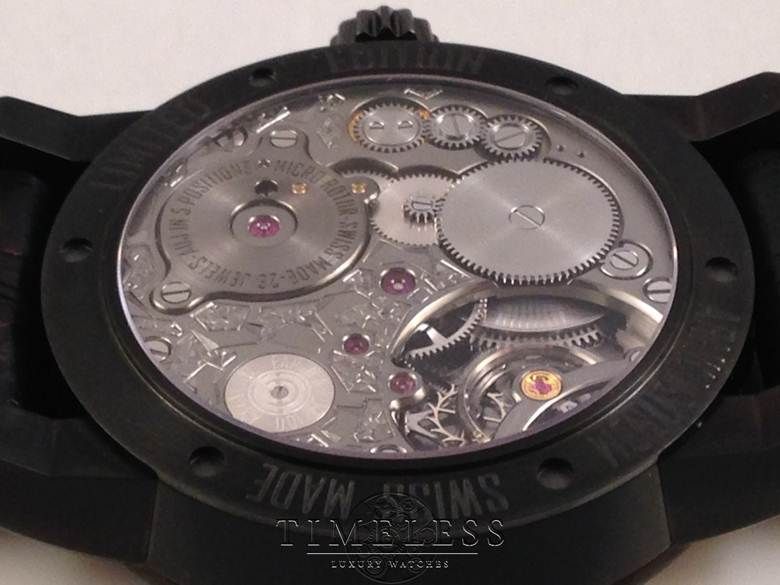 All Armin Strom watches are finished by hand and each receives custom engraving befitting the element the watch represents.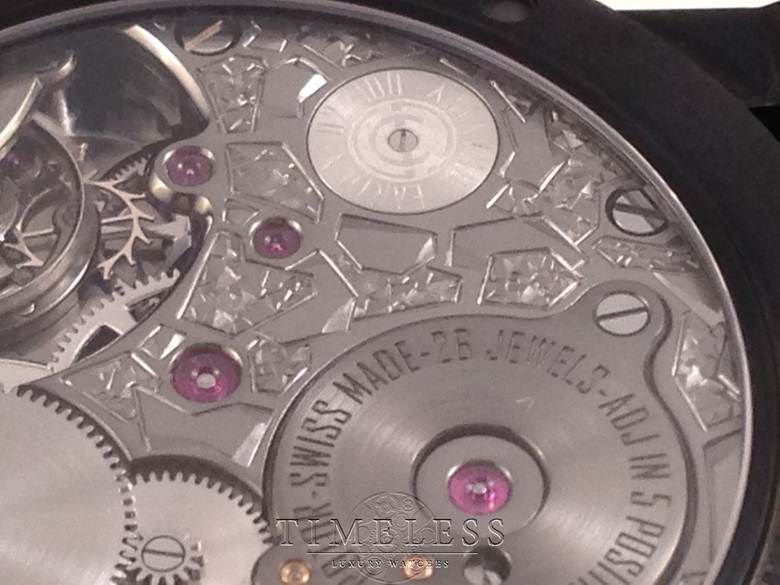 The Earth model here has a great crystalline pattern. It's very impressive in person because the facets of the engraving reflect light at different angles, giving it an almost sparkly sort of effect.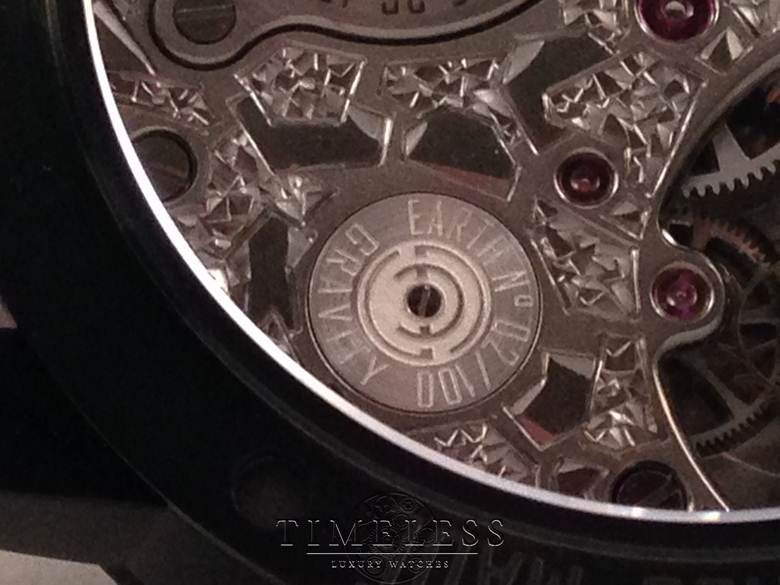 Almost every Armin is a very limited edition—in this case, just 100 of each element of the Gravity will be made. This plate shows our number and authenticity. Very cool.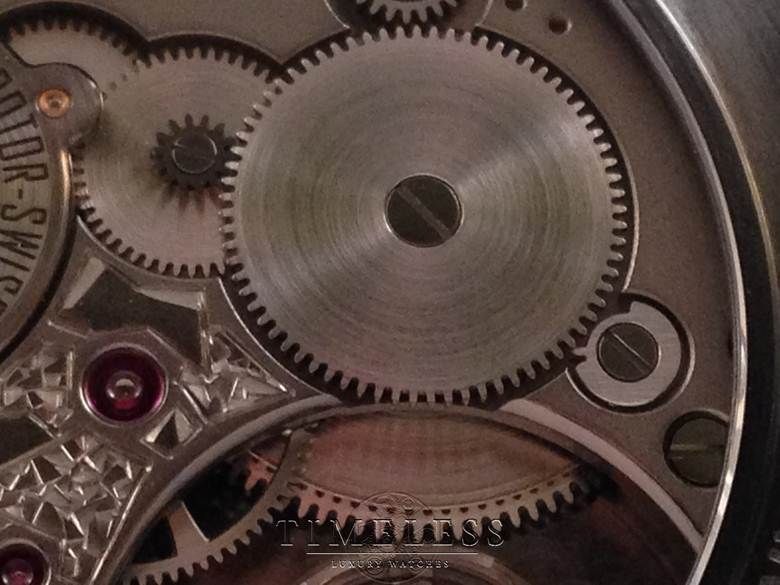 The barrel you can see on the dial side is a bit misleading. Here you can see how incredibly massive the thing is, necessary for its huge power reserve.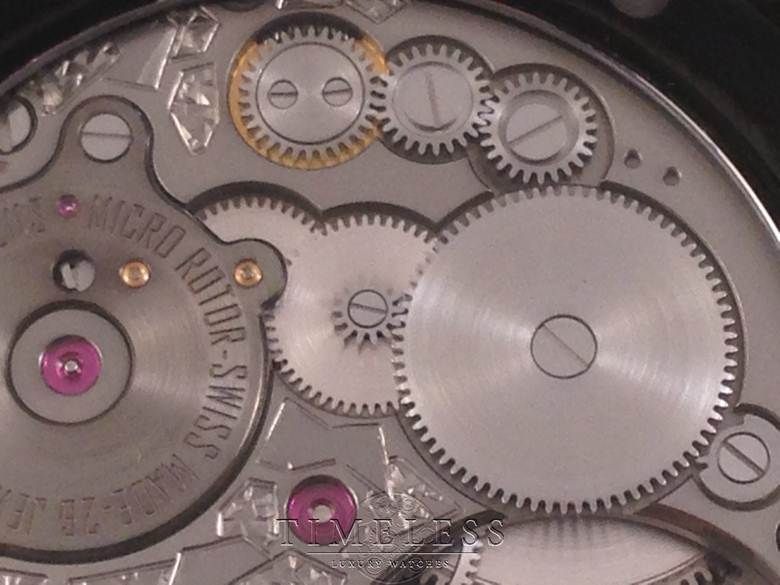 You can also see how the watch is hand wound because the train is fully exposed.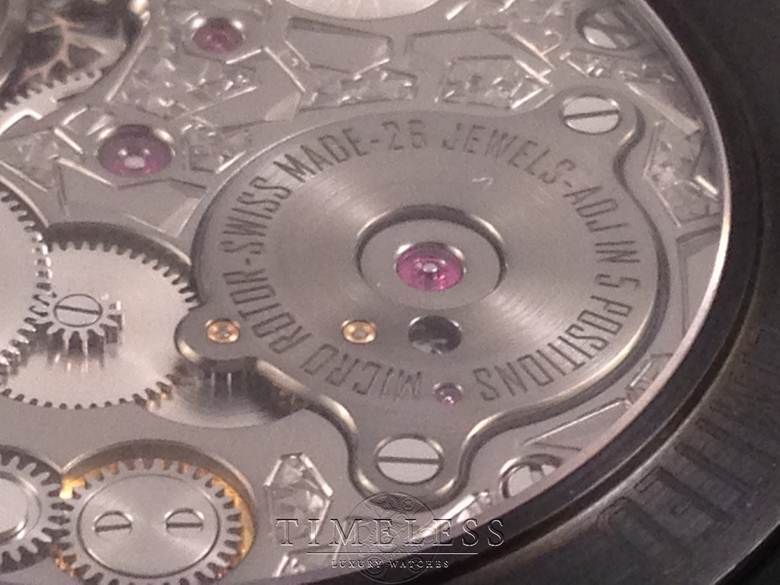 This is one of the few automatics where the rotor is
not
visible from the back. Instead, we can see a beautifully polished plate that mounts the micro-rotor (since it's not borne on the other side for your visibility).
But the piece de resistance of the back is the balance. Armin Strom has removed a huge amount of material from the movement to make sure the entire escapement and balance are completely exposed.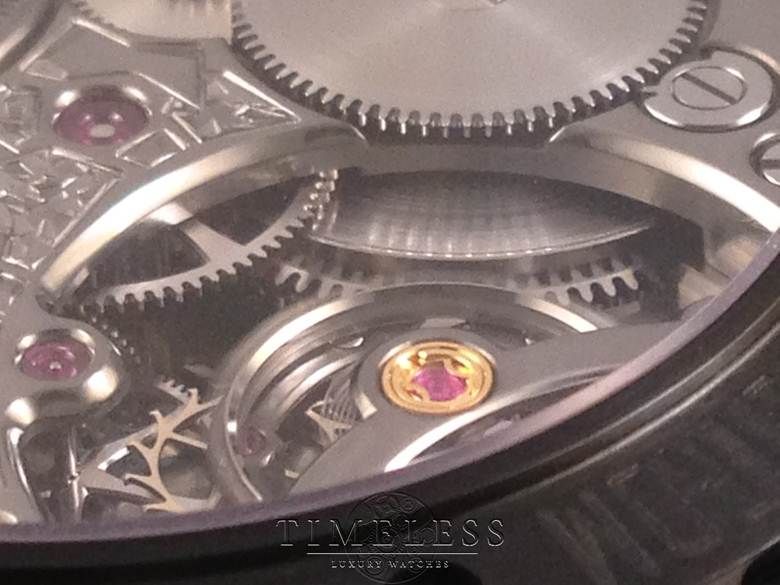 As you'd expect of a high-end Swiss watch, Armin uses a screwed, free sprung balance in conjunction with a Breguet overcoil.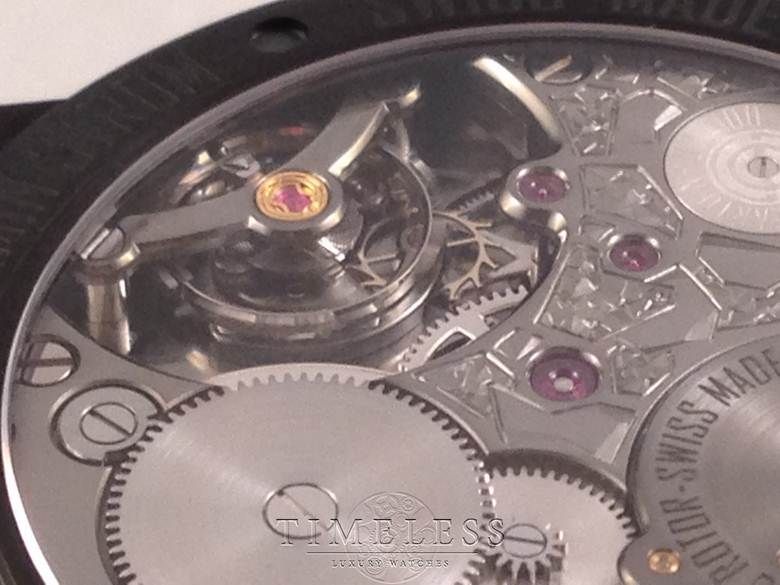 Because the balance wheel is displayed so prominently, you can actually see the overcoil if you look closely enough.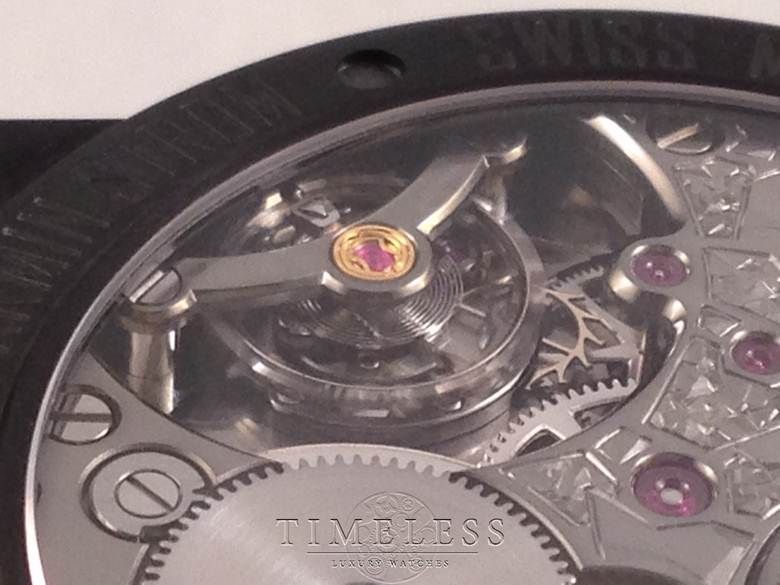 Now you might be thinking—hey, that balance looks smooth. But that's because, like Patek, the watch doesn't hack, meaning that the 18,000 BPH movement, when combined with a 5 day power reserve, essentially runs forever and I can't take a good non-blurred photo of the balance.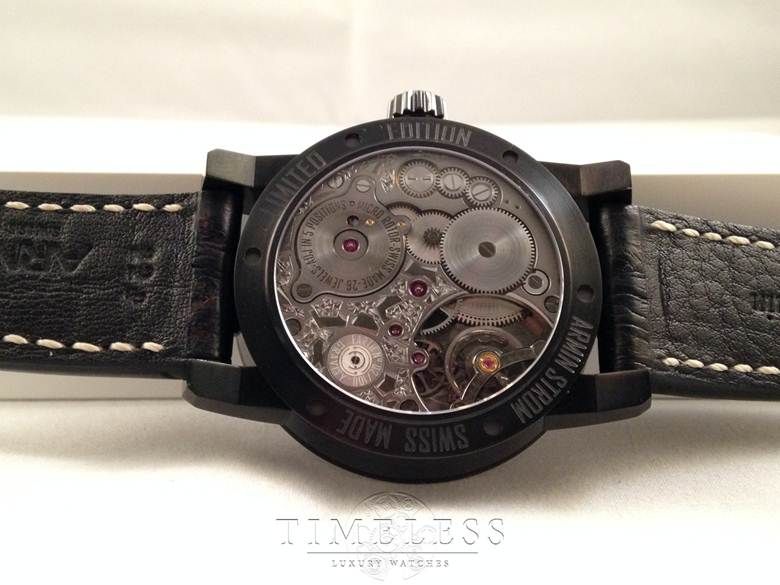 Ultimately we see a monument to traditional watchmaking. Hand-finished movements, free sprung balances, Breguet overcoils, low beat escapements—this watch is high-end done old school, and the result is astonishing.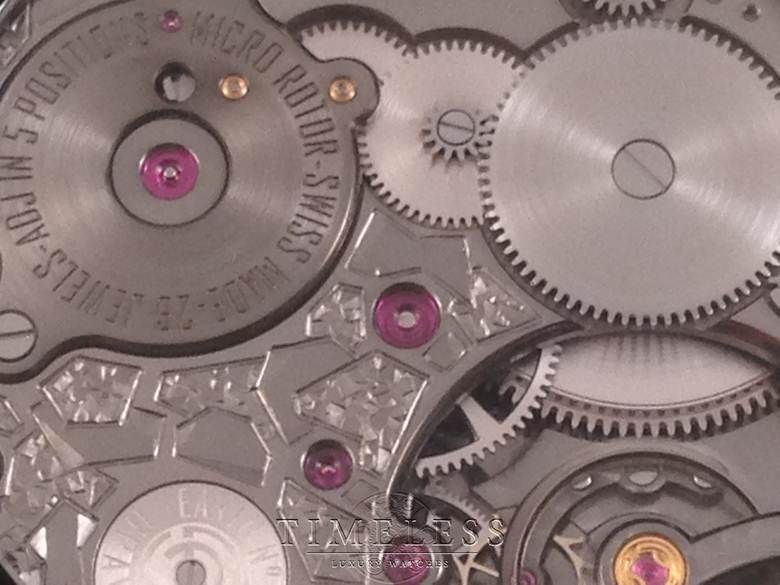 It would normally cost you twice as much to find these features in a good Swiss watch. It really is amazing.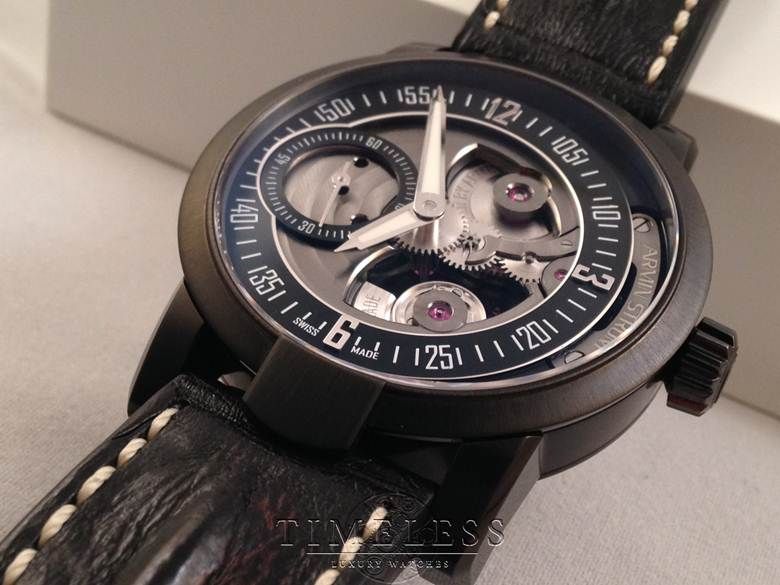 The Gravity combines so many different features into an affordable watch—a micro-rotor, a 5 day power reserve, a free sprung balance, a hand-engraved movement—it's an amazing piece that doesn't get the attention it deserves.