Finally managed to sit down and write the review for the Military X-Lander….
I got the watch used about 2 months ago-some guy in Palo Alto bought it, then realized it is too big on his wrist and listed it on Craigslist. Next day it was on my wrist, and I was all smiles. The watch was 3 months old when I bought it.
I think it is appropriate to say some general things about me, my work, fun times, and what kind of life my watches live. I am an ex-paratrooper that still skydives, I frequent the gym as often as my schedule allows me, I box, and have a couple of medals from some major Taekwon-do tournaments. I have worked as a bouncer for quite a while, and currently work in the oil industry, and I have to often work the docks, mooring, demooring ships and barges, and have to climb shore tanks and the vessels to gauge the tanks before and after the transfer of cargo is complete. This is done in all times of the day and nigh, rain or shine. As my boss put it when he hired me-"this is not work, this is an adventure."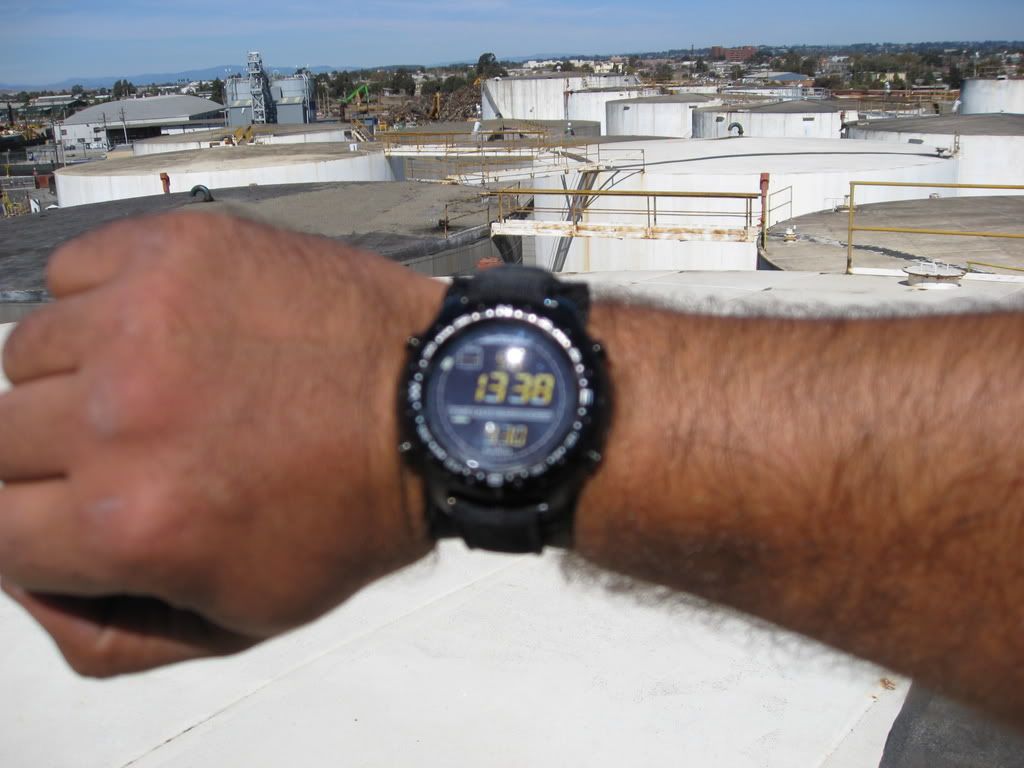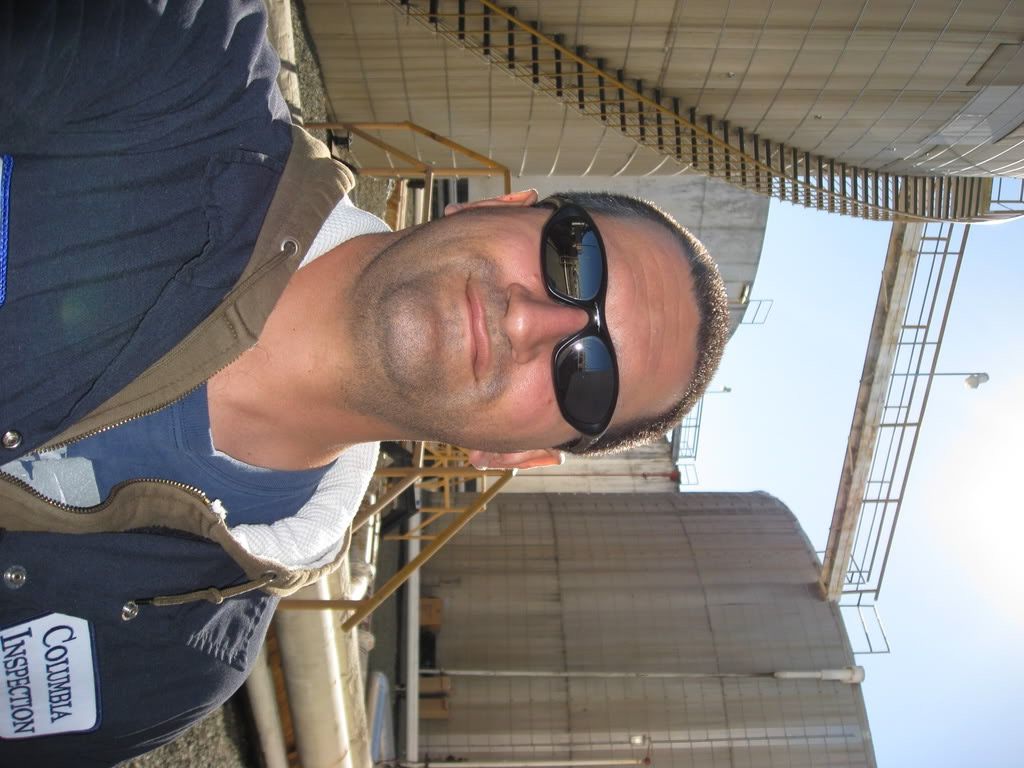 All my watches are expected to perform in any of the conditions I work or play. The Suunto joined a small but tough family of a Tutima Military Chrono, a Seiko Tuna Can, and two G-shocks-a GW-5600, and a GW-9000.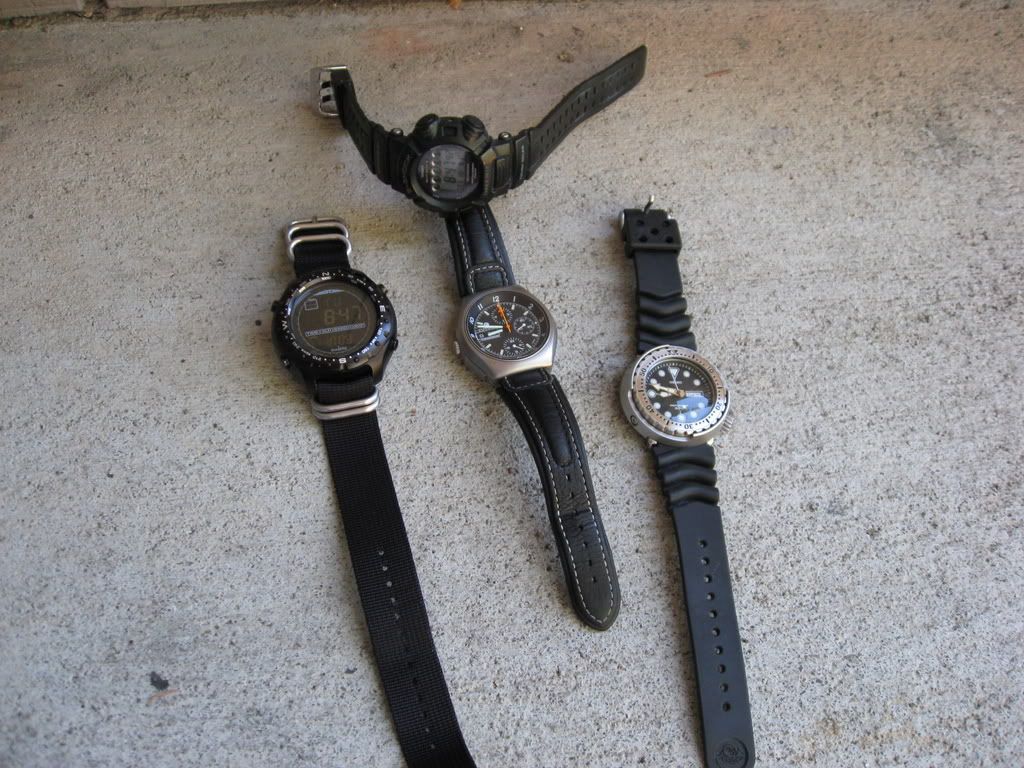 All that said I will proceed with what is my take on my newest addition. The Mil X-Lander
CASE AND STRAP
Case is black, made of light metal. Suunto states it is aluminum, I thing it is some kind of aluminum ALLOY. No way a simply aluminum case can stand up to the abuse I subject my watches, but whatever it is, it have been performing flawlessly, and has not been bent yet, and no scratches yet, despite the fact that I work with the watch, and it accompanies me to both my running and my weightlifting workouts.
Bezel is Black, operates smoothly, has compass markings on it, a little bit loose for my taste, but for me this is not important. As long as it is not falling off I am OK with it. The compass is the feature of this watch that I use the least. But more on usage of the watch functions later on. I managed to put one small scratch on the bezel, but that was a result of a direct hit on a metal door at work. ANY watch would have been scarred after this one. The lug design deserves mentioning. Suunto went for extremely short lugs, and utilized bent pins for the strap. At first I thought that was a trick to render all the aftermarket straps useless, but after I handled the watch it downed on me-Suunto wanted to shave off the size of the lugs. The watch is big as is, and if the lugs were the "regular" watch size, this watch would have been a true monster, and suited only for 8 inch wrists.
Strap is very comfortable, soft, and really wide-nicely complimenting the big size of the watch itself. It has a neat strap retainer that "bites" the strap, and holds it securely at the end without allowing it to float around. I wore it for a week on it, but found that the wide rubber strap, with its larger contact area, to be a little irritating to my skin. I work with gloves a lot-the thick black rubber kind, used to handle chemicals. In this environment sweat was retained under the strap, and I did not like this. When on the subject of the straps, a member earlier wrote that his Mil X had small parts in the strap that had to be aligned properly. I guess Suunto addressed this, because mine has a strap that is solid, with no small pieces that need to be aligned. Currently I have it on a Zulu. Installing the Zulu was a breeze-I actually took the rubber off, put the curved pins back on, and slipped the Zulu through. There is enough space to do this. I have also used the watch on a $6 Banda Velcro strap, and it is great on it. The textile part of the strap just sucks out the sweat off the wrist (did I say that both my work and my fun activities make me sweat PROFUSELY….)
DISPLAY
The display is very legible. This is my first negative display and I have no problems with it whatsoever. The big size of the display is a very good thing and certainly worth "over sizing" the watch. Of course in dim light this type of display makes you use the light more, but I can live with that. Some have objected about the dim backlight, but I find the light more than capable of the task at hand-which is lighting a screen, not being used as a torch to light a room. There are certain tactical advantages to the Suunto's approach that are beyond the scope of this review. The positioning of the baro trend indicator is great. I find myself more and more glancing at this area of the display first.
MODUL, MODES AND OPERATION
In time mode the watch has the usual functions expected of a decent sports watch. It has 3 alarms, stopwatch and a CDT. In both stopwatch and CDT modes the current time is displayed prominently in the center of the screen. I think this is a big plus. Time is always primary for me, even while chrono is used, and to be honest with you, I do not use the CDT that much. A notable omission is the absence of a second time zone-a feature that is increasingly popular, and Suunto decided to put it in the new Core. I do not think this is such a big deal, my casios have a bunch of cities preprogrammed in them for all the time zones, and I always find it faster and easier to do the time zone calculations in my head. I guess being from Europe and living in the states really helps-I constantly do those calculations in my head trying to figure out what is the vest time to call my buddies and relatives.
Alti and Baro work great IF YOU KNOW HOW TO USE THEM. Barometric-based altimeters are very accurate, but need to be calibrated, especially when traveling from point A to point be relatively fast (think car or plane fast) I have found the solution to this. I have pulled the reference altitude for the points that I frequent the most—home, trail where I run, the refineries and terminals where I work, etc. Obviously the fact that I work on the dock helps a lot-sea level. So whenever I go somewhere, I just check my alti. If it is off, I correct it and boom-I have baro readings. I have checked the baro after I have properly calibrated the alti, and it is amazingly accurate. The reverse steps is true for the alti-check the baro, calibrate it, and the alti is spot on (rounded to 10ft of course) Last time I went skydiving, I checked it on the ascent and it was spot on.
Compass mode-I checked it against my Silva, it is correct. I do not use it as much as the other two….
Light operation-the light "shares" the mode button. I think this is the reason Suunto decided on the long push needed to activate the light. I am fine with this, but it takes some time to get used to this, and in the beginning canbe frustrating—it is dark, I want to see the time, I push the button, forget to hold it, now I am in Baro mode
L
Of course it is easily remedied because one the light is ON it stays ON-a big plus for me. So even if you mess it up the first time, once the light is on, you can scroll to any of the modes you need.
WATER RESISTANCE
I know it is a big thing for some. It is a BIG thing for me too-all my other watches are 200m (with the Tuna Can being 300), but the Suunto is flawless so far. I shower after work or sports WITH the watch that I wore for the activity. The Suunto has totally replaced both G-Shocks as the watch of choice for both activities, so it takes daily baths with the big hairy Bulgarian….so far no issues at all. I swam with it a couple of times, again, no issues.
I would definitely recommend this watch to anybody that works or does any regular activity outdoors, wants a tough, functional watch with alti, baro and compass functions added to the regular timing functions, all packed in a very well thought out and superbly designed package. Yes, it has its shortcomings and things I had to get used to, but given the complexity of the product, it is a great success in my book.
Could not resist to put one more pic. Me with my fiance, on her graduation day this may. I am so proud with her, my Tutima was happy too.