WATCH IS Sold!!!
I am letting go of my beloved and babied Benarus Barracuda. I know I am going to regret this later but I have to do it.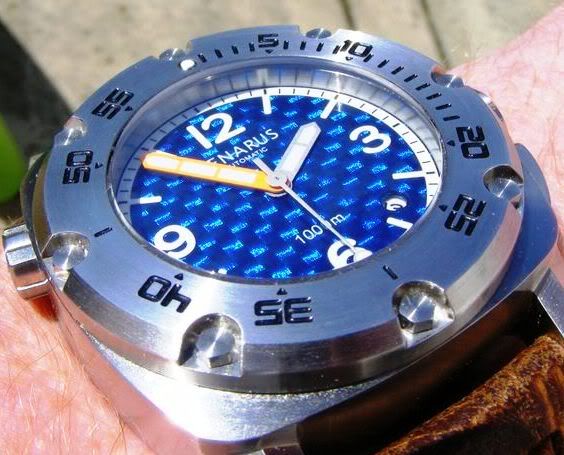 photo for illustration only.
The watch is in perfect condition. No scratches that I can see except on the friction clasp. The butterfly deployment was never used and the straps are as they were sent to me. I only tried the leather on once and put the bracelet back on, and the one time I changed the bracelet to a strap I taped the case off with painters tape and there are no scratches to the lugs. I was able to get three sets of the screw bars from Ralph thinking that I would be changing straps a lot which I never did. The watch also comes with two Rubber straps supplied from Ralph and one nice brown Leather strap. The case and warranty card are also included. This is one amazing kit for the price you will never see anything like it. The case is huge and water resist to 1000m.
Despite its size and heft it is a very comfortable watch. All of the details were thought of by Ralph including good lume, solid Miyota Auto movement, orange minute hand that really contrasts the blue dial nicely and a orange tipped second hand.
Mine was number 25 which I had asked for.
I really love this watch and I think for the money it has no equal.
I posted pics before but I do not have any of my own since my camera and usb cable are gone from a recent move. I am posting pics for reference. My watch is identical and it is MINT! I have sold and traded on this forum for many years and can provide references upon request. If the watch is not as I state you can get a refund.
This is a great watch and a great deal. These are sold out and limited to 100. If you ever wanted one now is your chance. I do not see these up for sale and for good reason. I would never get rid of it if I had a choice!!
Rob