Discussion Starter
·
#1
·
Hello there,
as some of you might have recognized last week I did a
first lume
test
just to see how strong some of my watches are regarding their lume
strength.
As I told shortly after this I wanted to make
a
second test
with only my
dive watches and under different circmustances.
Unlike my words in favour of this second test yet to be made I thought it was
better to keep the exposure time of the camera constant in order to see
the lume vanishing even more.
The exposure of the camera was 3 sec throughout the whole lume contest.
The time of the very first illumination was about 6 min.
Considering this second test I started at 23.45 and ended at 00.30
o´clock.
From 23.45 - 00.00 I made fotos at an intervall of 1 min.
From 00.00 - 00.30 I made fotos at an intervall of 5 min.
I am sorry that I didn´t continue making more fotos for example 1 or 2
hours after the last illumination. This would be for sure very interesting.
Please keep in mind that it´s already late and it isn´t that funny being in
the dark and sitting right next to a camera on a tripod and trying to keep
oneself from falling asleep. No computer light, no tv light... just darkness
and still the look on one of the more illuminating watches in order to push
the remote-control release of the cam in the right moment according to
the time table..
Hence I was really happy not to fall asleep and be able to present another
intersting lume shots including two new watches...
BTW I certainly would liked to have made more pics from more stunning
diver watches. Maybe I´ll get a hand on some of the great Seiko lumers...
who knows...
Note:
At the end of the test you could read the time from all watches
without any bigger problems, even if it took you a little longer with the more
"underperformers".
The Promaster 1000 and the Prodiver have been the most easy to read
watches followed by the Omega AC. The hands of the DS-3 are real surprising
but if this is all the watch may offer it´s probably too little... sorry.
I could have certainly prolonged the exposure time but I wanted to get a
result within app. one hour.
So please enjoy...! :-D
The participants - ready to glow!!!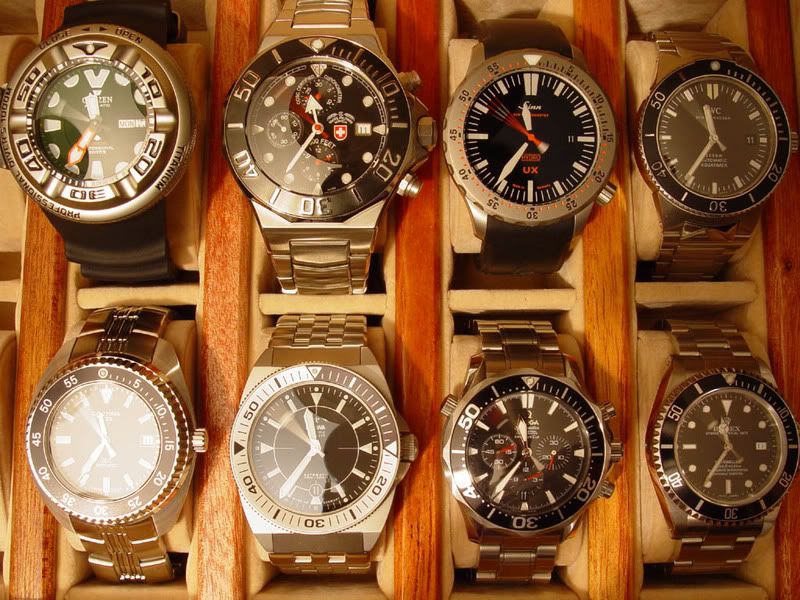 23.45 Taking pictures immediate after 6 min illumination with 3 halogen spot lights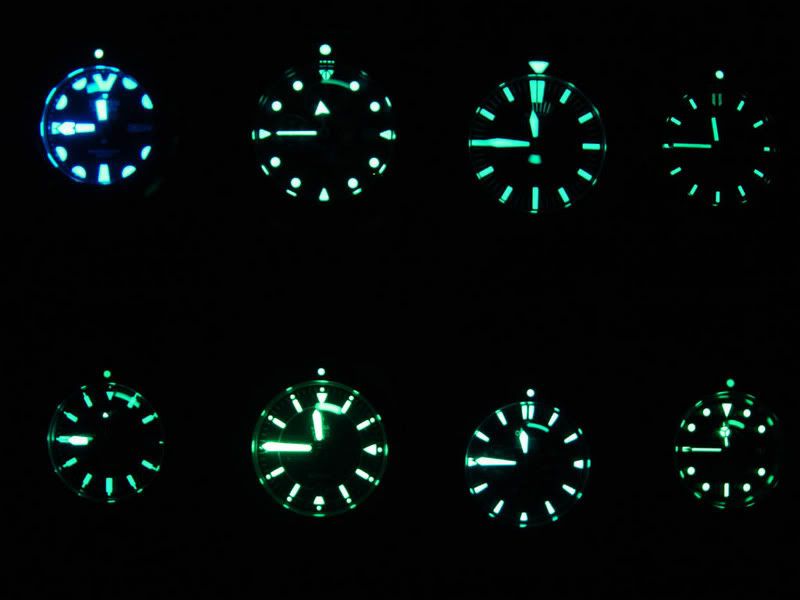 23.46 1 min later
23.47 2 min later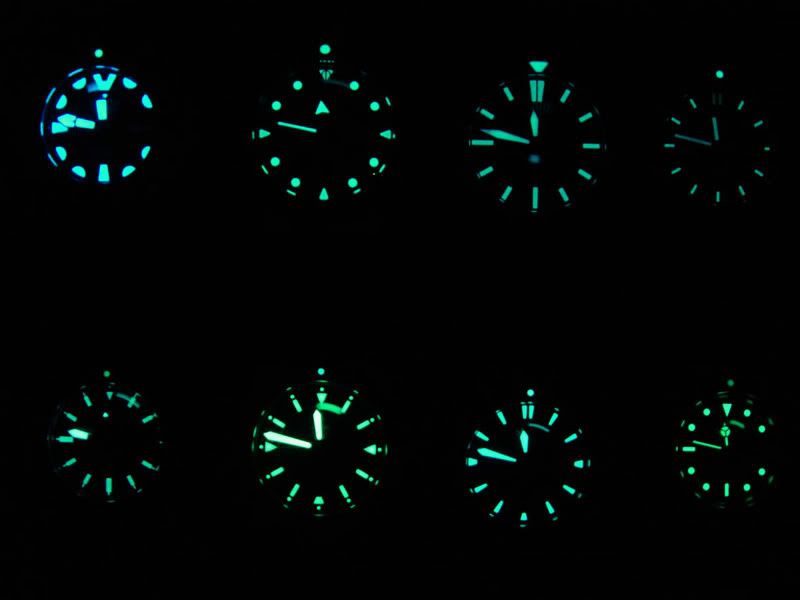 23.48 3 min later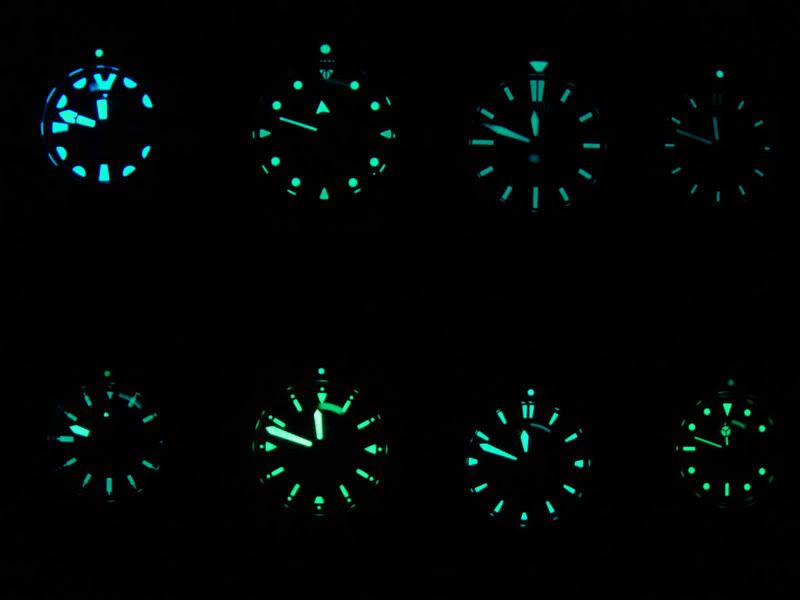 23.49 4 min later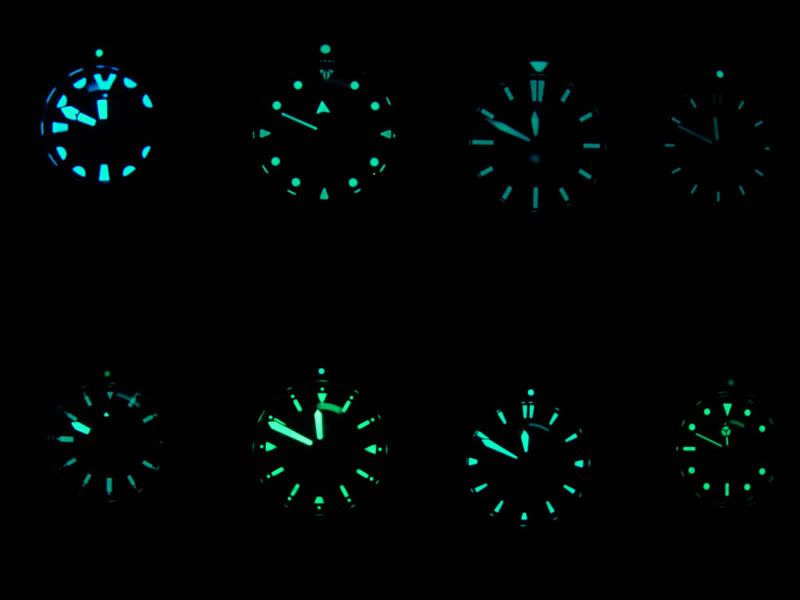 23.50 5 min later
23.51 6 min later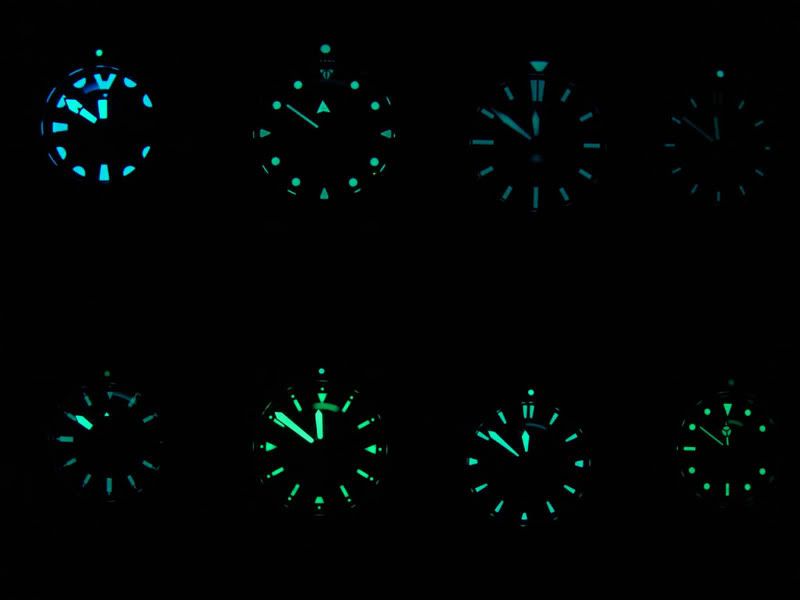 23.52 7 min later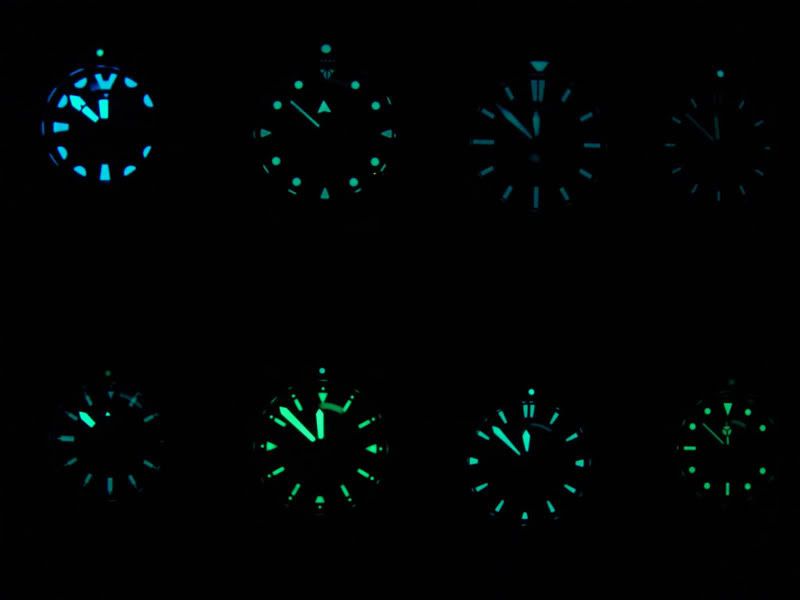 23.53 8 min later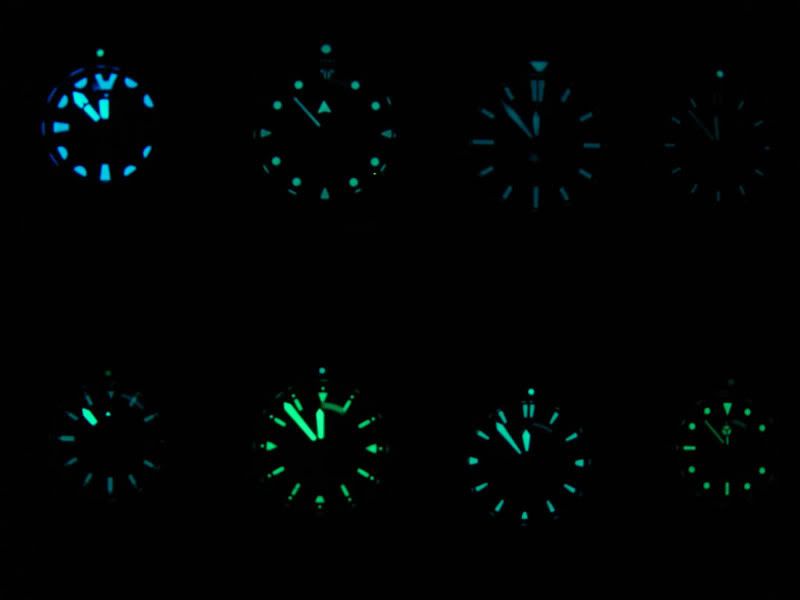 23.54 9 min later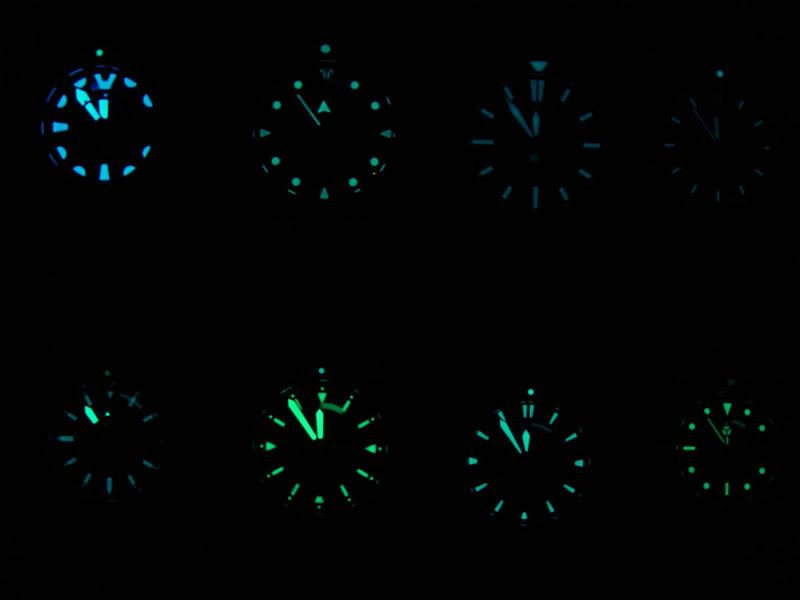 23.55 10 min later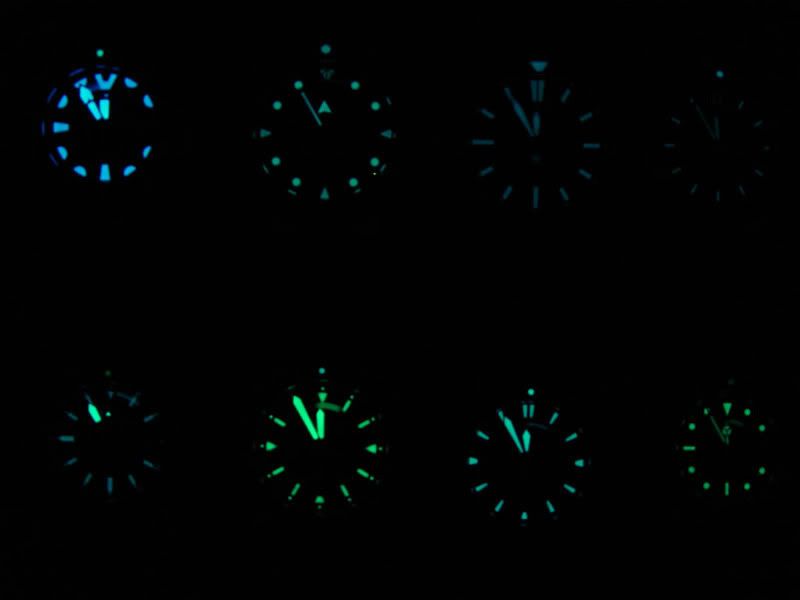 23.56 11 min later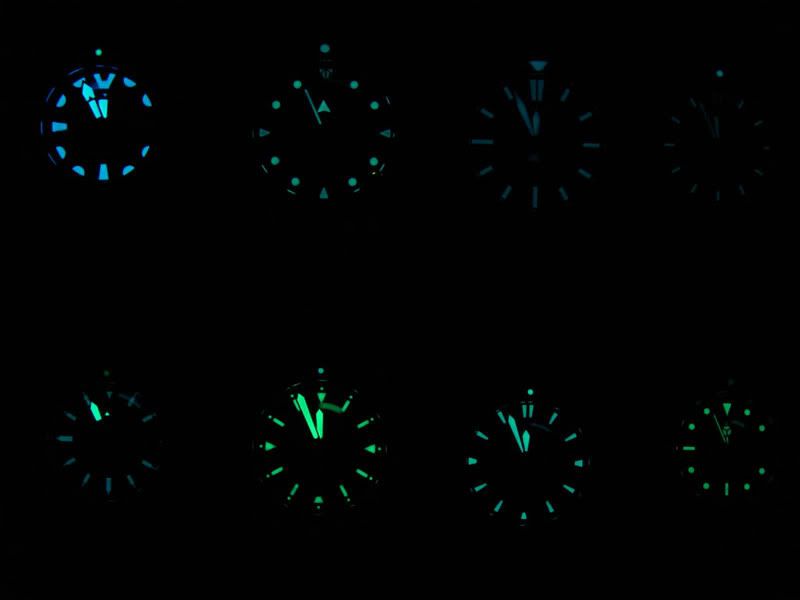 23.57 12 min later
23.58 13 min later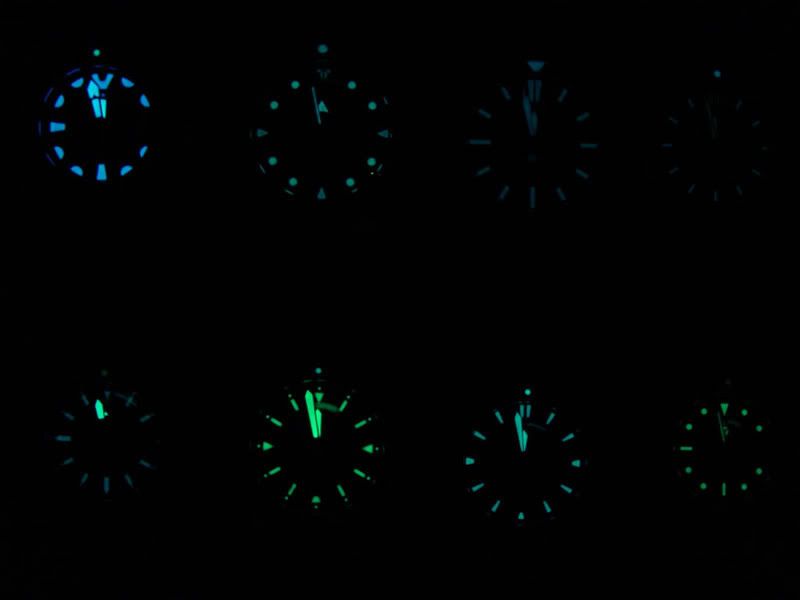 23.59 14 min later
00.00 15 min later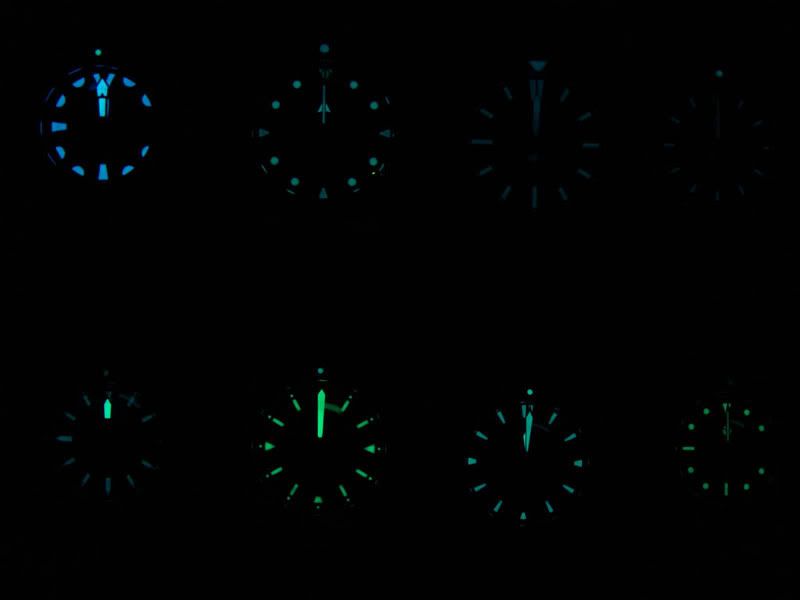 00.05 20 min later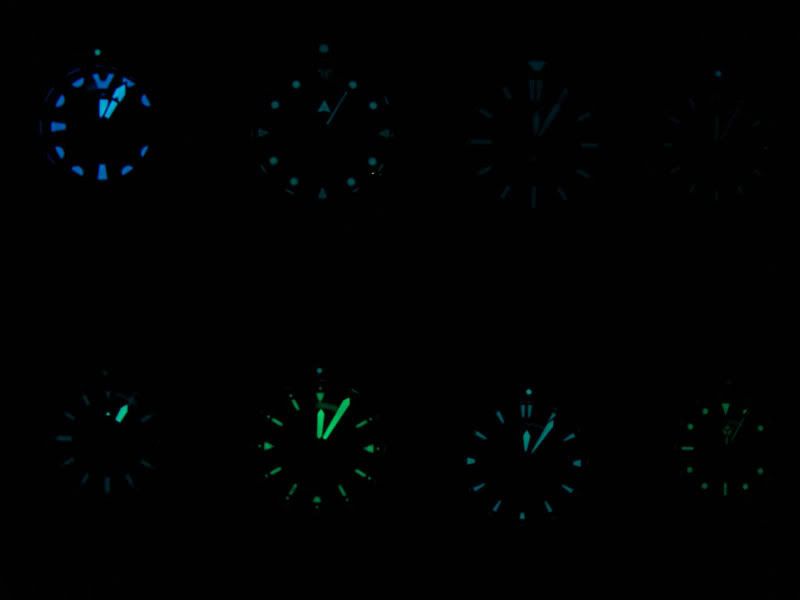 00.10 25 min later
00.15 30 min later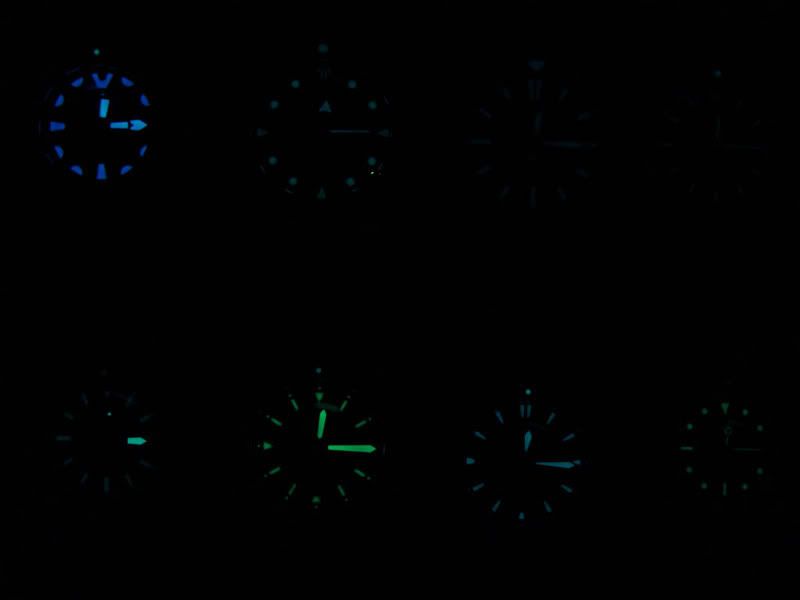 00.20 35 min later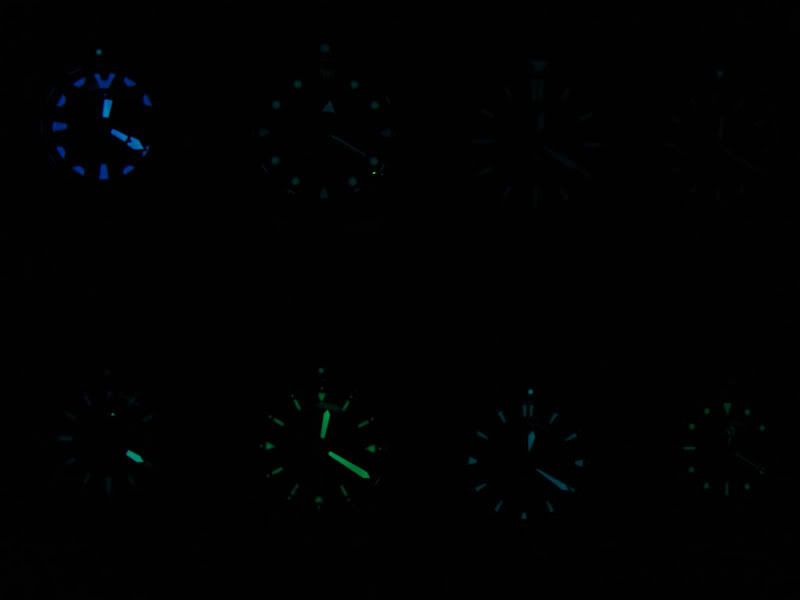 00.25 40 min later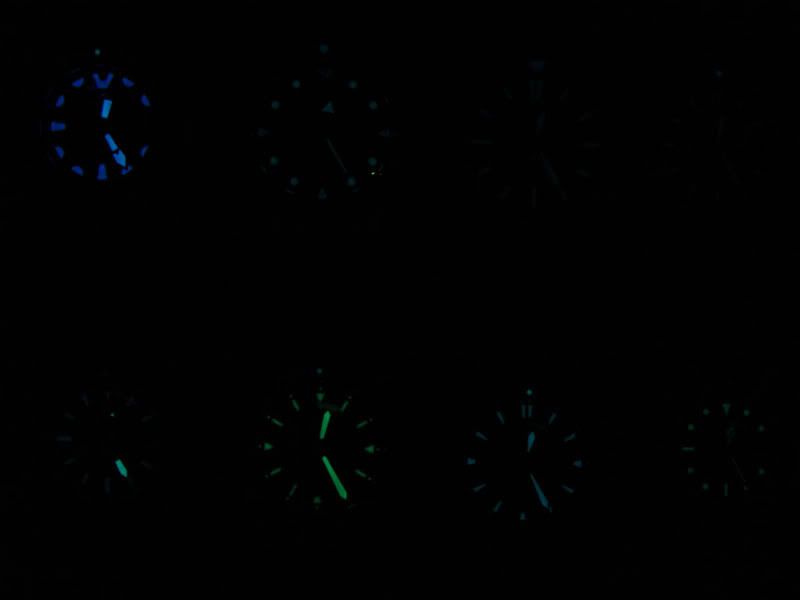 00.30 45 min later - who is the winner...?