I spent three lovely days in Munich to visit the Munichtime 2011 and to talk watches.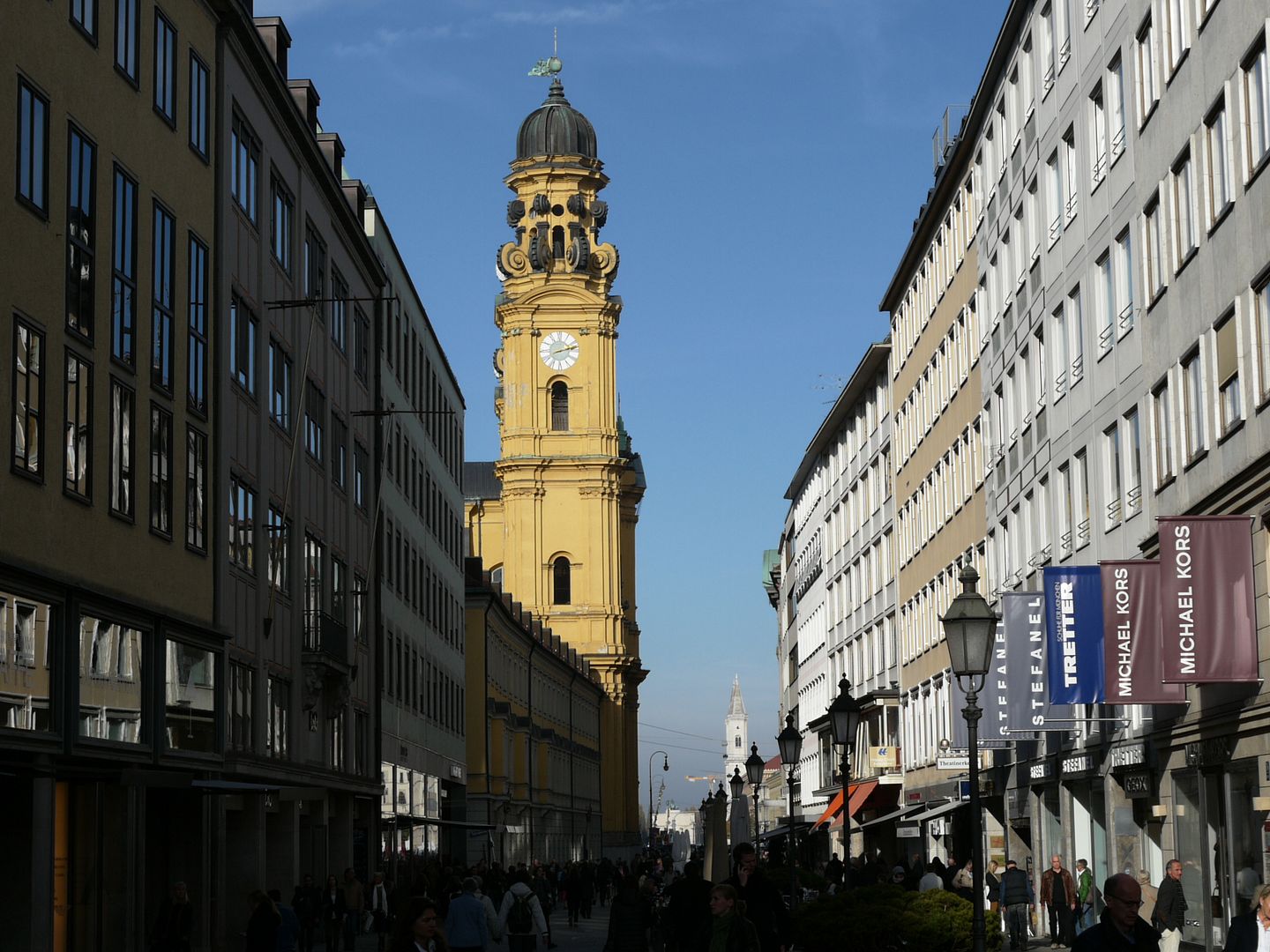 Venue was the *****Hotel Bayerischer Hof. The Bayerischer Hof was opened in 1841 as desired by King Ludwig I, who wanted to accommodate his guest in a comfortable place to stay. The Bayerischer Hof is a family runned enterprise for over a hundred years.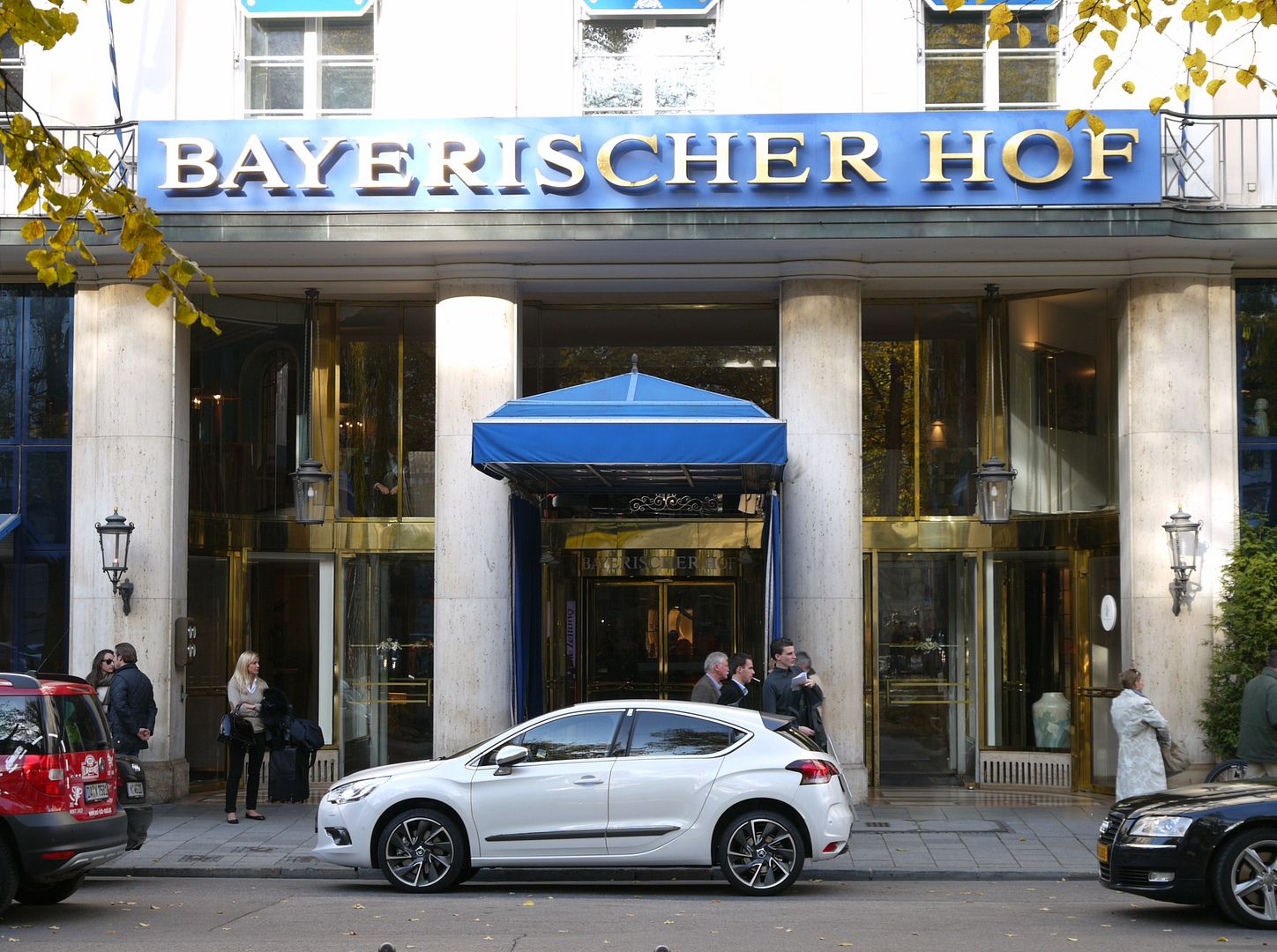 Watch manufacturers from Germany, Switzerland and France had the opportunity to showcase their products in a stunning and classy setting. To me it seems that the 2011 Munichtime got more exhibitors than a year before.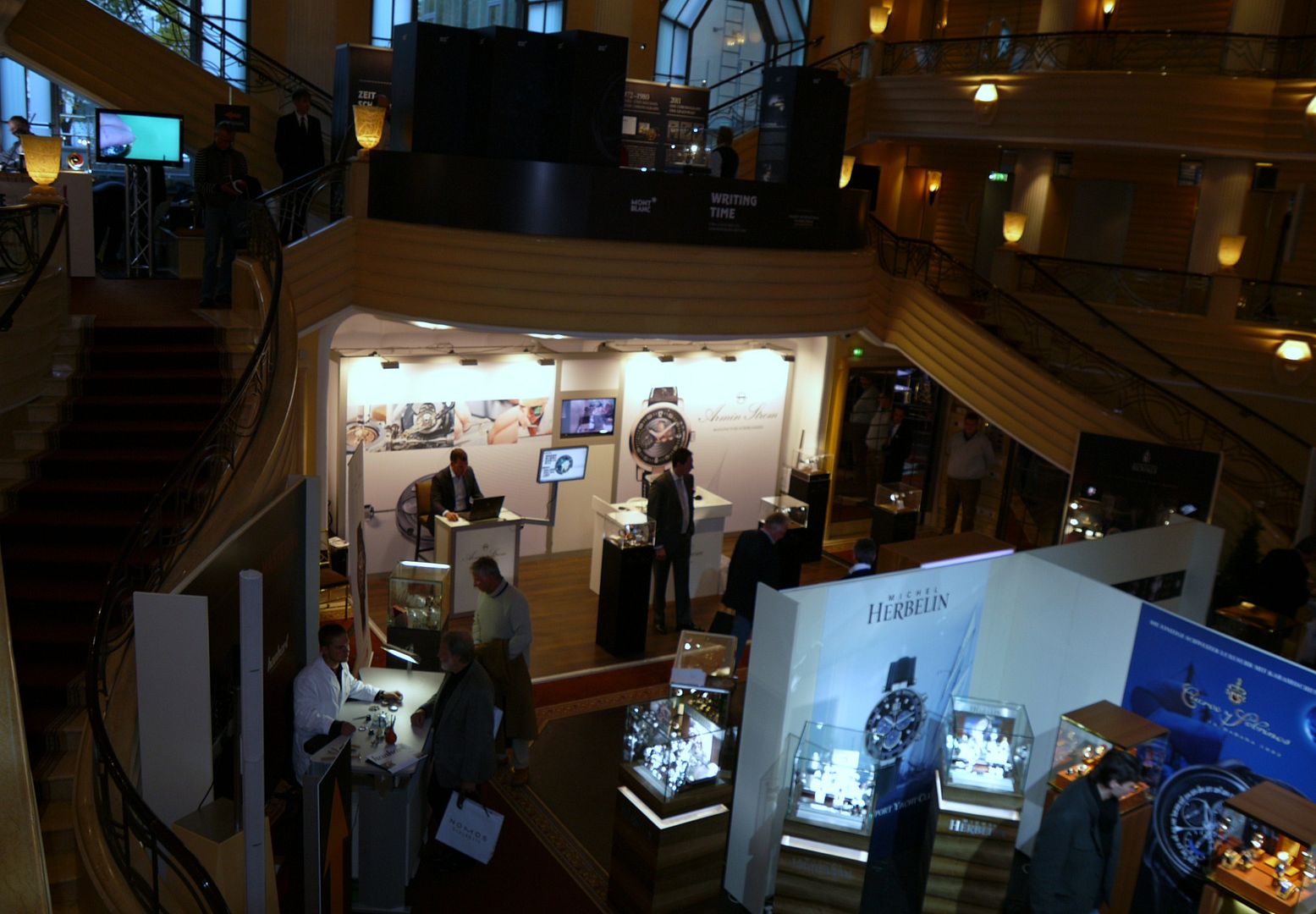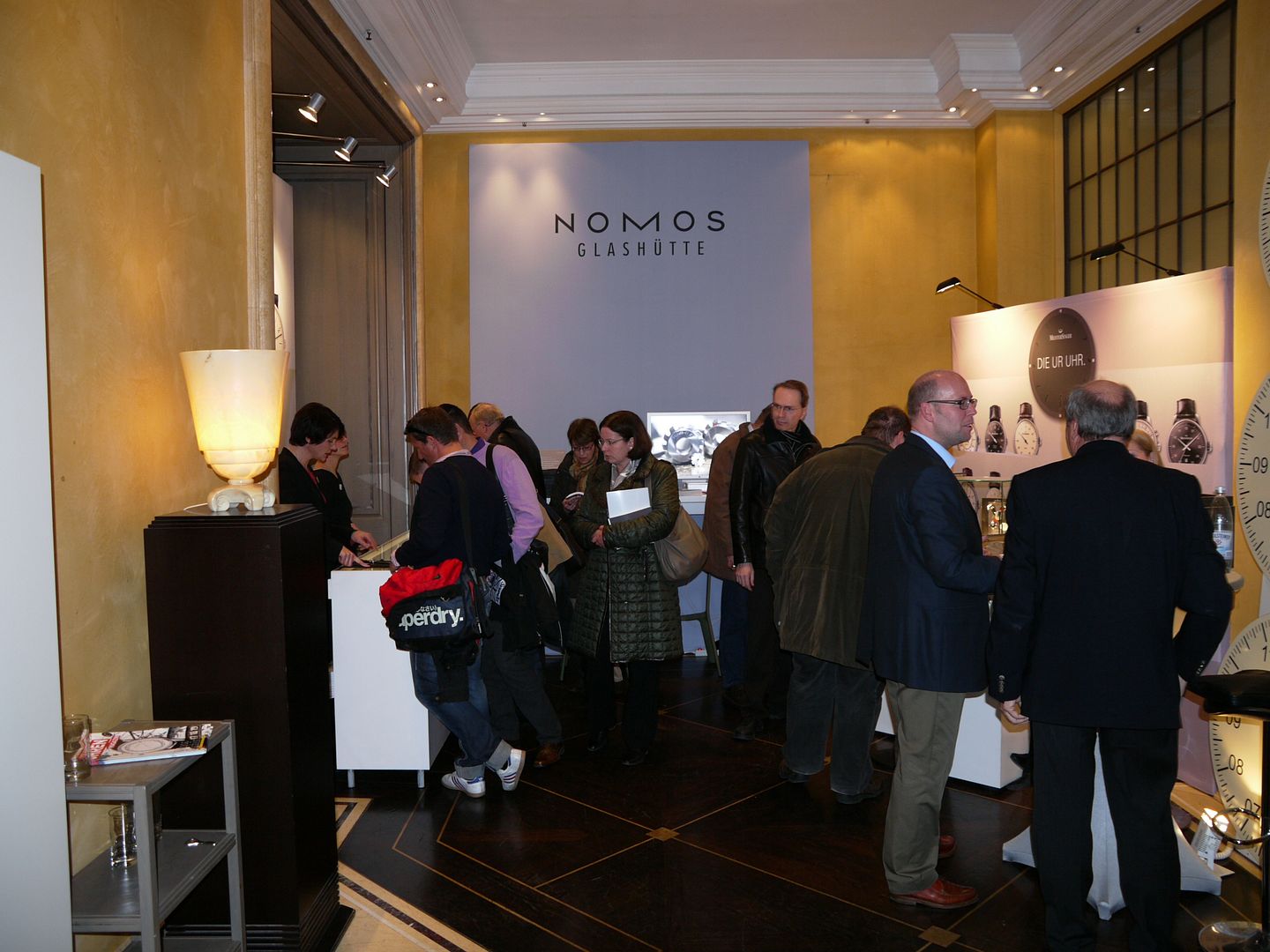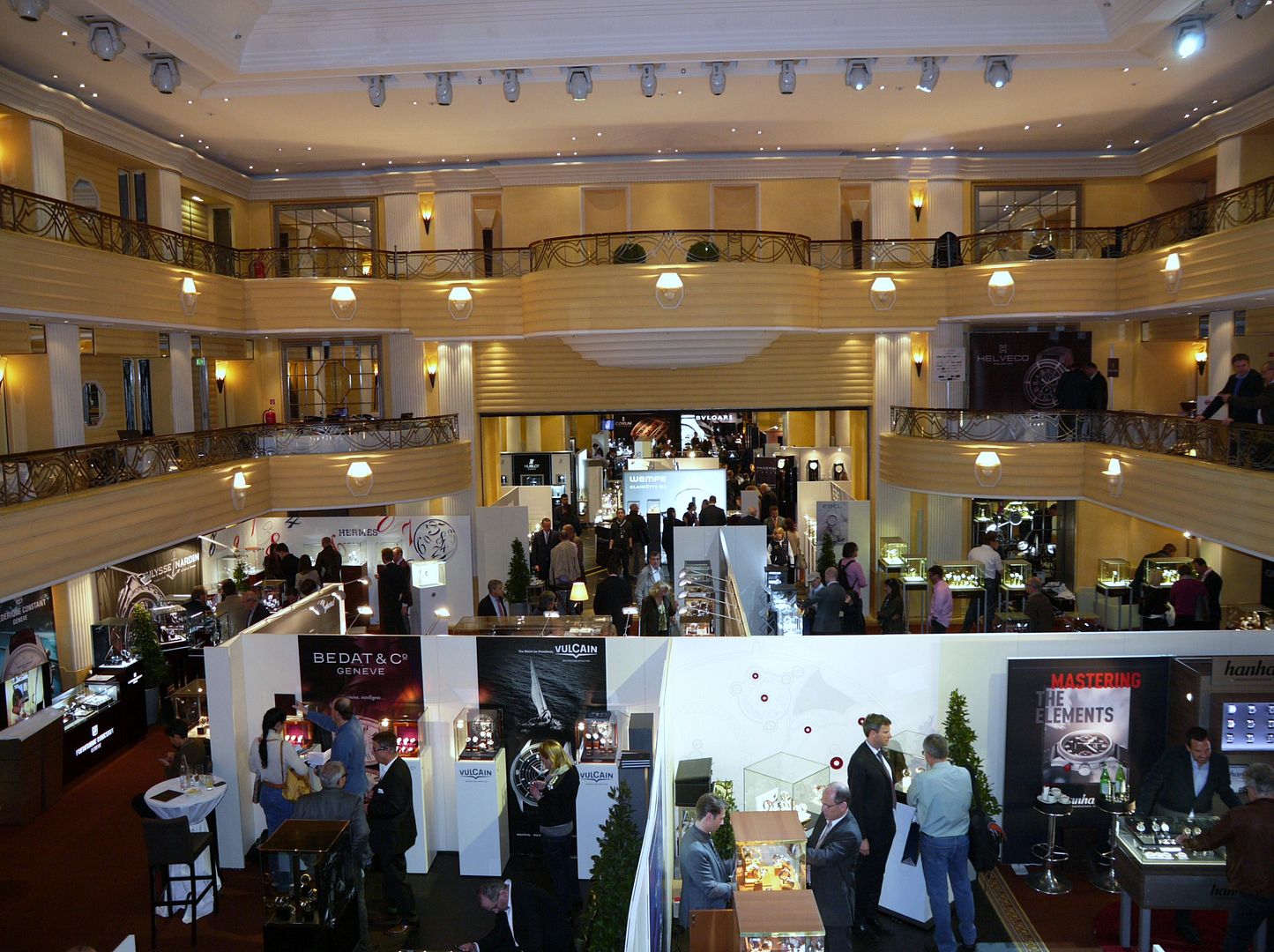 The range of manufacturers as well as the range of exhibits were excellent chosen to fullfill the motto "The finest watches in the world at Munich's Hotel Bayerischer Hof"
A. Lange & Söhne
Aerowatch
Alexander Shorokhoff
Alpina
Antoine Martin
Armin Strom
Arnold & Son
Askania
Audemars Piguet
B. Junge & Söhne
Baume & Mercier
Bedat & Co.
Bell & Ross
Borgward
Bulgari
Carl F. Bucherer
Cartier
Chopard
Chronoswiss
Corum
Cuervo Y Sobrinos
Damasko
Ebel
Eberhard & Co.
Erhard Junghans
Erwin Sattler
Eterna
Fortis
Frédérique Constant
Genesis
Germano & Walter
Girard-Perregaux
Graham
Greiner
Helveco
H. Moser & Cie.
Habring
Hanhart
Harry Winston
Hautlence
HD3 Complication
Hermès
Hirsch Armbänder
Hublot
Ingersoll
IWC
Jaeger-LeCoultre
Jaermann & Stübi
Junghans
Junkers
Kieninger
Lehmann Schramberg
Leinfelder
Marcello C
Marvin
Matthias Naeschke
Maurice Lacroix
Max Bill
MeisterSinger
Michel Herbelin
Montblanc
Movado
Mühle Glashütte
Neuhaus
Nienaber Bünde
Nomos Glashütte
Oris
Panerai
Parmigiani
Paul Picot
Porsche Design
Raymond Weil
RHL
Richard Mille
Roger Dubuis
TAG Heuer
Thomas Ninchritz
Tutima Glashütte
Ulysse Nardin
Vacheron Constantin
Wempe
Zenith
Panerai had a special exhibition in the penthouse of the Bayerischer Hof and provided a rickshaw service to their newly opened flagship store on Munich's most famous Maximilianstrasse.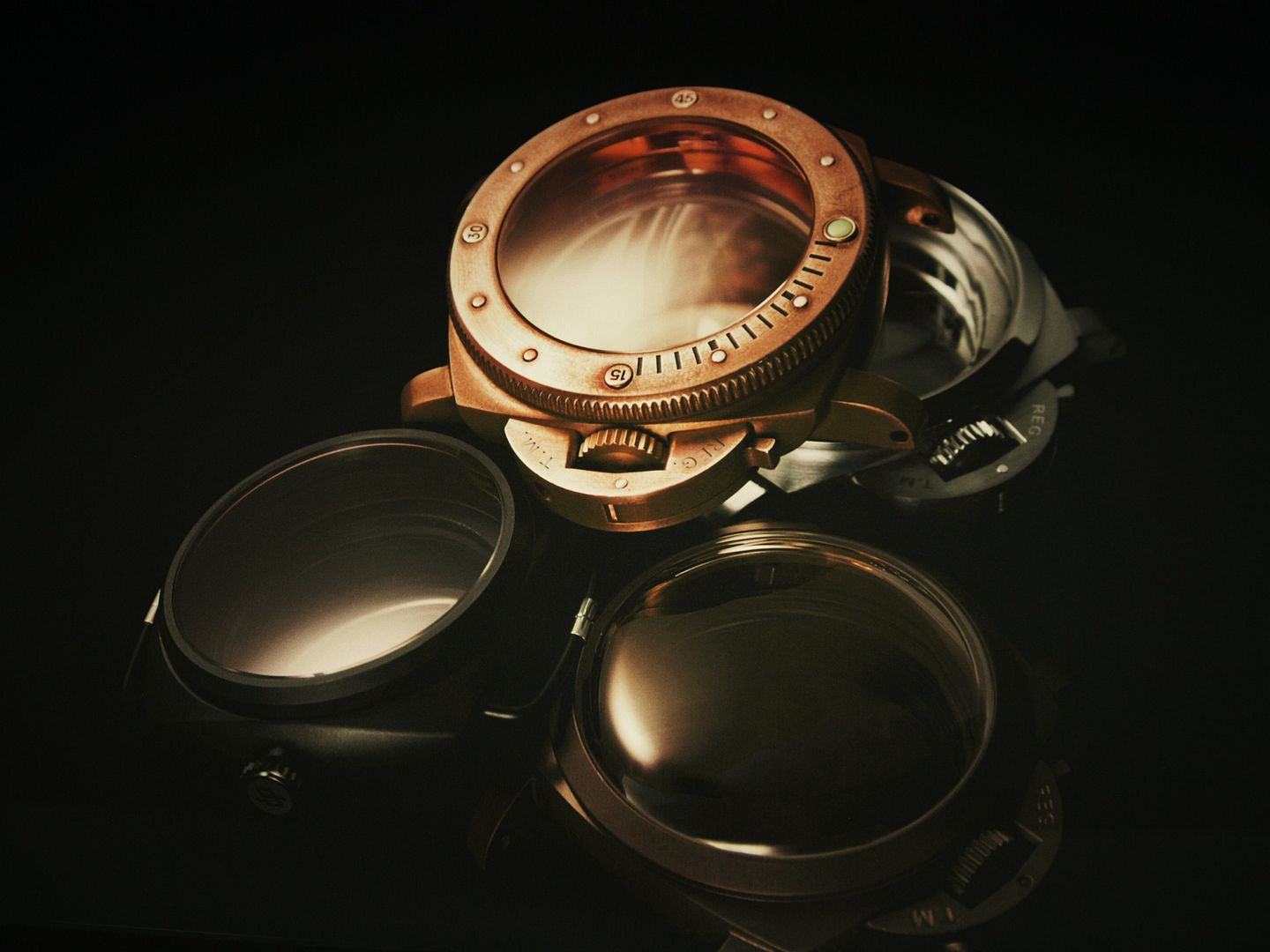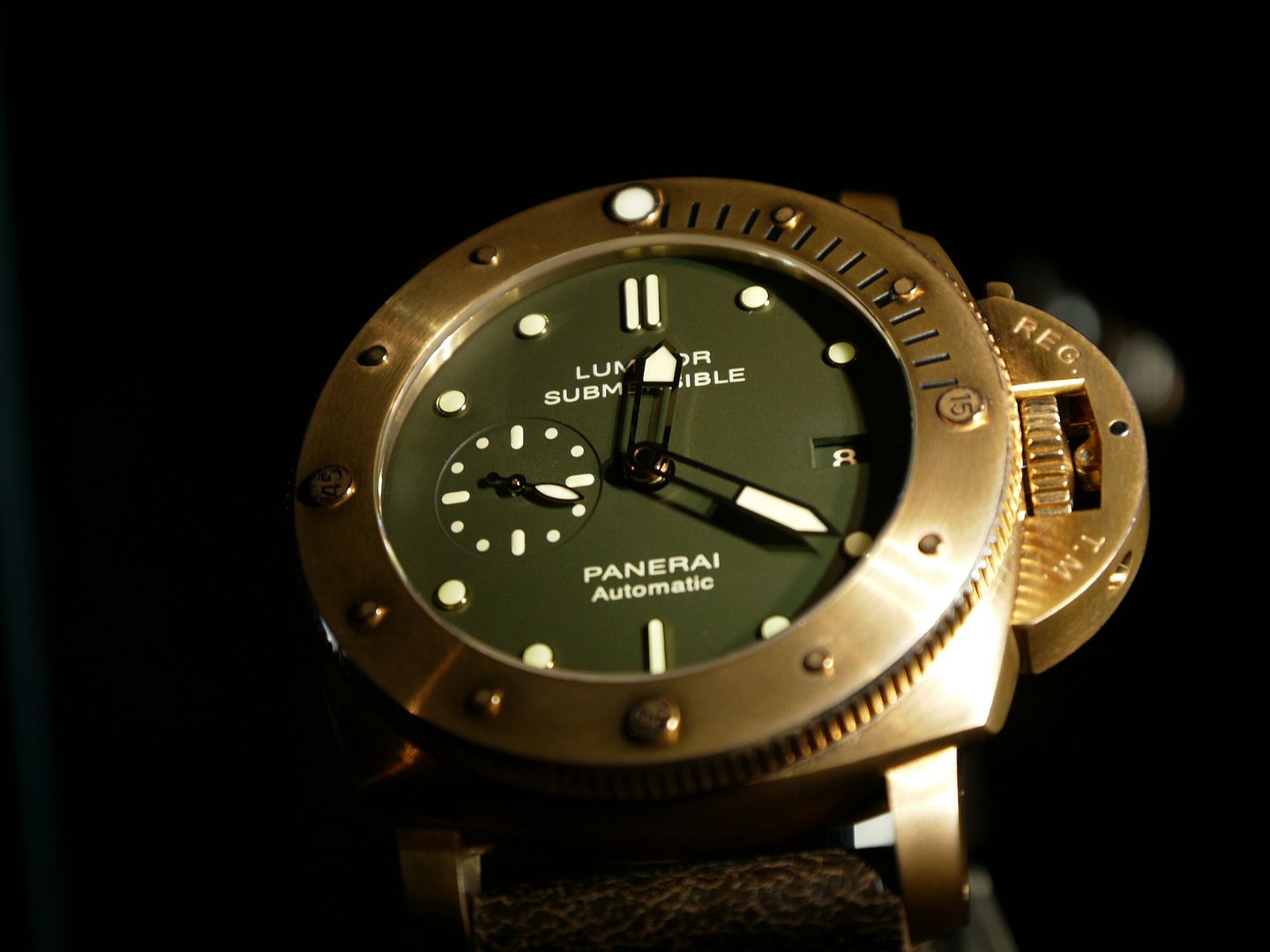 Montblanc surprised with an exhibition "Montblanc 190 years of Chronograph".
Some manufacturers provided insight into engraving (A. Lange & Söhne – balance cock engraving), Guilloche techniques (Audemars Piguet), movement assemly (JLC, Vacheron & Constantin, Hanhart, Armin Strom).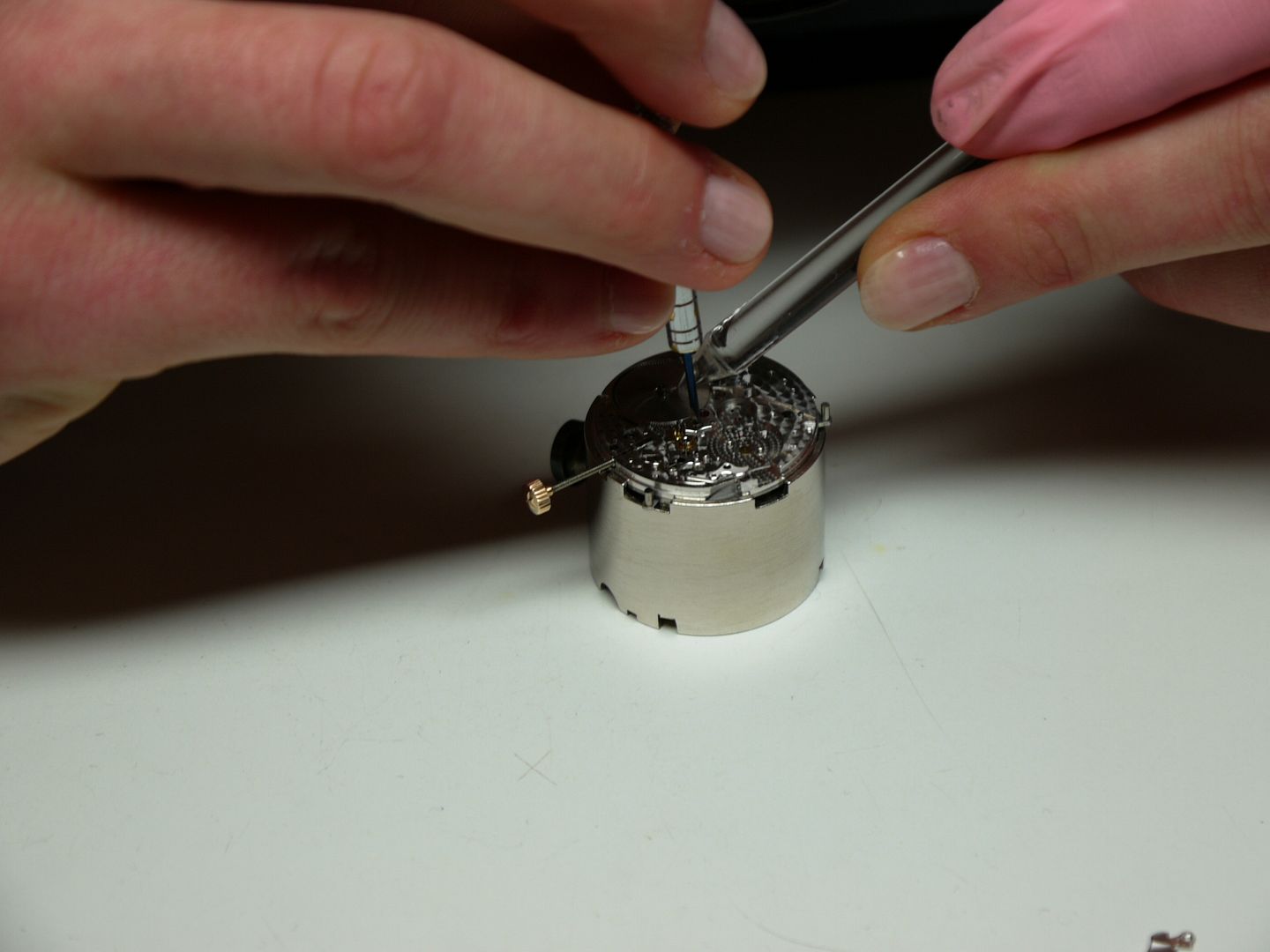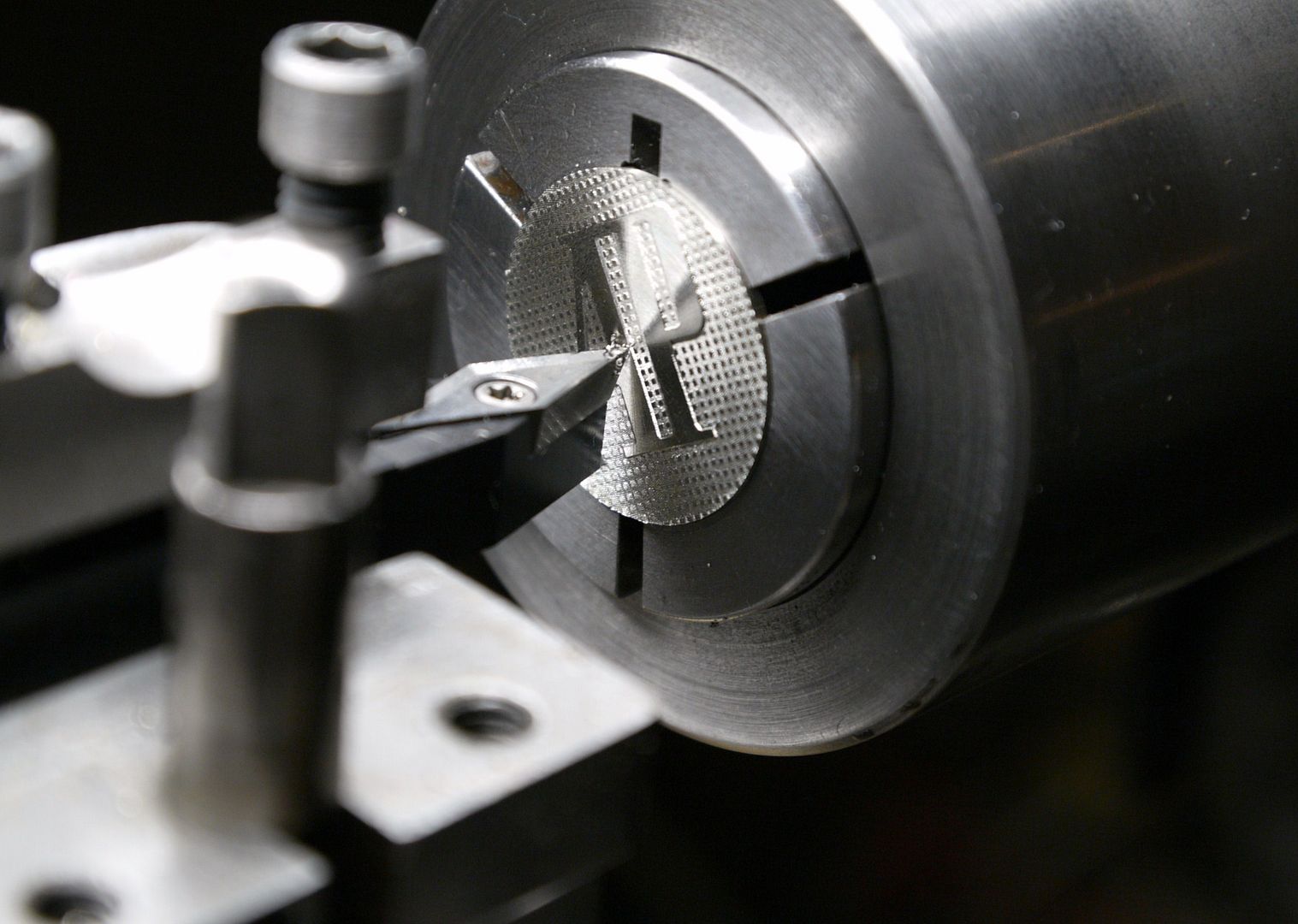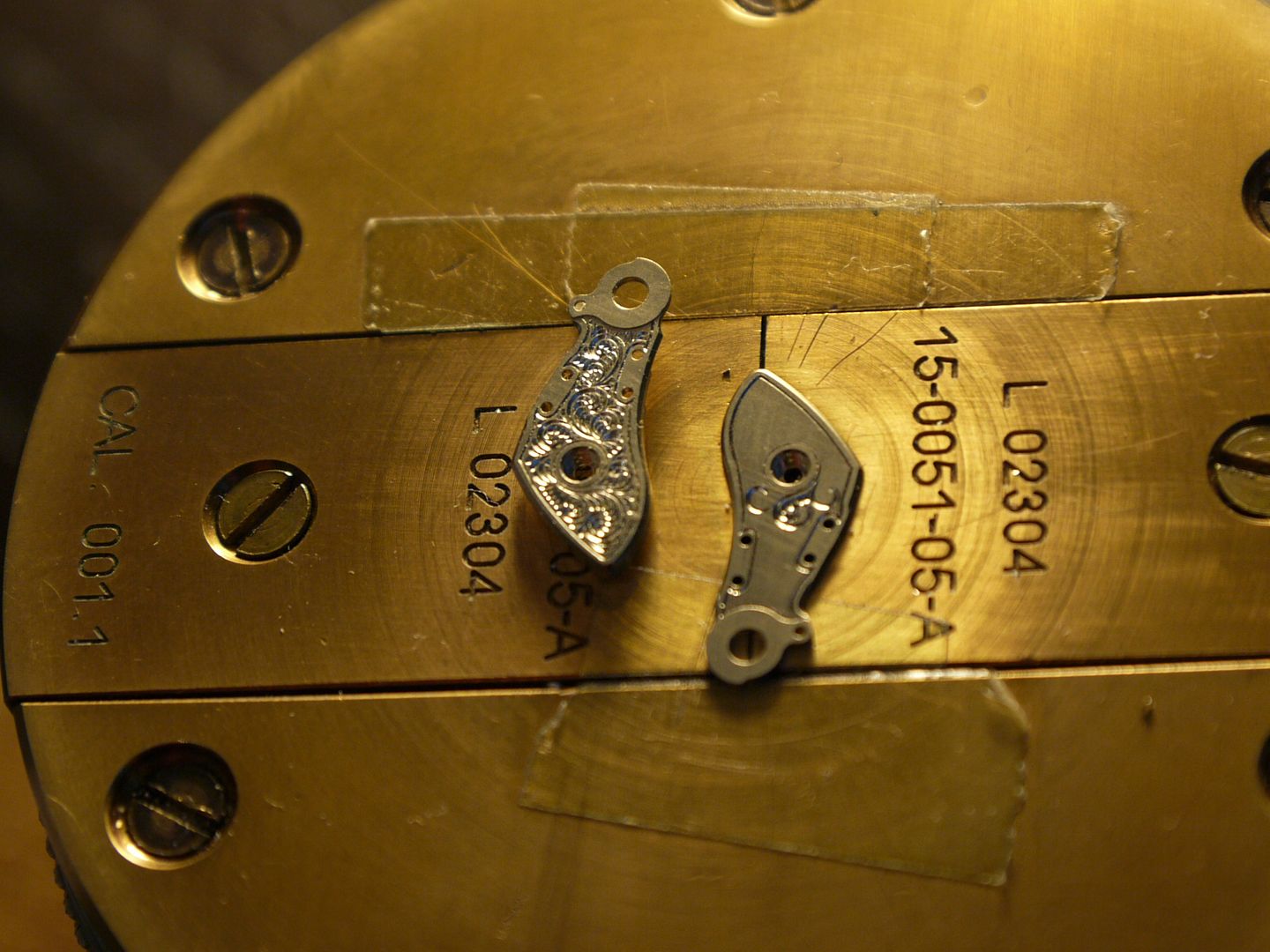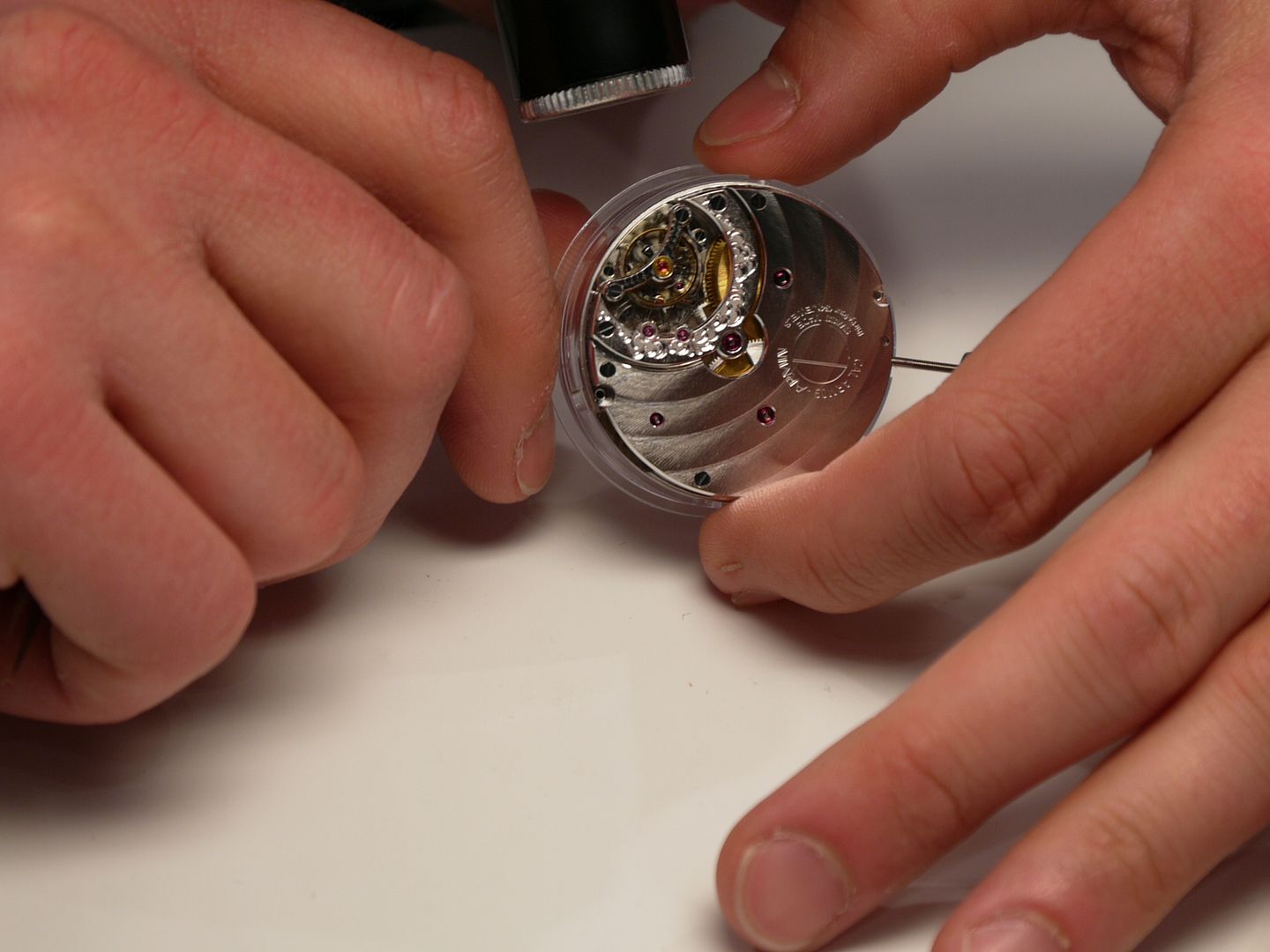 Interestingly no brand of the Swatch Group has been present at Munichtime 2011 but this did not diminish the overall impression. If I remember correctly they did not show up in 2010 either.
It was quite an interesting event. I met up with Konrad Damasko and his family, met Mr. Lange whom I haven't seen back since 2001 when he introduced A. Lange & Söhne in The Hague/The Netherlands. I met with Tobias Buchner who used to work for Jörg Schauer and moved to Munich where he's now working for Chronoswiss. I enjoyed chats with Rainer Nienhaber, Thomas Ninchritz, Christine Genesis.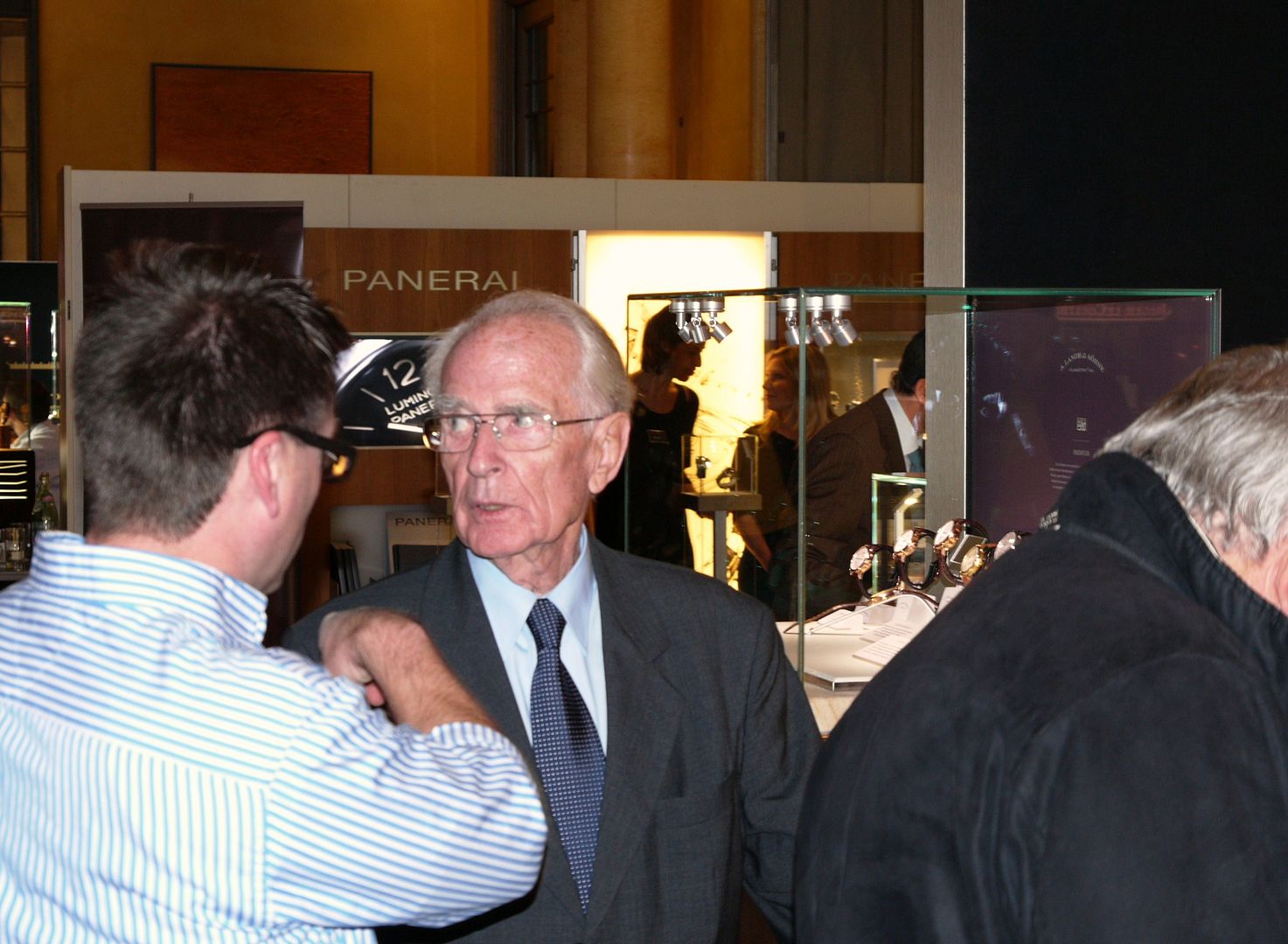 Mr. Lange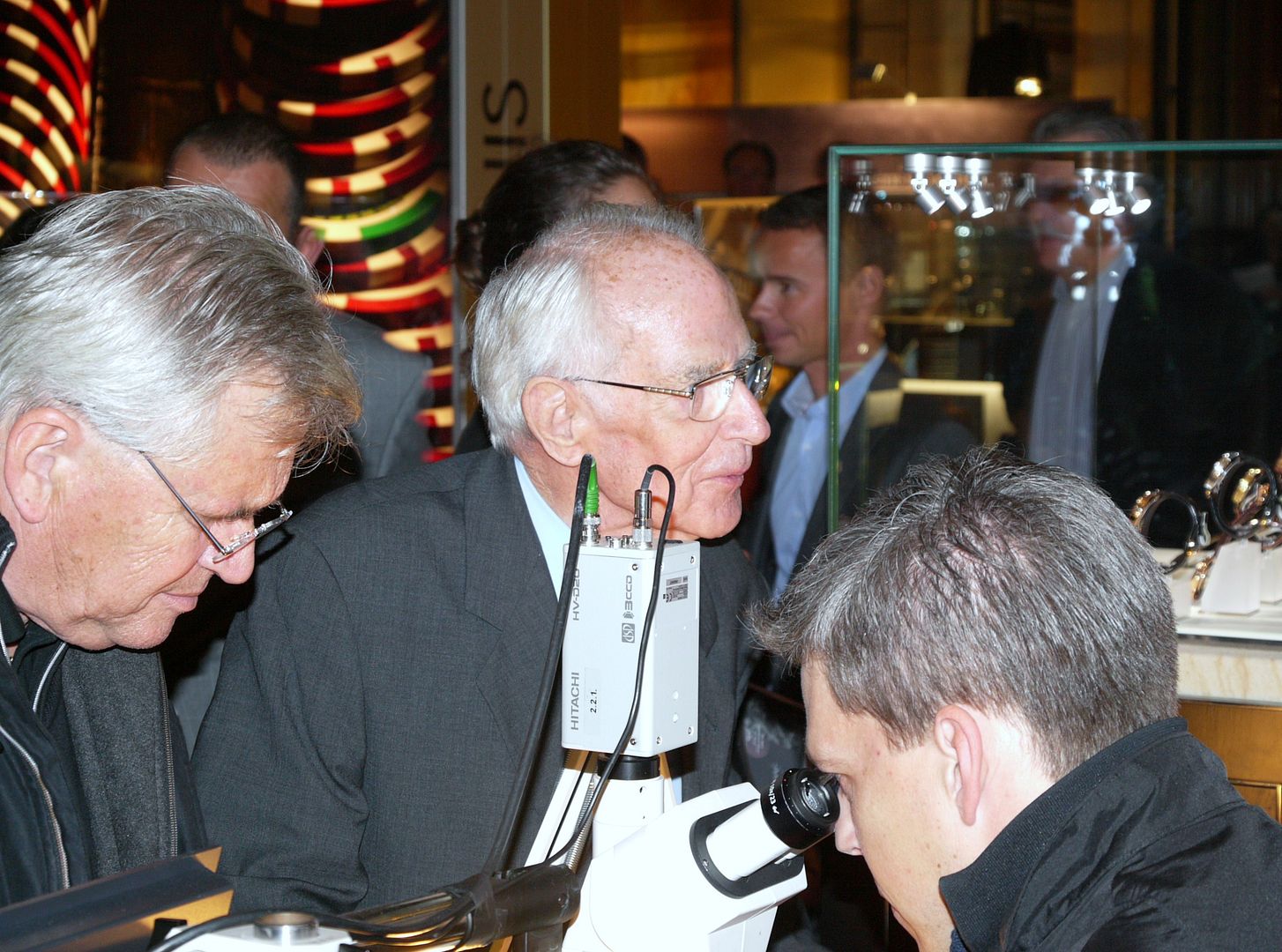 I took about 260 photos and after sorting out those of less(er) quality there are still 175 left. To keep this post "readable" I will concentrate on giving you an overview rather than going too much into detail.
A. Lange & Söhne
A. Lange & Söhne showcased their new Tourbillon and their slimmest hw watch ever built at A. Lange & Söhne in Glashütte/Saxony.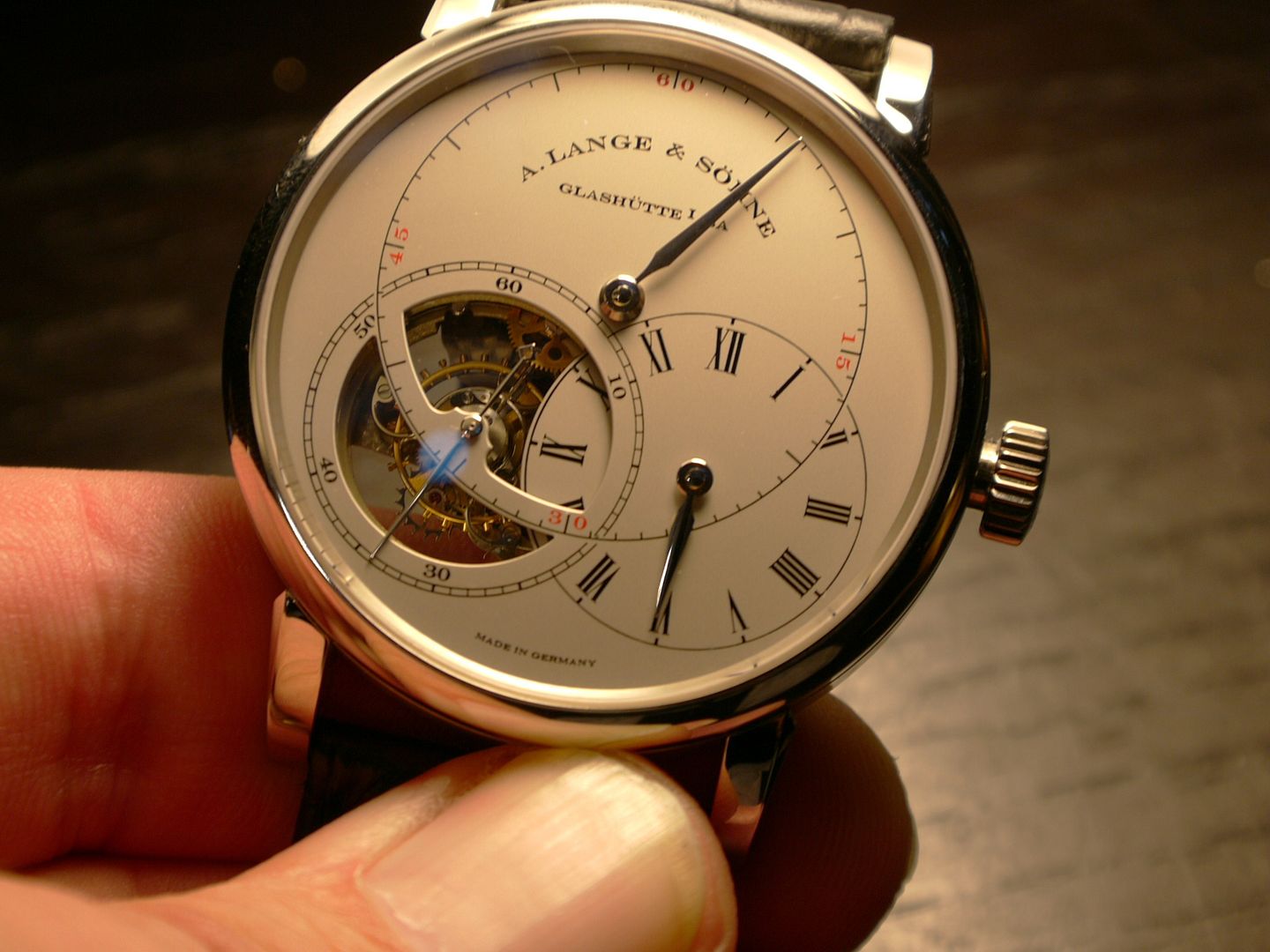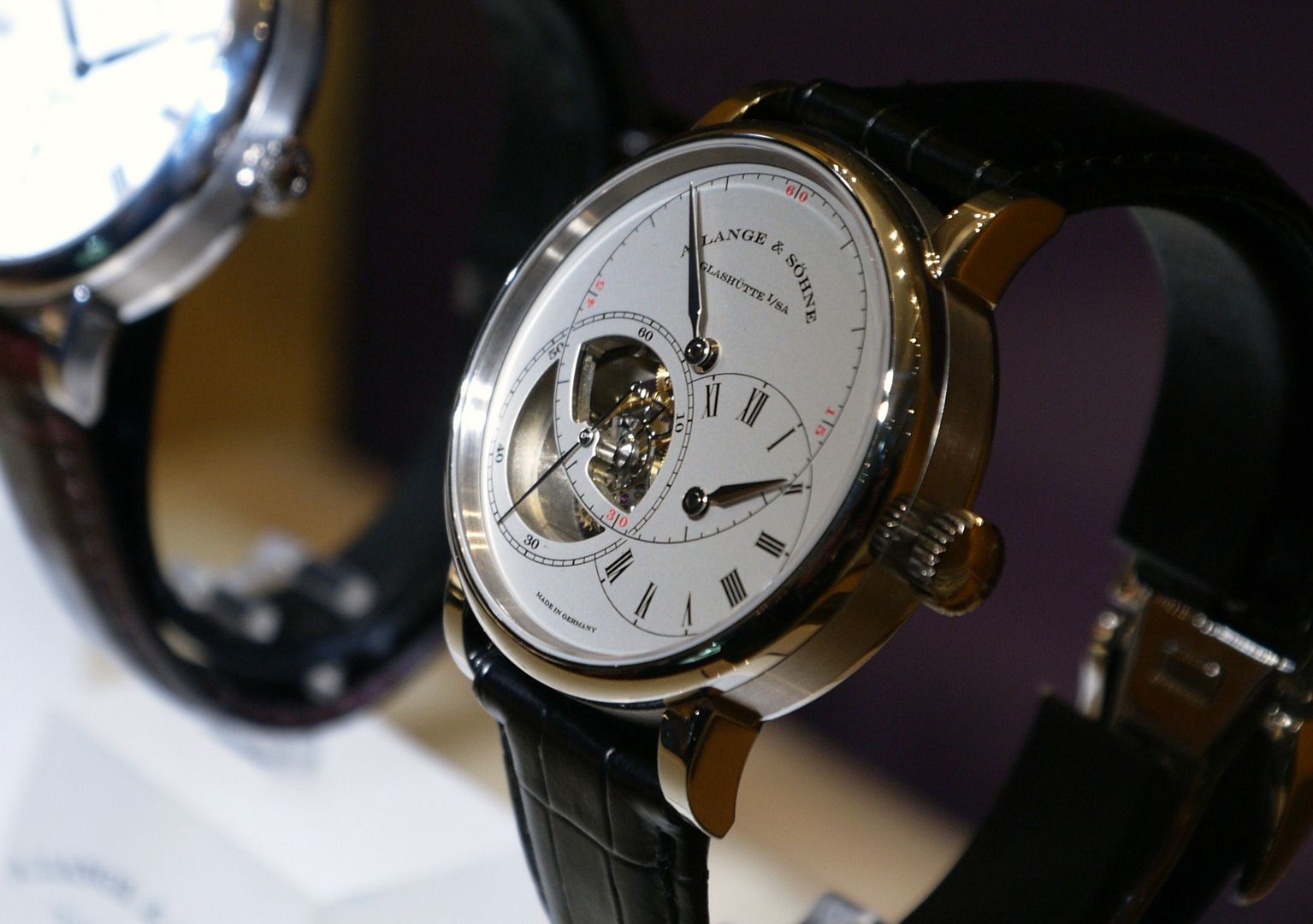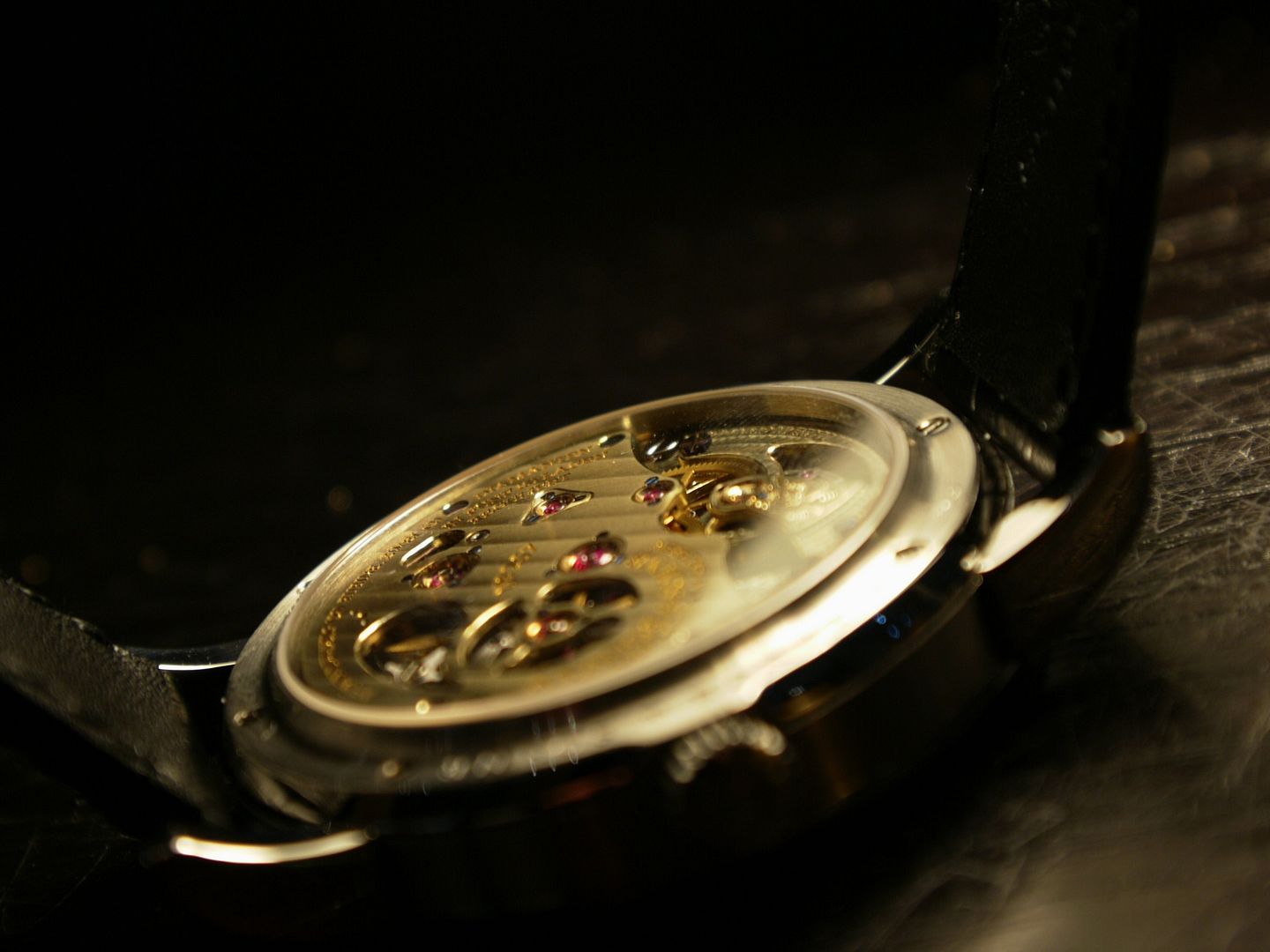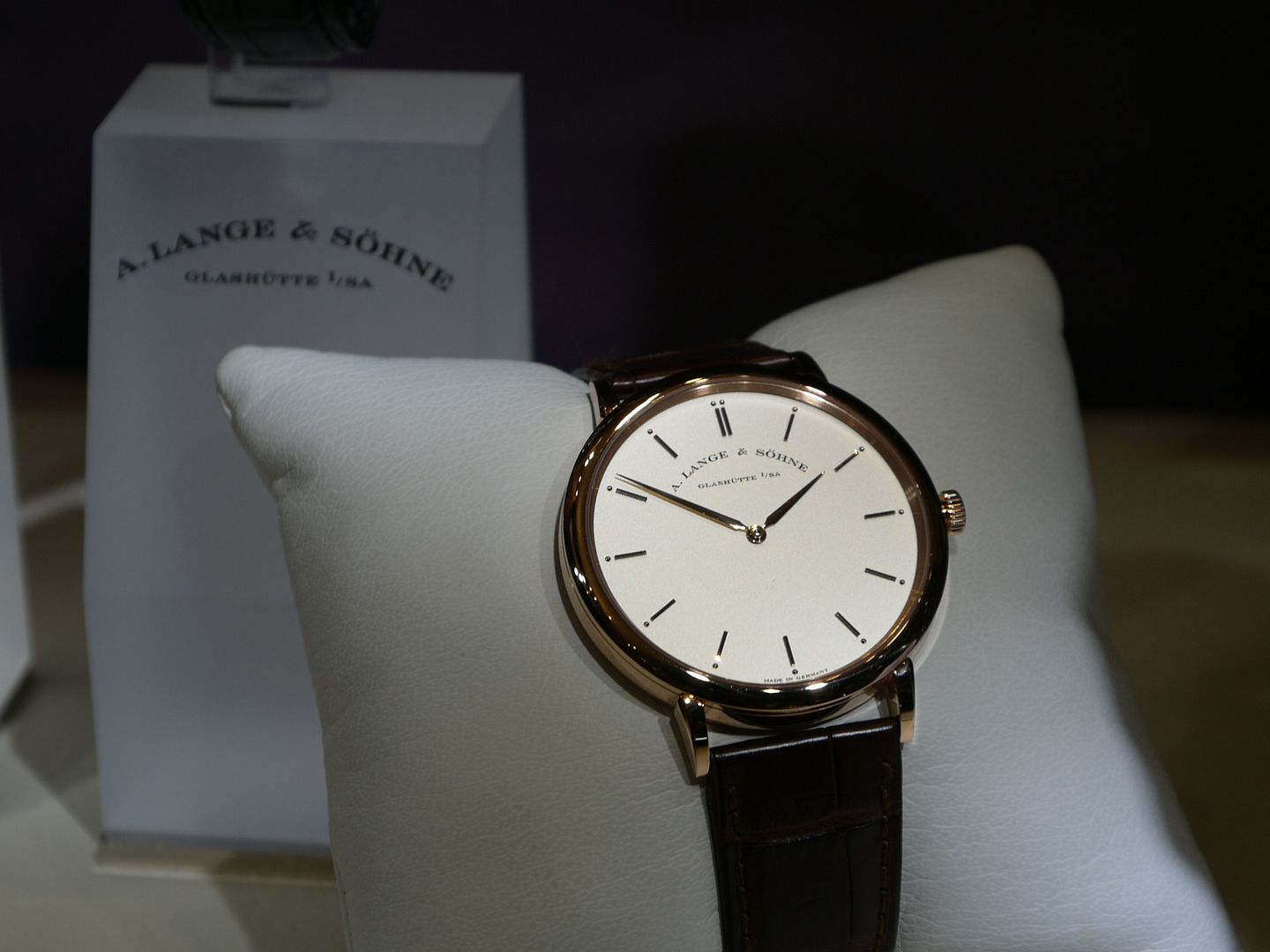 Aerowatch
Nothing really new and unfortunately they did not present the new limited edition of their Venus 203 Vollkalender. The only Aerowatch which really caught my eyes was this one here: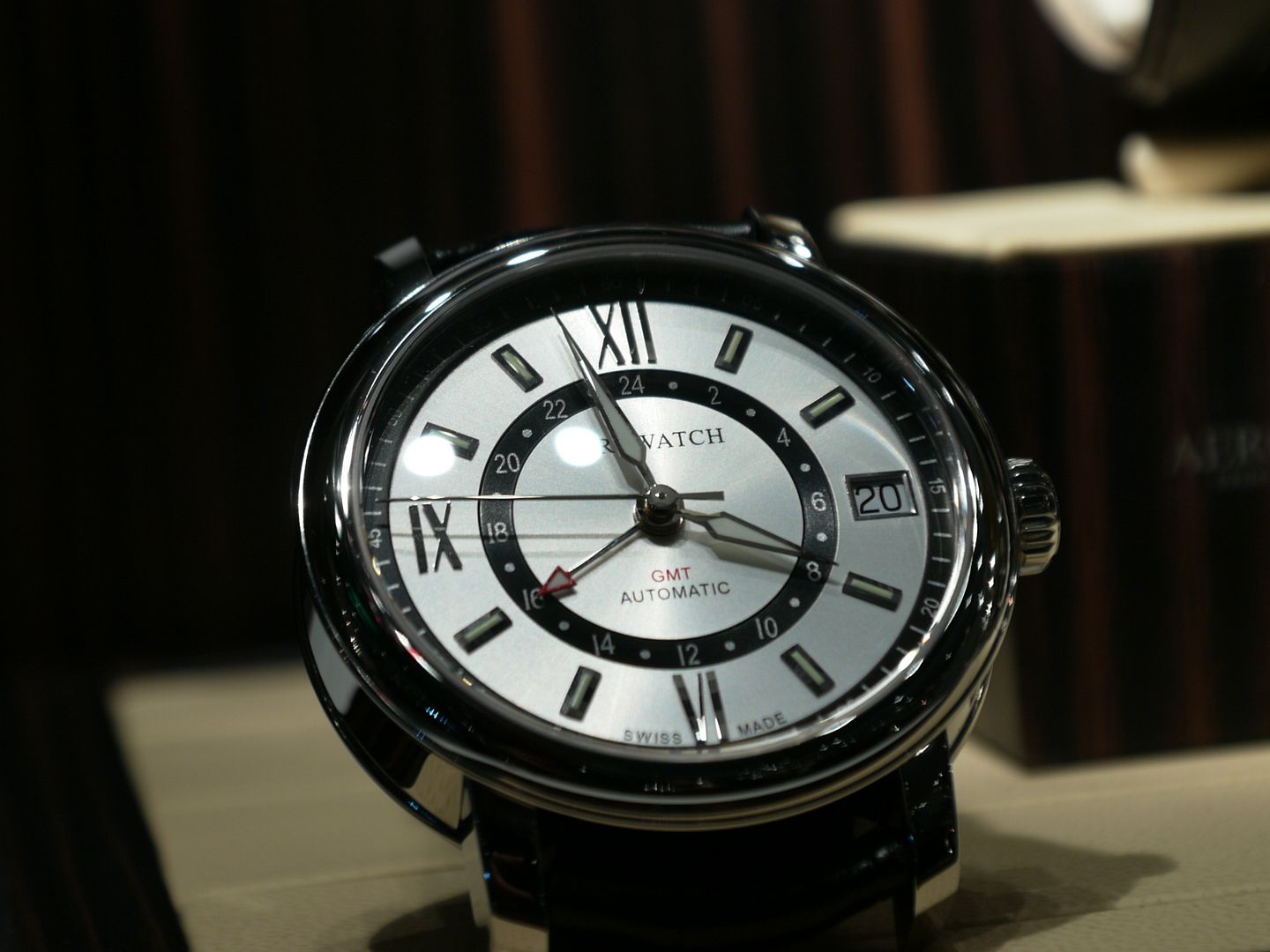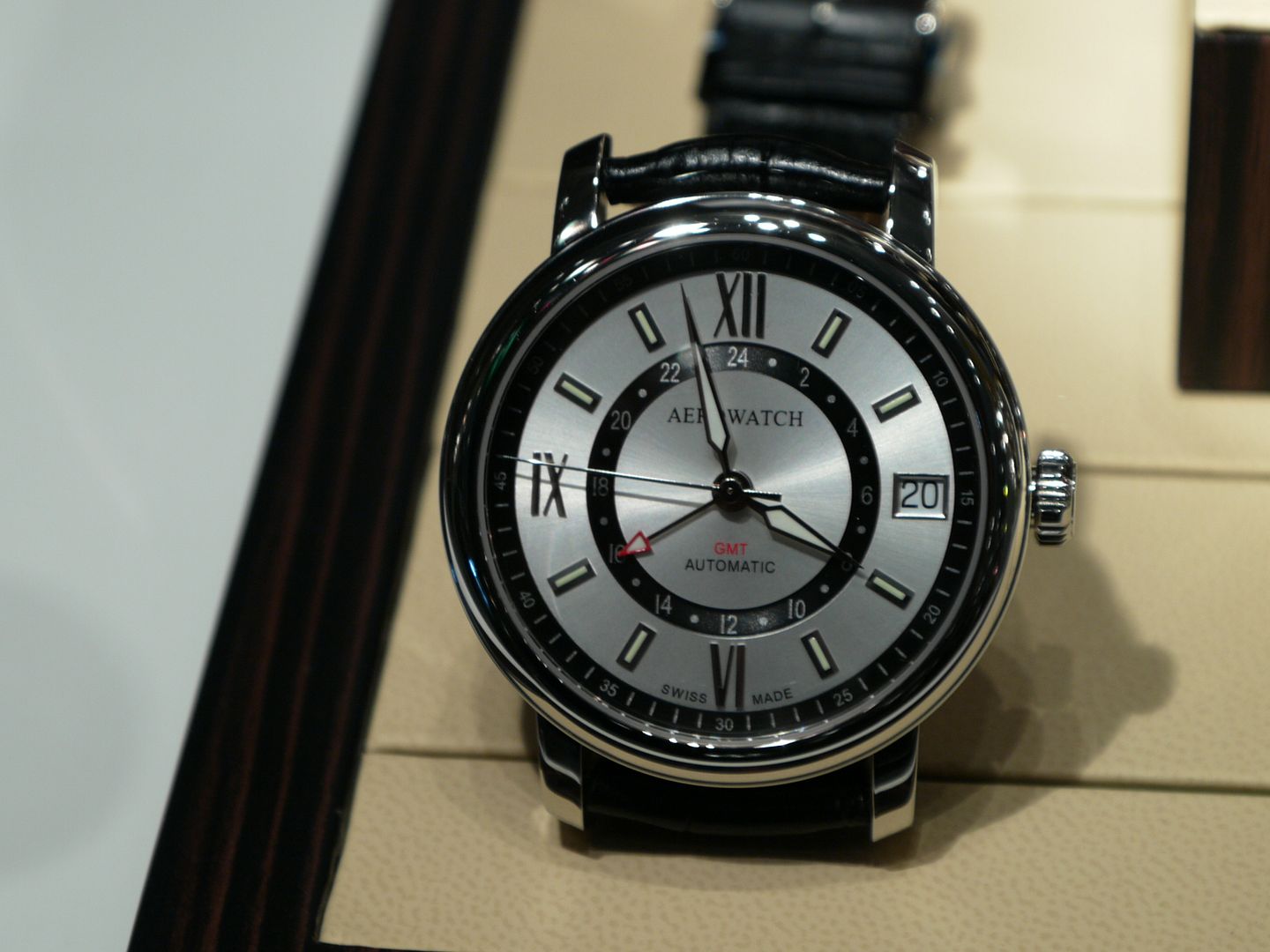 Armin Strom
Armin Strom presented the new collection consisting of the regulators WATER, EARTH, AIR and FIRE.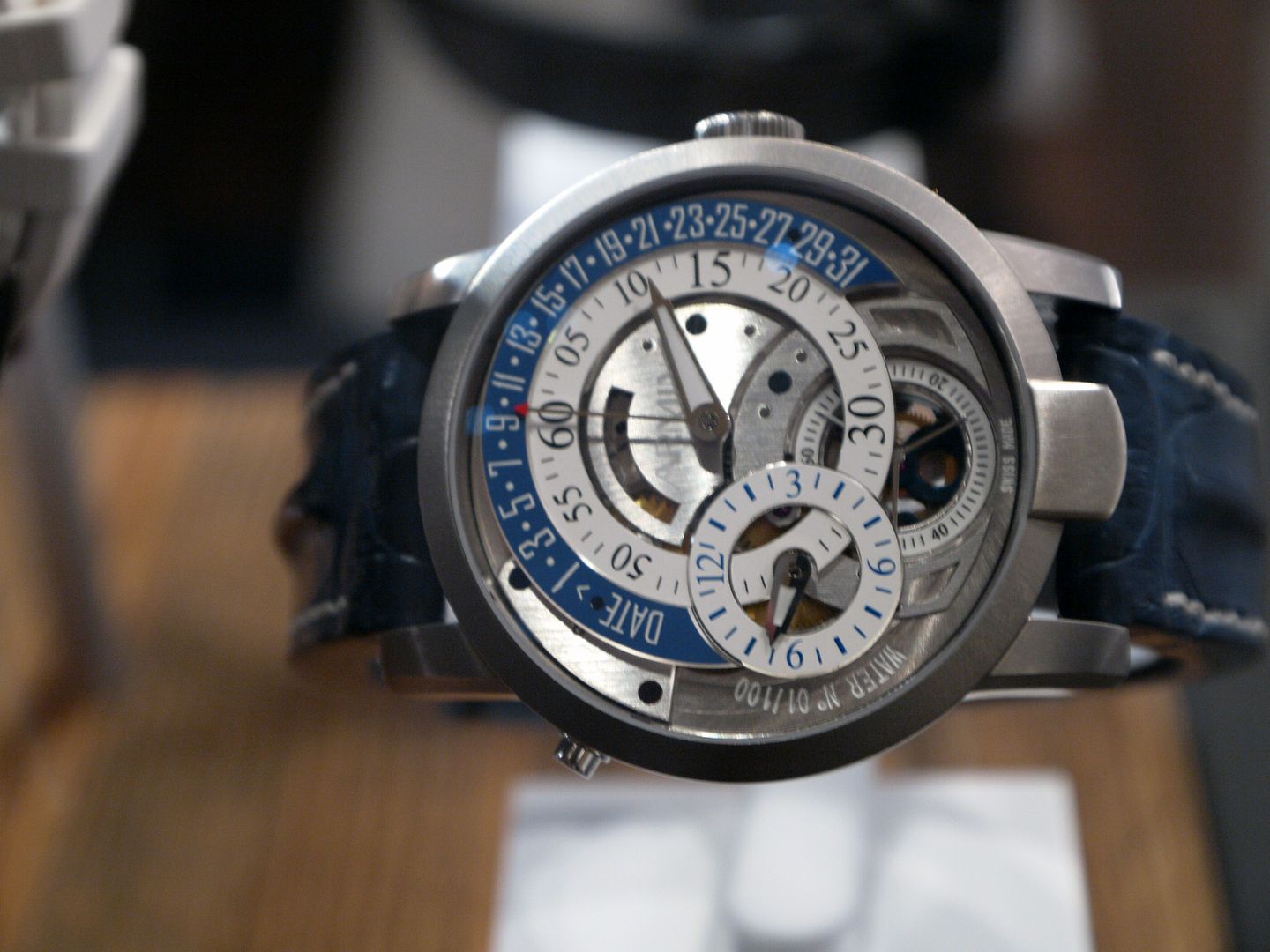 Water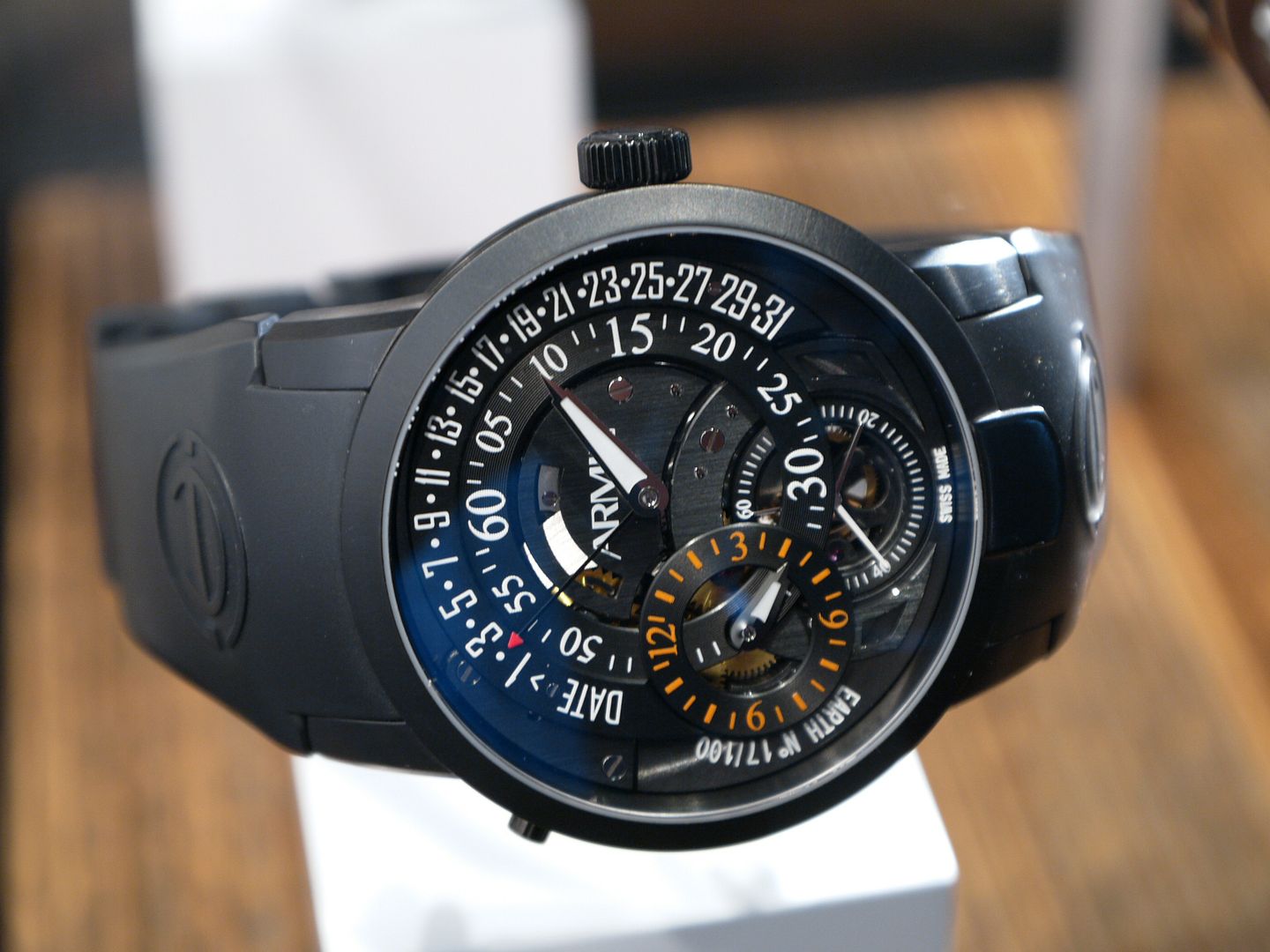 Earth
I had the opportunity to talk to one of their watchmakers and he portrayed how much is done by hand with any Armin Strom you get.
Even parts you can't see when looking through the display back are angeled, polished or otherwise treated by hand.
Cartier
Cartier presented their new range of Calibre Cartier watches, they are wonderful to look at but I can't imagine they would fit with my shirtcuffs. After having seen them in the flesh nobody can deny that Cartier has succeeded in becoming a manufacturer. Hopefully their efforts will pay on the long run. Their top watch is 97.000 Euro, ambitious……..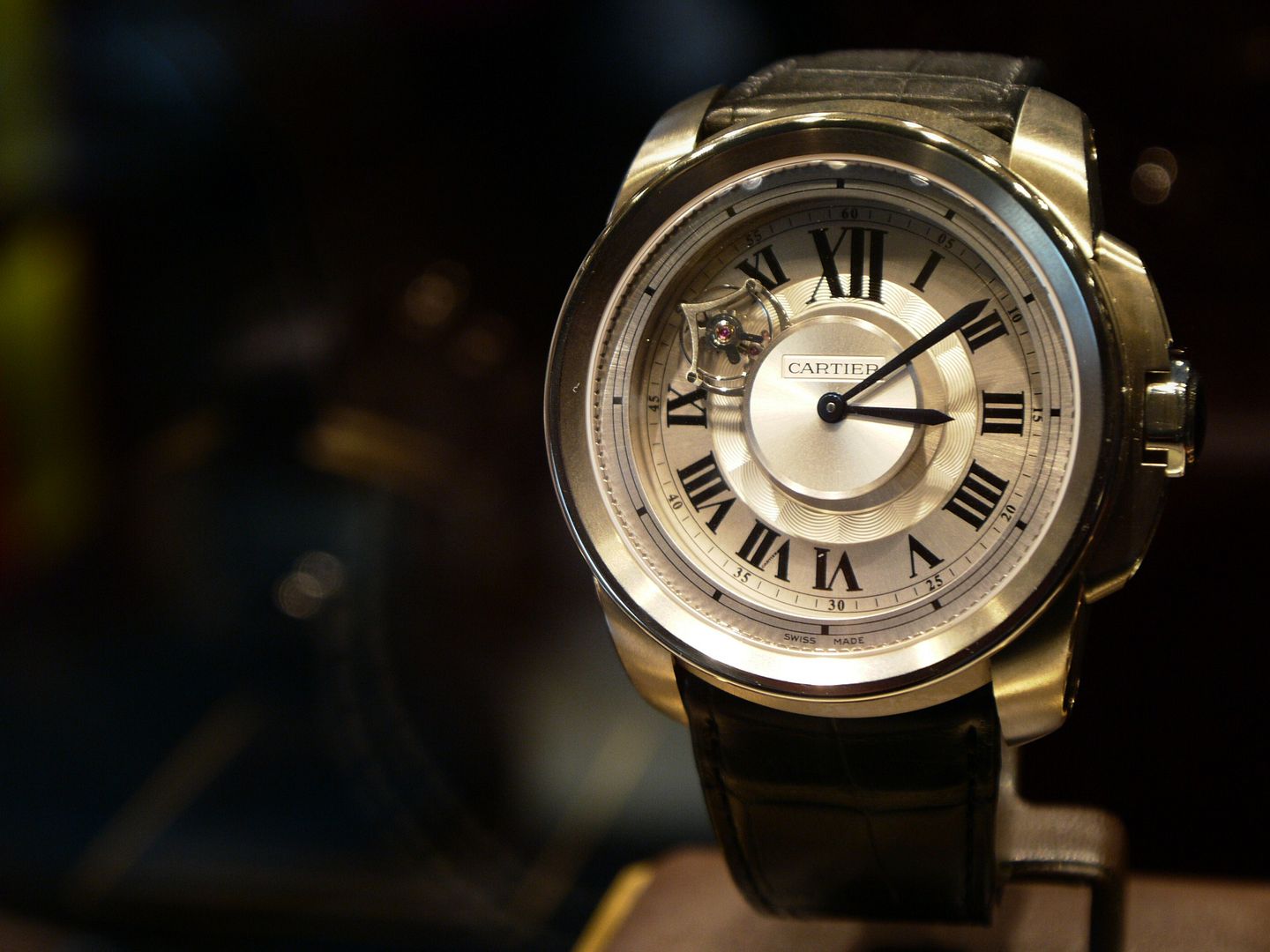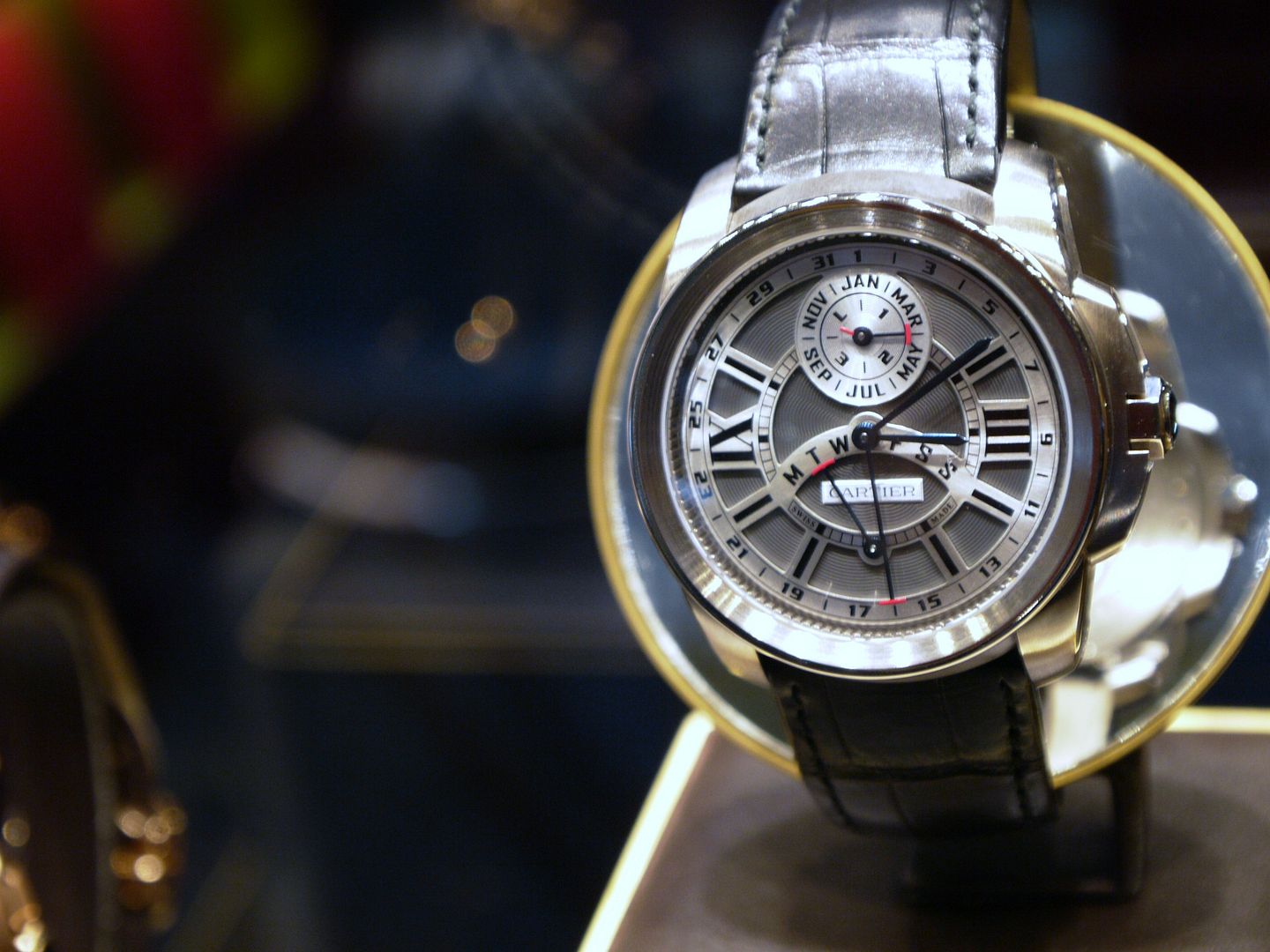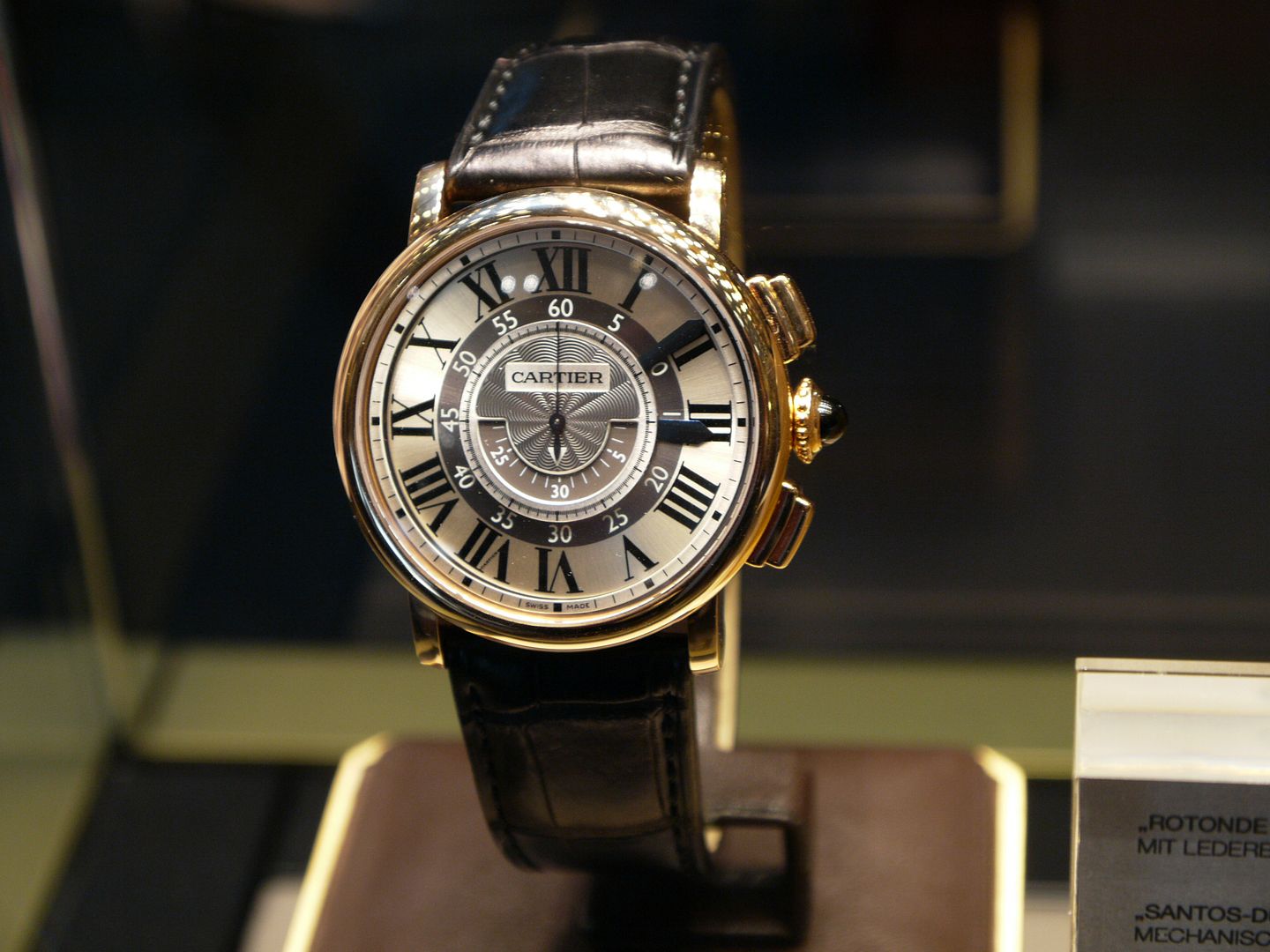 Chronoswiss
Chronoswiss featured a high number of models (even ladies bling-bling) and I was favourably impressed by their craftsmanship. Chronoswiss is hardly at an entry level, their Pacific (which I'd call the entry watch into the world of Chronoswiss) is far away from being "affordable" or the "big bang for your bucks" but due to the finish and craftsmanship they do not need to fear any competitor in their price range.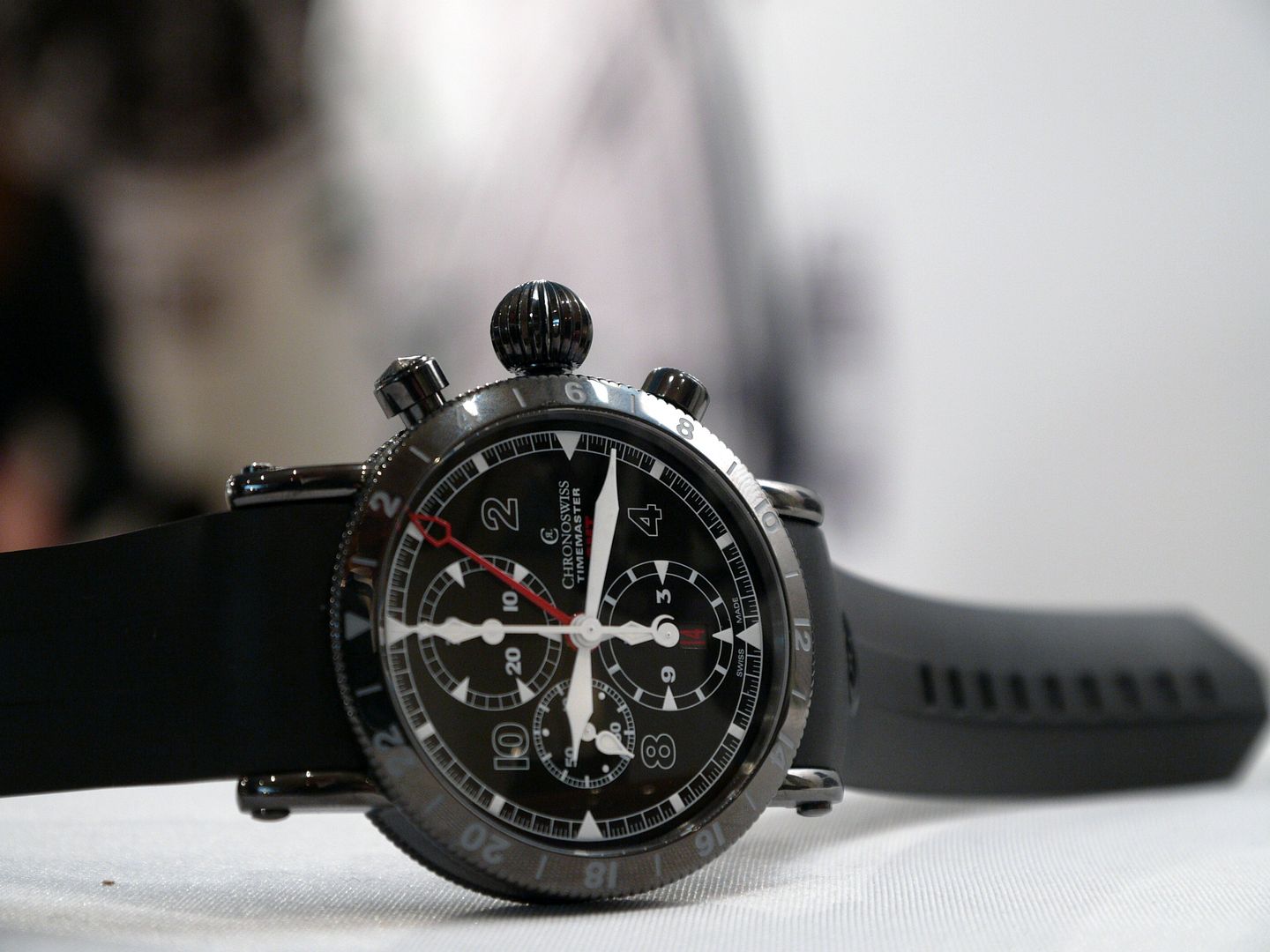 Timemaster Chronograph GMT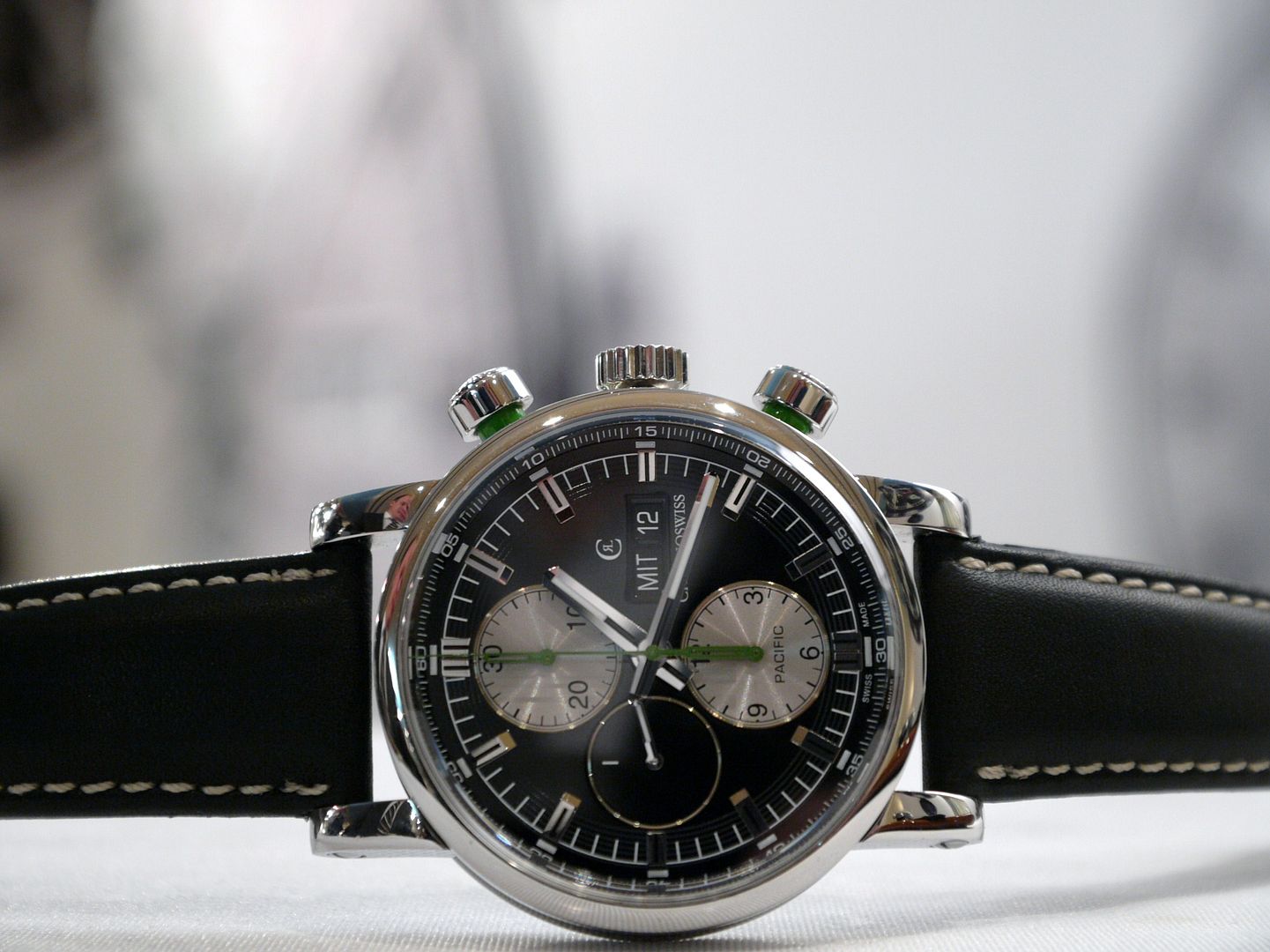 Pacific Chronograph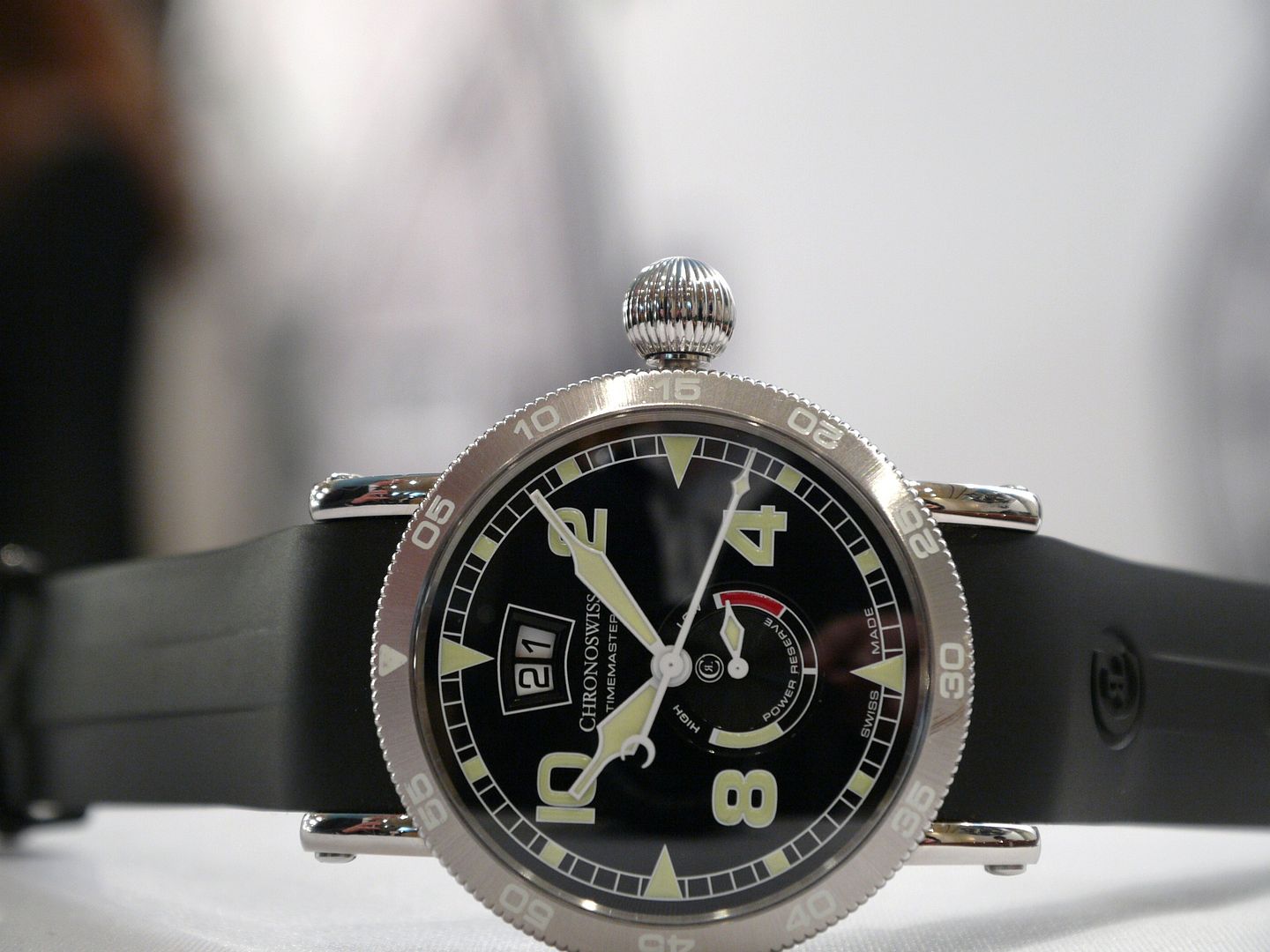 Timemaster Big Date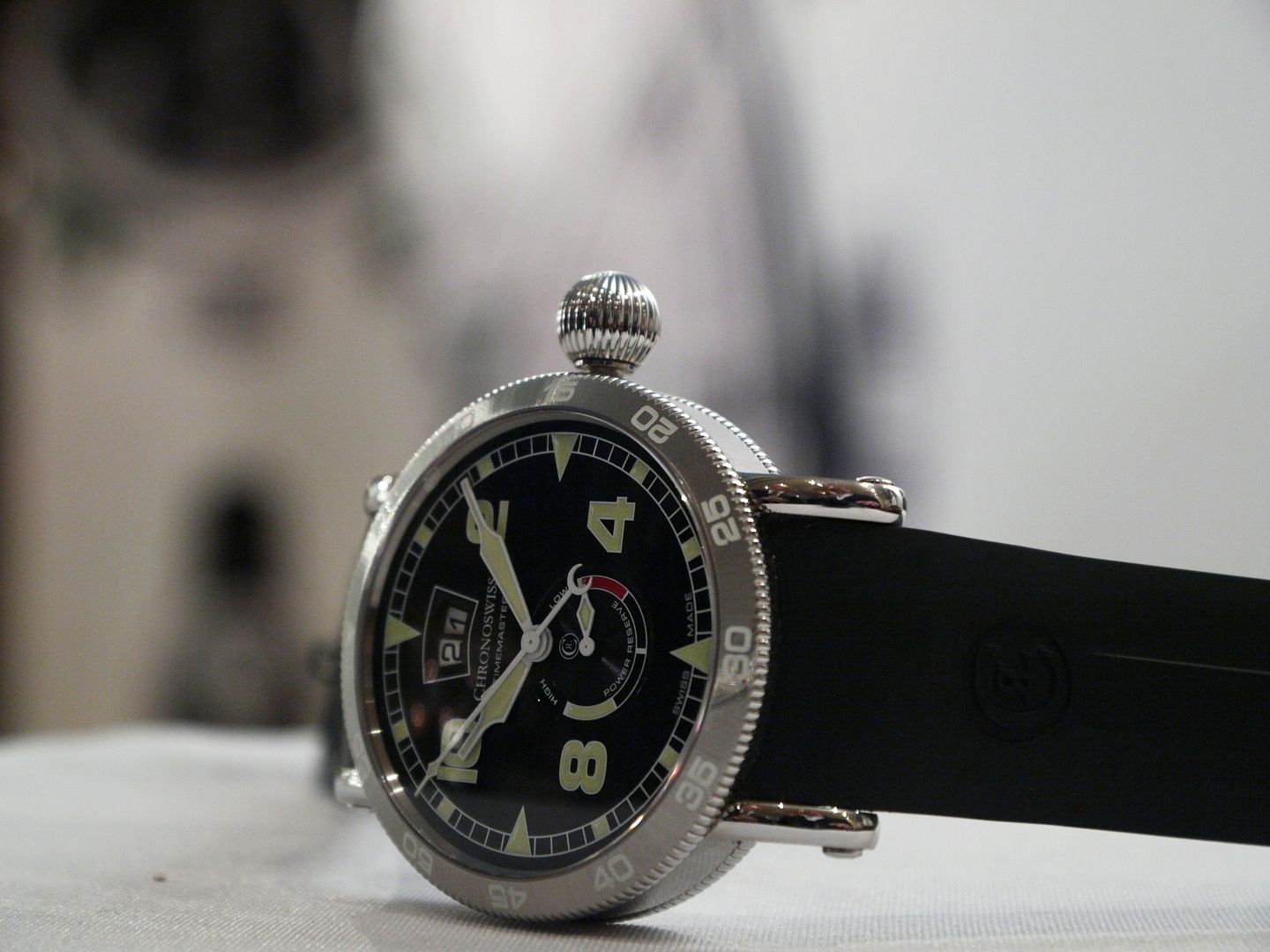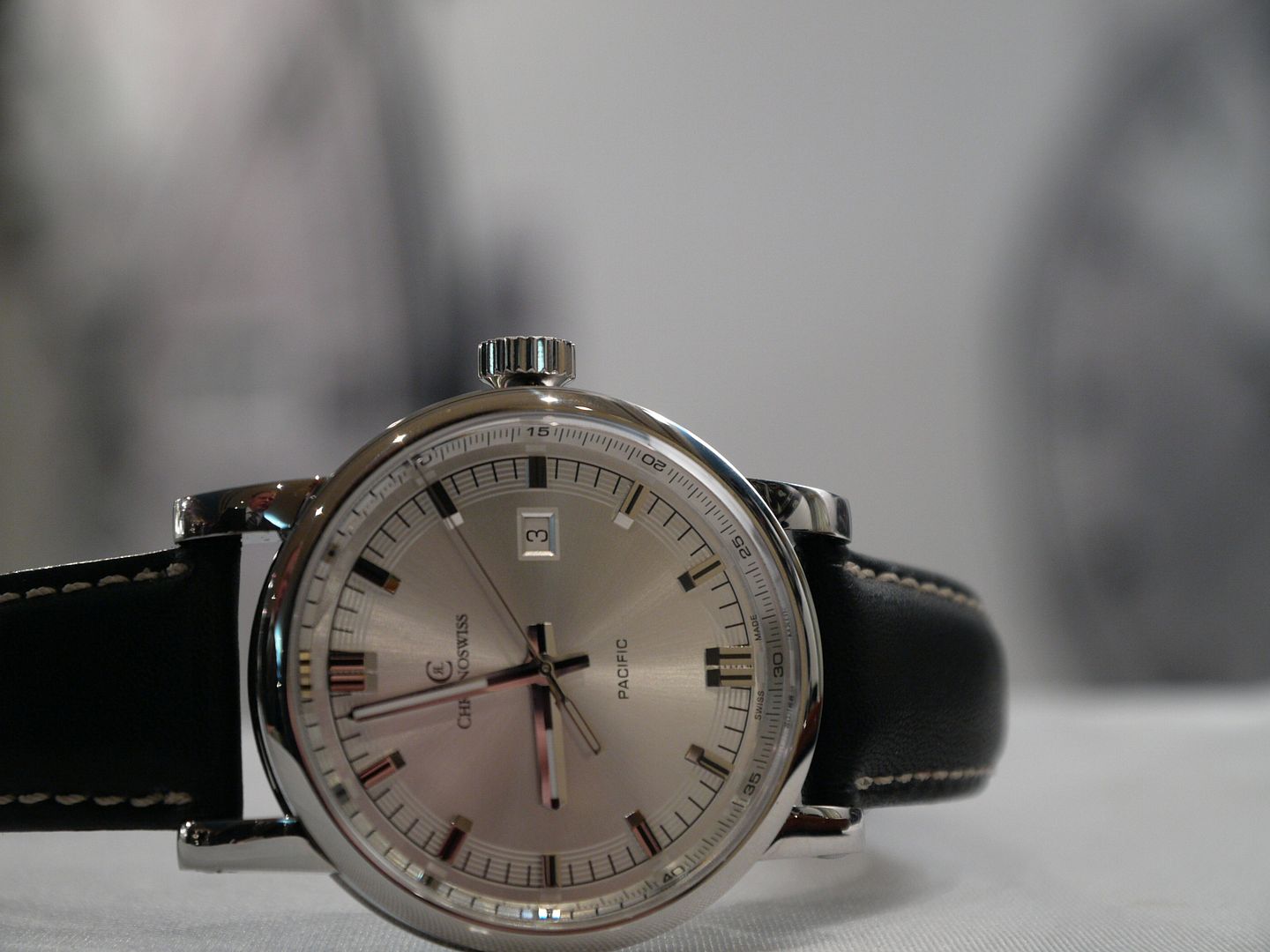 Pacific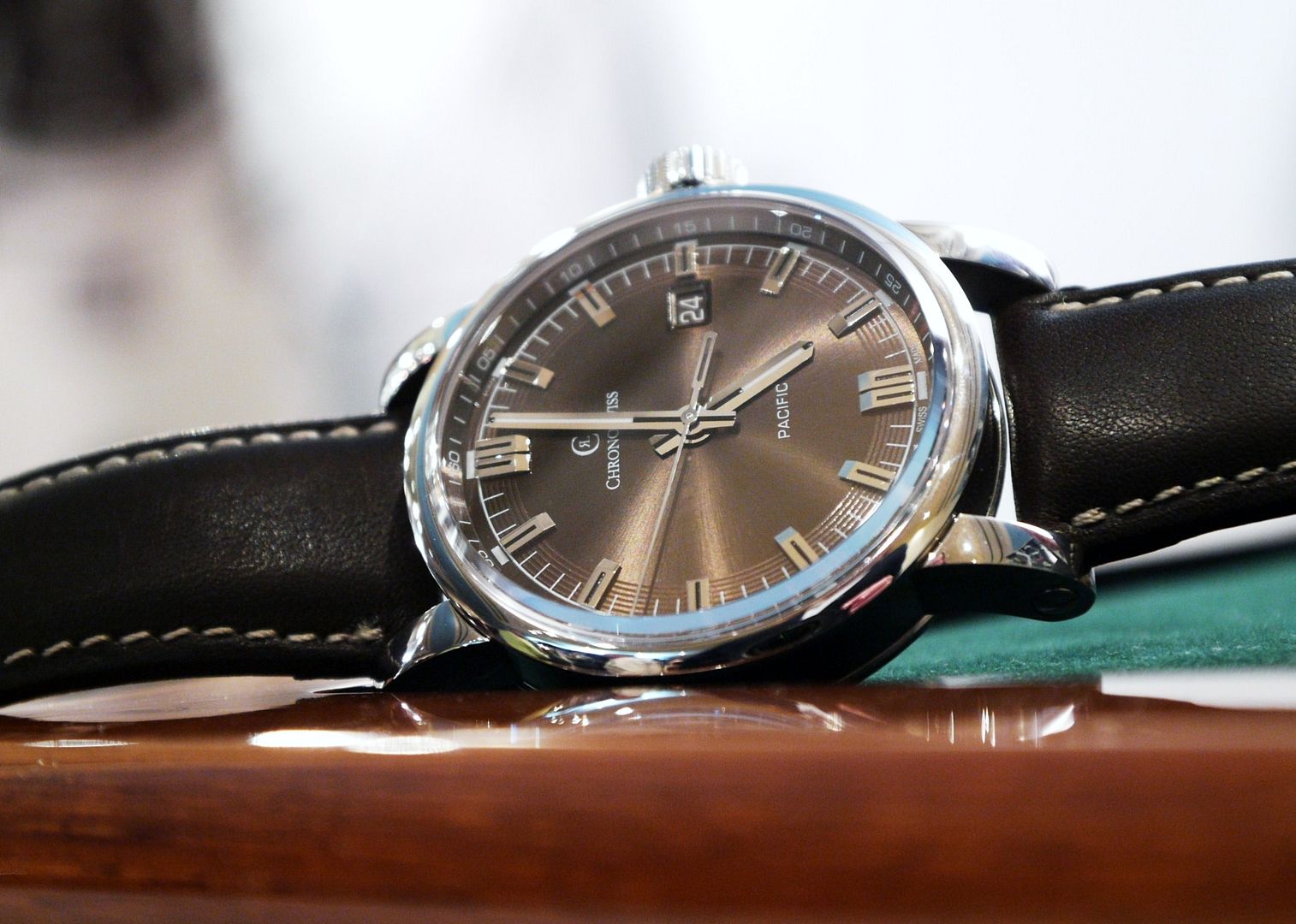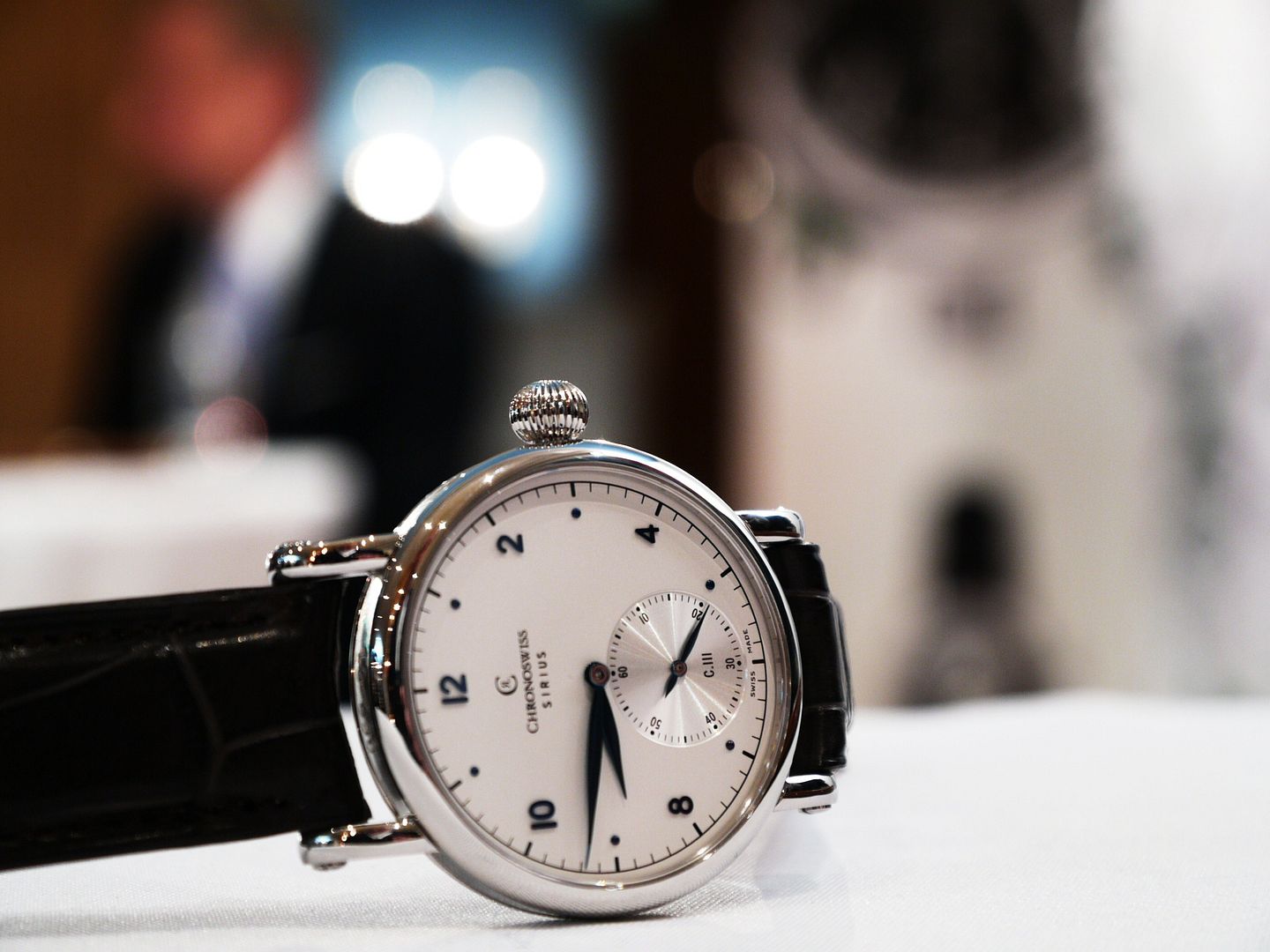 Sirius
Although I do not like (no pun intended Chronoswiss  ) the crown on their Timemaster models I was deeply impressed by the overall quality. The black Timemaster GMT Chrono is a chunk of steel on your wrist, no doubt about that.
British (London) WUS members will have the chance to have a closer look at Chrnoswiss watches at the Salon QP from 10th to 12th November, Saatchi Gallery, King's Road, SW3 4SQ.
Damasko
Damasko showcased both models of the DC 86 which will be available soon (retail: 3800 Euro).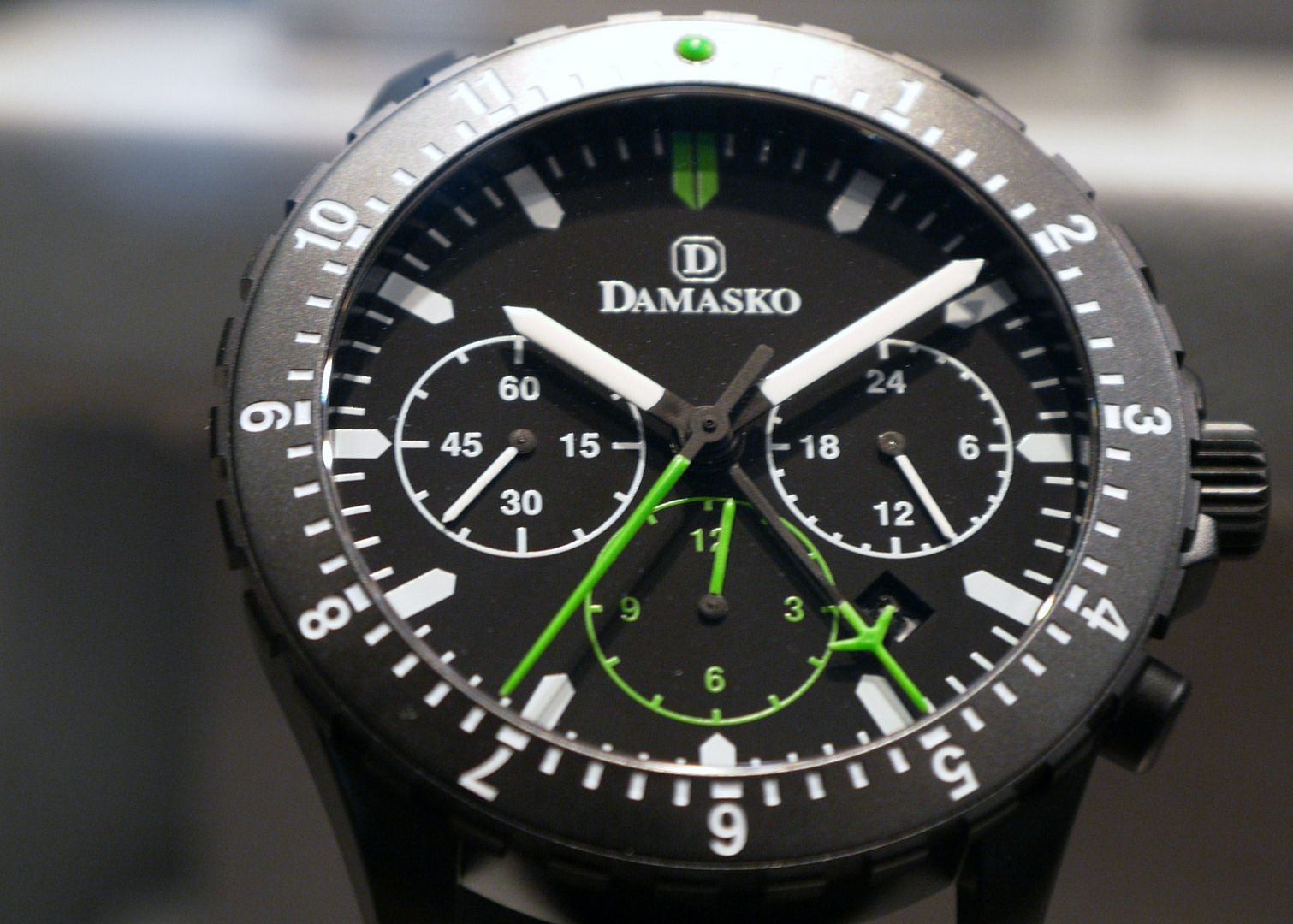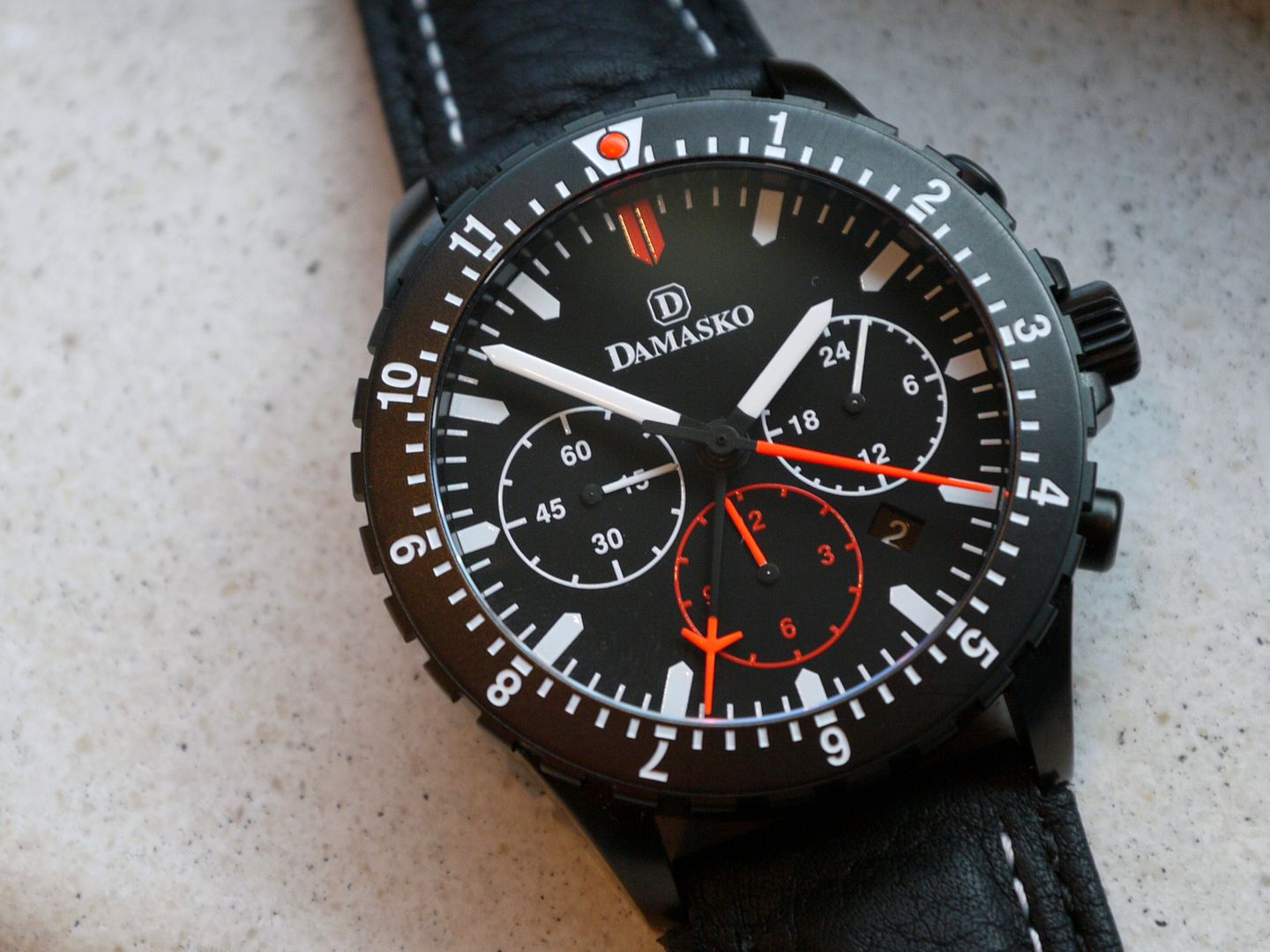 A variation of the A 35 powered models was the "Kleine Sekunde".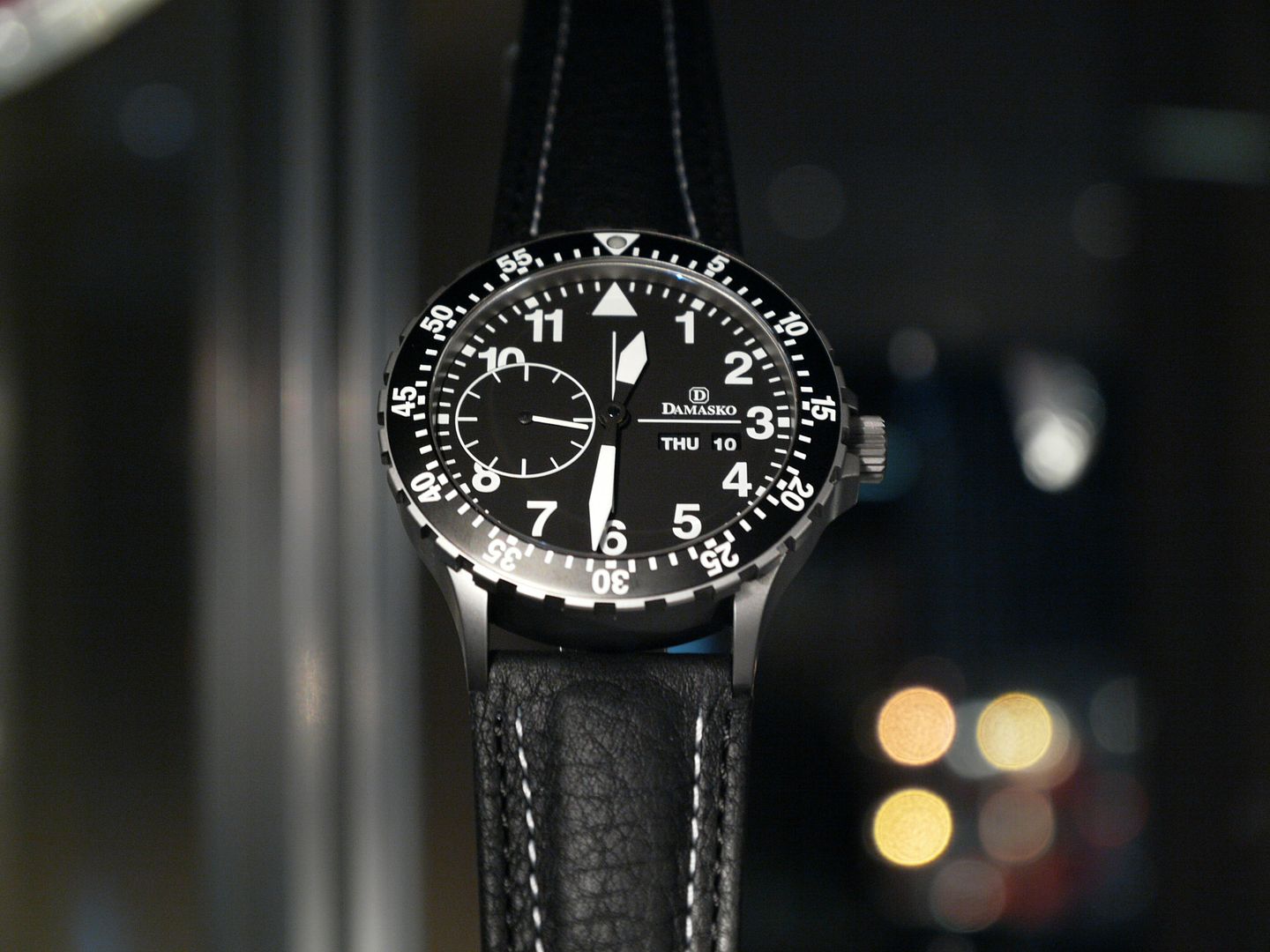 The first hw watch (H 35) will be hopefully ready in Nov/Dec 2011. The hands and dials have not been ready on time so only the naked H 35 was shown.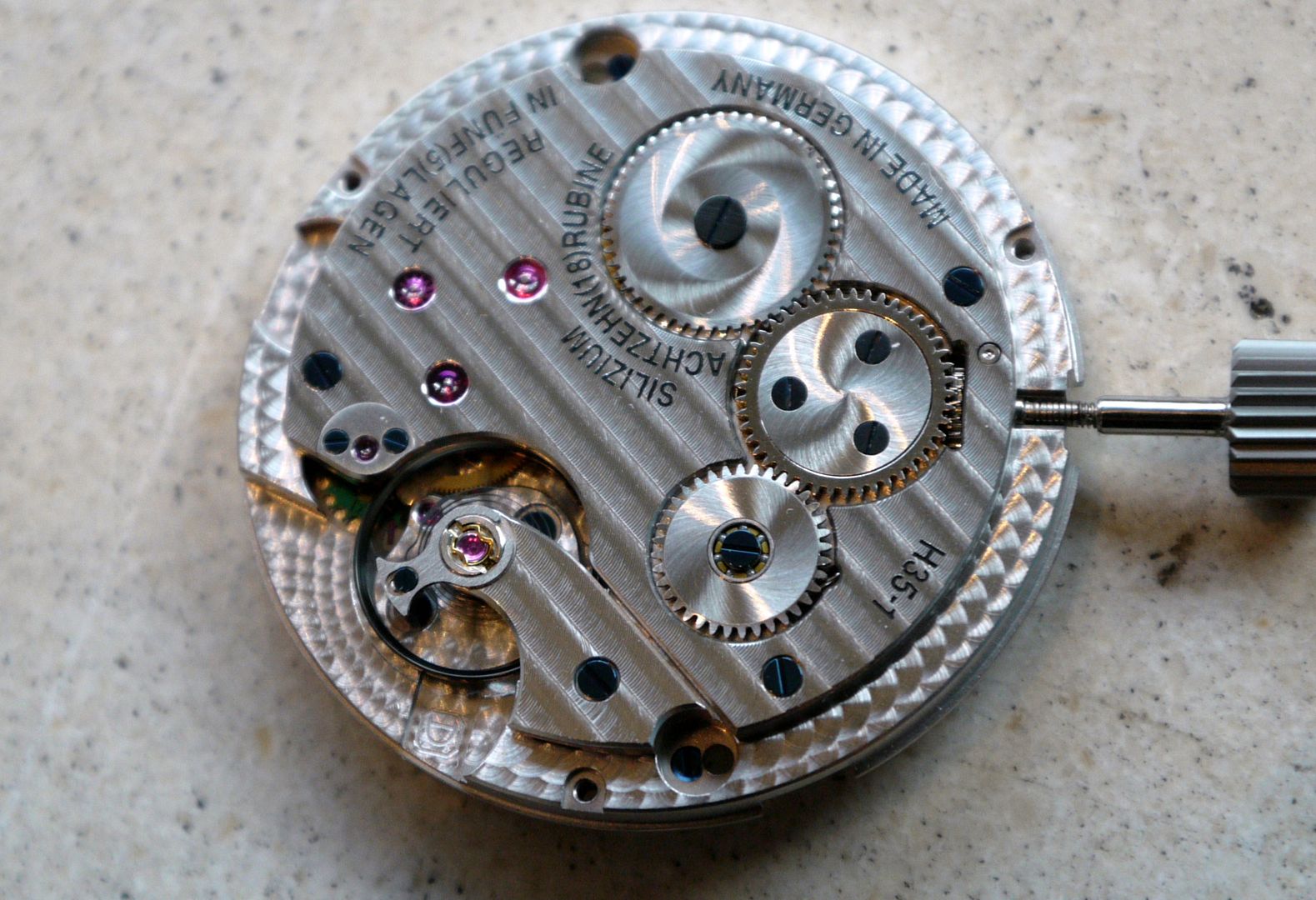 Konrad Damasko pointed out that he is aware of the customer's demand of a bracelet. But the bracelet as well as the Damasko diver's watch are not high on his agenda. He strives to get more and more independent from the Swatch Group and the supply of ETA movements so his current priority is to create as much "complications" (variations) of the A 35 and H 35 as possible in the time to come. Those watches fitted with a A 35 or H 35 are 98% made in-house.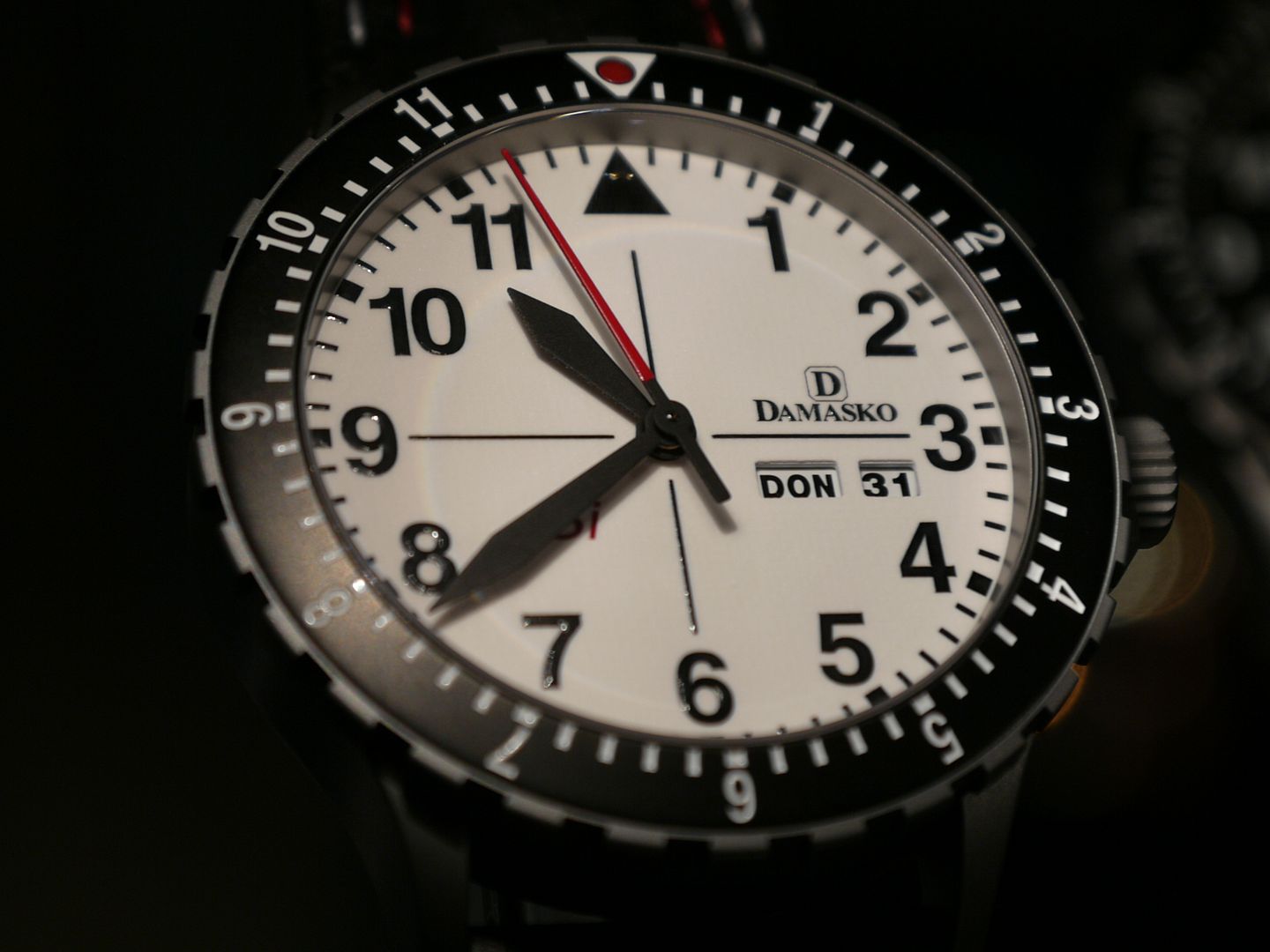 Genesis
Genesis presented a classic three hand watch with a NOS Lemania 8810. Not really a daily beater at 2800 Euro but for sure a collector's item.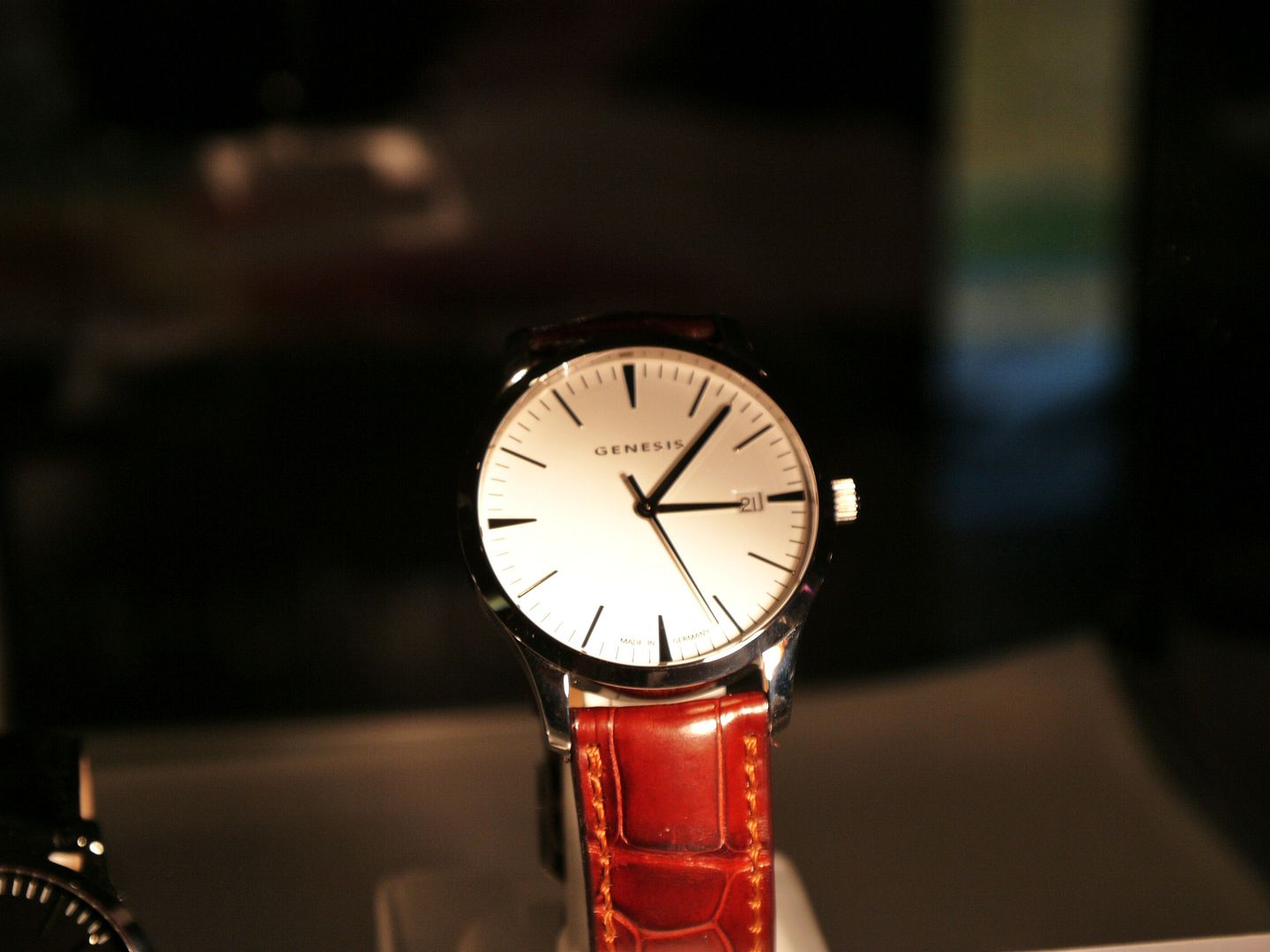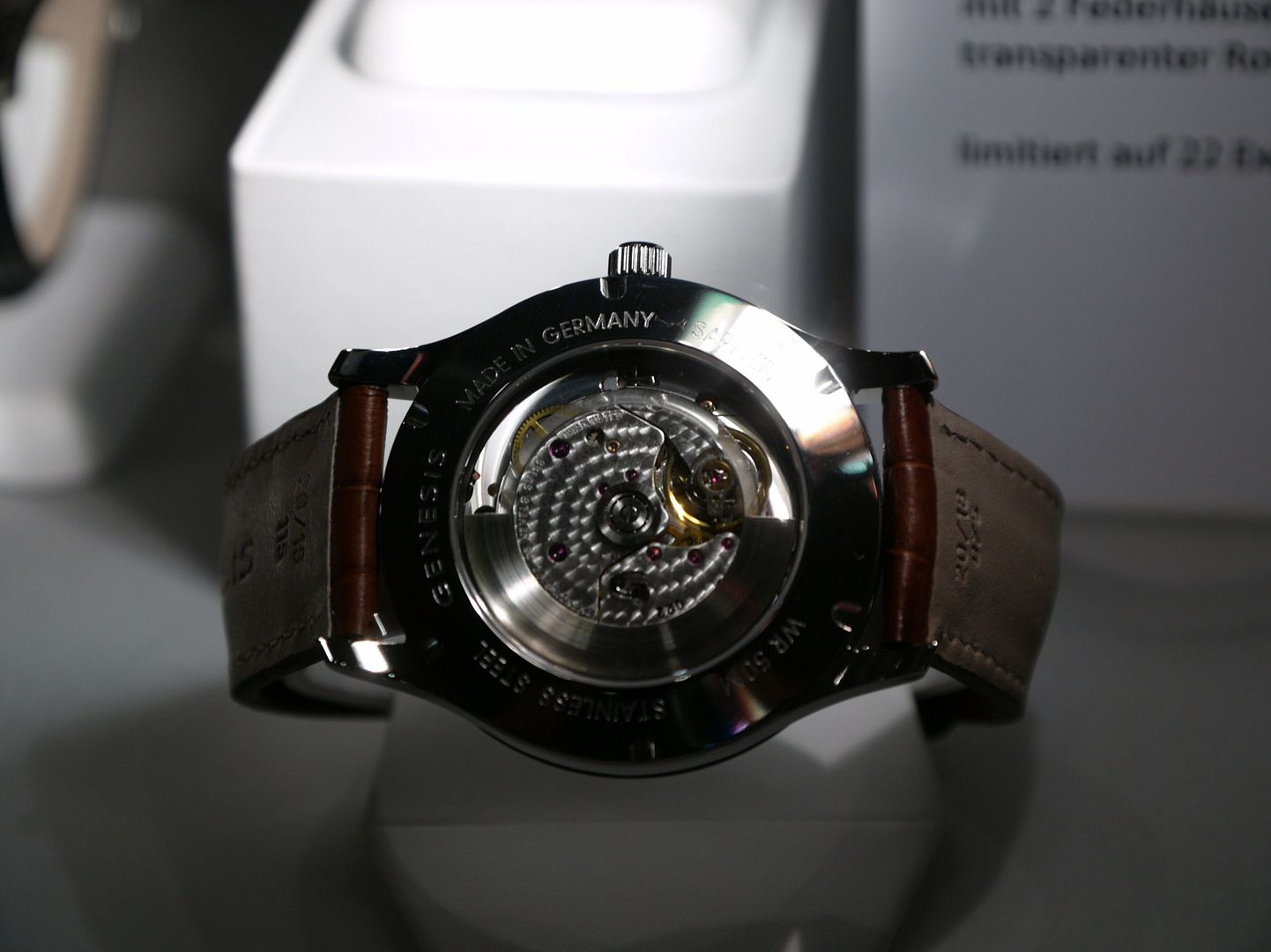 Colourfull ETA 2892 powered Genesis watches: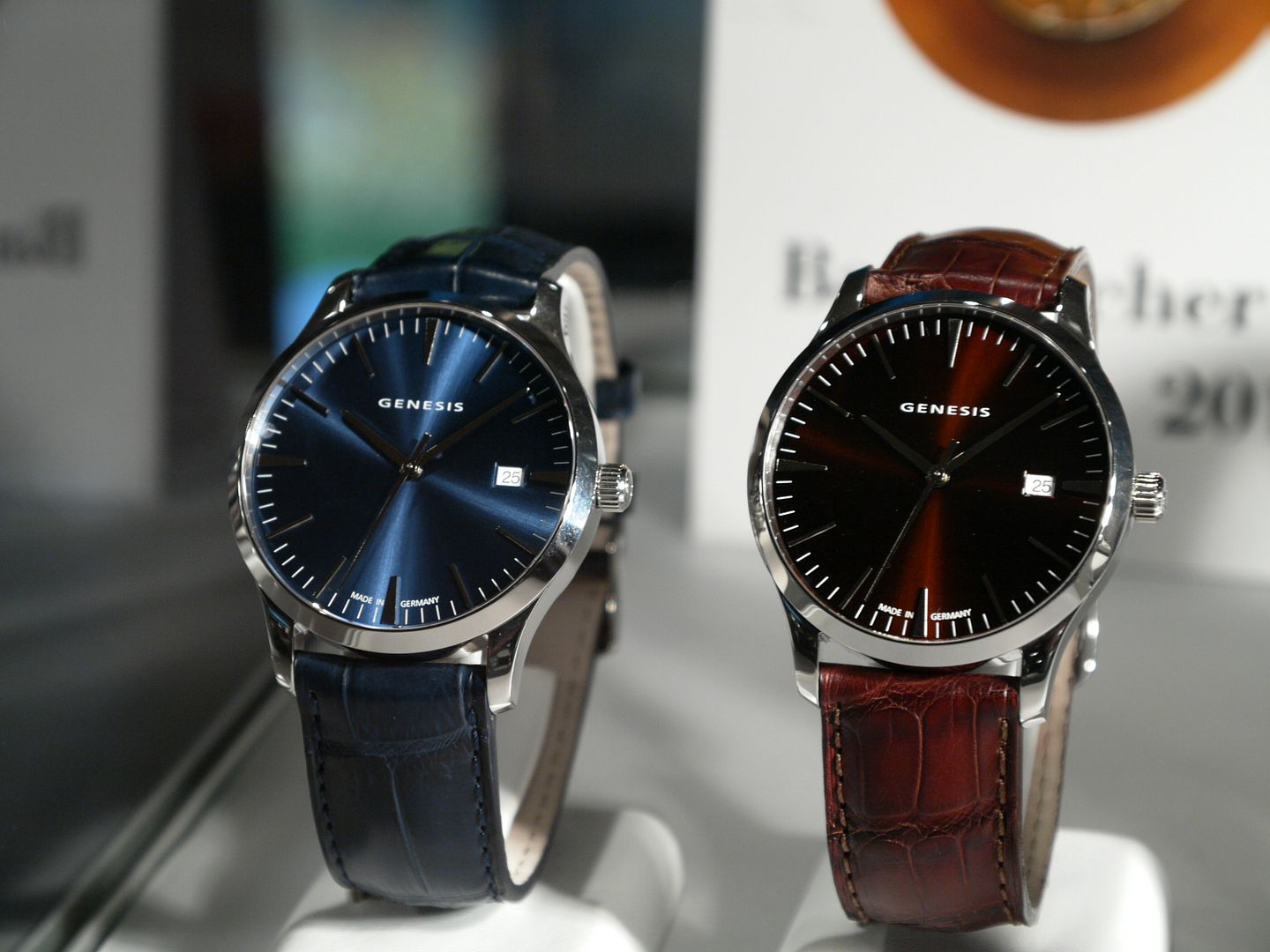 Germano & Walter
G&W presented their new T-500m models in eye pleasing colours and fitted with an ETA 2892-A2. Diameter: 42 mm, height: 20mm. Lug to lug is 57mm, no watch for a small wrist though. Retail: 3200 Euro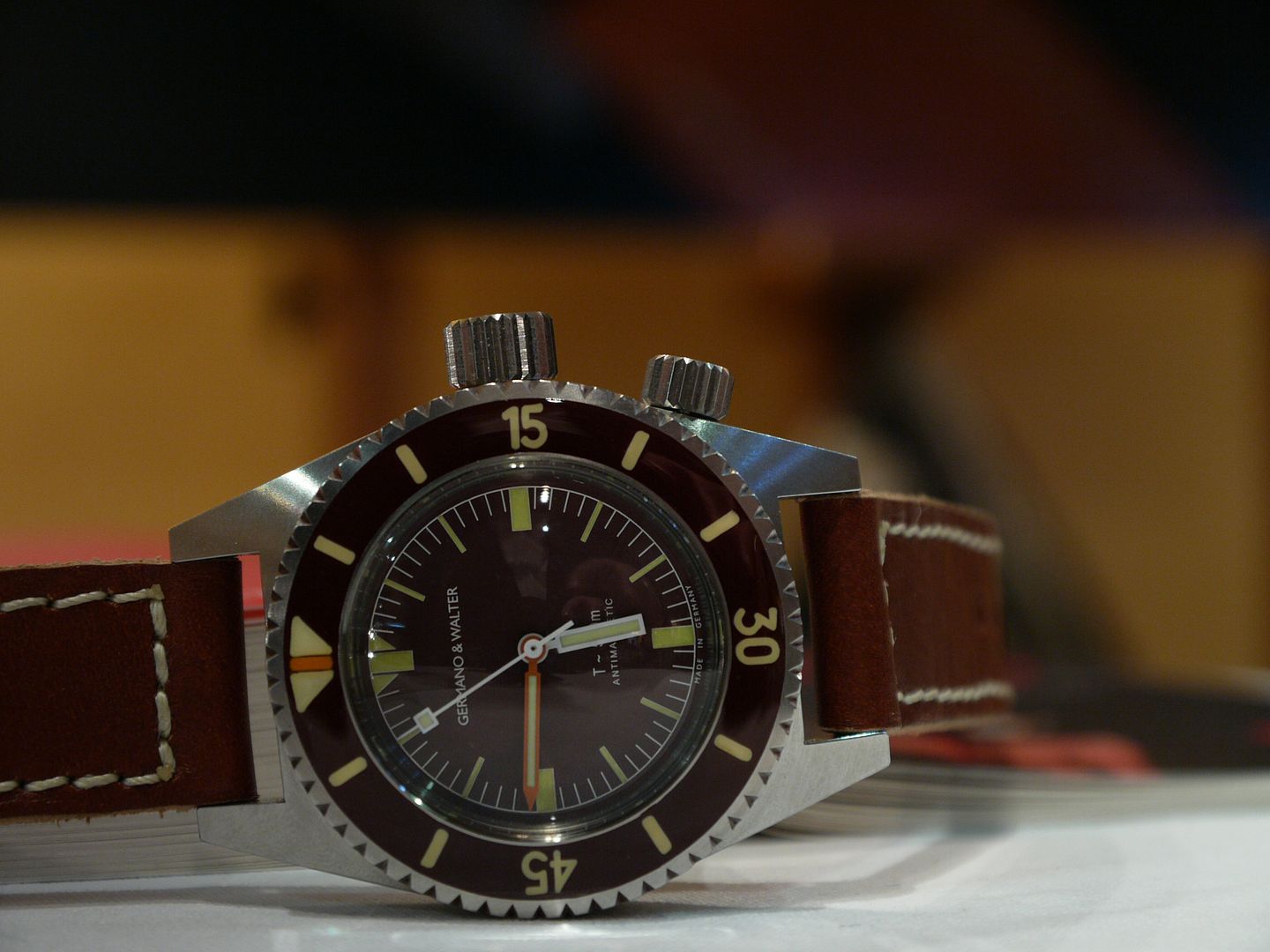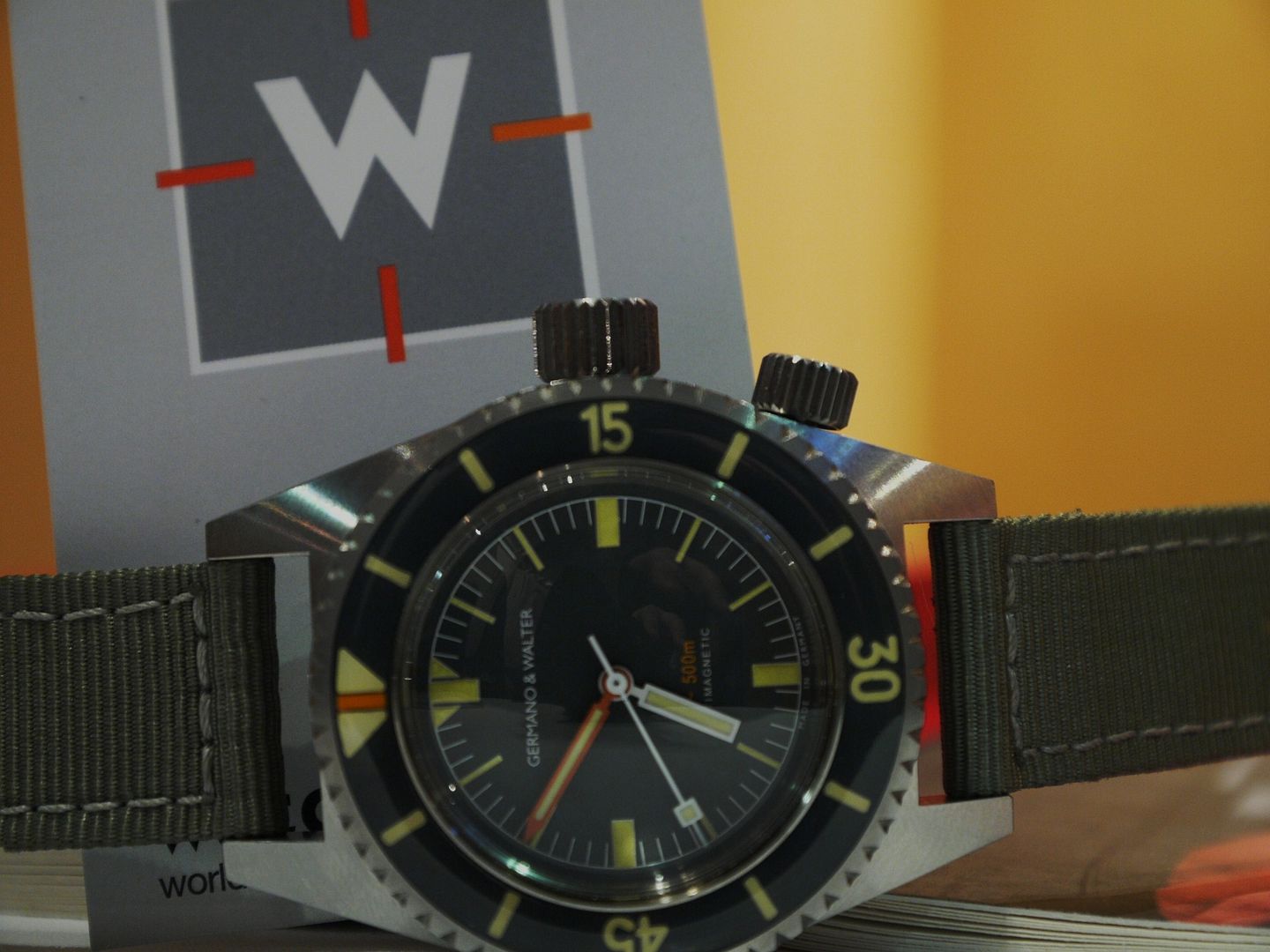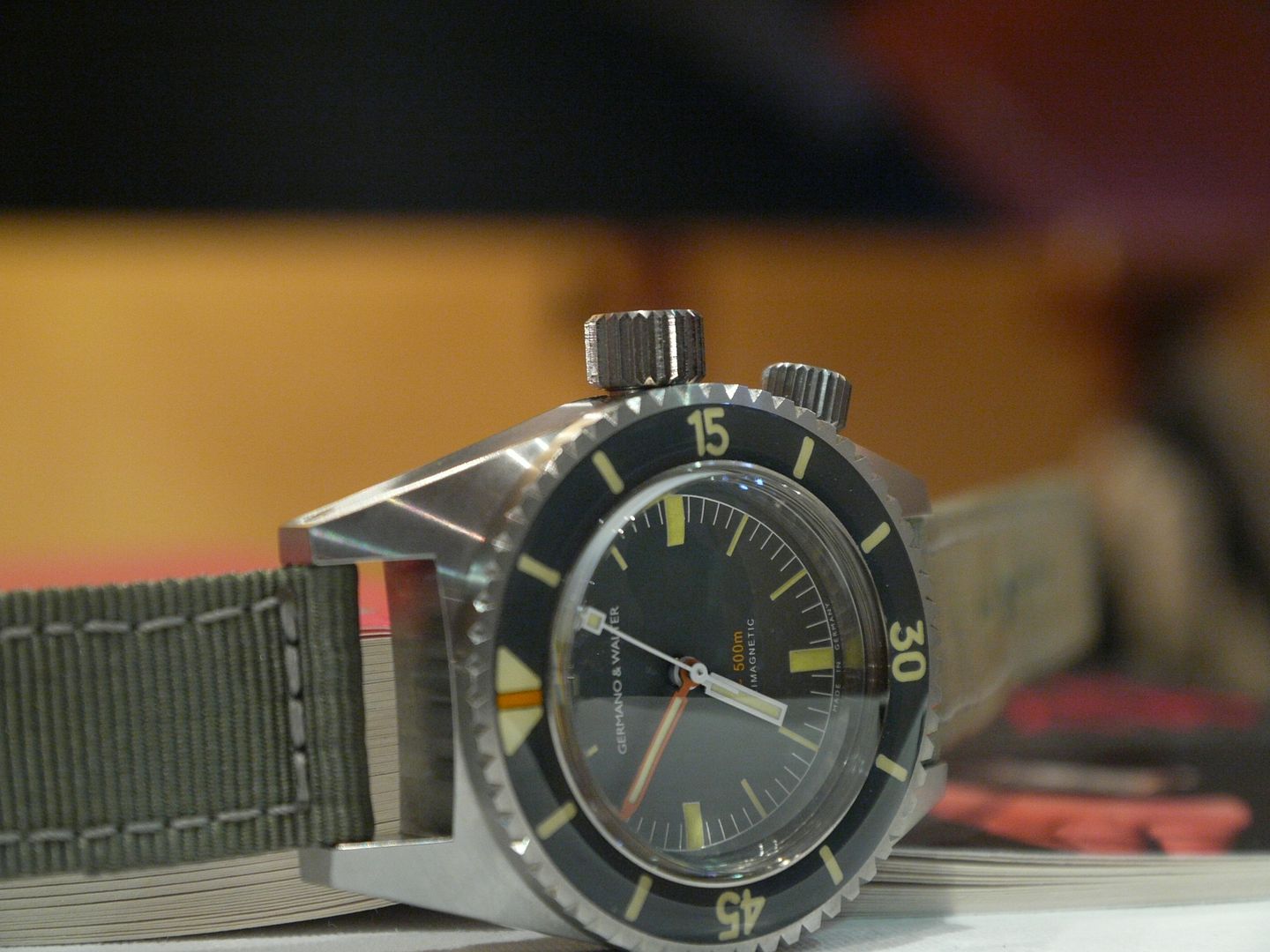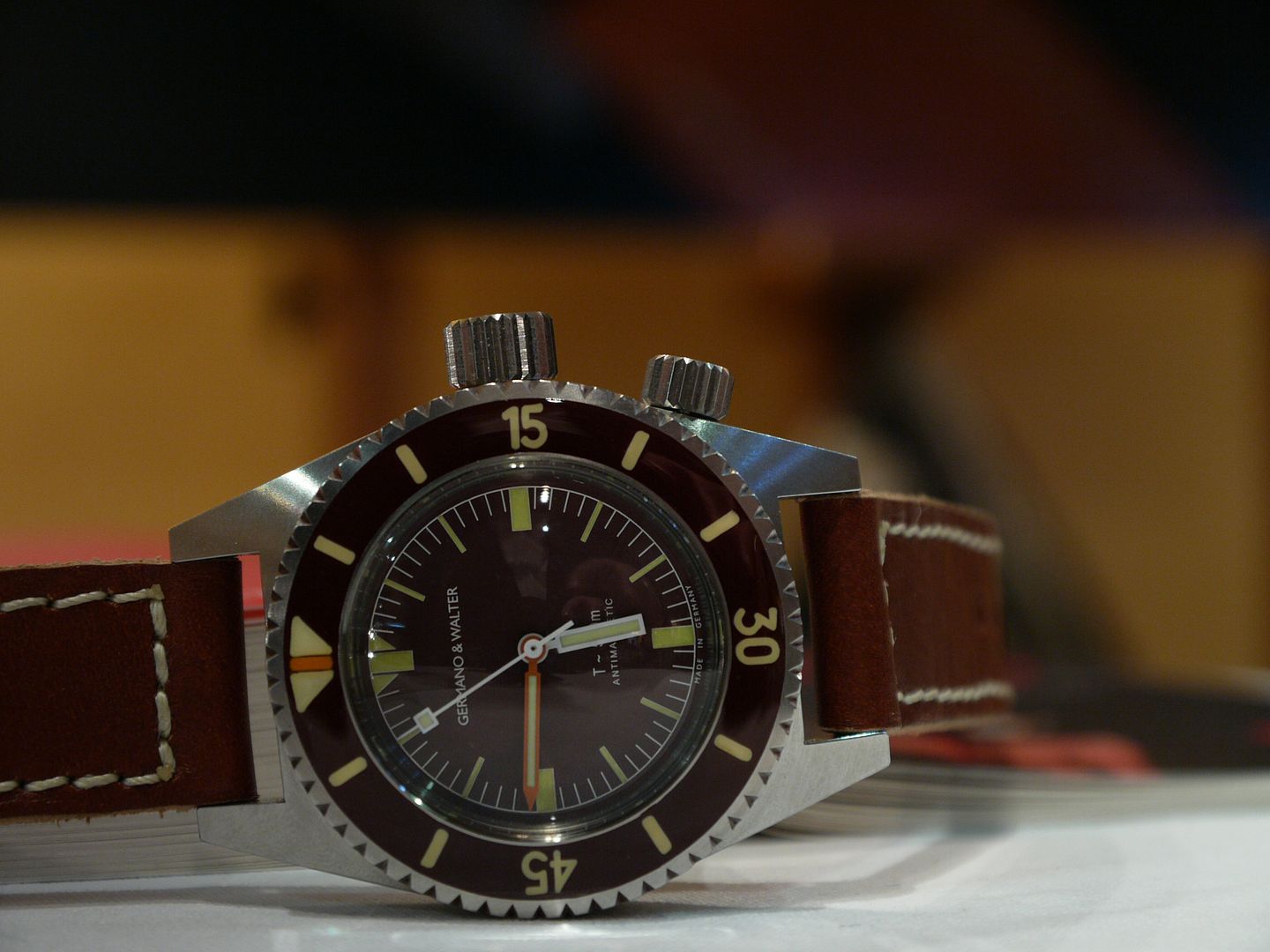 RHL
RHL is a small german brand currently offering a "vintage chrono" with a Valjoux 7750 in a Tag-Heuer-case of the 70ties. Dials are available in grey, black and blue.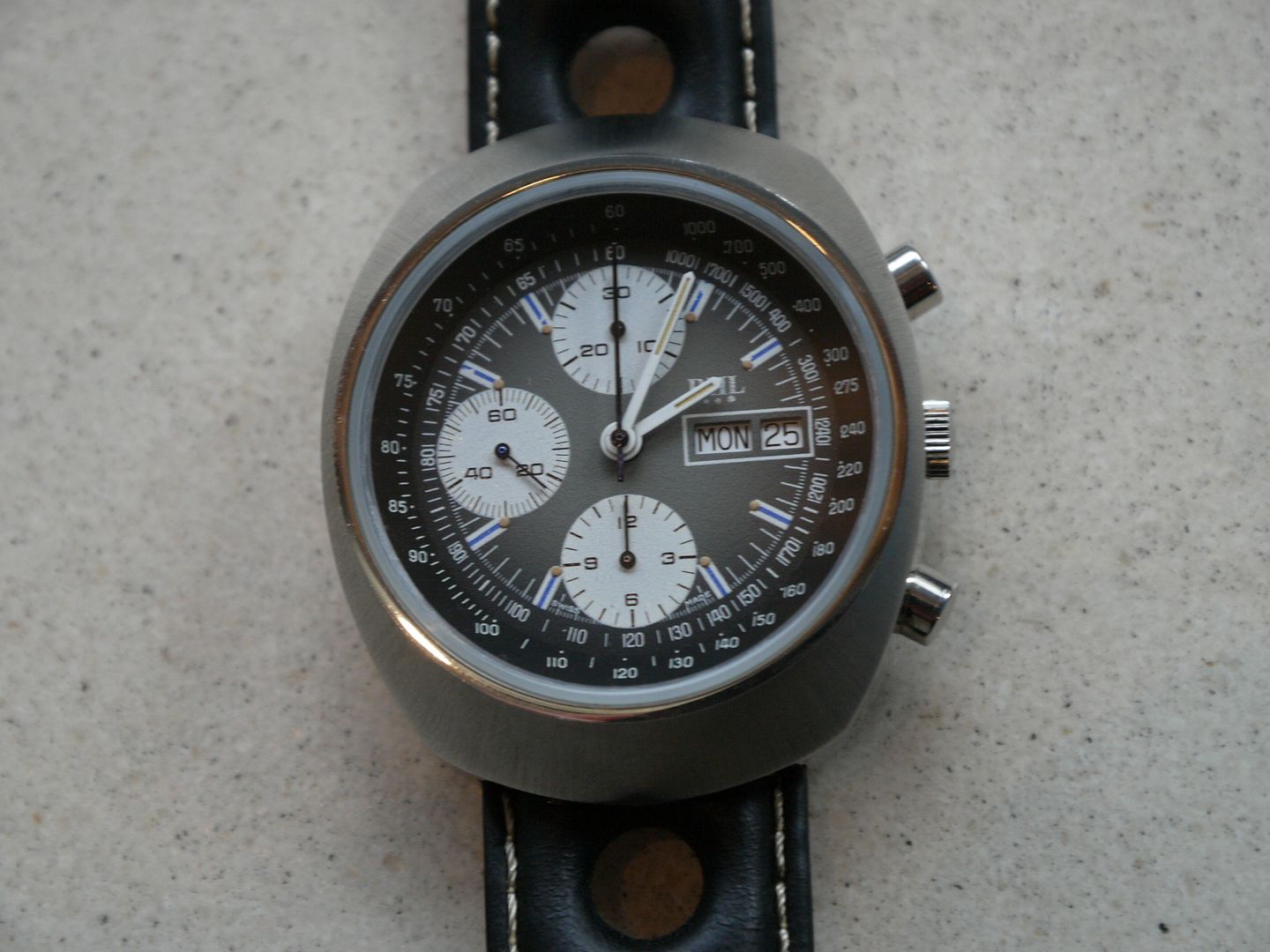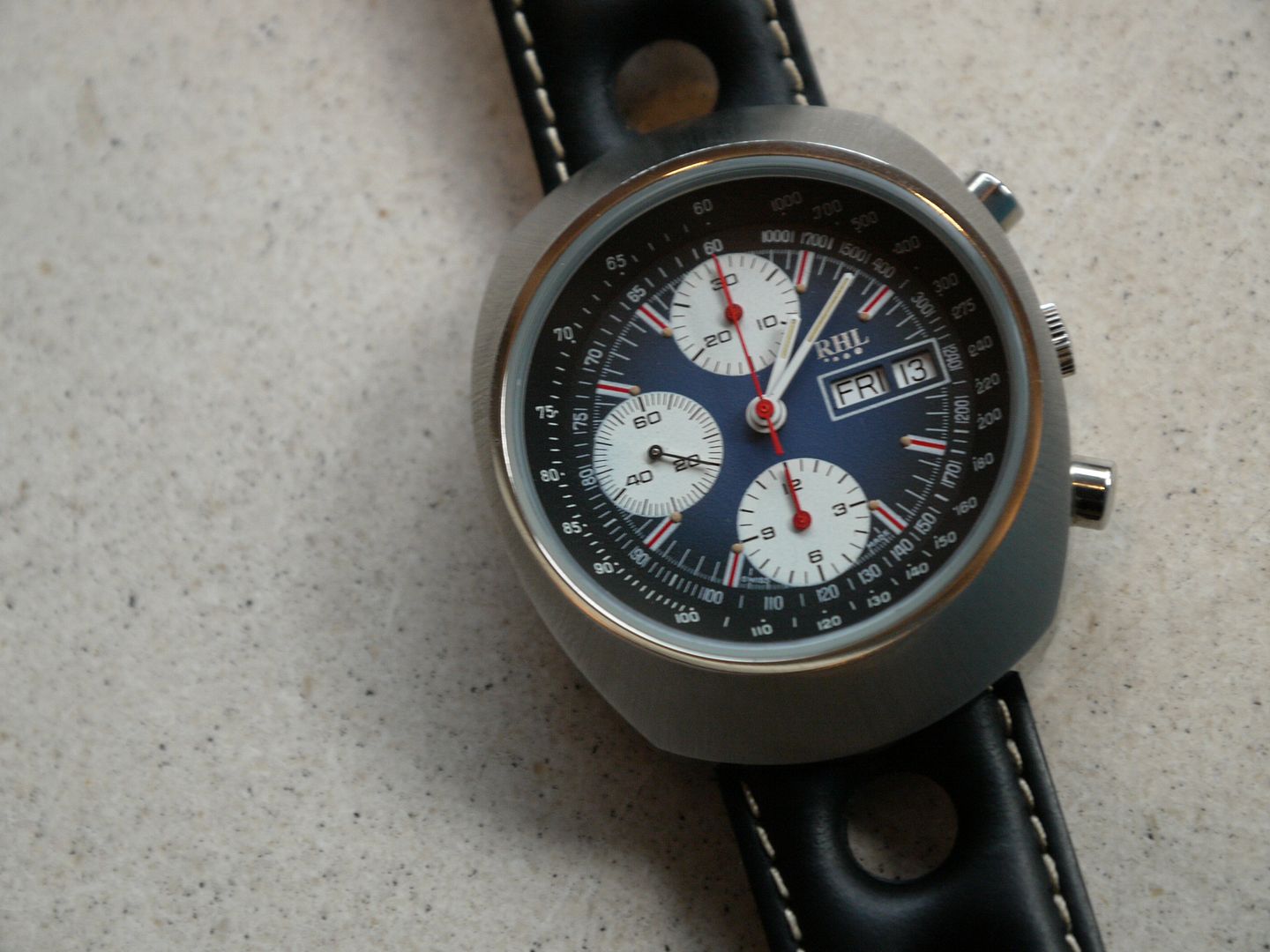 Thomas Ninchritz
These two pictures have been taken on special request of our valued member Bhanu.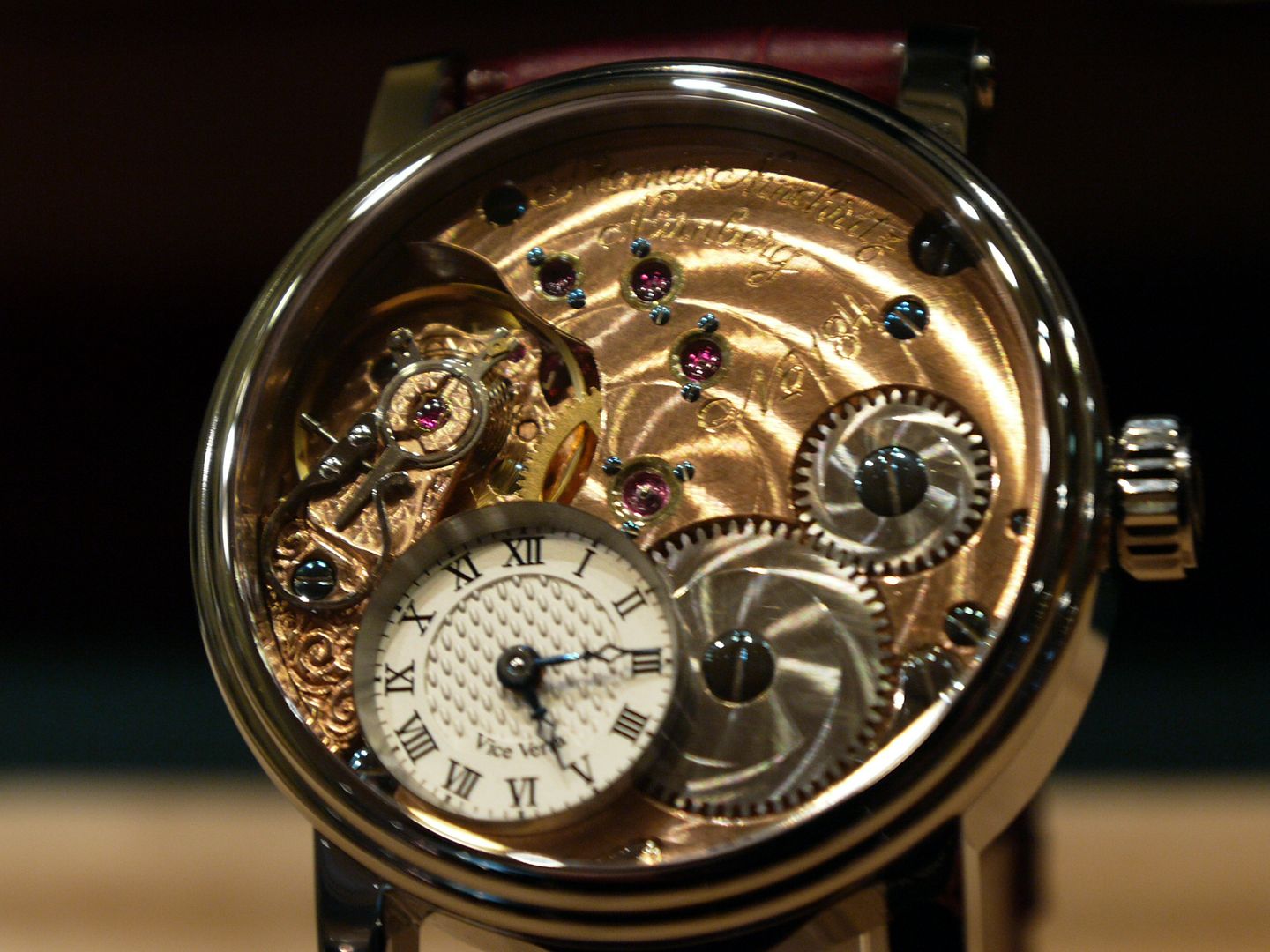 The Vice Versa, ref.no. NI 2000.6, retails for 4400 Euro (stainless steel)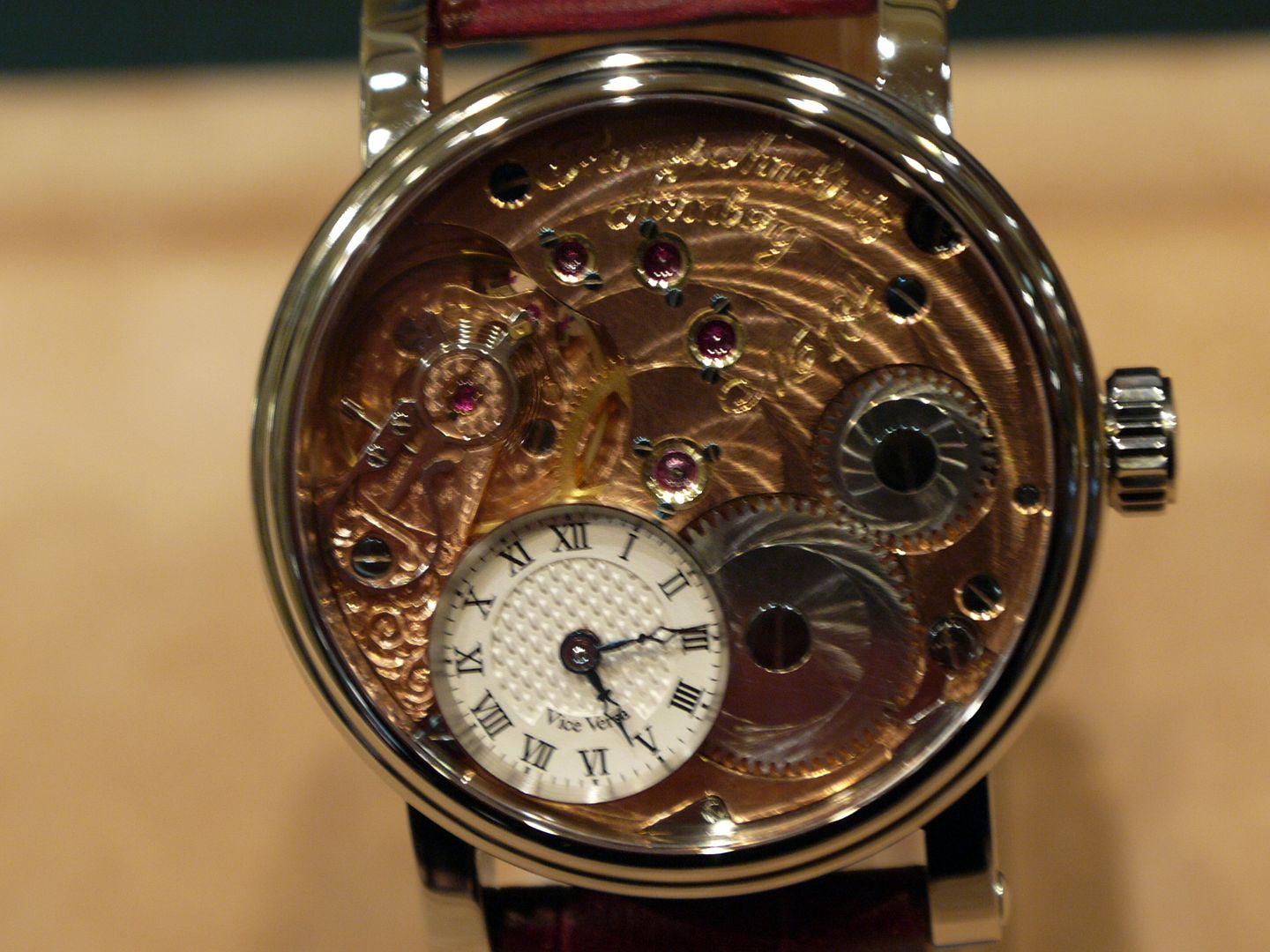 Tutima
Tutima scintillated with their firsdt watch made in Glashütte/Saxony