Generally, I write reviews on obscure, esoteric watches because you basically can't see them in person, at least not in America, and there's not much information about them out there. But the Omega AT8500 is different. It's a universally well-loved watch with dozens of reviews and magazine articles. So I wondered, having read many of those reviews, what I could possibly add that would be of help to people who are interested in buying one.
Well, I decided that I should focus on details that I think are often overlooked, aesthetically speaking, as well as provide easy access to technical information on the 8500 inside. Finally, I, in cooperation with my colleague and former roommate, and all around hardcore Omega collector, performed some simple testing on three 8500 movements (all of the non-SI14 variety) and I'll share our experiences.
The Aqua Terra is often considered to be the ultimate all around luxury watch. Stylistically, it's a sports watch that doesn't go overboard. The styling is interesting and unique without being aggressive. The size is also right, mine being 39mm. It appears slightly small on my wrist, but in my opinion, at least since I wear watches in a professional environment, better a little small than a little big, and its light weight is a refreshing comfort after my heavy 46mm Ananta, or my old 2500C PO. Basically, it strikes that idea balance. It's not too thick, not too large, and is interesting without being flashy.
And it's "all star" nature doesn't stop at good looks. Unique in its class, it has a 150m water resistance rating and, slightly less uniquely, a screw down crown. Normally I don't like screw down crowns. They're inherently more fragile designs insofar as you can strip the thread, and are a pain to work with as a watch collector because you can't hand wind the watch easily. But since Omega is giving me a nice, usable 150m rating, I think it's a worthy tradeoff since I might actually dare to take this skin diving.
And perhaps at this point it should go without saying, but it has a world class 8500 calibre. More on that later.
Aesthetics
I chose the gray model over the silver or black model because I thought it was the right balance between contrast with the hands/indices/lume while not obscuring the cool "teak" lines. The black model makes it a little difficult to see the lines, but the silver model somewhat hides the beautiful hands and lume. Did I make the right decision? I don't really know. Personally, I love the silver model too and I would probably be just as happy with it. I don't like the Golf model, because the green looks a bit tacky to me, but that's just my opinion and I haven't seen that one in person. I personally think they're all winners, stylistically, and I like both sizes too. I wanted a reprieve from my giant heavy Seiko, so I want small. I don't know if that was the right call for me personally, but I'm satisfied with the size at least, and it is very light.
One of the nice touches on these watches that people don't bring up often is that the hands, indices and movement are white gold/rhodium plated, giving a really beautiful "white" shiny finish to them. I've never been a fan of white gold before this watch. For one, it was difficult for me to appreciate when it wasn't right next to well polished stainless steel and two, it's relatively fragile in terms of wear. But since this watch has a steel case, the white gold is very obvious and looks extremely "pure." Furthermore, since there's no way for me to scuff the hands or what have you, the wear concerns are not important. So I'm very pleased with the white gold on this one and it's very well executed.
Another thing I've not seen mentioned is how tall the indices are. The dial is quite flat, despite the teak lines, but the tall indices provide some depth to the thing, which looks great at sharp angles.


I also really like the date window. One of the things I didn't like about the Planet Ocean was that it was a very simple cut out to the date ring, and it looked a bit rushed in my view. Here, the angular border to the date matches the basic shape of the indices and adds a little balance to the look.
By the way, the actual numbers on the date ring are in a metallic/silver paint, which is a nice touch. It's very difficult to take a photo where they don't look white though, so you're just going to have to trust me.
Additionally, the fine polishing of the white gold throughout the watch have a cool prism effect at certain angles, given off beautiful colors. Now, the master of this technique, so far as I'm aware, is Seiko, and my Ananta actually executes this much better. However, it may be a byproduct of using white gold instead of steel that made it more difficult, or maybe Omega consciously chose to make this effect somewhat subdued. Either way, in the right lighting, it's quite beautiful.
Note the prism on the minute hand.
For comparison of Seiko's version, check out the 12:00 mark on my Ananta:
The lume is nice. I definitely prefer blue to green lume, and it was a big bonus to me. For one, I like the color blue, but more important, it appears to me that blue lume is more "white" during the day time than green lume. The lume is fairly liberally applied to the indices, and at certain angles, the bright white (not visibly glowing) lume conrasts sharply and beautiful with the dark gray dial.
That said, the lume is inadequate in terms of utility. Frankly speaking, Omega chose to go an artistic route in applying it to the hands. That is, it's only in a thin line on the hour hand, and at the very tip of the minutes and seconds hands. This causes more problems than simply not lasting very long. Namely, at night, it's very difficult to tell the seconds and minutes hand apart at a glance. You have to look at it for a couple seconds so you can see which one's moving, then you can isolate the other. The other issue is that either the seconds or minutes hand easily and completely obscures the thin strip of lume on the hour hand. This happens in all watches to some degree, but because there is so little light given off in the first place, it seems more problematic here. Finally, there just isn't enough lume. It's very well (evenly) applied, but don't expect this to last for hours. In my opinion, the blue lume here was chosen for aesthetic purposes and not practical ones. That said, it succeeds aesthetically, so I think it has paid off overall.
The crystal has a nice subtle curvature to it and is curved on both sides. An easy way to tell most cheaper watches from most nicer watches, if they have domed crystals, is to look into the crystal at an extreme lateral angle. Cheaper crystals are usually not curved on the inside, so the thickness of the crystal effectively increases quite a bit. As a result, there is a lot of distortion and cloudiness at those angles. As you might expect, the AT does not experience this.
Note that you can still see clearly even at this extreme angle.
Note the curvature.


The AT also has some excellent anti-reflective coating on it. Unlike prior incarnations, this one does not give off the blue hue. It is the second best I've ever seen, behind Citizen's propriety AR, which simply makes the crystal invisible.
This photo was taken in sunlight, but there is no obvious glare.
Now, onto my two favorite stylistic things about the AT8500: the hands and the movement decoration. There's not a lot to say here that the pictures don't already. I just love the cool hand shapes and the movement decoration is some of the finest I've ever seen. In fact, barring skeletonized movements, this is probably my favorite looking non-exotic movement out there (i.e. barring Breguet, Vacheron, A. Lange and so on). But the photos speak for themselves, so there isn't much to talk about here.
The bracelet, like most from Omega, is very well made. It's extremely comfortable, probably the most comfortable I've ever worn, behind my old PO. It also uses the superior (in my opinion) screw type construction that's both easier to work with and less likely to fail. That said, the bracelet is very plain and doesn't warrant much discussion. It's as if Omega sat down and thought "let's make a very well crafted generic watch bracelet." Furthermore, it has a fully brushed design, excepting the very sides of the links, which I like in part because it's so easy to refinish. But it doesn't match the overall polished top of the watch case. The lugs are brushed to match the bracelet (I guess), but the brushing is in a different angle than the bracelet, and frankly, the finish appears a bit amateurish on the lugs. Personally, I don't think the bracelet matches the case in terms of polishing very well. There is a safety built in with a part of the clasp being held in by little ball bearings, which do not appear to be metallic and are perhaps ceramic for wear reduction. It's a nice safety feature, and if the clasp comes undone, it will not fall of your wrist.
Note the polishing on the case near the bracelet and the bracelet itself.
Movement


Now, if you're part of the emerging trend of people who believe that stock ETA movements are as good as movements are ever going to get, just skip this section and you probably ought to skip the watch.




Good, now that we're alone, let me give a little overview of what makes the 8500 special, its strengths, weaknesses and my data points.
Before I get to the substantive technical movement stuff, I wanted to mention a couple of interesting things about this movement. First off, like so-called "true GMT" watches, it has a fully independente 12 hour hand, which makes setting it a breeze since you don't have to hack the seconds to change time zones or for daylight savings time. Like almost all other watches with an independent 12 hour hand, however, it eliminates the quickset date. Nonetheless, it takes extremely little effort to change the date. Like most GMTs, this can also set the date backwards. This would be unremarkable, except that it's not a GMT movement. Indeed, it wasn't even built around being GMT, and we're only just now getting to a GMT version of the calibre with a second time zone.
The second slightly interesting thing I'd like to mention is just how smooth the winding is. Like its 2500 predecessors, winding this watch is totally smooth, to the point that you wonder if you're actually winding or just spinning the crown. It's totally silent and you can feel absolutely no ratcheting. I had to look into the movement and watch the barrels turn to confirm it wasn't broken. I don't know if there's any benefit to this design, but it's interesting and feels very high quality.
The co-axial escapement has been discussed at extreme length for years, and I don't want to spend too much time on it here since it has been so thoroughly covered. Essentially, the promise of the co-ax is that because of reduced friction in the escapement, there is less wear and tear, less (or no) need for lubrication on the escapement, and ultimately, as a byproduct, greater stability. Does it achieve those goals? Well, beats me, but it sure sounds cool. I guess we'll find out in 20 years.
I actually think the most interesting part of the 8500 was the choice to go with a double barrel mainspring. That, by itself, is not all that rare. Many watches that feature an extreme power reserve use double barrel mainsprings to achieve it. Yet Omega only obtained a very good power reserve, hardly an amazing one. One of its primary competitors, the Grand Seiko, gets 72 hours on just one spring. So why two springs?
Well, the design is apparently to try to make the release of energy more constant throughout the various states of wind. So far as my research suggests, only one mainspring is unwinding at 100%, and the second one starts releasing energy into the movement when the first one has a certain drop in output, stabilizing the output as a result. The consequence of having them not work at the same time all the time is, ultimately, a shorter power reserve than could otherwise have been achieved. On the other hand, the more constant power flow should help maintain accuracy even at low levels of power reserve. An interesting side note is that the barrels are both DLC coated, apparently for wear resistance. Whatever the case, the black barrels do look cool peaking out of the very edge of the 8500.
Another interesting part of this movement that hasn't been talked about is that the rotor is floated on unique zirconium oxide bearings. Apparently, Omega wanted the rotor to be nearly frictionless, extraordinarily quiet and for the user not to be able to feel it moving. I lack the chemistry/physics pedigree to tell you if these things actually work, but I can tell you that the rotor is totally silent and I can't feel it all. Now, I'm not sure why that required special technology to accomplish. After I, I can't feel the Ananta's rotor moving. I think this is true of most bidirectional winding mechanisms. But perhaps these bearings will increase wear resistance over time.
The 8500s also feature special beryllium-free balance wheels. Supposedly this material is more resistant to differences in temperature. Interestingly, the only other maker that uses similar balance wheels is Breguet.




The balance, like the older 2500, is free sprung and adjusted by screws on the inside of the balance. Free sprung versus regulated balances is another issue that is debated among watch enthusiasts, although it seems like most of the high-end watch makers have come down in favor of free sprung balances. Rolex, JLC, Patek and Omega are just a few examples of companies using free sprung balances. There are a few high end Swiss and German makers left that still use regulated balances, but the most notably proponent of them is Seiko, which uses regulated balances in their entire range, from a $70 Seiko 5 to a $50,000 Credor. There are a number of arguments in favor of each that we needn't go into here. Suffice to say that one maker of the most accurate watches in the world, Seiko, uses one, and the maker of the other most accurate mechanical watches in the world, Patek, uses the other. Omega has clearly taken the position in favor of free sprung balances and used them almost exclusively for over a decade now. Personally, I think I come down in favor of free sprung balances too, but either, if well made, can be excellent.


The 8500 also features two different hairsprings, depending on the model of watch.

In mine, and most others, it uses an anachron hairspring. I have no idea what the benefits of an anachron hairspring are and it seems extremely hard to find much data about. Far better publicized is the SI-14 hairspring, which is available only on the lady's (smaller) version of the 8500, all annual calendar models, the Planet Ocean and a miscellaneous few others. At any rate, the anachron hairspring is apparently the top of Swatch Group's hairsprings, aside from the new SI-14. How does it compare to Nivarox-1 hairspring available in top & chronometer grade ETA calibres? Beats me. Is it another word for Nivarox-1? Well, I can't say. The very few sources of information on it have suggested that it's some mysterious grade higher than Nivarox-1. Unfortunately, Omega has simply decided not to espouse the virtues of whatever material it uses in the non SI-14 models, so I can't be of much help here. What we do know is that it's probably among the highest quality ordinary material hairsprings available.
Note the suspiciously blank area on the caseback where SI-14 is written on the Planet Ocean. It's almost as if they were saving room.


Why didn't all models receive the SI-14 hairspring? Well, I can't say. It's uncharacteristic for Omega to give features to models before the Deville, which generally receives the white glove treatment while the rest of the watches are forced to wait in line. It makes me wonder if the SI-14 hairspring performs better for some purposes and not for others. According to Omega, the SI-14 hairspring takes less work to actually use, making it odd to me that they don't use it universally.
Omega might like to keep the SI-14 in some models and not others for purposes of market differentiation, although this doesn't make much sense in light of their expensive Deville line, generally speaking, not receiving it. However, Omega, does take the time to advertise "SI-14" on the casebacks of watches that receive it, implying that they do care that we know about it.
It's also at least possible that, like Omega claimed before, all models of the 8500 receive it now although it's not advertised. Curiously, even on the new Planet Ocean, which does receive the spring, the website's movement details don't specify the SI-14 hairspring. As far as I can tell, only the annual calendar models' information discuss it. Omega did claim that all models in 2011 and later would receive the hairspring, but my model was made in 2011 and lacks the logo on the pictograph, the writing on the caseback or the writing on the balance. Conversely, I've spent a little time looking through casebacks of various 8500 trying to get a visual cue on the hairspring itself that would reveal the difference between the anachron and SI-14. At least to my cursory inspection, the springs look exactly the same to me, unlike, say, the parachrom blue hairspring used in some Rolexes. It's possible we'll never know why Omega doesn't use it in the entire line. It's also possible we'll never know if it's already used in some models, quietly. It might be an attempt to avoid the hunt of the new model over the old one, like has been the case with the 2500D versus the 2500C. But this is all just speculation on my part.
At any rate, the SI-14 hairspring is supposed to have excellent resistance to variations in magnetism and temperature. I won't go into great depth on it since this model doesn't have it and volumes have been written about it elsewhere by people who know more than I do.
The Aqua Terra 8500 was probably aimed squarely at the Rolex Datejust, but buyers should also consider the slightly cheaper Grand Seiko 9S65 models as well as the JLC Master Control, all of which have high-end movements and reputations for superb quality. For your convenience, the specs are as follows: 60 hour power reserve, chronometer certified, adjusted to 5 positions, internal accuracy range, qua Omega, of 4 seconds (!), "long" service interval.
Addressing each spec in turn. The 60 hour power reserve is impressive, and beats Rolex handily (50 hours) and simply annihilates the JLC (44 hours). Yet none are a match for the Grand Seiko 9S65's 72 hour power reserve, mysteriously achieved with a simple single barrel design. This is apparently the result of Seiko's proprietary Spron alloy (a different formulation of this is also used in their hairsprings) and an ultra efficient movement design. So why does Omega use by far the most complex power reserve system and only get a rather distant second place?


Well, as I alluded to above, the dual mainsprings were not really ever designed to maximize the power reserve on the 8500, but to stabilize power delivery throughout the various stages of wind. The mainsprings are sequential, not fully parallel, meaning that the "automatic" barrel, barrel 2 for those who care, unwinds on its own first, and when the output of it drops below a certain level, barrel 1 is brought in to stabilize the delivery. The result won't make much difference if you wear the same watch every day, since it will be near the optimum part of the power band, but by the same token, the shorter power reserve won't either. Omega made the conscious decision to increase accuracy low in the power reserve at the cost of maximum power reserve. How does this compare to Seiko's solution? I can't say since I don't have a 9S65 to test (feel free to send one), but I have to suspect that, in this area, it would outperform it. Seiko does have a proprietary system out now on one Credor that stores excess energy from the mainspring, only to return it when the energy drops later. That said, the vast majority of us can't afford Seiko's solution yet, so I doubt I'll be testing it anytime soon.


My (former) roommate and I decided to test the power reserve rating together. We have the same model 8500, one in his Deville and one in my AT. He received 63.5 hours, where I received 63.25 hours. In either case, the power reserve rating was easily met and exceeded. He did not do accuracy testing on his model near the end, but I did. My watch gained 7 seconds in 62 hours (I don't just stand by the watch for the last hour waiting for it to die. Importantly, that's two hours beyond the rating, so after that is just gravy). I lament the fact that I didn't make accuracy observations on each day, so I can't determine exactly how much accuracy decreased as the power reserve down. We can postulate that the first day gained 2 seconds or less, since on an ordinary day where I wear it, laying crown up at night, it gains just under 1, whereas this would be experiencing a decreased power reserve and was dial up. If that is the case, the remaining 5 seconds would have to be divided between the following two days, and if that is the case, it was remarkably consistent. I'd rather spend my time wearing the watch than let it sit in a watch case doing power reserve testing, but when I get a new watch, I will run this test again more carefully and see where, exactly, the 7 seconds was gained. At any rate, 7 seconds over 2.5 days as the power reserve died is very impressive, and substantiates Omega's design choice in the double barrel system. We really do need to get a 9S65 in here for comparison though.
The watch is chronometer certified and adjusted to 5 positions. Not much to say about that, but it's a chance for me to post a photo that was really hard for me to take with my terrible cell phone camera. I'm pretty proud of it even though it looks awful. As far as I know, all upscale Swiss mechanicals are adjusted to 5 positions, although Seiko takes it another step to do 6.


What is much more interesting is the internal 4 second range that Omega uses. This was reported on by WatchTime. Between my roommate and I, we've had three 8500s, all the same version, and we have carefully tracked their accuracy. The results are basically as follows: two of them, including mine, were a little under +1/day, and one of them was a little less than -1 a day. The position at which the watch sleeps does appear to affect mine, but only ever so slightly, perhaps to a quarter second. These results compare well with the many anecdotal reports on WUS, and it appears that, nearly as a matter of certainty, a new 8500 will be within +2 seconds a day. This movement has excellent consistency and resistance to positional variation. You can't cheat with this movement, or at least, I can't with mine. There's no wiping out a second gained in a day by a certain position at night. It's borderline immune to positional variance, so don't expect to even be able to visualize the difference the position makes the next day. It's something you're going to need 3 or 4 days before it's obvious. So far as I can tell, there is no positional way to get my particular watch to lose time. I have tested crown up and crown down, and it appears that on my example, crown up runs ever so slightly slower than crown down. This is contrary to WatchTime's results, but your mileage may vary. Ultimately, with a week of testing, sleeping crown up at night and worn all day, the watch gained just under a 1 second day, ending with a net total of 6 seconds even over 7 days.


I only want to add a note about the service interval. All 8500s initially received a 3 year warranty, which is above average for this segment, but a 4 year warranty was given to the SI-14 models. Eventually, the 4 year warranty was given to the entire 8500 range, even retroactively. Does this show confidence or the lack thereof in the movement? What do I look like, a mind reader?



As per the long term durability of the thing, the co-axial escapement does appear to me to be more resistant to wear than competing systems. But escapements aren't the only parts of a watch that need service. Often the automatic winding system is one of the less durable system in a watch. Here, however, the slide bearings are made of this zirconium oxide, which may, or may not, decrease wear. It certainly sounds cool. At any rate, claims that these things have some sort of 30 year service interval have been floating around WUS, and I have to say, I'm highly skeptical. What I will suggest is that it is probable the 8500 will experience less loss of accuracy over time, between service intervals. This is due in part to the reduced wear in the coaxial escapement, but it's also due to the choice to use a free sprung balance, which is less likely to have its long term time keeping affected by shock than its regulated counterpart, all things being equal. Furthermore, the mainspring barrels are both DLC coated, which according to Omega, will reduce wear on them as well.
So I speculate that the 8500 will wear very well over time. But this is speculation. We've only had 5ish years on the 8500 now, and we really need more like 10-20 to start knowing what the common points of failures are on this movement.
While I'm on the subject, I wanted to make a note of the unique shock absorption system on the 8500, the Nivachoc system. This is a mysterious alternative to the major competitors, the Incabloc, KIF and Diashock systems.
A quick note on shock absorption systems on mechanical watches. All modern watches, at least that I'm aware of, use some form of shock protection for the balance to prevent broken balance shafts. This is accomplished by mounting a spring over the balance that allows a little mobility, and therefore shock absorption, for the balance shaft. It's not so simple, of course, because the second job of the shock absorber is to return the balance back to its ordinary position after a shock. All modern systems appear to be a major improvement over non-shock absorbed systems.
Incabloc is by far the most common in Swiss movements because it is the one adopted by most ETA calibres. It uses two points of contact. The KIF system is used by Rolex (now using the Paraflex system) and most higher end Swiss makers, which has three points of contact. Diashock, of course, is the Japanese system designed by Seiko, which uses a very innovative (although now quite old) three point "triangular" design. Most people in the know, i.e., that know more than me, think that KIF is better than Incabloc, but at least conceptually, I prefer the Diashock over all three. I am told by watchmakers that it is the more difficult system to work with, but just looking at the thing, it seems to be the one that'd best resist shocks. But that's hardly a scientific analysis, and frankly speaking, I'm not qualified to choose a winner.
Here's my photo of the Nivachoc:
It's the little gold colored thing on top of the balance.
Here's some random person's much better photo:
Now, as to Nivachoc, I cannot find any information about it. All of the ordinary shock absorbers I can "see" how they work just by looking at them and seeing how they would flex in response to shock. Not so for the Nivachoc. I have no idea how this thing works, or why it's supposed to be an improvement over the other three. But that's what Omega's claim is. They had access to ordinary shock absorbers from Swatch Group, so they weren't under the gun to make a proprietary design. Consequently, I don't think they'd have bothered if they couldn't improve it, especially since they don't advertise the Nivachoc shock absorber. But again, speculation on my part.

For comparison, here are a few photos, not mine, of the major competing systems:


Here's Seiko's variation: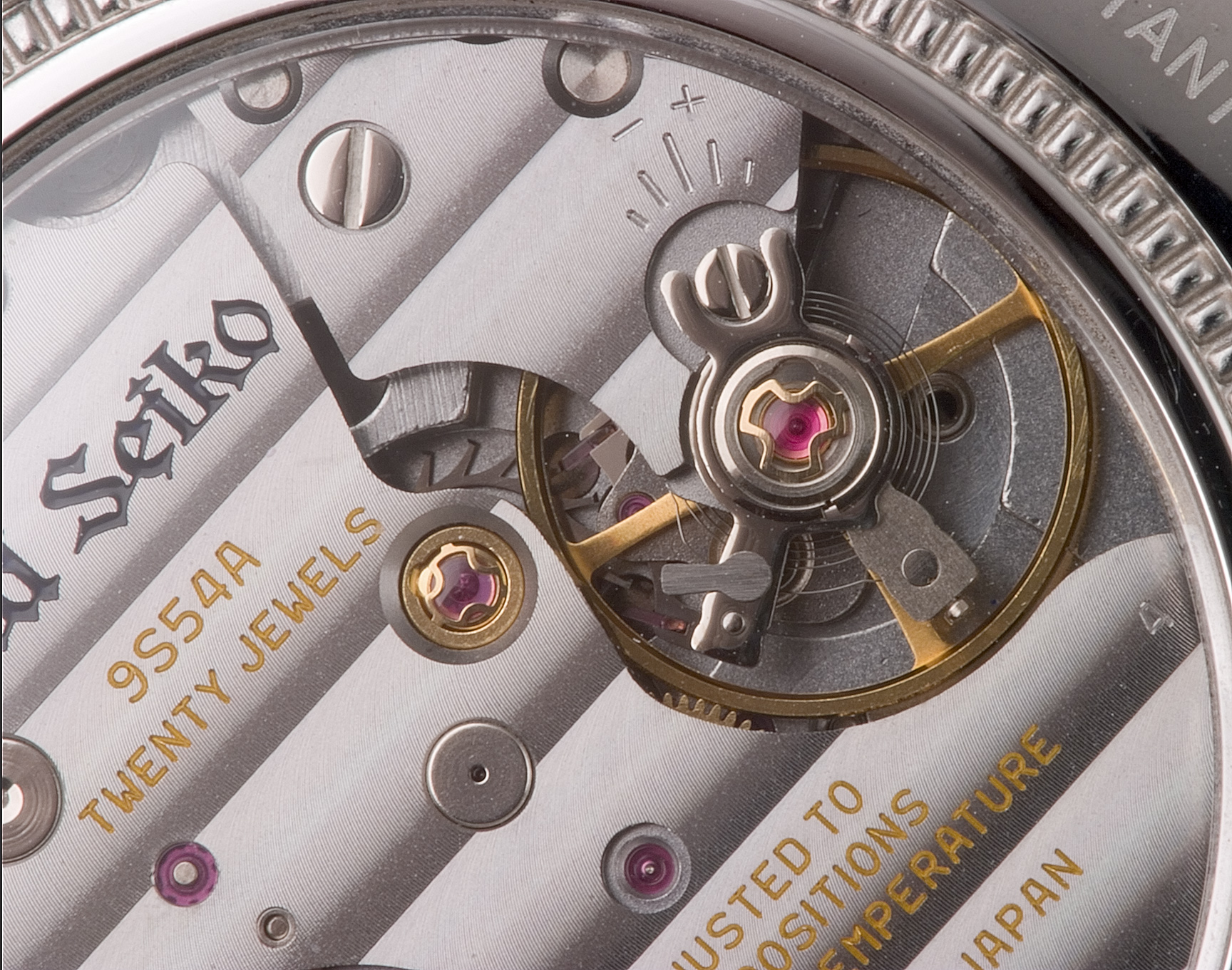 Note the dual diashock absorbers on the Grand Seiko.
I also want to say a word on the BPH of the watch. Like its predecessors, the 2500C and D, it runs at 25k as opposed to the more standard 28k. Why did the 2500 get shifted from 28k to 25k? Well, that's the subject of great debate among Omega collectors, but to be perfectly frank, I don't think we really know what we're talking about. All things being equal, low BPH movements suffer less wear and have a longer power reserve, generally at the cost of shock resistance (not in terms of toughness, but in terms of accuracy). 28k has emerged as the magic number in this era, with high end manufacturers generally taking an extreme approach, either like Seiko or Zenith, with very high BPH movements, or like IWC or Patek, will use relatively low BPH movements. Omega, oddly, chose to go somewhere in between, excepting the early 2500s and the new 9300 chronograph, which both operate at 28k.
What we do know from the 2500s and from the 8500s is that the accuracy is excellent despite, or perhaps because of, the low BPH. It also directly contributes to the length of the power reserve. Like the 28k 9S65 has a 72 hour reserve, while the nearly identical 36k 9S85 has only a 55 hour power reserve, the 8500 at 25k has a 60 hour reserve and the 9300 at 28k has a 55 hour power reserve. We can also speculate that whatever issues were encountered in the 28k 2500s have been addressed in the 9300 chronograph model.
Personally, this choice doesn't bother me at all. In terms of seconds hand smoothness, it's very difficult to tell, looking at an 8500 in isolation, that the hand is staccato, unlike a 21k movement, which is quite obvious. When side by side to the 28k movement, it's apparent on close examination that it's slightly less smooth, but it still appears smooth to the eye. 28k, in my experience, really is a bit of a magic number because that's where my eye starts to have trouble seeing the individual beats. In fact, holding 36k movements next to 28k ones, it's actually difficult for me, personally, to tell the difference. If you're into ultra-smooth seconds hands, this model isn't for you, but that said, neither is any of the nearest competition, all of which operates at 28k. If it's not important to you, you'll probably never notice. I don't.

I got a surprising amount of questions about when the date on the 8500 changes over. The answer is, it depends on which 8500. On my model, and most others, the date begins to change over at 10:50, gets about half way there by 11:50, and completely flips at 11:59. Apparently there is an acceptable +/- 10 minute variation on these models. Conversely, the Annual Calendar models have a 5 minute acceptable variation (from midnight) and apparently take much less time to change over in general, although I haven't tested it.
Before:

After:


Summary
So how does this compare to the competition? Well, I won't speak to the aesthetics since that's an inherently personal choice, but the fit and finish is excellent and certainly better than my Ananta (although, of course, an Ananta is not the same thing as a GS). Furthermore, while the Rolex DJ has a broad variety of styles to choose from, the AT is inherently more sporty than the JLC MC and virtually any GS. Thus, depending on what you're going for, you can get basically the exact same watch in a Deville with a more subdued styling. Personally, I love both.
Now, in terms of movements, I'm very impressed. On the numbers, it does appear to be better, overall, than the JLC MC or DJ. How does the real world performance compare? I can't really say, because there's not enough data on the JLC yet. In my view, the only horological threat in its price range is the GS. On every metric, smoothness, accuracy and power reserve it appears to outperform the 8500. However, the 8500 certainly has a longer service interval suggestion, and additionally, some factors are difficult to tell just by looking at a spec sheet, like positional variance and how accurate a watch is at low levels of power reserve. In these areas, the 8500 might very well exceed the 9S65, but I can't know until I try it for myself. To the degree that Seiko's 6 position adjustment affects the performance compared to the Swiss' overall standard of 5 I cannot say.
Ultimately, I'm very impressed with both the watch and the movement.




NEW INFORMATION

On the SI-14 and Buyer's Guide
We can now confirm that ALL NEW (at least as of June 2012) full-sized Aqua Terras have the SI-14 hairspring. My advice to you is to you is to either buy right now (6/20) and beat the price increase, buy used or hold out until the model you want gets it (or your dealer gets the new ones in stock). This appears to confirm one of my hypotheses about the SI-14 hairspring, that of the silent introduction. I believe this is to avoid "hairspring" shopping where people want the "newest" model, sort of like occurred with the 2500D/2500C Planet Oceans. That's just my guess.

How do you know if your new AT has the hairspring? Well, on the Aqua Terra, it appears Omega will not be writing SI-14 on the caseback. It does seem to appear on the pictogram card that comes with the watch. The best way to tell is to hack the watch and look very closely at the balance. SI-14 models will have SI-14 written on them.

This means that no mid-size ATs, that we know of, have SI-14 right now. We'll need more thorough examination as people buy more ATs and I will update this to reflect the information so that future buyers can know if they're getting the SI-14 hairspring.

On automatic winding
I missed a detail on the automatic winding mechanism in the 8500. Apparently, the rotor, at least the edge of the rotor, is made from tungsten, which is substantially more dense than steel. This might increase winding efficiency.

Also, I think I misread Omega's claims on the silent automatic winding system. What I thought they meant was that you couldn't hear or feel the rotor, which again, is true of most bi-directional winders and is unremarkable. But it's also possible they meant you couldn't actually hear it winding. If that's the case, then they're right. The actual winding (of the reverse wheels, I guess) is totally silent, much quieter than say my Ananta's magic lever pawls over the pawl wheel.

What winding system is used in the 8500? It's hard for me to say since I'm not going to take it apart, but judging from Omega's description and the systems they've used in the past, I think this probably uses the reverse wheel solution, variations of which are found in most Swiss automatics (not JLC or high end IWC, but most of the others work basically the same).

I have no convenient way of testing this, but the winding does seem to be very efficient and it seems to be fully wound even after my day of just sitting and reading.