Well this arrived yesterday and it is a very nice watch - I thought I would share some early views with you. Not a big review just some impressions.
Firstly this is a great looking watch, it is not big by the standards of the current oversized craze but it is definitely big enough for me. Here it is on my 7.75 - 8.00" wrist and I think it looks nicely in proportion.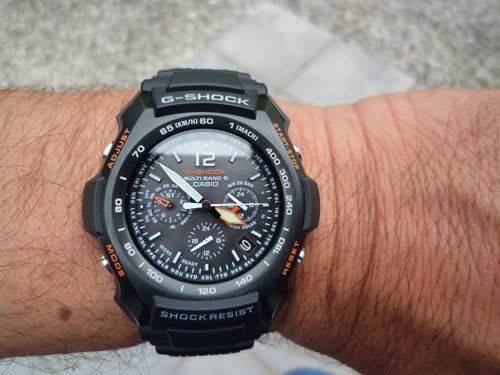 It is a strangely attractive watch, apart from the rather lovely face and bezel markings it looks good for what I think is an odd reason, this being the proportions of the watch....
The watch is about 40mm across with the glass a medium sized 27mm in diameter and it is around 15mm high. I think this is quite an unusual set of proportions with the watch being of modest diameter and quite high at the same time.
What this does is give the watch a cute(?!) but chunky and purposeful appearance. Very hard to explain but I have not come across this before in a watch. It is really a very attractive feature and it really looks like a belt of high-tech strapped around your wrist. Here is a shot which illustrates this (I hope!).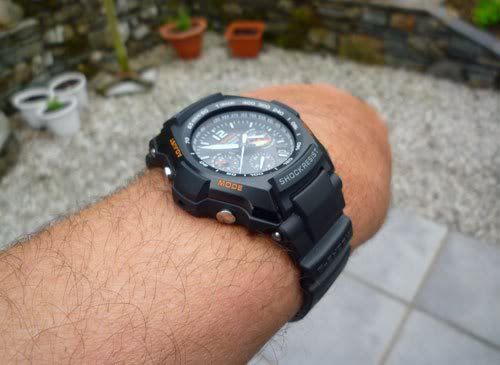 The watch has some nice construction features:
- a glossy bezel that contrasts nicely with the matt case/strap,
- beautiful orange and white lettering on the case
- a good chunky strap with double tang
- lovely, easy to use buttons
Here is the strap, plenty of room on my medium sized wrist, the keeper has stayed put there for the last 7 hours too. My wrist is 8" at the time of the photo and there are 3 sets of holes spare and about 2" of strap.
The function set is a breeze to use. I have read of complaints that it is slow to set up which is odd as I think it is fast but then I am not overly used to digital watches.
It has a 24 HR Stopwatch & CDT which are easy-peasy to use. The stopwatch times to 1/20th of a second.
The World Time and Home Time facility is good for 2 time zone comparisms and it is easy to flip the main display of the watch into either mode; a handy feature for the traveller.
The single alarm (enough for me) is easy to set and moderately loud.
Both manual and auto-sync' are a breeze but I live only a few miles from the Cumbria (UK) transmitter station - lucky old me!
The manual is a blast to use and the function set is easy to remember - I like the orange button prompts on the bezel which helps me to remember things better!
It has a tachymetre too which is handy. A lot of people struggle to use this feature on any watch but it is very easy. Just pick a unit of measurement eg miles or kilometres (doesn't matter which) then travel 1 unit of distance timing the start from the second hand at the 12 'o' clock position and as you complete the distance note where the second hand now is. Read off this position on the tachymetre scale and you now have how many miles or kilometres per hour you are/were travelling. Job done.
The face of the watch is gorgeous - Casio manufacture this face to a very high standard and despite being very very fussy everything is spot on - phew! The face is very deep and has a terrific 3D effect.
You would not know that there are solar cells down there either - these are totally discrete. Clever!
Here is a shot of the face: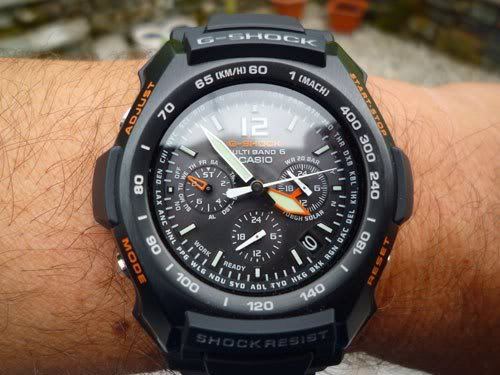 All in all a nice light and comfy watch that looks very cool and is packed with features + has the bonus of Solar & Waveceptor technology.
Above all don't be fooled into thinking that because this watch is often referred to as 'small' that it does not look great. It does, even on a reasonable sized wrist!
NB: Here is the reference size to a GW 3000: