Discussion Starter
·
#1
·
I've been spending so much time on this site, I think it will do some damage to my back pocket! It's beginning to add up. So here I am making up for lack of posts with word count and dodgy photos using my iphone. Warning first, as a noob and a long long walk from being remotely near WIS status, I find it iphone acceptable. But only just (and because my a picture is worth a thousand words and it's all I have right now
)
When I was 18 I got myself a TAG Kirium. It served my well and is still my daily. Loved the style and most of all, the striking blue dial. Shame that lineup was discontinued. Very sleek and svelte At my first battery change, I was feeling naked so got myself a Lacoste dress watch. Rectangular, black strap and dial. Here it is (purchased circa 2004)
View attachment 745176
I would alternate between those two over the years. Last year one of my dogs chewed through the strap so that sat in my drawer for some time. So TAG it was everyday. Just last year, my fiance nephew must've played with it and damaged it so the clasp couldn't close properly as alignment was slightly off. No watch repair would touch it and suggested I take back to TAG. I didn't and ended up getting my jeweller overseas to bend it right with pliers. Not a bad job, as the clasp closed and locked shut, just couldn't open again without brute force or a steel butterknife lol. So that too saw little wrist time.
My next purchase since 2004 was just last year 2011 when I was on holidays in Taipei. Impulse buy as I walked around whilst my buddies were shopping and left the tiny watch store after spotting a nice looking black Marc Jacobs. I know I know, dress watch etc etc. It looked alright and when I'm travelling, a watch is better than pulling out a phone all the time. Plus it was my one souvenir of a country I've never been to before. Beats geting a T-Shirt lol.
Just in Feb when I was due to fly back to Australia with my fiance (met her overseas), she asked if I could give that watch to her dad. His Rado broke and he was using some cheapie that broke too. To be honest I don't like giving away my things and I would've liked to hav gotten him a new watch but it was towards the end of a 3 month holiday and funds were running low at the time.
So back in Aus with a naked wrist again. So I go on auction sites looking for a bargain. Scored plenty of items on the cheap so I'm hoping to do the same. I find one and bid like crazy for it. My first mechanical. Looked good, similar to my Lacoste so I went for it and won.
The pains of not doing research properly as the watch didn't fit my small wrist and just sat really bad due to the longer LUG to LUG length. Not a quality watch or a brand that would meet anyone's approval here. In my defence, I got it purely on looks and price. The auction site had it valued at $2199 by their independant valuer so I thought it was a great buy (paid labout 10% retail). My step dad saw it and was taken by it. He doesn't know watches and was wearing my old Lacoste with a new strap. I felt bad cause I had given my future father-in-law one watch so decided to give my step-dad this one. He loves it and at the end of the day, if you love your watch, does it mater te price or brand? It made him happy to own it and that made me happy.
So onto my search for another watch to wear. A Hugo Boss which I liked quite a lot but found it better to give my future father-in-law this one. It would suit him more than the Marc Jacob. That was a bit more for 18-30 year olds. The HB was more appropriate forhis age.
So that leaves me with no watches yet again and then I put in a bid for not one but TWO Christian Audigier quartz. Impulse buy with no hope of ever wearing it. Why did I bid? I don't know. (yes, my dress watch acquisition continues).
Highly inappropiate and can't see me wearing it ever so my search goes on. This time I miss out on a G-Shock but win a pair of Swatch watches. Both for $39AUD so not a bad deal. I also won a Casio for my little sister cause it was only an extra $1.20 shipping. She LOVED it so much. I'm happy making other people happy. Will probably give the two Christian Audigier away too.
I don't think I would ever give the Swatch some wrist time so I continue my search. Difference is, I RESEACH and learn as much as I could before I buy my next watch. Hopefully one that I'll wear and will be a keeper. I come across WUS and WOW everything right here. You guys are really helpful and informative you know? I spend countless hours trawling through the site. Learning about Mechanicals and Quartz, handwindables and automatics, hacking/handwinds, mushroom brands, mid-level tier and high end serious timepieces. I was formulating a plan. Initially I was going for an Orient. Cheap, quality for its pricepoint and a great beginner's watch to see if I could live with an automatic. No harm done if it doesn't. Even got my counter offer accepted from a watch site online ($75). But my fiance and friend tells me to stop buying lots of these cheap watches and just buy one expensive one. OK, they have a point with my recent purchases.
More research and more time on WUS. Next watch on my radar, Tissot Visodate. There's a great review on here by teeritz and to be honest I was smitten by the design and with fantastic writing by teeritz, I went out that morning (I was up all night on WUS) to try one on. Local shopping centre didn't have it but the one 20km away did. I went there and tried it on.
(borrowed pic from teeritz thread
https://www.watchuseek.com/f67/tissot-visodate-1957-heritage-collection-automatic-review-459020.html
)
It looked a tiny bit big on my wrist @ 40mm and I really wanted to to see how the one with the black strap looked on me. I go home to think about it some more and to show my fiance to get her thoughts on it. She gradualy warmed to the classic designs and it was just about a certain I was going to buy this watch. Soon as I woke up, I had to do my final research before I commit to buying it. All reviews are positive and I can't find a reason to NOT buy the watch. But I come across Tissot Le Locle as suggested by other members here. I look and that just made things worse. I couldn't decide which to get. Both priced around the same and the guilloche dial really took my fancy.
I preferred this one and at 42mm, it was going in the wrong direction size wise but Bang for your Bucks, I couldn't go wrong with Tissot. I entertained the idea of Hamiltons too (Jazzmaster) on suggestions picked up from members here but just no AD in Australia and I wanted to try it on before buying. I went to another shopping centre and they had the Visodate in Black as well as the Le Locle. Just to confuse me more, he introduced the Ballade III Quartz
I was beginning to have a good problem to have. What three good watches to choose. I wanted an auto, but it was just to see if I liked the Ballade more as the casing was different with the coin edging. I actually liked the Ballade more as though that and Le Locle was the same size, the Ballade looked marginally smaller and better suited to this small wrist of mine. He didn't have an auto on stock and since it was a special order, I had to pay full retail and couldn't get any discounts. Also he was a bit rude when I asked about hacking ("what is that?" he asked) and yelled at me when I was winding it up to get the watch going. He also gave some dismissive remarks about Seiko being cheap and not in the same league as Tissot as one was Japanese and other was Swiss. I must say, even though I have no experience with Seiko, I stood up to him and told him that the company are quite fantastic and make well built, accurate pieces. Just because Seiko has some affordable watches, doesn't make the whole range cheap and junk. Grand Seiko could easily be compared to a Rolex (I didn't say that to him but from what I've learnt, that's how I feel the GS stand in the pecking order of horology). His tone was condesending re Seiko so I'm here to buy a watch not see who knows more than who. He goes off to see what he can do for the watches he does have on hand and I wait around looking at the 3 Tissots. 15 mins later he comes back and gives me his best prices on all the watches. Quick calculations in my head had discounts of between 4-7% off retail. Rather insulting and peeved I waited that long for such a crap offer as other stores had 20% right off the bat before serious negotiations take place. I tell him so and list all the stores I've been to and prices quoted and was told he had to check and will need to get back to me. I leave my details and leave.
That was only last week and in that time I trawl WUS and the internet more. I read up more on Mont Blanc. It's always been a favourite watch long before I knew anything about watches. The only more expensive brands I knew were TAG, Longines, Cartier, Omega and Rolex. But Mont Blanc got my attention more so than the other brands. I didn't own anything from them. Not even their famous pens. My fiance (then just GF) knew my love for the brand and got me a wallet as a gift. Replaced my Burberry wallet which I had for only a year. I loved it and still use it. Getting back on track, I look more into Mont Blanc's watches and I come across a pic posted by Texas Tee (thanks bro, I think you helped me find my watch)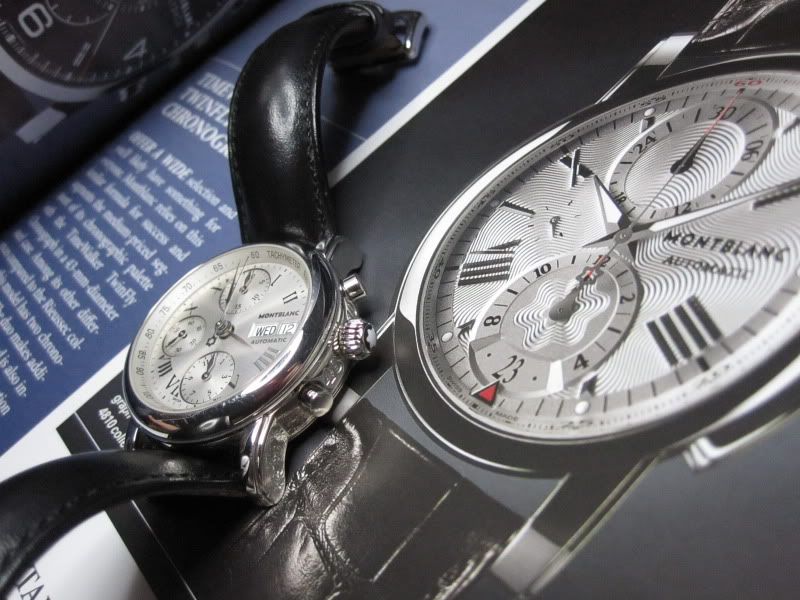 To me, an absolutely stunning piece. I am getting married soon and would like to have a nice watch for my tux. Initially I wanted to keep the budget to $1k but the more I look at the Mont Blanc, the more Tissot fades from memory. At least the urge is no longer there compared to the Star Chrono Auto. We talk about the watch and it retails for $3800 so it's not something I can do on impulse. Not with our wedding on the horizon. She agrees to go with me on her day off to try it on.
to be continued....