Discussion Starter
·
#1
·
So, I've bought myself a Fossil automatic, marked down to a silly-low price at a Fossil Outlet store, and want to know what kind of "heart" its got.
First, let me dispel the notion that this *might* be a Miyota: the movement in this watch runs at 28'800 bph. To the best of my knowledge, I can't think of any Miyota mechanical that beats higher than 21'600.
(Before you say, "open the case", I'll tell you "I tried": The caseback is secured with four screws so tiny I have no screwdriver to fit them)
Other particulars about this movement:
*When the crown is fully seated, it winds the watch and makes a "squishy" sound like the ETA 2842 in my Swatch automatic.
*When the crown is pulled out one click, it sets the time.
*Pulling the crown out further advances the date, then spring-loading returns the crown to the time-setting position. Each pull advances the date by 1.
*The diameter of the movement must be less than 23mm, or roughly 10 1/4''', as it is housed completely inside the hub that appears to be suspended by the outer spokes of the dial.
*Despite my assertion that this is not a Miyota, the rotor freewheels rapidly in one direction with a flick of the wrist, indicating that it's a unidirectional winding setup...like a Miyota.
*It's keeping excellent time...just about 10 seconds of gain in over 36 hours.
I would *love* to know what kind of movement is in this thing...can somebody help me identify it?
BTW, here's the watch it's in: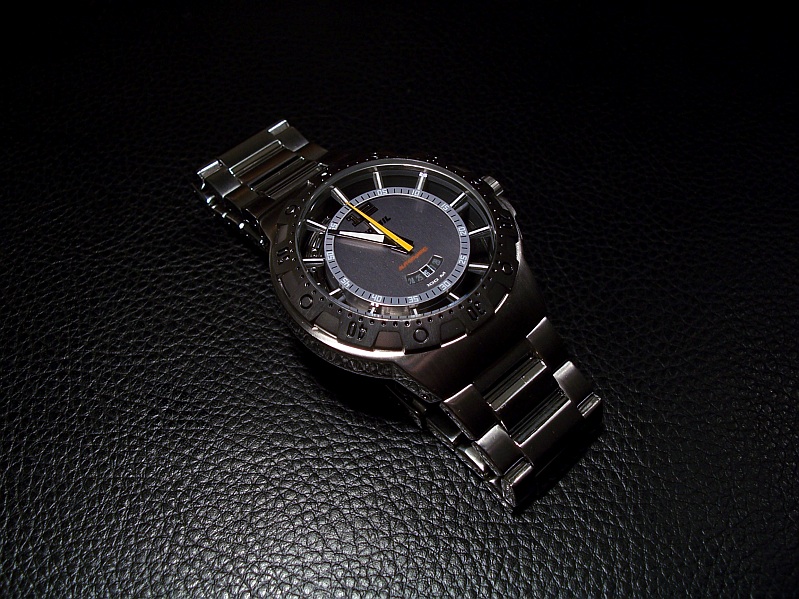 Thanks all!