Discussion Starter
·
#1
·
I recently picked up a replica (if that is what you want to call it) of a NASA Speedmaster velcro watch strap and wanted to give my impressions of it, and show some pictures. So let's begin:
Here is a link to the item I bought:
Short NASA Velcro Watch Strap for Omega Speedmaster "Moonwatch" | eBay
I opted for the "short" version, because it was more practical, though not accurate to the original watch strap. There is a full length version also for sale here:
Long NASA Velcro Watchband Strap for Omega Speedmaster "Moonwatch" | eBay
I saw this item on Ebay and decided to give it a shot. Though the price seemed a little steep at around $50 USD (about 31 GBP, since it is from the UK) it seemed like a nice watch strap of decent quality to make the Speedmaster a little more fun to wear. It took about a week and a half to get in, which is very good considering it had to go from the UK to the US to a Military Post Office and then back over to Germany to my APO box.
Here is a picture of what was in the package:
I am not familiar with the history of these watch straps (just that they were used by NASA astronauts on their Speedmasters for the Gemini and Apollo missions) but the red and white sticker is a fairly nice touch I thought. It seems to be nothing more than a "NASA" approval seal with date and serial number for the watch band. I don't know if NASA ever used any sort of seal such as this for their watch band packaging, but it is a nice gimmick to make the watch band seem more "authentic" nonetheless.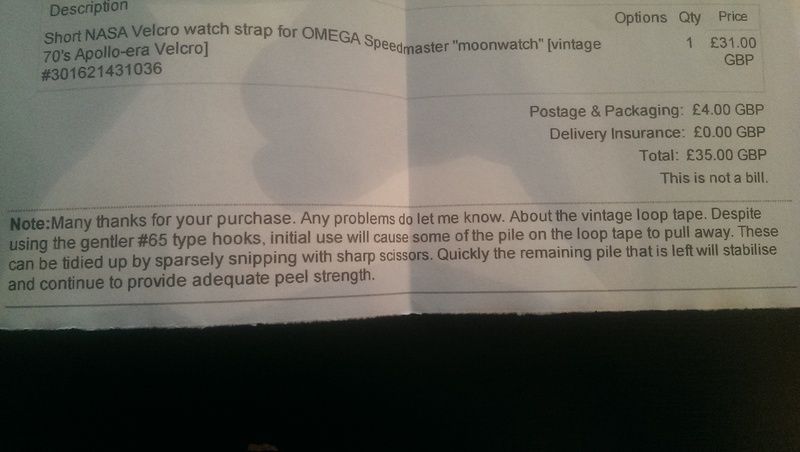 The PayPal receipt in the above picture shows a message from the seller basically stating that first use will likely cause some of the loop fabric to detach and come apart, but that it will "stabilize" and can be trimmed with scissors to tidy the watch strap up.
After a couple days of wearing, I am very pleased with how the watch strap fits my wrist. It is very comfortable, and quality seems to be on par with what I would expect. Only time will tell if the hook and loop fabric will hold up, but it seems like good quality. In an effort to keep the watch strap nice, I would refrain from getting it wet, but I wouldn't see any issue with this if you did.
Here are a couple pictures of the watch strap and my Omega Speedmaster. The pictures show the band being installed on the watch by sticking the band straight through the spring bars with the watch strap sitting underneath the case back. I did not in fact keep it like this, as I did not want to take a chance of marring or scratching the case back as it is a signature feature of these Speedmasters (see pic below). I ended up looping the strap through one of the spring bars, then running it through the "D ring" and then running the loose end of the strap through the other spring bar, and folding it back on itself to strap it to my wrist. That might not have made sense, so if anyone want's a picture of what I mean, I can take one. Point is, it is a much better way to mount the strap I think, as it leaves the case back open to view, and also keeps it from getting scratched or damaged
Picture of the Speedmaster case back: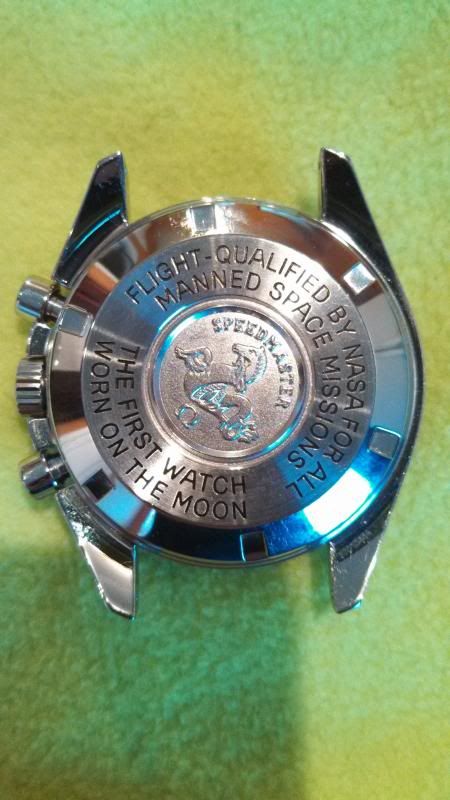 A before picture of my Speedmaster with it's original band:
Watch band layed out on table: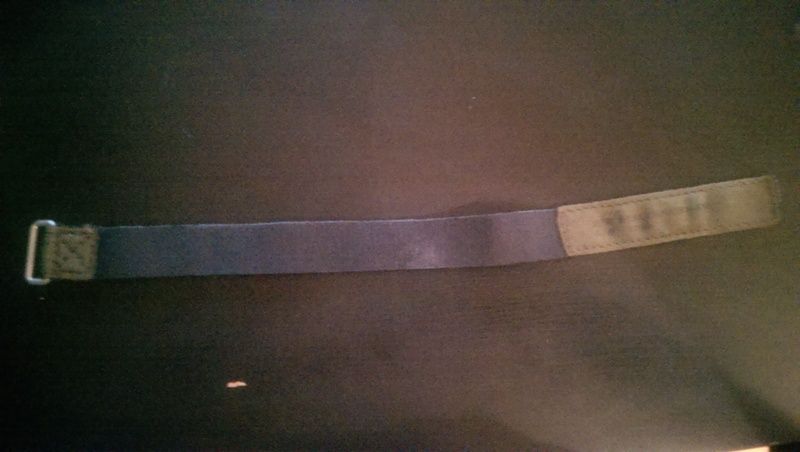 Period accurate stamping on band showing part number and serial number: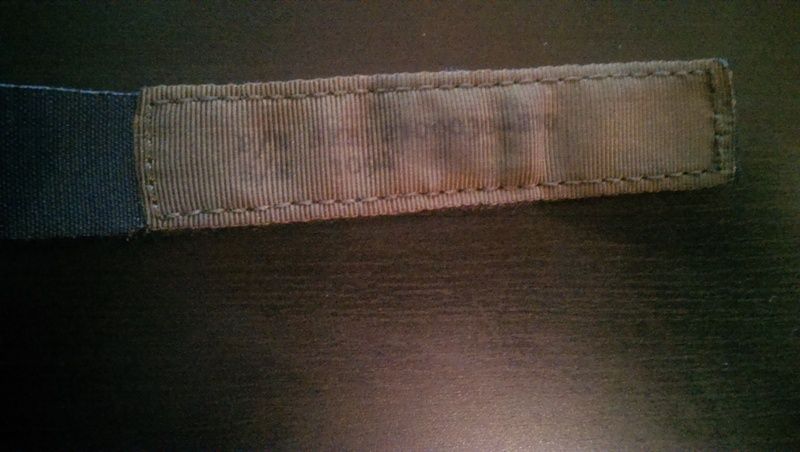 D ring: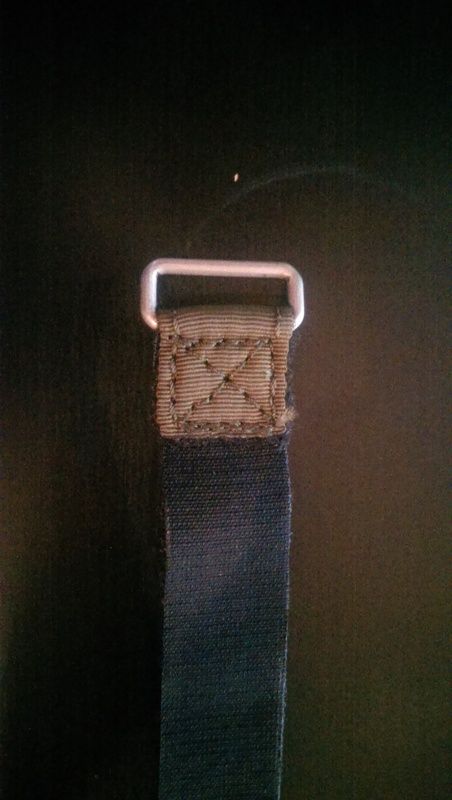 A couple of wrist shots: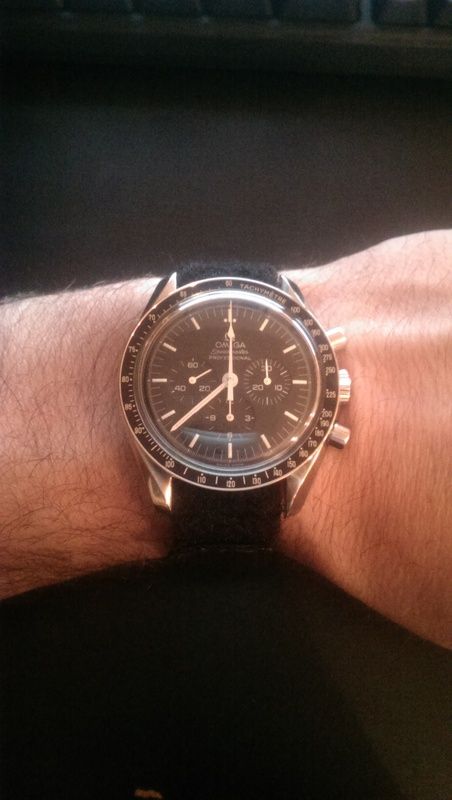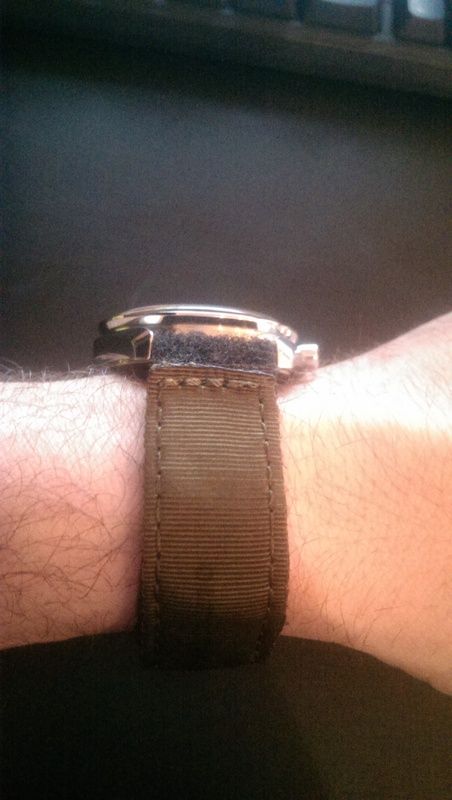 Watch with band layed out on table:
So, all in all, I am satisfied with the product. Again, I do not know much of the history with these watch straps, so I cannot comment on how accurate they are, but IMHO from what I have seen of pictures of the real thing (see below link for auction of Jack Swigert's flown strap) and read online, they are close enough. Obviously the real straps were longer (which can be purchased in the EBay ad at the beginning of this review) but I felt that it wasn't necessary and would make the watch uncomfortable to wear. The "shortened" version is good enough for me. Most people that wear a Speedmaster wear one due to their love of the NASA space program. It's the original "Moon watch", and wearing the same make and model watch as the astronauts wore on the Moon makes people feel a sort of special attachment to the NASA space program. This watch strap just goes the extra step and gives the wearer a similar sense of pride in their time piece.
Lot Detail - Apollo 13 Flown Instrument Cover & Omega Velcro Watch Strap From Jack Swigert's Estate