Discussion Starter
·
#1
·
Have fancied adding a Vantage to my little stable for some time. I've recently gone off huge dive watches in favour of more classic designs and sizes....is this a sign of me getting old??
Anyway I noticed someone selling a virtually new Vantage on the sales corner of another forum and bit his hand off immediately with my offer. I've not heard one bad word about the Vantage and so I felt obliged to take the plunge. Of course this watch takes its design cues from the Explorer 1. Whilst the new Explorer is quite nice, there's no way I'd pay that sore of money for one....I just don't see the value in it.
Anyway my Vantage arrived today and I'm delighted with it. Looks elegant yet sporty-ish. Size is great. This is my first non bezel watch and I'm surprised how the dial fills the watch out to make it wear like my Sub. Dial is clean and I like how the date feature is sneaked in. Personally I'd like the triangle at 12 to be a fraction bigger. The hands look perfect to me. The finish of the case is good and I like the weighty feeling of the watch on the wrist. The crown I'm surprised is unsigned. The bracelet is nice and as far as I can see is standard MK II. As far as I can see the bracelet tapers from 20 to 18 very nicely. My only problem is that whilst the package comes with a tool for the bracelet, it doesn't actually contain a small screwdriver needed to adjust the bracelet length.
All in all I'm pleased with this watch and for the money it's a winner. Pretty comparable to the Omega Aquaterra.
This watch will now be my default watch for work! I think it will take my mind off the Kingston for a little while!
I'd highly recommend this watch to anyone interested. (I think price goes up next month)
My pics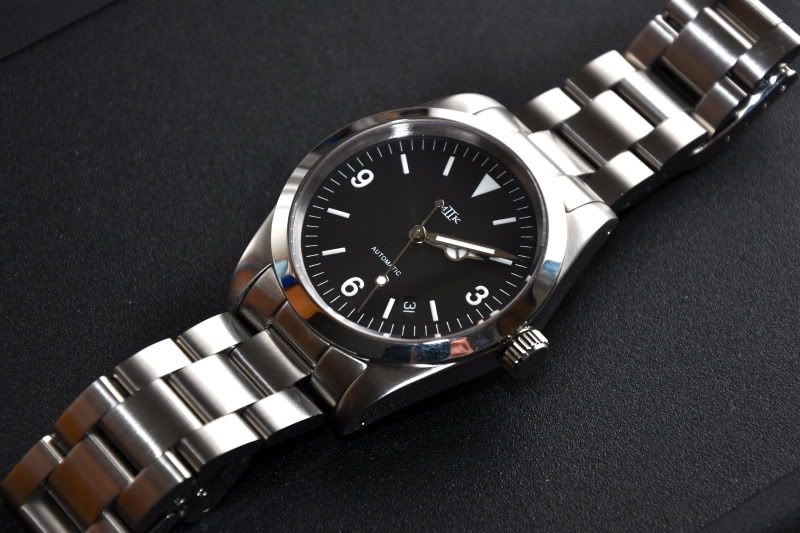 Vantage with my other watches