Howdy folks.....I have been wanting to get into collecting Pocket Watches for some time. I have had some in the past...a couple of Elgins and Illinois. Hamiltons and such...but sadly most of what I ever had were either destroyed in fire or lost or stolen....
Before I get into vintage collecting I want an everyday carry peice...I'm somewhat eccentric and retrograde in dress and require my every day acrouterments to compliment my attire.
I'm looking for a manual wind pocket watch (railroad style) with a tried and true movement. I don't want to spend an arm and a leg right now, either. This is what I have decided on....
Your comments and suggestions will be very much appreciated....
http://www.ofrei.com/page406.html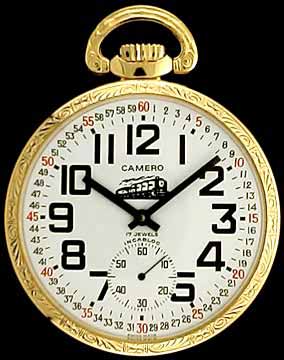 Railroad Style Pocket Watch Gold Plated, Swiss Made
This Swiss made Style Railroad Watch, uses the Unitas 6497 movement. On the back side of the case is a etched design of a Steam Engine. This would be a great movement for someone just starting to learn about watches to practice with.
FB-12001-YEL
$118.95
</B>