"Orient M-FORCE (Force M) 200m" Release

BEAST has been popular model is called the (Beast) JIS with a spec that meets the criteria 200m Divers watch as the new appearance of the waterproof



​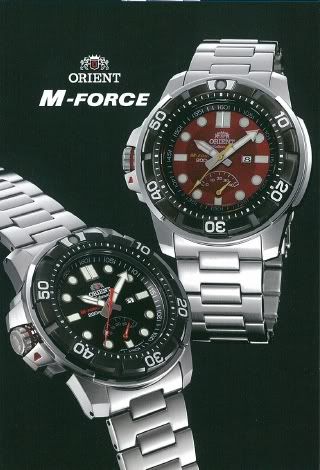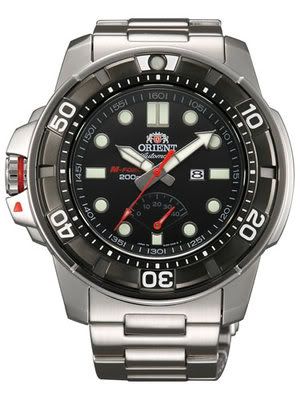 (copy paste from Orient Watch Japan Website)
Spec << >>
Drive system: mechanical
Caliber: 40N5A
Case material: stainless steel
Glass material (Table): sapphire glass
: Luminous Light has
Band material (surface treatment): stainless steel
Bandwidth: 24mm
: Fraction of three-fold formula W push lock
Accuracy: +25 seconds ~ -15 second day difference
Waterproof: Waterproof for scuba diving 200m
: Anti-magnetic one
Drive time: 40 hours or more
Weight:
Thickness: 14.5mm
: Longitudinal diameter 53.0mm
: Transverse diameter 52.0mm
Other Features: Automatic winding (hand winding), with second hand stop device, power reserve, 22 stones
Warranty: 1 year


Orient Watch Co., Ltd. (Headquarters: Chiyoda-ku, Tokyo, President: Jiro Miyagawa, Capital: ¥ 19 437 million), the "Orient M-FORCE (Force M) 200 meters " type three items a price (61,950 yen will be released across the country from March 24, 2012, a) [tax].
"Orient M-FORCE" is a full-fledged sports watches the first step was released in 1997. As the name of (= mechanical force), as a mechanical watch that expresses the "strength", has received the support of many people at the time of release from M-FORCE.
This time to release "Orient M-FORCE 200 meters " , the model since it launched in 1999, has been popular and is called BEAST (Beast) from some enthusiastic fan, 200m for the JIS standard scuba diving The new appearance as a diver's watch with shock absorption by water features and special structure.
200m waterproof case, the sides of the case to guard the bezel is a characteristic, such as adopting a size that presence full of 47mm, was a tough finish to the design of impression aptly termed the "BEAST" exactly.Place the screw-down crown at 9 o'clock so as not to impair the operation of the arm region when worn, by arranging the red marker for confirmation that loose crown guard, even the accent of design functionality as well as has become.
In terms of features, has been featured hand-wound power reserve indicator and in addition the rest of the clock driving time at a glance, in the usual self-winding, the second hand stop function. Minute hand is equipped with a shape easy to recognize in an instant, respectively, the index is adopted as the phosphorescent N,, depending on the type of clasp formula broken three push W lock to prevent accidental removal from the arm by a malfunction, the spec is not essential to the diver's watch when .
High functionality as well as diving watches, such as adopting a red plus basic black, navy to dial in, can also be used as your everyday watch fashion was also excellent.
- Commercial product overview is needed -
[Product Name]
Orient M-FORCE (Force M) 200m
[Release Date]
March 24, 2012
[Release] region
Whole country
[Price / van / character; No.
Yen WV0071EL / Black / 61,950 (tax included)
Yen WV0081EL / Navy / 61,950 (tax included)
Yen WV0091EL / Red / 61,950 (tax included)
[Product Specifications
Self-winding (hand winding)
Scuba diving waterproof 200m (seed JIS1)
22 stone
Second hand stop device
Power reserve indicator
Rotating bezel (the structure to prevent reverse rotation)
Case: Stainless Steel Gray × plating
Thickness 14.5mm 52.0mm / horizontal 53.0mm / vertical
Glass: Sapphire glass
Three fold clasp push formula W: Rock Band
Screw-in crown
Luminous Light
An antimagnetic species
(At maximum hoisting or more): 40 hours driving time
-15 Seconds +25 seconds difference between the Sun:? Static accuracy
​