Discussion Starter
·
#1
·
Instead of a new watch for my wedding, I have asked my Fiancee for a new strap for my current Tag Heuer Carrera. This should save us some money for other things (new house, honeymoon, wedding, etc). However, even the straps themselves are a bit costly. The watch is currently on a perforated strap with a deploylant buckle. Where is the best place to find a decent price on new Tag straps? I know I can find cheaper ones if I didn't get an official one.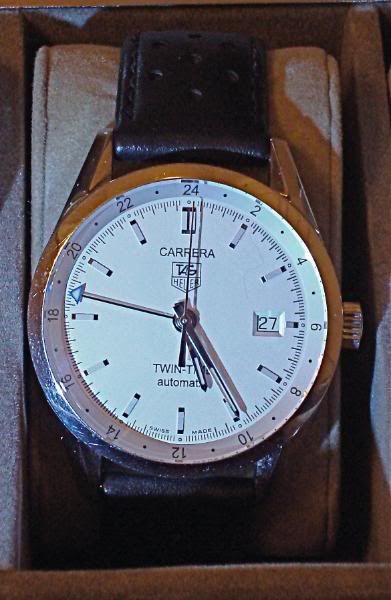 I think i would get the most wear out of a formal black leather strap. If the price was right, I would also like to get a nice brown leather strap as well. This would pretty much give me three different watches without spending thousands. I love the plain white face, and have the tools at home to exchange the straps. All I need is a place that sells them for a little less than MSRP. I understand the quality of leather etc, but can't picture spending so much on just a strap.
As a side question, does anyone else regularly switch the straps on their watches? How does this affect the wear and tear of the watch case? I don't wear the watch but once or twice a month currently, so probably wouldn't be switching the straps but 10 or so times a year (although with more straps, I might be wearing the watch more often). I think this should prolong the life of each strap as well.
As always, thank you for your time in giving me advice.