During last two reports from Nomos Glashütte manufactory, I tried to guide readers over whole process of production of mechanical watch movements and watch assembly. Third report from Nomos Glashütte will be little bit different. I describe some parts of watch production process more closely, but report is mainly focused to map changes in Nomos Glashütte since my last visit.
This time, English translation on WUS is published first - before original Czech article on
Chronomag.cz
:-!
Martin Šafránek
Editor in Chief
Chronomag.cz
I humbly suggest you to read previous parts of visit.
Part 1
,
Part 2
------------------------------------------------------------------
One year passed quickly since my last visit and it is refreshing to see how efficiently time has been used in Nomos Glashütte. And spirit, which can be felt there, is refreshing too. No complains about difficulties of economic recession which I hear so often - last time from official distributor of Longines, Tissot and Hamilton for Czech Republic. Nothing like this. Nomos Glashütte manufactory is simply full activity, full of life. And sales go up. Maybe little bit slower than two years ago, but still quite good in times, when people has significant psychological barriers to spend money. Economical recession has showed that Nomos Glashütte strategy works. It can be seen not only in the sales, but also in the positive approach of employees and activity, which can be felt.
Why?
Company has a clear vision: To produce traditional look casual watches with inhouse movements for a reasonable price. This simply vision is fully understood by both employees and market
According to many watch boutiques in Prague, in difficult times, people tend to purchase traditional brands, goods and design. In case of purchase 2-3000EUR watch, Omega is preferred, in case of 5-7000EUR watch, Rolex is preferred. In segment above 10000EUR, Patek Phillipe is preferred instead extravagant production from young Swiss manufactories. Nomos Glashütte is not a new player on the watch market, watches are know in public and design is simply understood
Some changes in Nomos Glashütte are obvious on public and often mentioned in media - for example new model Zürich and new variants of Orion. Other changes are quite hidden, but also very important and interesting - mainly for watch enthusiasts who care about every detail. Since summer 2008 until end of year 2009 Nomos Glashütte has introduced those new models or variants of existing models:
Model Zürich
Model Orion Rosé Gold
Limited edition of Nomos Glashütte Orion - Unification NOMOS GLASHÜTTE. Limited edition has been issued to celebrate twenty years anniversary of the Fall of the Berlin Wall and Union of Germany. 20 times 20 watches. Each of collection of 20 watches has a name of town in eastern Germany. Author of design, Michael Paul (34), visited 20 towns in eastern Germany where he measured the different tones of gray and used the results to design dials. This watch collection has a clever point!
Tangente Sport is now equipped with glass-back, so everyone can enjoy look of lovely Nomos Glashütte movements - fully decorated according to Glashütte traditions. Do not be misleaded by name "Sport" - it is still definitely casual watch suitable for outdoor trips. Swimming is not recommended because of the leather strap
Club Automat with sapphire glass back and Club Automat Date with sapphire glass back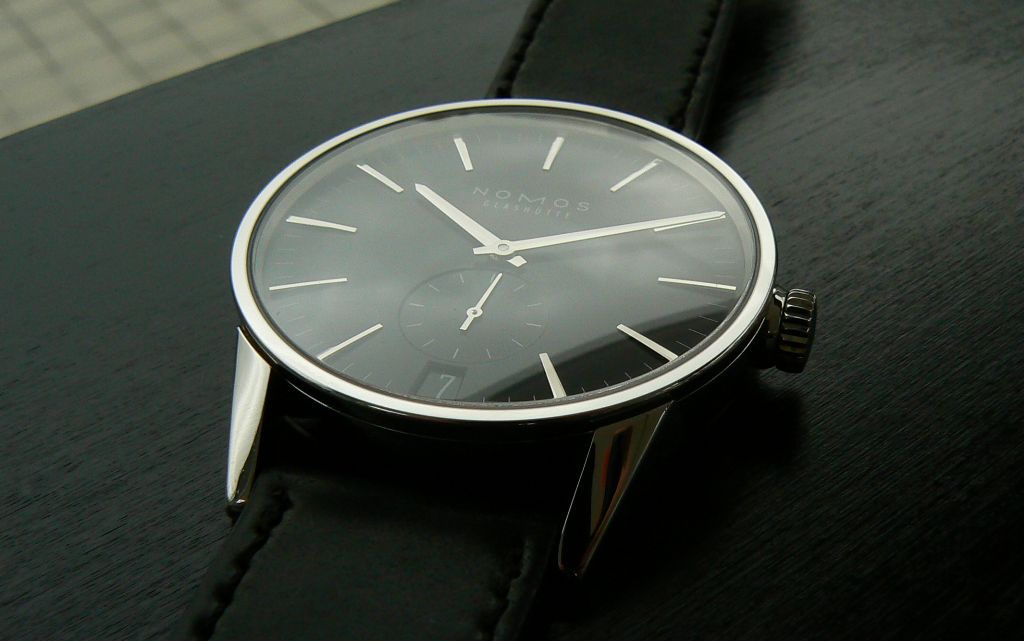 Nomos Glashütte Zürich
Nomos Glashütte Orion Rosé Gold
Now, let's focus on new Nomos Glashütte Zürich.
Nomos Glashütte Zürich
Development of this model has begun tree years ago, in 2006. From the beginning, Zürich has been designed as a German watch with accent to the international market - larger side, only automatic movement and design created by Swiss.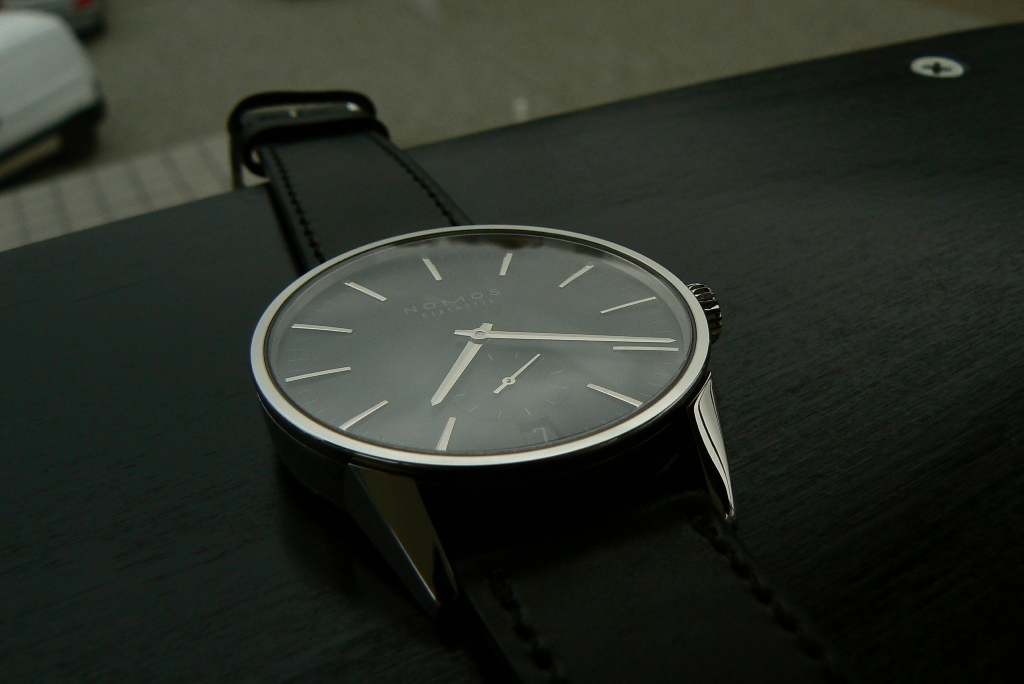 On Baselword 2008, Nomos Glashütte has introduced case of Zürich under name "Erlking". Dial and hands has not been finished at that moment. Unfortunately, few month after Baselword 2008 Swiss renowned designer Hannes Wettstein, who was responsible for a design of case, died far too young. Death of Hannes Wettstein gives watches not only the "interesting big story", but it mainly makes Zürich living heritage of Hannes Wettstein. Heritage which will live and continue to give its owner the same positive approach to live like Hannes Wettstein had even shortly before his death.
When you bought Nomos Glashütte Zürich, sooner or later you will find yourself browsing the internet and looking for the information about Hannes Wettstein or maybe even buying some equipment he has designed. How many times you can read about designer of your non-fashion watch? Nomos Glashütte Zürich has a significant optimistic emotional potential inside. It only depends on you, if you find it…
Introduction of Zürich is a logical step. Wide public prefer automatic movement when buying mechanical watch and many people have narrow-minded artificial feeling that 36mm watches are not modern (according to today artificial size "standard"). Yes, Nomos produces bigger watches, like Tangomat date with 38,3mm case or Club Automatic Date with 41,5mm case.
So where is difference between those three big models?
From left: Nomos Glashütte Club Automatic Date, Nomos Glashütte Tangomat Date and Nomos Glashütte Zürich Date
Nomos Glashütte is known for a strict application of Bauhaus design, which can be found on all Nomos Glashütte watches. While Tangomat can be considered as a strictly Bauhaus watch, Club has engineering and little bit more casual look than Tangomat. But still strictly in the frame of Bauhaus.
What is engineering look? Typical representatives of this watch are Rolex Milgauss or IWC Ingenieur or ..Nomos Glashütte Club. Watches do not belongs to any specific design school, but share the same design elements: Indexes on dial instead of numerals, use of technical font to describe minutes, geometrical hands and functional case.
What about Zürich? One of key aspect of Bauhaus design, as I understand it personally, is not to design object to make impression, but to achieve harmony between function of an object and its design. Therefore Bauhaus is marked by:
Rationality and functionality
The absence of ornamentation
Radically simplified forms
Beveled hands and triangle indexes on Zürich are still geometrically pure, but their shape is ordinate to make afterglows and therefore attract attention to watch in comparison with just printed indexes on Tangomat or slim pencil indexes on Orion. The case of Zürich is clean, elegant and decent. In comparison with strictly geometric case of Tangomat or engineering look of Nomos Glashütte Club, Zürich case is designed to be more remarkable with rounded corners and parallel bevels.
My subjective overall impressions
: Solid build watch for people who think that they need bigger watches. I like case completed from 8 parts (including all four lugs). Every part is polished before case is completed. Polishing is not done only for visual effects, but also to minimize spaces between single parts of case. This tells you something about people behind this watch.
Traditionally, Nomos Glashütte movements have been decorated by gold (
like 1TSPG movement
) or rhodium. Zürich has applied "Black gold" alloy movement plating. In comparison with the same movement, but rhodium plated, "Black gold" alloy underline edges of the movement, which look deeper. It is nice to see that there are also different plating materials than rhodium, gold or black PVD.
Nomos Glashütte Zürich is just on the edge of Bauhaus design. Who cares….Zürich is definitely mature well balanced watch. A cute one. A bigger one. A Swiss one:-!
From left: Nomos Glashütte Tangomat Date and Nomos Glashütte Zürich Date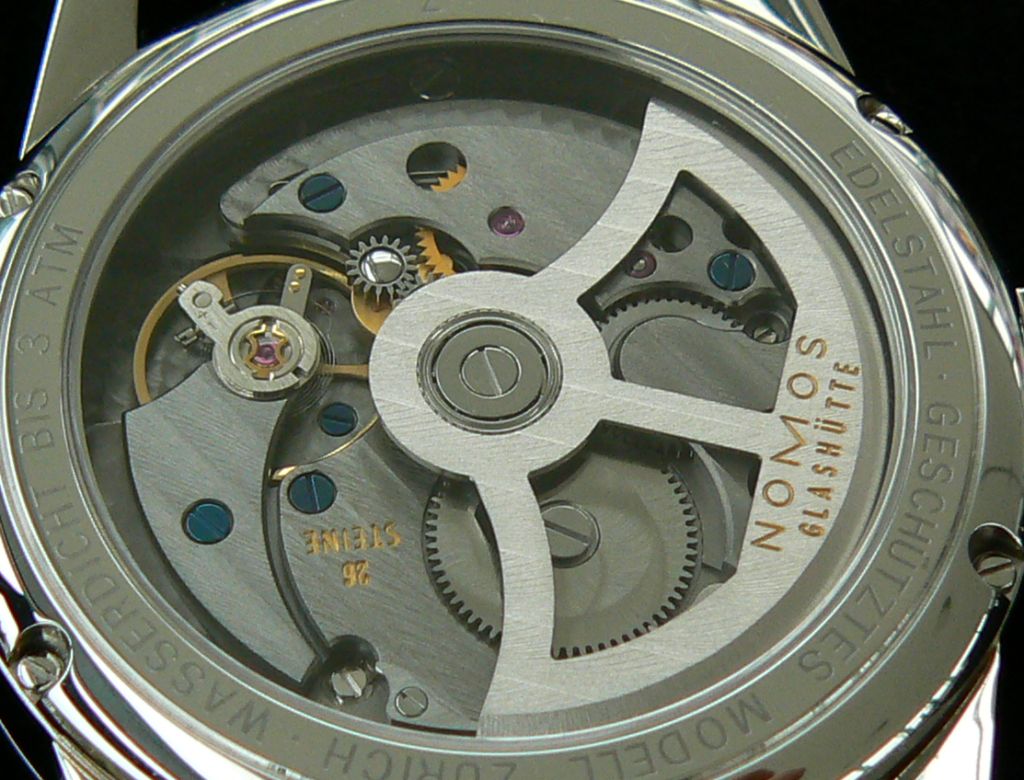 In progress
What has changed since my last visit? And what benefits it brings to the owners of Nomos Glashütte watches?
CHANGE:
In summer 2008, Nomos Glashütte produced most of the parts for their manufacture movements except:
Rubies
Hairspring
Mainspring
Balance wheel
Some teeth wheels (in case failure of supply, they were able to produce teeth wheels in-house)
Since summer 2009, Nomos Glashütte produces also all teeth wheels.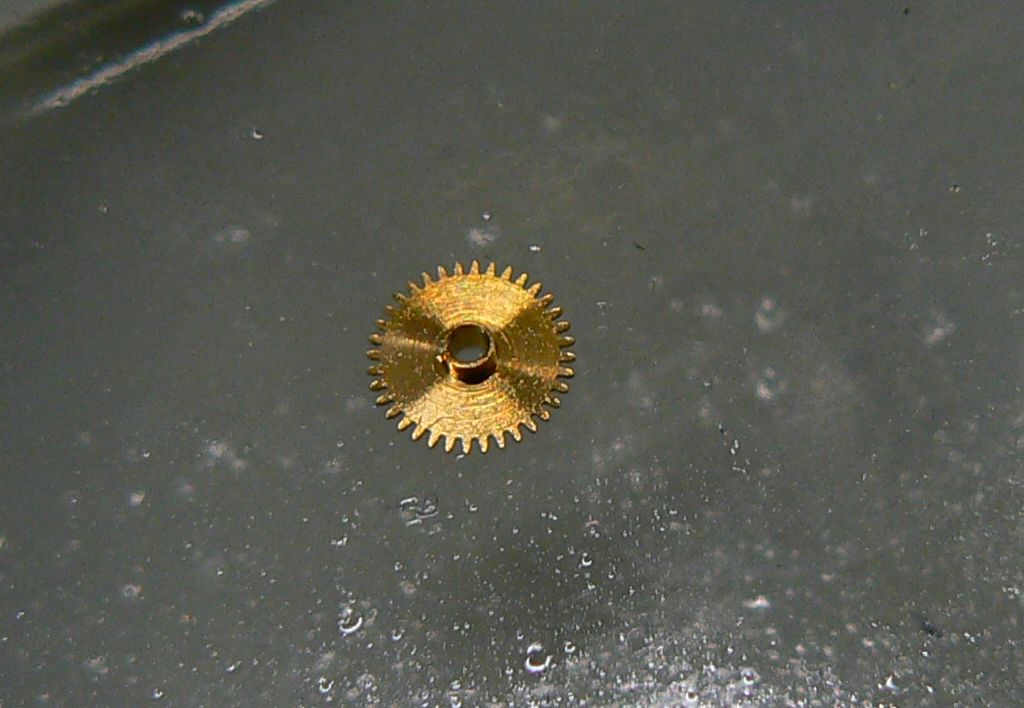 IMPACT:
"Small change" without any benefit for first impression. Who should care where some tiny watch parts have been produced? Especially when even ordinary apple in your supermarket is delivered from thousands of kilometers far-away place? Finally - owner of the watch! Accent to in-house production of movement parts and continuously increase percentage of in-house parts are significant testaments, that brand feels long term responsibility which goes over legal obligatory guarantee. Many Swiss brands, which in the fact only complete watches, can envy this approach.
CHANGE:
Since spring 2009, Nomos Glashütte watches are regulated in 6 positions, instead of 4 positions
IMPACT:
Mechanical movement is always influenced by gravity of Earth. As wrist with watch is moving, watch movement is influenced by gravity form different sides. Therefore it is required, that movement should have similar accuracy in all positions. When movement is tested and regulated in more positions, it has more stable accuracy no matter how you put your watch on the bed table.
CHANGE:
Purchase of 5 new watchmakers tables and new automatic oiling machine.
IMPACT:
Quality of watch as a final product is influenced not only by quality of design, used materials, machines, but also company processes and single operations - and possible errors in operations. Testing of assembled watches took 8 days (seven days in boxes in different positions, eight day on a grill machine). In spite of long testing, some operation errors cannot be found as problem became obvious after few months.
From above mentioned reason, Nomos Glashütte has bought new watchmaker tables, which protect movements against dust. Movements are put into supply bin on the left side (under black plastic glass). When watchmaker starts to work on a movement, he press the button, movements is lifted up to desk of table. When job is done, watch movement is automatically hidden and another movement is lifted up.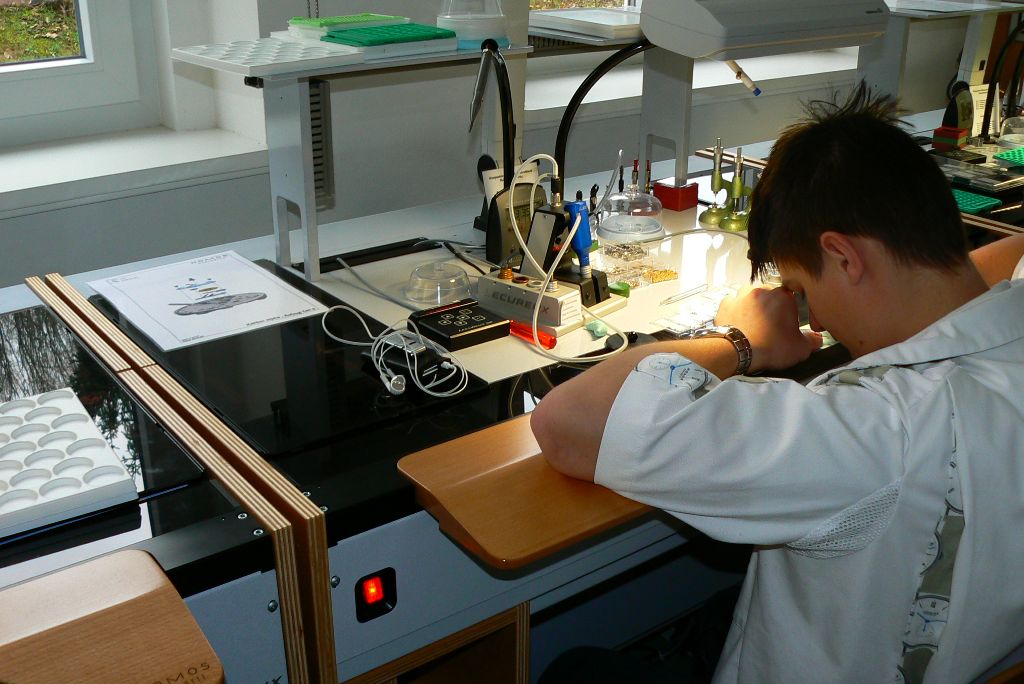 On the picture you can see new programmable screwdriver. During movement assembly, several types of screws are used. Every screw requires different parameters of screwing. Programmable screwdriver chose adequate torque moment to different types of screws.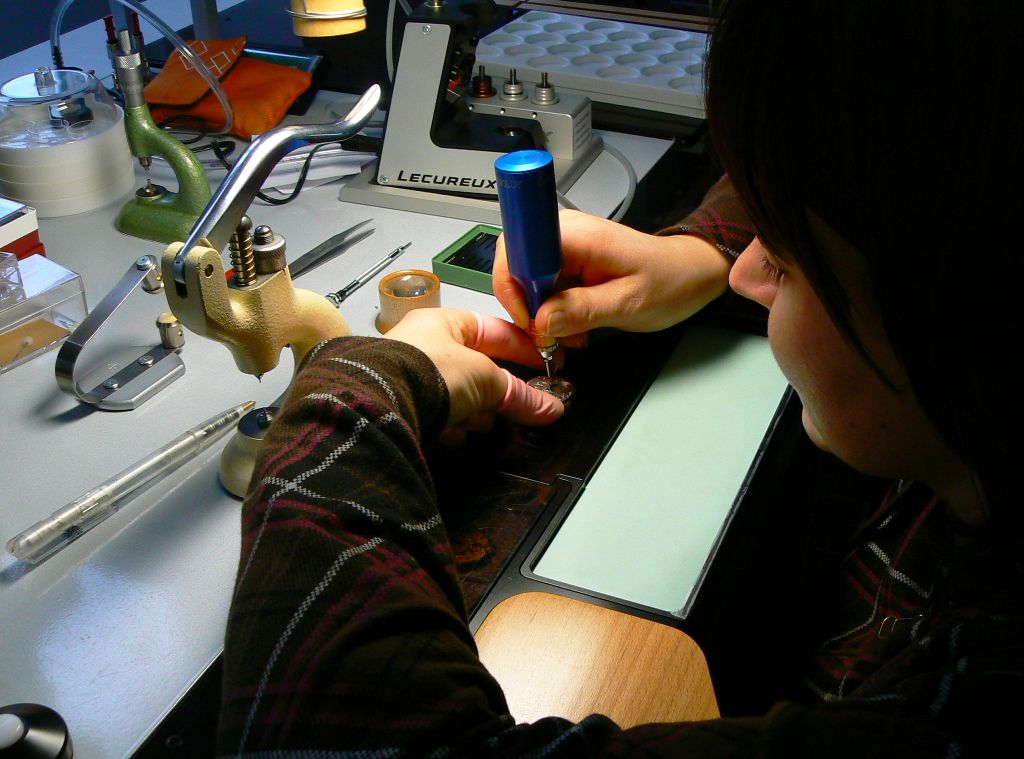 Oiling of movement is done on new automatic machine. Movements are put into supply bin on the left side and one by one lifted up, oiled, teeth wheels are checked and next movement is coming. Process can be seen on a large screen.
WATCH VIDEOS OF OILING MACHINE ON YOUTUBE
Oiling machine
Oiling machine
Oiling machine - detail of head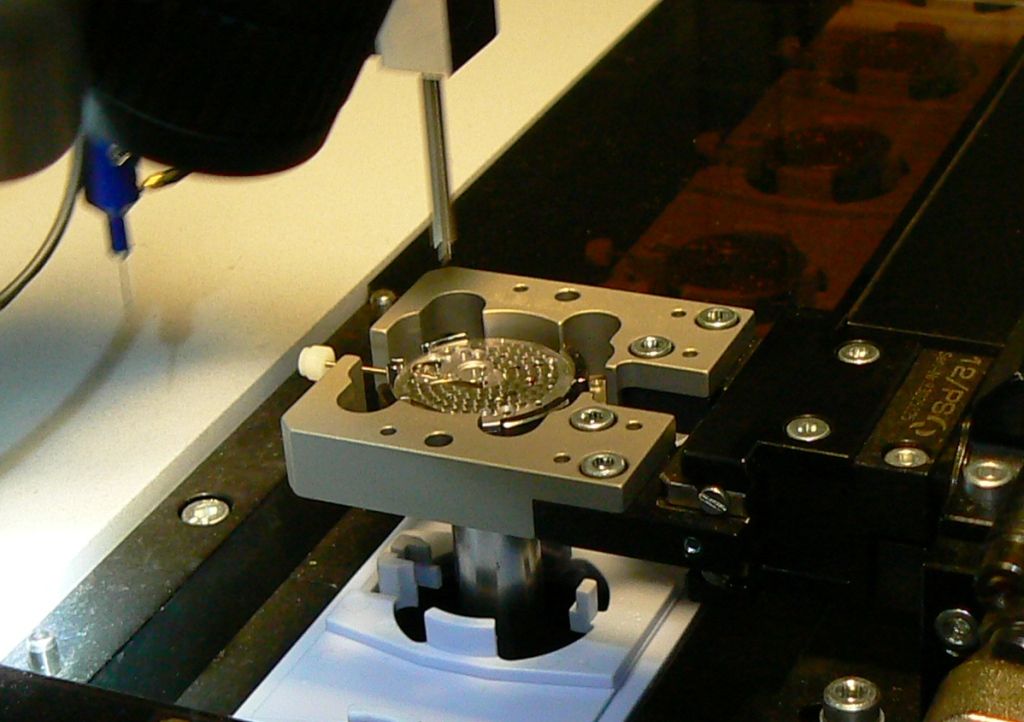 Oiling machine - detail of head
Significant part of changes since my last visit is hidden in this newly reconstructed part of Nomos Glashütte Railway builidng.
How difficult is to produce a watch movement?
When you read any report from watch manufactories in internet or paper magazines, you probably have common knowledge how difficult is to produce watch movement. It requires huge investments, many expensive machines, and numbers of technical specialists with high salaries. It also requires time. Development of new movement and start of production takes years. Years full of not only wins but also loses…as there is not only one way how to produce single part.
You will realize full costingness of movement production at the moment, when you can see small bowl with few parts, which can look as a smaller part of BAUHAUS or OBI stock, and you see all new machines which had to be purchased (second photo shows only half of size of new production line).
Turning lathe for production of non-symmetrical parts on left side, Turning lathe for production of symmetrical parts on right side
New production line for production for pinion, teeth wheels and pins occupies newly reconstructed part of Nomos Glashütte building on Railway station and consist of:
Computer driven turning lathe for production of symmetrical parts - pinions, teeth wheels, pins (this machine was described in previous report)
Computer driven turning lathe for production of non-symmetrical parts. Machine is used to drill a hole on non symmetrical axis of part - for example rotor plate
Teeth wheel machine
Machine used to burnish the pivots
Two machines where tools are sharpened

Modern one, looks like cockpit of combat helicopter
Old one, but still working and used
How teeth wheels are produced?
In the beginning there is rod of steel or brass alloy. Long rod is putted into computer driven turning lathe for production of symmetrical parts, where diameter of rod is reduced to required size and precision, central hole is drilled. Then sideways profile of wheel is upgraded as wheel sideway profile is not always simple. Finally wheel is cut - still without teeth.
Turning lathe for production of symmetrical parts
Turning lathe for production of symmetrical parts, detail of input of rod of steel or brass alloy
Turning lathe for production of non-symmetrical parts
Now it is time to give teeth to the wheels. Series of 5 wheels are inserted into teeth cutting machine. Wheels are rotated in steps and milled - teeth are created.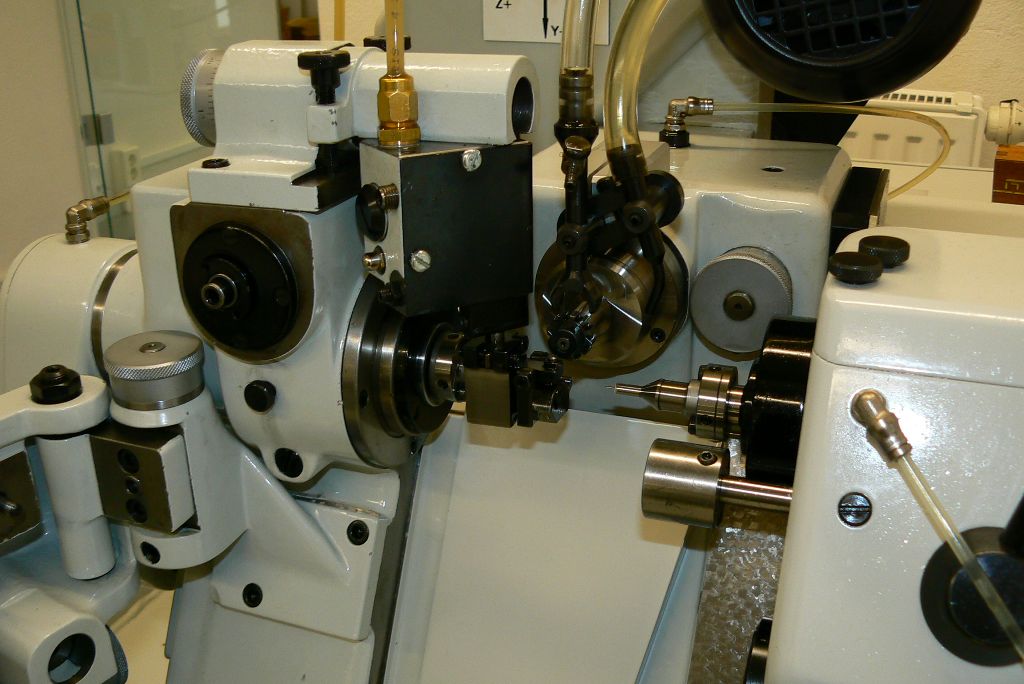 Teeth wheel machine
Teeth wheel machine - detail of head
Pivot are small parts which can be hardly seen by simple eye. Once one piece of pivot is produced, it is collected by underpressure to small glass cylinder.
Machine used to burnish the pivots
Machine used to burnish the pivots
Next photos show two machines where tools are sharpened:
Modern one, looks like cockpit of combat helicopter
Old one, but still working and used
Once teeth wheels are produced, it is a time for a cleaning. Winding wheels get sunburst decoration on a small grinding machine. Polishing is done by hand of skilled watchmaker. Wheel is inserted into holder which turns in opposite way to tool with diamond polishing pasta. Without paste, there is no sunburst decoration. Decorated wheels have to be cleaned in ultrasonic cleaner before final checking .
Small box with diamond pasta.
Final result - winding wheels with sunburst decoration
Conclusion
During my previous visit in Nomos Glashütte, I was not able to imagine, that already running production of watch movements can be upgraded in such significant way during one year. Come to think of amount of investment, work in the background and you will feel difference between brands, where only assembly is done, or brand where significant visual and function upgrades of the movements are done by hand or even - whole movements are produced like in Nomos Glashütte.
Do not forget that you have a chance to visit manufactory and to see how new life, the heart of your watch (maybe Nomos Glashütte Orion Rosé Gold) is born
DAILY BY HAND