Well here we go again, I sure hope you boys and girls are happy, I finally folded like a lawn chair under all of your peer pressure and here she is -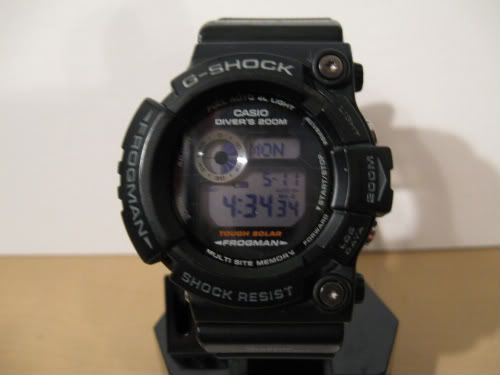 A slightly worn Black Spots Frog! :O
Yeah, yeah, I know, I know, I "you know whated" and moaned about them being over priced and not really even being that usefull or used that much for their intended purpost, but when I finally found one in the "traditional" G-Shock black / color pattern, I then knew as a G-shock fan and as watch junkie that I HAD to have one! Plus I picked up on a good deal used.
Best part of the whole deal? I STILL talked my wife into buying me the Casio
MDV102-1AV
Dual LED Dive Watch that I wanted too for my birthday this past Sat! Only probelm is it did make it hear yet.
But hey, not bad huh? TWO dive watches in a couple of days time, and one of them is a Frog to boot !
Happy Boy!