Discussion Starter
·
#1
·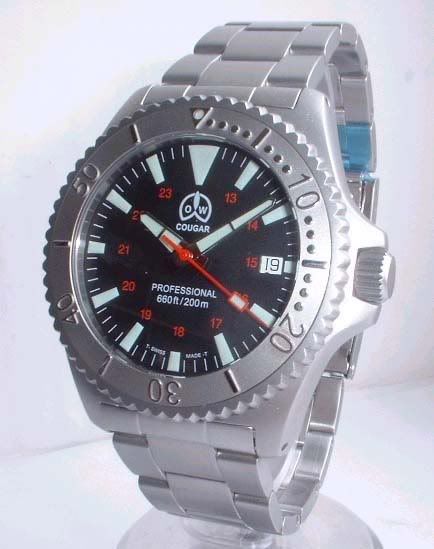 I grabbed one of the last O&W Cougar's I could find made with Tritium. They are switching the new stock to SuperLuminova. I like SL if it is C3 and applied properly. I have had a lot of SL watches that dissapointed to say the least. Tritium when applied right is awesome. A light charge will last all night!
I had a cougar a while back while I was flipping watches a lot. Now that I have a baby my watch flipping days and collecting has been extremely limited. Even my time on the forums has been way cut back. My baby deserves my time and I love every moment I spend with her. However, I do miss the days when I could spend my disposable income on watches!! My collection has been cut back to a couple of inexpensive but nice watches. The cougar and the Seiko SKX173 with an oyster band.
I should be getting the cougar in a day or so. The key features of the cougar are the domed sapphire crystal, something rarely seen even on more high end watches. A classic MOD dial. A fully blasted stainless steel case. At 39.5 mm the size is smaller than I prefer but still big enough. One thing about the cougar is the case is well finished and its size makes the watch very comfortable. I found the bracelet a little cheap, specially the clasp and the hollow end links were not to my liking. However, balancing out the cost vs. features and design this is one of the better dive watches out there. I think of it as a toolish poor mans Omega pro seamaster.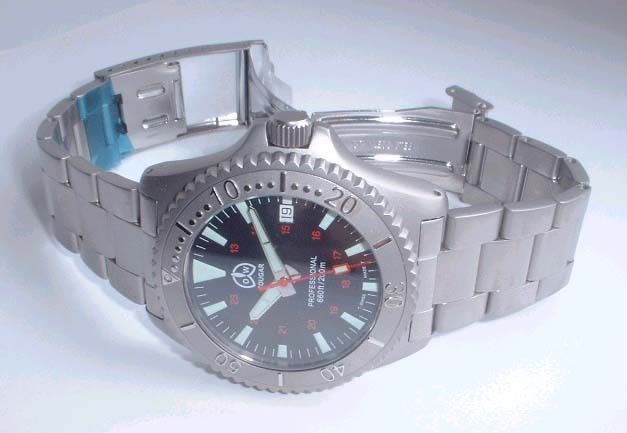 I am surprised more people do not post about O&W watches in general. I think their pilot watches for the money offer a serious value. I also like the ID 3077 in black and orange as well as the cougar for their diving range. M line leave a little to be desired for me personally but they do offer excellent value no doubt. I would be curious to know what grade ETA movement is in O&W automatics. I know it is a 2824-2 but is it standard, elaboradore, what?
I have owned many dive watches and I will always love mechanical watches. If I get a higher paying job or after a few year I may be able to get another high end watch. I was lucky enough to own if only for a short while many nice watches. I feel for the money the cougar is one of the best dive watches out there. My other favorite budget dive watches are the Seiko SKX series, Seiko Monster, Seiko Sammie, and Seiko Sumo. All of these watches offer a substantial value or bang for the buck in my opinion. On the german side I have not seen a diver in the $300-$400 price range that I could comment on. While Stowa and Sinn make some awesome dive watches they can't be had for under at least $600-$700 on the used market. For swiss divers again I love many such as Omega, Doxa, Zeno, etc, but for the money only O & W offer a true swiss made watch.
I would like to know if there are any other Cougar owners out there and their feedback on this model. I would also like to hear feedback on O&W in general. I know they once had a forum on this site. It sure would be great to see that return. Also what is your favorite $300-$400 dive watch?
Robzilla