I do my watch collecting, service and repair at a slow pace and
I've had this watch on my bench for over a month. It is presently in a dismantled
state and has been waiting for me to take pics of the various parts as I
think the watch is worth a picture thread.
It is a Kew observatory class 'A' certified chronometer.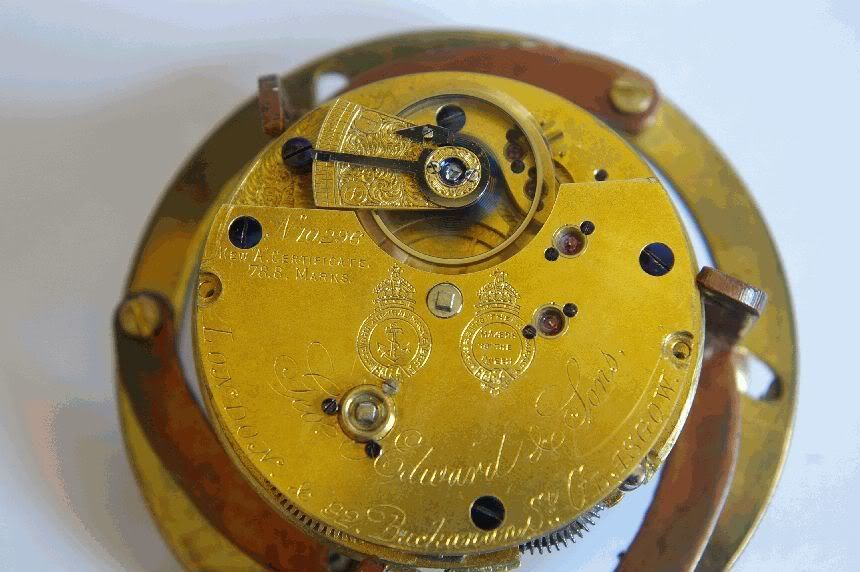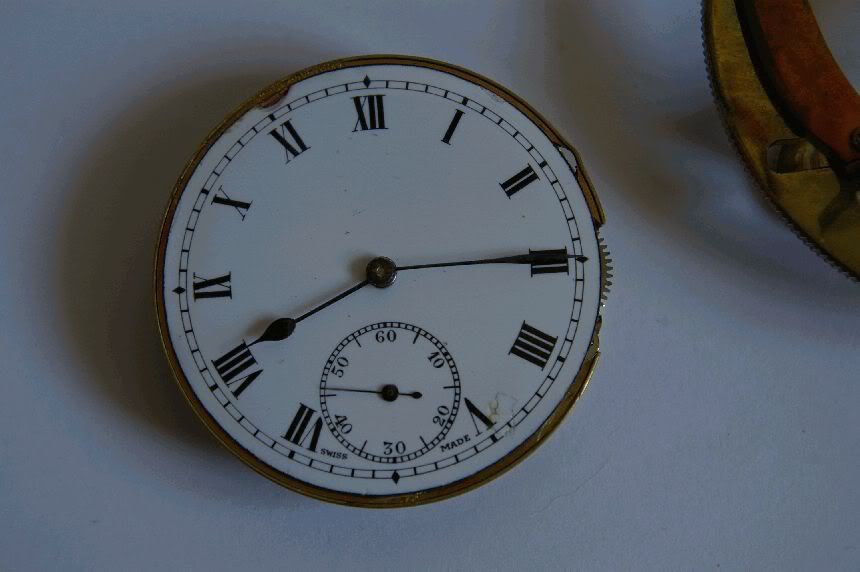 Most collectors of watches will know what a chronometer is as we have
heard of C.O.S.C, the body which guarantees a standard of accuracy
and certifies chronometers.
This tradition of certifying a watches accuracy is steeped in history and
hails from a far flung age when lives depended on the accuracy of the
time piece.
In the early days a chronometer was used onboard ship, and used
in conjuction with a sextant then a ships longitude could be found at sea.
The accuracy at which longitude could be found was determined directly
by the accuracy of the ships chronometer, especially its ability to keep
accurate time over long periods and varying temerature ranges.
Only a few seconds error and the ships position would be off by a few miles
...the more accurate the chronometer then the more accurately the ships
position could be calculated, simple as that.
Because the accuracy of the chronometer was so important to a ships
navigation and safety at sea, astronomical observatories were charged
with the testing of timepieces.
Various observatories around the world set up facilities to test
chronometers and one of these was the Royal Observatory at Kew.
Chronometers tested at the Kew observatory had to go through very
stringent testing with testing lasting 44 days.
This watch is an English lever, 3/4 plate movement with going barrel,
made by George Edwards of london & Glasgow, Late 19thC and is 44mm Dia.
I made a post about this watch a while ago but only recently decided
to service it with the intent of casing it up somehow, to protect it
as it has lost its original case to the scrapman.
Thousands of English lever movements of this 3/4 plate type and of
varying spec of jewelling and escapements have been orphaned and are
to be seen all to regularly on E-bay. I'm reluctant to say of
'varying quality' because even low spec seven jewelled English levers
seem to be built with the same regard to quality of finish as its
higher spec cousins i.e gold gilt plates, cocks and bridges, highly
polished springs, pinions, arbors and facets etc.
The attention to detail and quality tends to be much the same whether
one has a seven jewelled example in hand or a high spec 19 jewelled
version such as this example.
Having said that, quality can in a lot of cases be hidden and is not
readily apparent. This quality is expressed in the carefull selection of
materials and parts necessary to produce a high grade watch which would be
capable of excellent time keeping, i.e Very best quality selected hairspring;
Very best quality jewels carefully selected and polished to the highest
standard etc.
This watch can safely be said to fall into the High spec, top grade for
this type as it has been chronometer certified class 'A' at the
Kew Observatory. The top grade especially selected parts and materials,
the extra work required by the master 'Springer Adjuster'and the cost of
certification would have placed this watch into the very expensive price
bracket when new.
My hope is that I can convey the excellence of craftsmanship and quality of
the high class engineering required to make such a watch which could pass these
stringent tests.
The watch would have started as an ebauche such as the one pictured here.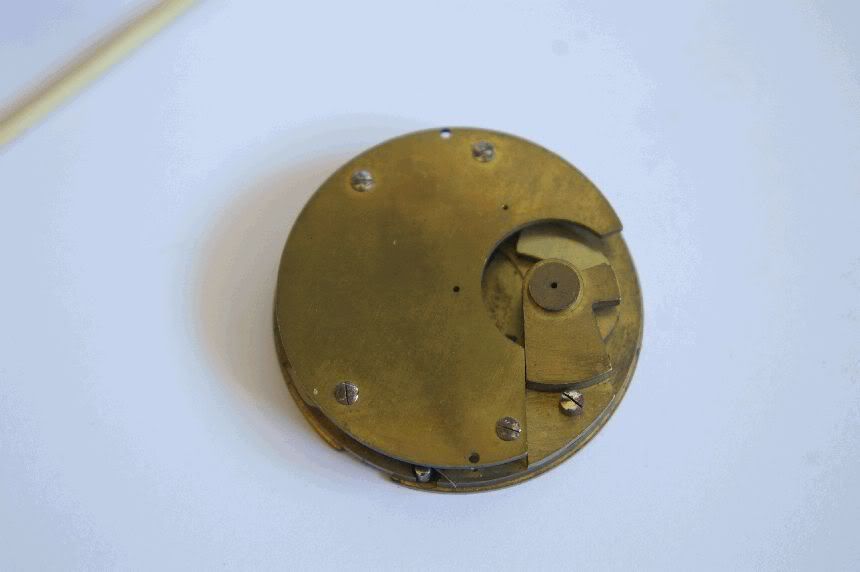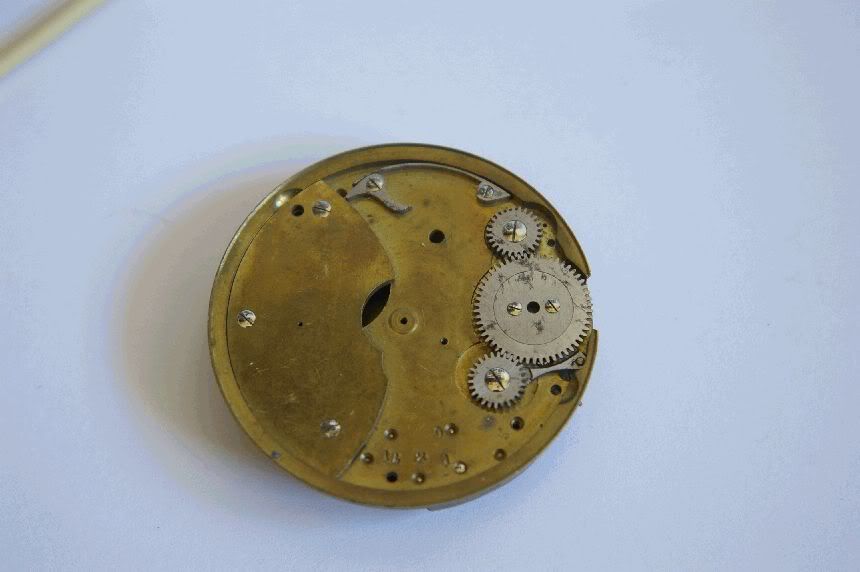 These rough ebauches or 'Grey' movements as they are sometimes called were
produced on mass in centers of production such as Prescott in lancashire.
From this ebauche the watchmaker could make a plain seven jewelled pocket
and everything in between up to the highest grade 19 jewelled levers.
Disassembly was straightforward with little problems. The dial, a Swiss replacement,
had been fixed with shellac by a previous repairman. Shellac is 'the' watchmakers
glue and presented me little problem unsticking it by simply disolving the shellac
with alcohol, methylated spirits in this case.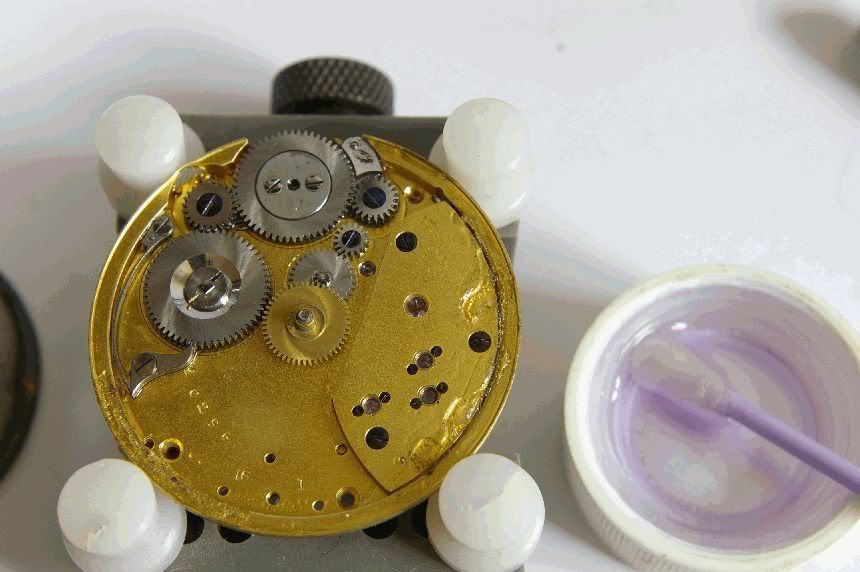 As I dismantled and cleaned the various components of the watch I carefully
examined the parts and it soon became apparant that the watch was in an excellent
condition with no repair work required anywhere, as far as I could tell.
Here are some pics of the lever, escape and balance. Note the lever is slotted at its
tail, this type is called the 'tuning fork' lever and is documented in old books but
is the first time I've actualy seen one.
I assume the 'slots' function is to reduce the mass therefore the inertia of the lever,
it might also facilitate the levers poise.
Note the Saphire stones beautifully set into the slotted steel pallet slits.
This 'concealed' method of securing the 'stones' is peculiar to English watches
but I have seen it in some Swiss side levers...looking at the pallets from most
angles you'ld be forgiven for thinking they are steel as the stones are effectively
hidden.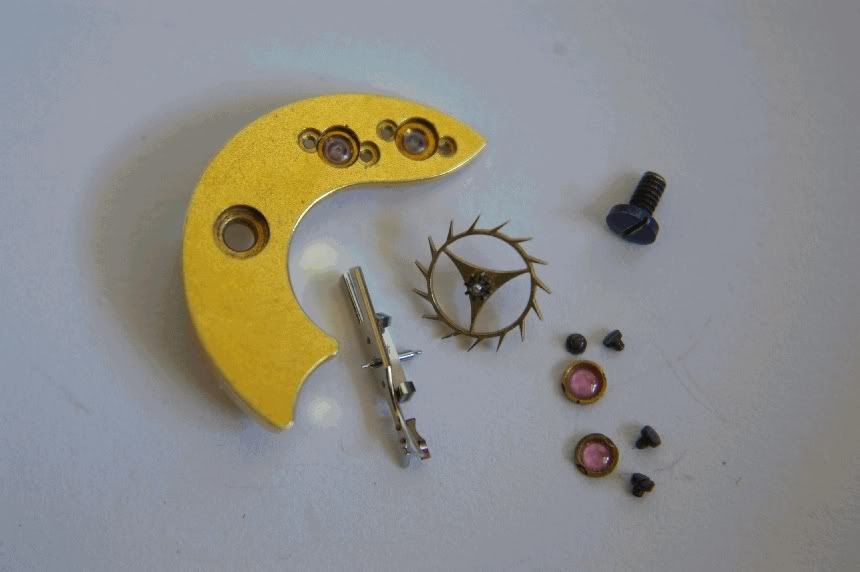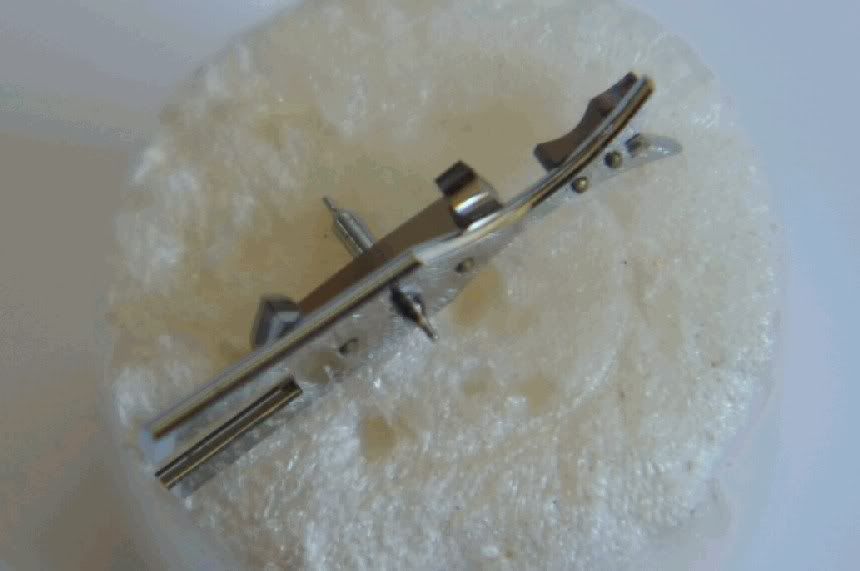 The balance is a cut compensated balance loaded with gold compensation and timing
screws. It is, unusually, for an English ratchet lever, fitted with a double roller
table with Saphire roller jewel (English watches of this type usually have a single
roller table).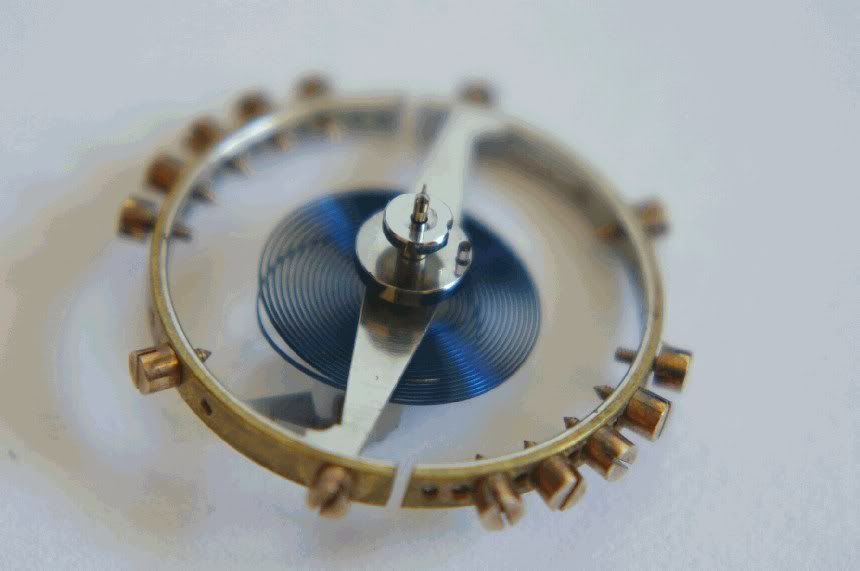 The hairspring is unmolested and pristine and is pinned to a polished steel 'block'
collet in the manner of very best English work.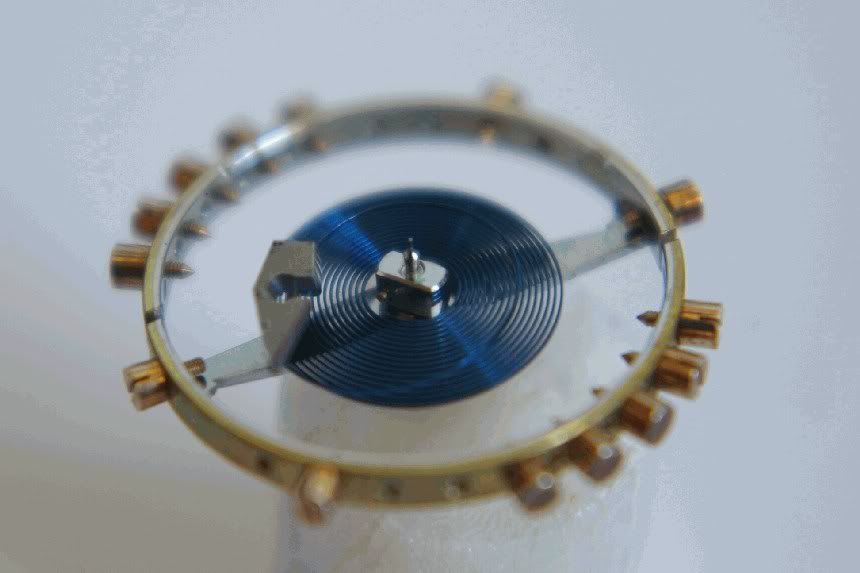 The center and third wheel. The finish to the spokes and internal angles could
be better as they have been left unbevelled, but the form and finish of the teeth,
the pinions and arbor are first class. The use of gold in these wheels is of a practical
concern rather than aesthetic as gold has excellent low friction properties, ie it
is a naturally slippery substance.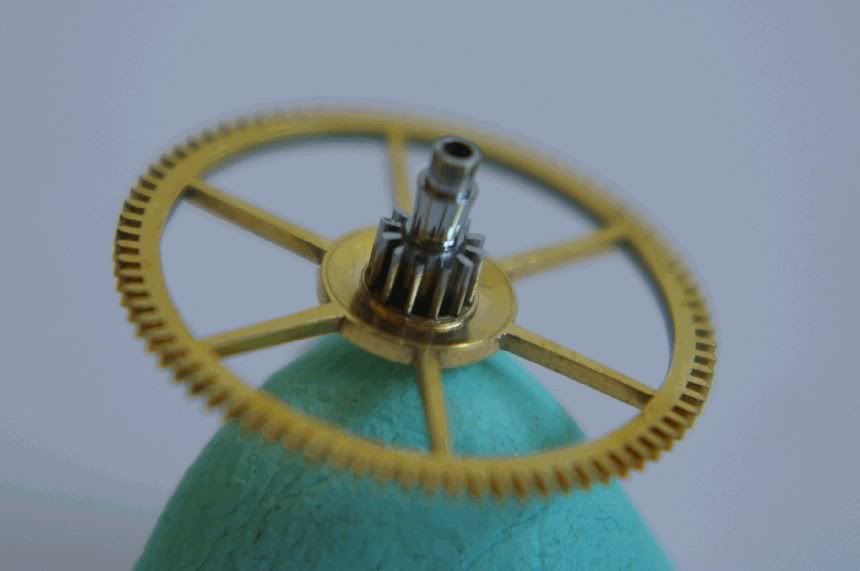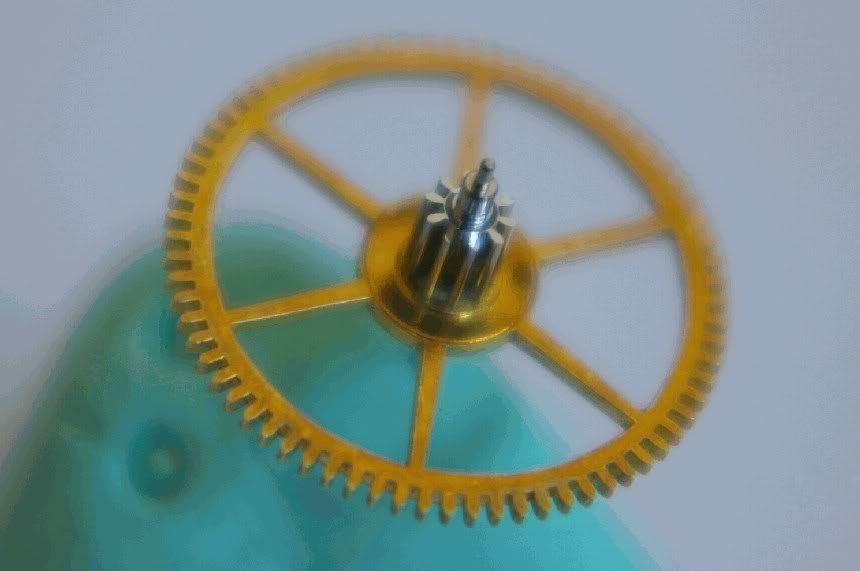 To be continued........