Discussion Starter
·
#1
·
I've spent a couple of months with my new Ocean Diver and I'd like to share some thoughts on the watch. I don't like doing reviews while I'm in the honeymoon phase, so I made sure to put this one through plenty of real life wear before coming up with my impressions. I've been through the process of selling my house and moving into a new one over the last few months, and the OD has seen a lot of abuse during that time. It's taken everything I've thrown at it with no problems, and just about the only thing I haven't done is dive with it. But even in the winter cold, I still wore it in the indoor pool on several occasions. That's the best water testing I can do for now. :-d

For a bit of background, I was originally on the pre-order list for this one back when it was a going to be a less expensive Chinese built model. I had mixed feelings about the change to a pricier Swiss manufacturer, and I was unsure whether it was a good move or not. But after getting the watch in hand and wearing it for a while, I can say with certainty that Prometheus made the right decision.

Specs - I'm sure these are already published elsewhere, but I like to include them anyway. All measurements are approximate as shown by whatever calipers and scale I could find amongst the moving boxes.

Height - 15mm
Width - 44mm without crown, 46mm with crown
Lug to lug - 51mm
Lug width - 22mm
Weight - 130 g
Movement - ETA 2836-2
WR - 300m

Packaging - The watch arrived in a nice synthetic leather travel case along with an extra orange strap and a black Prometheus t-shirt. As mentioned before, I've moved recently, and that has made me acutely aware of just how much useless watch packaging I own. I can't bring myself to throw any of it away, but I have dozens of boxes that serve no purpose whatsoever. So I really appreciate watch companies that provide packaging that can actually be used for travel and storage. This case is nicely padded and perfect for tossing in a bag before a trip. The t-shirt is cool and adds a personal touch to the kit.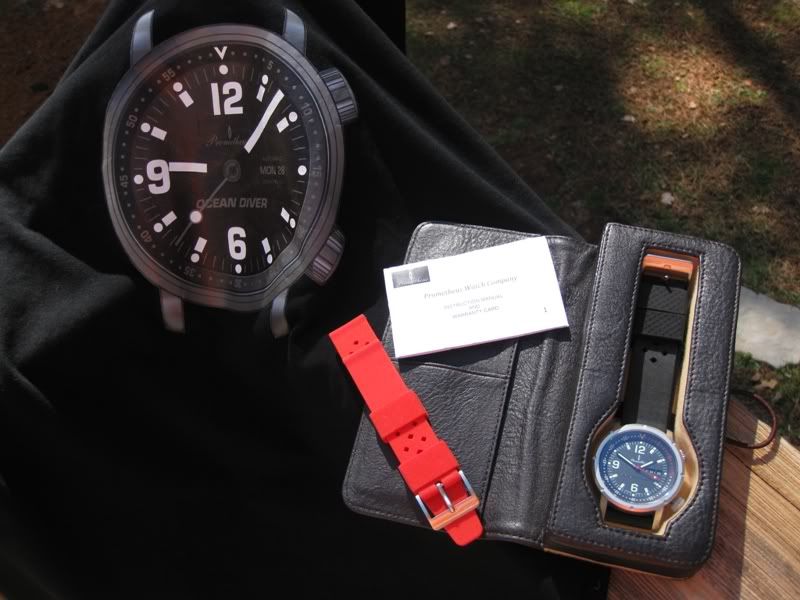 Styling - I always liked Brian Green's design for this watch, as I'm a fan of more organic rounded lines rather than sharp angles. The circular motif works well as it links together the case shape, engraved bezel accents, minute markers on the inner bezel, and hour markers on the dial. I'm a big fan of the hands with the blacked out edges that blend in nicely with the dial. The use of color is also something that I prefer in a watch, and the red sweep and bezel markers add some character without being too bright or distracting. The caseback detail is a bit of a disappointment, but I do like the way the etching provides some grip to keep the watch from moving around on the wrist.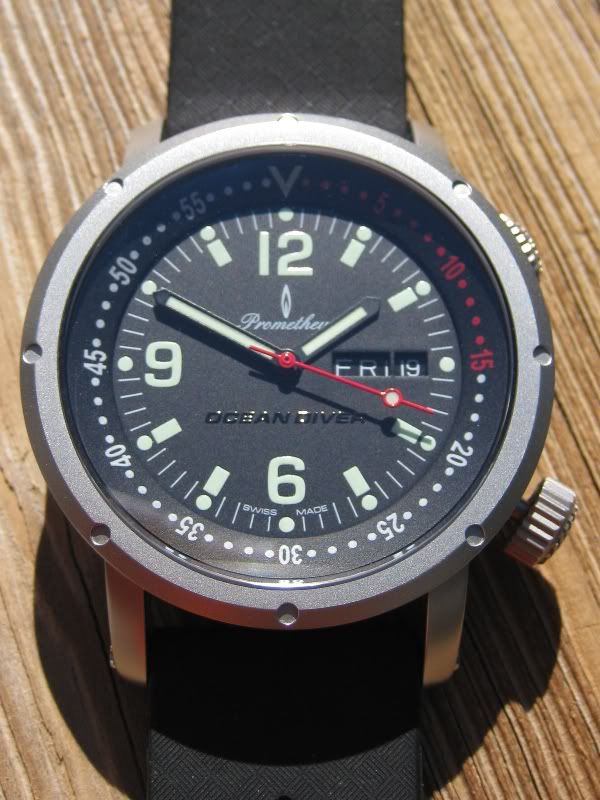 Case and Dial - Excellent attention to detail, and the overall quality is very good. I really have no complaints about the fit and finish, and the curved lugs hug my 7" wrist quite comfortably. The watch has a nice heft to it, but it's not gigantic like some of the more popular models that dwarf my wrist. I generally prefer brushed finish to blasted, due to the ease with which you can repair surface scratches. But I've bashed this watch around a lot, and it still looks as good as new. The dial is well done with crisp text and markers. I especially like the stealth text with the Ocean Diver name reminiscent of my Sinn U1. The lume is applied cleanly and has an intensity that is good but not great. The hands glow brighter than the dial, which is the most important from a functional standpoint. Though you're not going to read a book by the glow, it was quite readable in the early morning hours when my eyes had adjusted to the darkness.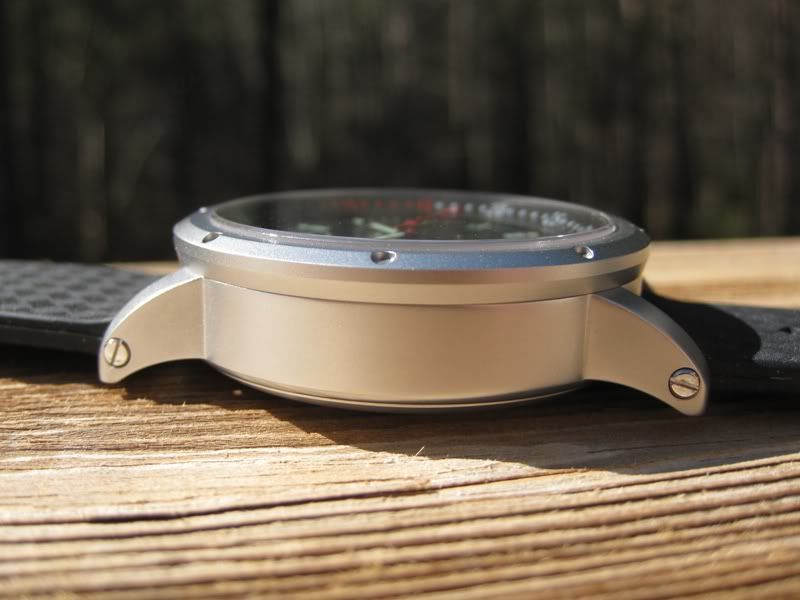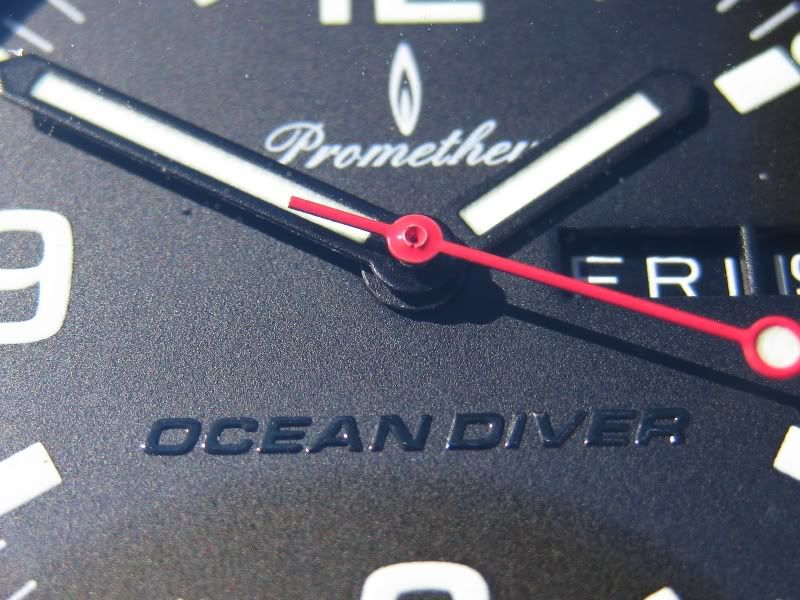 Crowns - The crowns function smoothly, and the upper crown for the internal bezel is a pleasure to use. It uses only a gasket for WR, so you avoid the issue of the pip moving as you attempt to screw down the crown. It crisply clicks 120 times around the dial, hitting each minute marker dead on with very little play. I love internal bezels, but I've been disappointed by many, including some on watches costing several times more than the OD. This is one of the best I've used. The crowns also have a nice crosshatching detail that is very well finished with no sharp edges to snag on clothing or gear. My apologies for the sheetrock dust all over the crown and threads in the detailed photo.


Movement - Not much to say about this one. It's an ETA 2836-2 with day and date, and it starts ticking with the slightest shake of the case. The date change happens within a couple minutes of midnight. I haven't timed it with pinpoint accuracy, but on the wrist it seems to be a fairly consistent +10 seconds per day. I cut my teeth on Seiko dive watches with day and date, so I really like having both of them on this watch. I know some complain that it's a chore to set the day after the watch has stopped, but I don't mind since it literally only takes a few seconds.

Strap - The strap is one area that is going to be highly subjective depending on the person. As for myself, I'm a bracelet guy at heart, and that's how I usually prefer to wear my watches. But I must admit that I've grown to love the OD strap over time. From what I understand, it was custom made as an homage to vintage tropical straps, rather than using a more conventional off the shelf design. It's a silicone material similar to the Ocean7 straps, so it has a bit of stretch to it that makes it comfortable to wear. The diamond texture to the material will be familiar to those who know tropic straps, and the clasp has a "PWC" engraving. Overall there's little to complain about other than the well-known tendency of silicone straps to pick up dust and lint. It's been my experience that with the passage of time that becomes less of a problem, and that seems to be the case with the OD strap after a couple months of wear. Also included is an identical strap in a bright red/orange color. It's a bit too loud for my taste, though I may be tempted to put it on when visiting the beach. Speaking of changing the strap, I have not yet removed the infamous screw lugs. ;-) Most of my watch tools are still packed away, but that didn't stop me from giving it a go with a couple of small screwdrivers that I had available. I quickly abandoned the effort as the screws are definitely tight, and were bending the screwdriver tips. I'll try again later when I am able to heat up the screw bars and use proper tools.




Final Impressions - I own and have owned a LOT of dive watches over the years, and this one one has already earned a permanent place in my collection. And when I say that, I really mean it. My flipping days are long behind me, and I only keep watches that I know I will wear. This one definitely falls into that category. I'm not necessarily one to try every boutique diver that comes along, but I've owned my share and this one measures up very well. The $500 price tag is quite impressive when you consider that this is a Swiss made, ETA powered watch that was custom-designed from the ground up (with no catalog parts). It's a great value, and I commend Carlos for standing his ground to ensure that he got a quality product. It took a lot of guts to pull the plug on a project and go back to the drawing board when the initial prototypes weren't up to par, but it was the right thing to do. And based on the positive comments by other owners and the fact that the first batch has sold out, I'm not the only one who feels this way.

Thanks for reading! :thanks