Discussion Starter
·
#1
·
Good day folks! Earlier today I received a Seastar from the Bay...or should I say caught from the sea? :-s Anyhow, being the first post here I thought an introduction would be appropriate, rather than to do the 'ask and run', which would be disrespectful.
Like most people I've gone through a number of hobbies, photography now being the greatest one (when I actually get time off working as a veterinarian). However the fascination with watches is one of the oldest. When still fairly young I inherited a couple of my parents' old watches by digging through their drawer and begging them to give it to me.
My Dad's old JLC was subsequently destroyed by yours truly when I stupidly tried opening it at around the age of 10 in order to repair a stuck minute hand. My Mum's square hand-wind Tissot subsequently ceased to function even though I took all care in the world to preserve it, and the lucky survivor is a Rotary that's still on my shelf, running after 16 years in my hands.
So it's only with the advent of the necessary evil called 'work' that I had enough savings to start up this old hobby again but the collection is lean, and for better or worse I hope to keep it that way!
Other than the three watches I routinely use (the beaters and the dress watch) there's two Rado watches, plus maybe a dozen more cheapies that were accumulated a number of years ago.
About a week ago I chanced upon this Tissot Seastar and it was priced so low I couldn't resist. The photos weren't particularly good and when it arrived I was somewhat dismayed to find it in good-used condition rather than 'near mint' as described in the listing. Worse is that even after sizing the bracelet down to the extreme, it still wouldn't fit my bony wrist. It's such an interesting piece however and I thought this would be the best place to seek more information about it: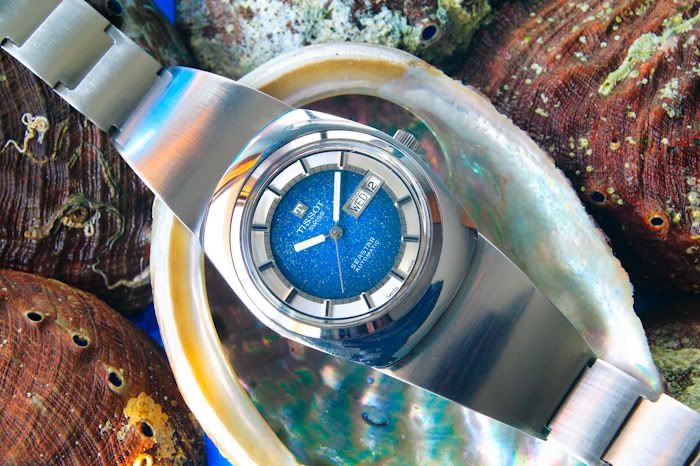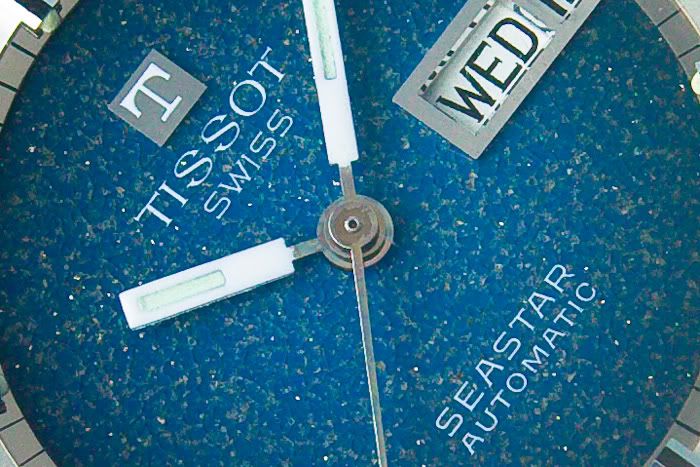 This watch has an absolutely bizarre, almost bangle-like bracelet with very large links. The whole bracelet just screams 'solid'. It has the 'T' emblem on the clasp, and on another portion of the bracelet it is signed 'Tissot 2043-44670 Stainless Steel'. It looks like the dial has aged gracefully and it sparkles in the light as if it were made of semi-precious stone.
The caseback is plain with no inscriptions and while there's marks on it, it doesn't appear to have been opened in the past. I have not ventured into opening it myself because I don't have the tools and worry about breaking it like I did to my Dad's watch many years ago.
Hope to hear any info on this model, the year in which it was made, the movement it's likely to have, real, fake, monster...whichever term is appropriate.
Thanks for your time.