Discussion Starter
·
#1
·
Hi guys,
I posted this over at the Omega forum, but I thought the Vintage forum would also like to chime in with their thoughts.So, I came across this Omega Seamaster and my curiosity was aroused by the broad-arrow type hands

The sellers description said it is a ref 2990 which I thought belonged to the Ranchero. Franken right?
Well, I think this may indeed be a ref 2990 Seamaster. Bear with me here as I explain the train of thought I used to arrive at my conclusion. My initial reaction when I saw this was that it is a franken. But I thought I would take a gamble that it has a Ranchero base with a replaced dial and I can try to source a Ranchero dial for it. That way I end up owning a much coveted timepiece.
However, I also did a lot of searching on the web using the ref number against a Seamaster. I have seen some which are Peruvian Air Force issue Seamasters or some with obvious redials with a ref 2990 case. However, I didn't find any with similar dial and broad arrow type hands. However, I finally came across this:
Courtesy: Old Omegas website
This German ad for the Railmaster and Ranchero also shows a Seamaster at the top right which matches the one I came across. The case shape seems to match the Ranchero, however, the ad states that it is gold plated whereas the one I bought is stainless steel. Another interesting fact is the Seamaster is priced higher than the Ranchero. Little did Omega know how things would change :-d
Finally, I took some better pictures of the watch.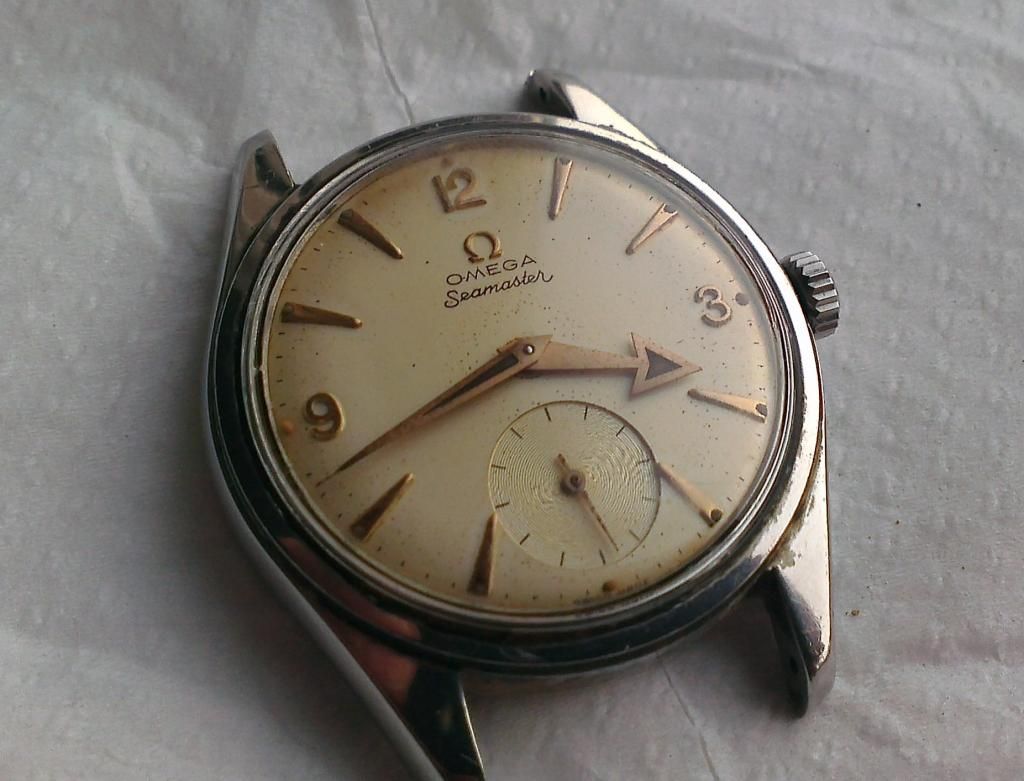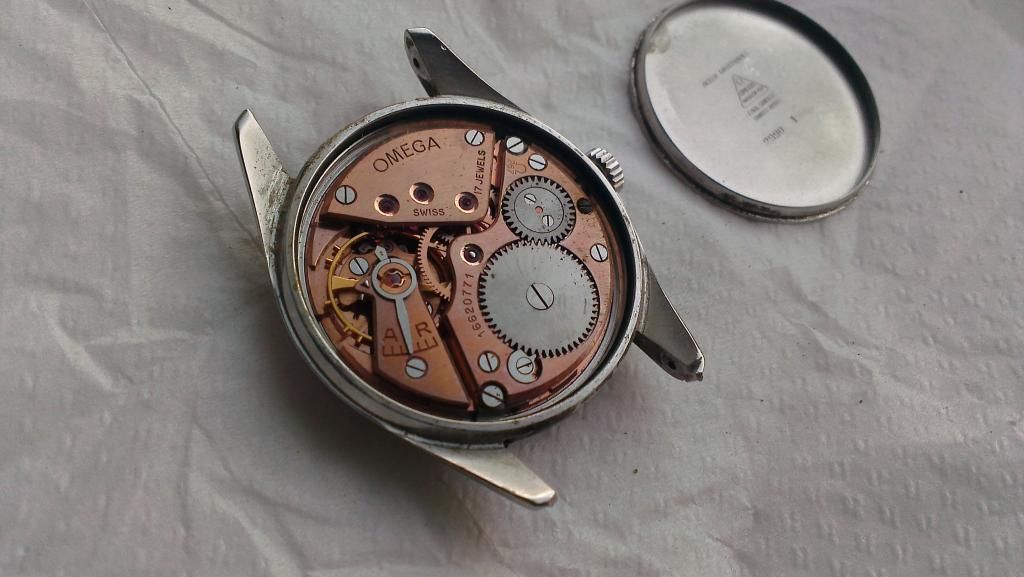 First of all, I am having a hard time telling if the dial has been repainted. I think it might be legit. Secondly, the tone of hands and hour markers seem to match remarkably well. Lastly, it has what seems to be a correct period ref 2990 crown and original Omega crystal. Watchadoo is selling the crown here:
eBay | Original Omega Vintage 2990 Ranchero Watch Steel Crown
I personally think this Seamaster looks really cool! The hands look just awesome and the dial has the right amount of patina to give it that classic vintage look.:-!
So, for the moment I am inclined to think that this is an all original Seamaster ref 2990. Which would then lead me to believe that this is indeed a very rare find. The definitive proof however, would be an extract of archives from Omega. But before I do that, I still wanted to know if anyone else has come across something similar. I would really appreciate any info or your opinions.