Omega hosted their Seamaster Planet Ocean event in Capri last Thursday (19/5/2011) to introduce their new PO line-up to journalists and to announce an important joint venture between Omega and environmentalist/filmmaker Yann Arthus-Bertrand (known for his movie '
Home
'). Together, they will work on a this new film about the Earth's oceans.
I had to make a short stop in Frankfurt, where I met with my contact from Omega and Ariel Adams, the only other
blogger
that was going to Capri as well. From there, we had a short flight to Naples, Italy. With a bunch of other journalists, we were picked up at the airport of Naples by a team from Omega and brought to the shore were a speed boat was awaiting for us.
Once on the boat, we left for Capri and leaving the beautiful city of Naples behind us.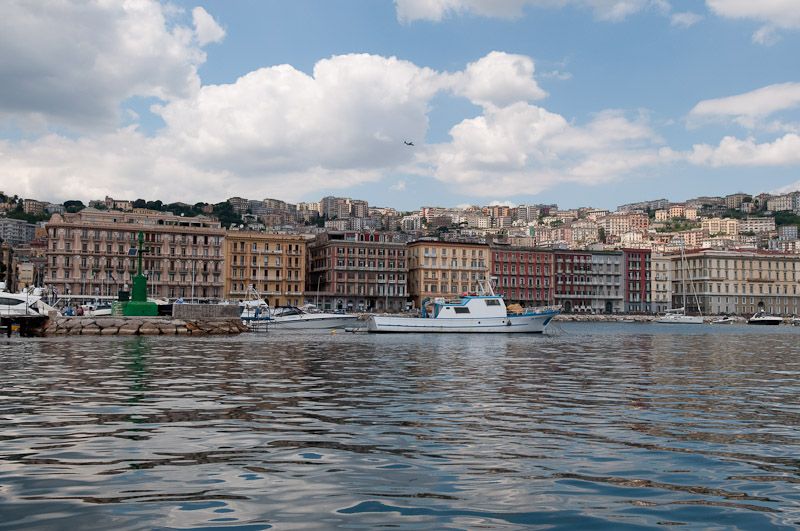 The Omega flag was raised on the speed boat and proudly waving in the air.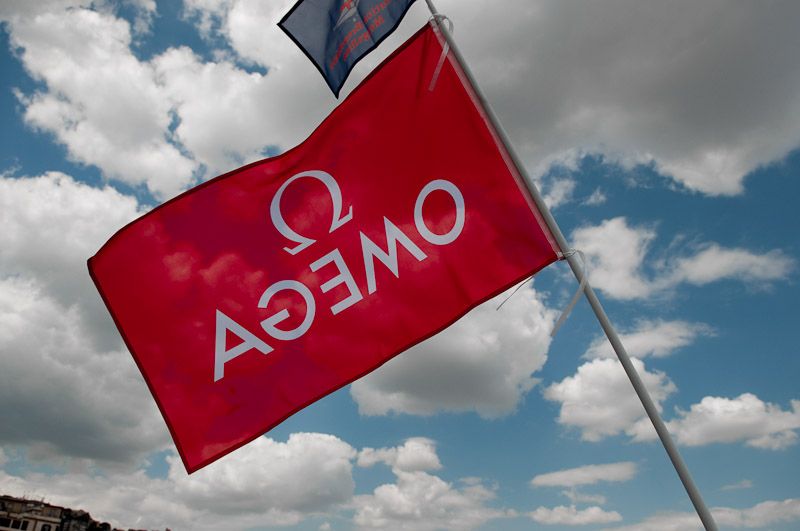 After approximately 30 minutes of holding on the boat, we arrived at the beautiful coast of the small island Capri. The rocks at the shore were more than impressive, and I was looking forward in exploring the coast/shore of this island the next day. On the pier, as you can see, Omega was waiting for us already.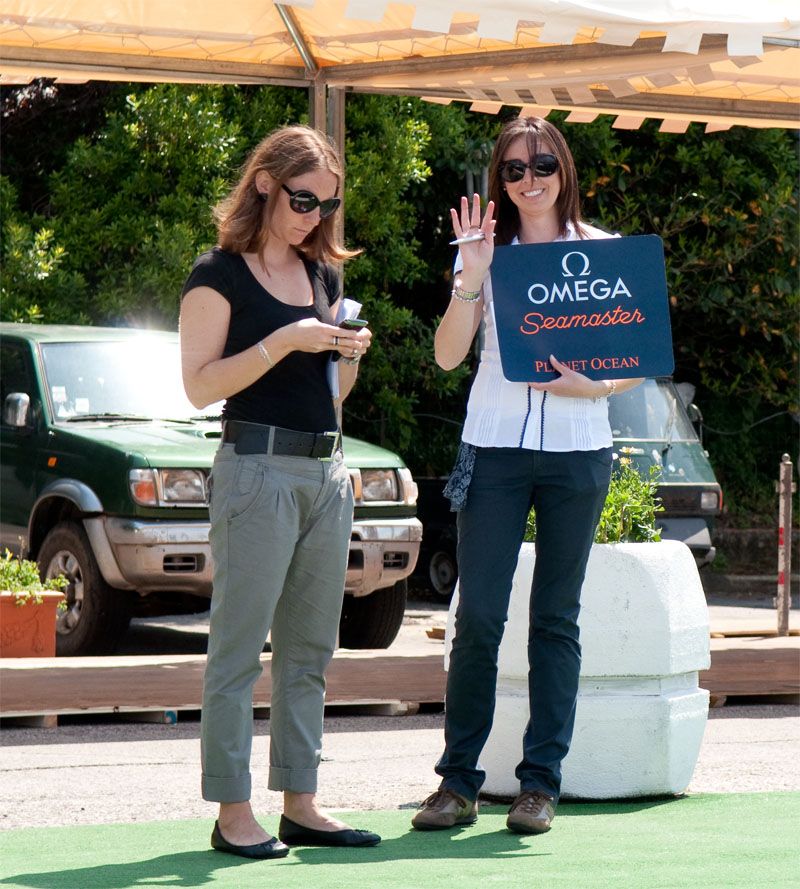 A small van took us to the city of Capri as far as possible, as the small streets do not allow all motorized vehicles to drive there. The last few hundred meters to the beautiful
Quisisana hotel
were a joy to walk.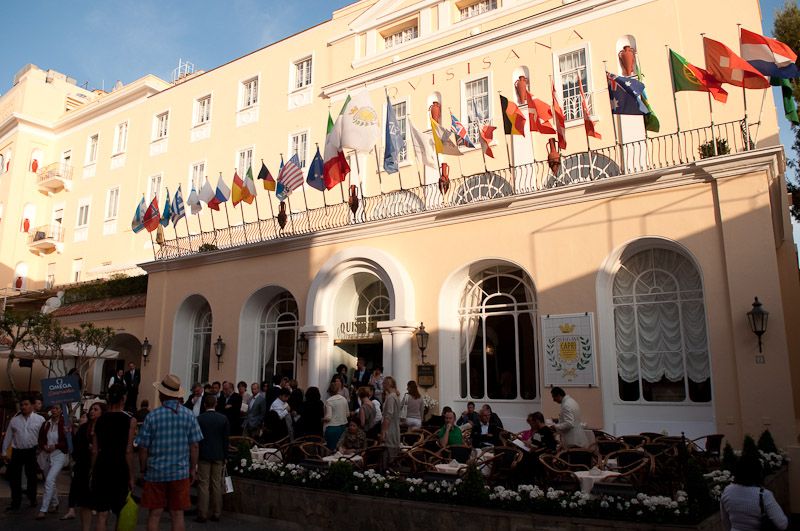 The hotel room was beautiful and luckily, there was a WiFi connection as well, so I was able to ask you guys to write down some questions that I could ask Omega while being there. More to that later on, as it wasn't for the next day when we got the opportunity to ask questions to Stephen Urquhart (CEO) and Jean Claude Monachon (vice president development) of Omega.
Drinks were organized in the Giardini di Augusto, gardens of August, built on the ruins of ancient Roman structures. From there, a wonderful view was presented to us and very suitable for shooting some pictures.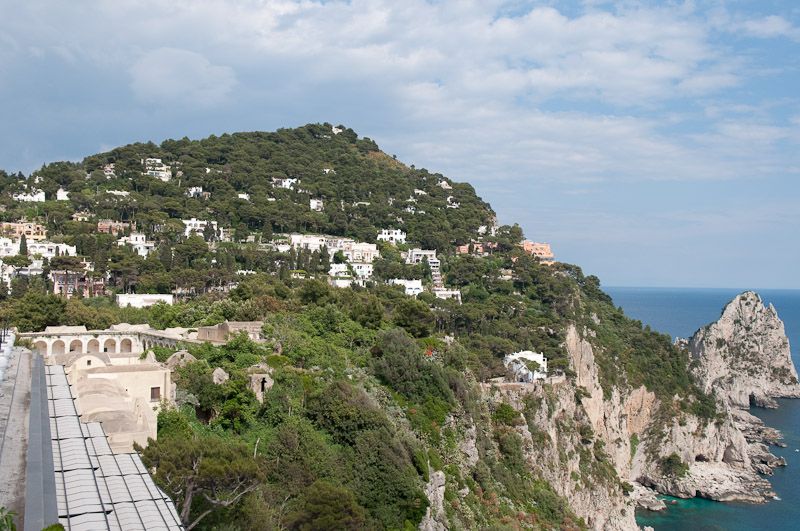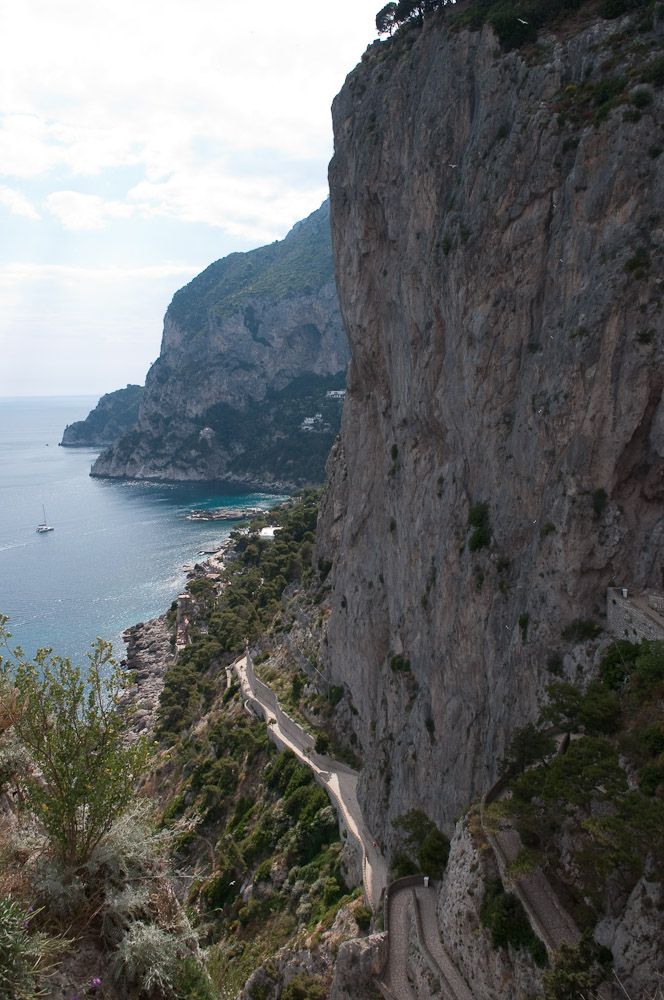 Omega arranged a wonderful diner in the hotel restaurant for all attendees and Stephen Urquhart and Jean Claude Monachon joined as well. Even better, fellow blogger Ariel Adams, Laurie Kahle and I were asked to join them at their table to have diner with them.
Unfortunately, I do not have pictures of this evening, but I can assure you that we had great conversations about Omega, their on-line presence, the Omega community and watches of course. For instance, we were told that Omega tried to DLC a Speedmaster but were not happy with the results. Also, we were told that the testing of watches is being performed by Omega staff only with stripped down watches. They have tested with prototype watches before, with special engravings to mark them as prototype as well, but they weren't too happy seeing them popping up at other places well in the end. They were prototypes, which means that there could be something wrong with it or not complying to the high standards Omega wants their watches to be when they leave the factory in Bienne.
Back in the hotel room, I found this strange bottle in the bathroom with a message inside, stating something about very special residents of the island.. mermaids. Something I didn't understand when I read it, but in the meanwhile you've probably seen some of the Capri mermaid here at the Watchuseek Omega forum.
Next morning, a wonderful breakfast waited for us and we were getting ready to leave to hotel and take a boat to explore the island and, also very important, the next Seamaster Planet Ocean watches. The announcement about the partnership between Omega and Yann Arthus-Bertrand wasn't scheduled before the evening of that day.
So we left the hotel to the shore, but not before I took this picture of the Omega logo created by a lot of orange flowers in the hotel garden.
We took special island transportation to the shore...
Omega arranged two boats to host all attendees of this event. A nice boat with a lot of room on the upper deck, from where we were able to take a good look at Capri. Fine food and drinks were coming along and were presented to us by the friendly hostesses of the boat. On board, a lot of Omega fans!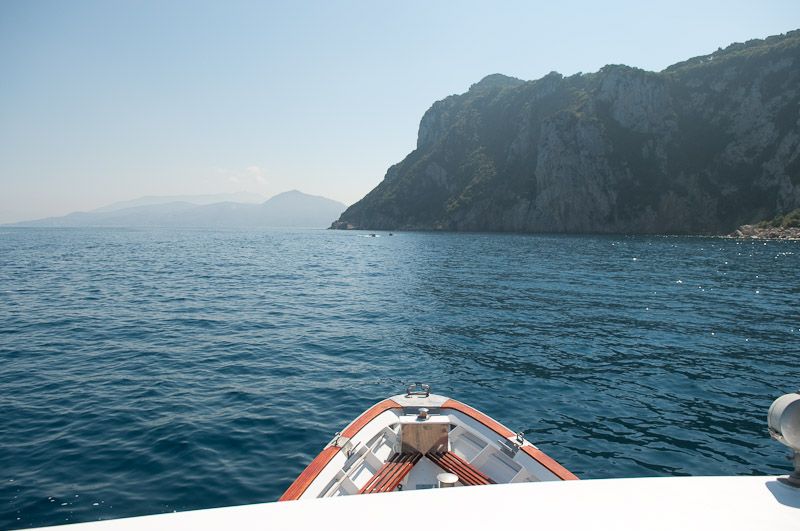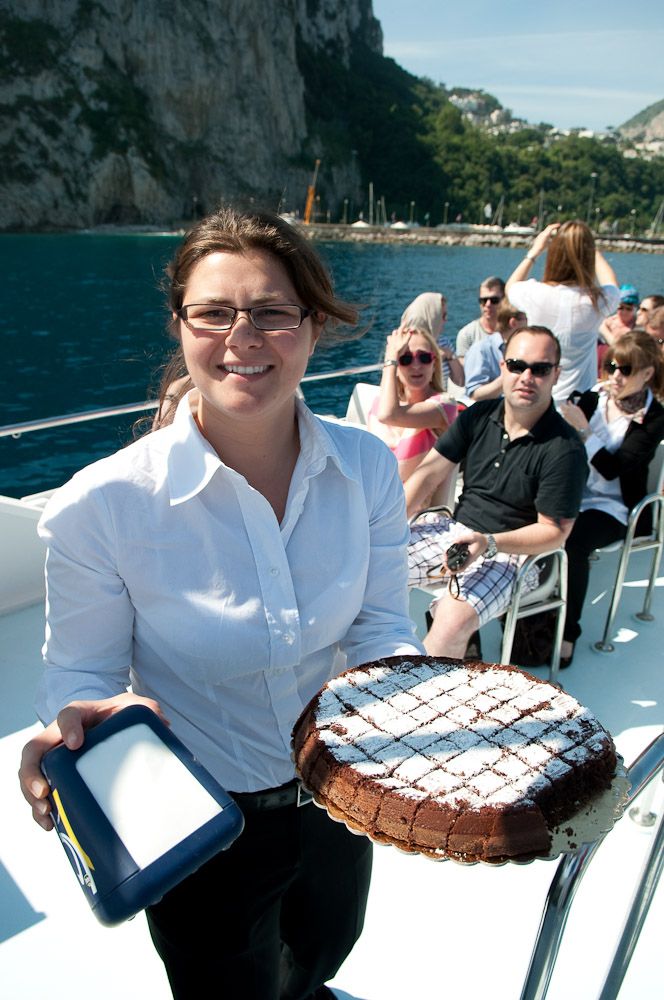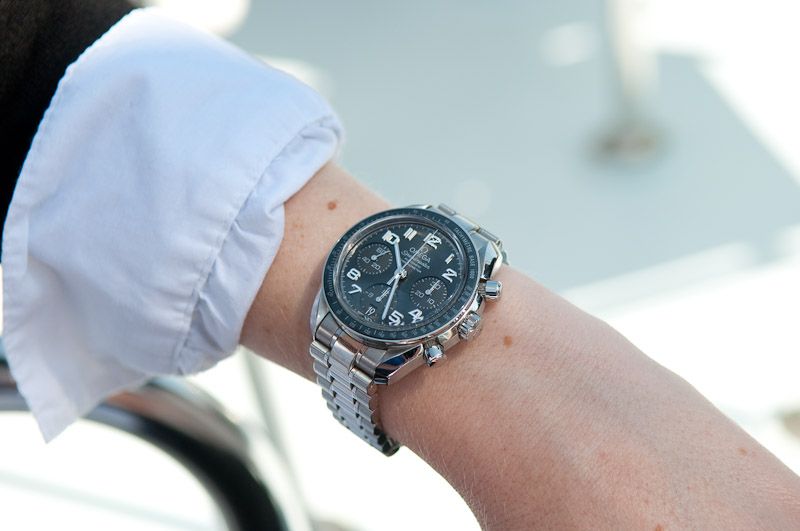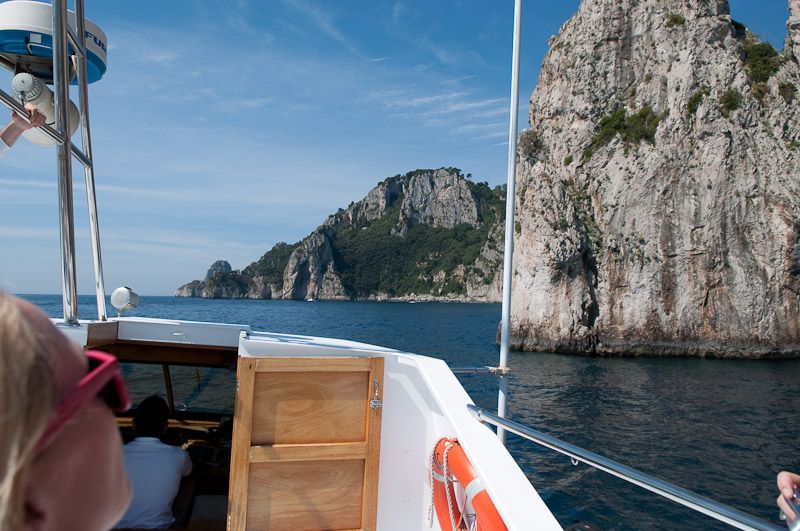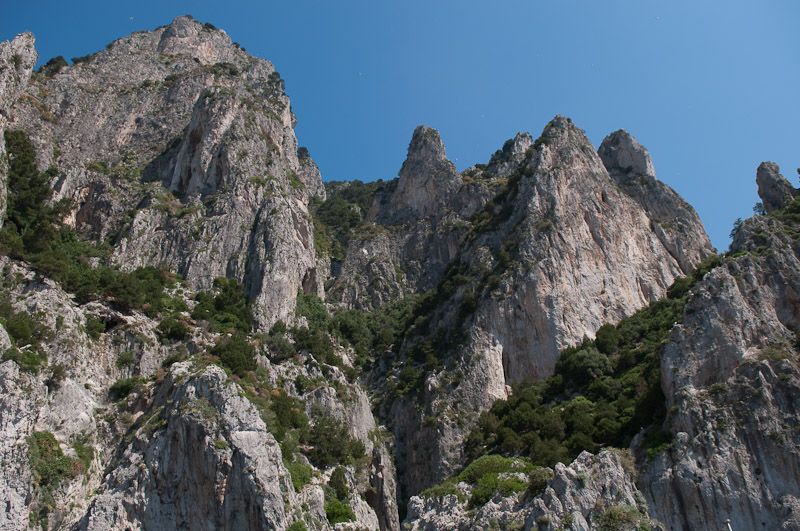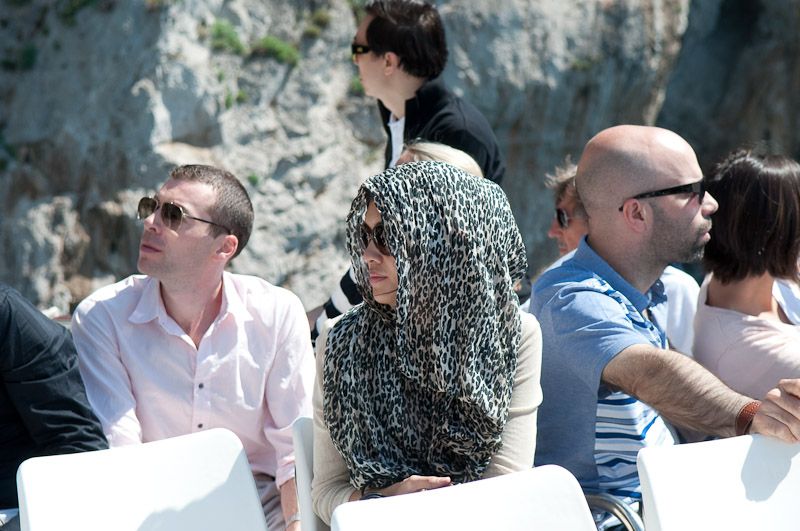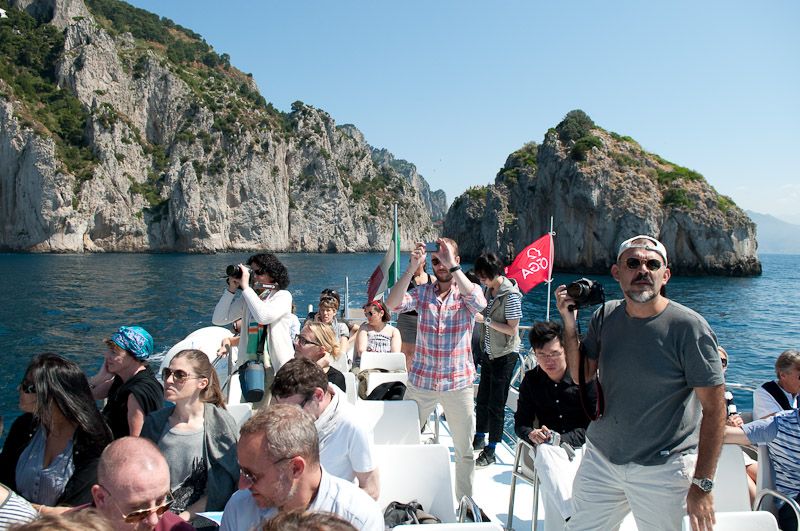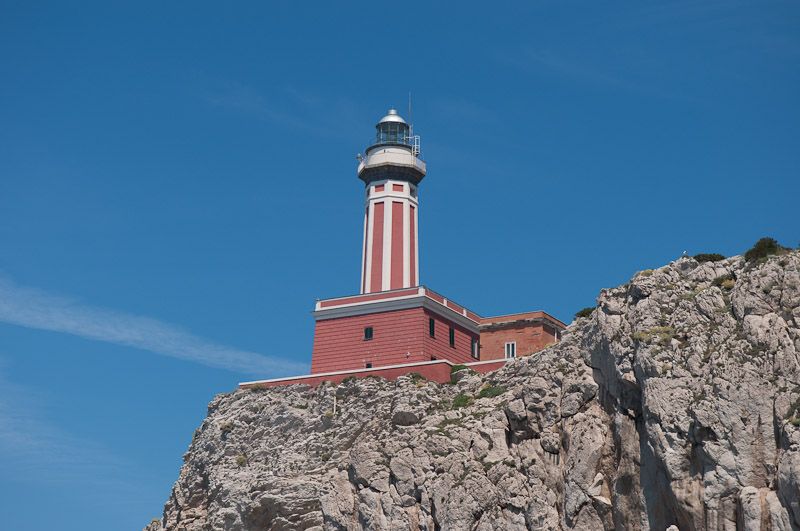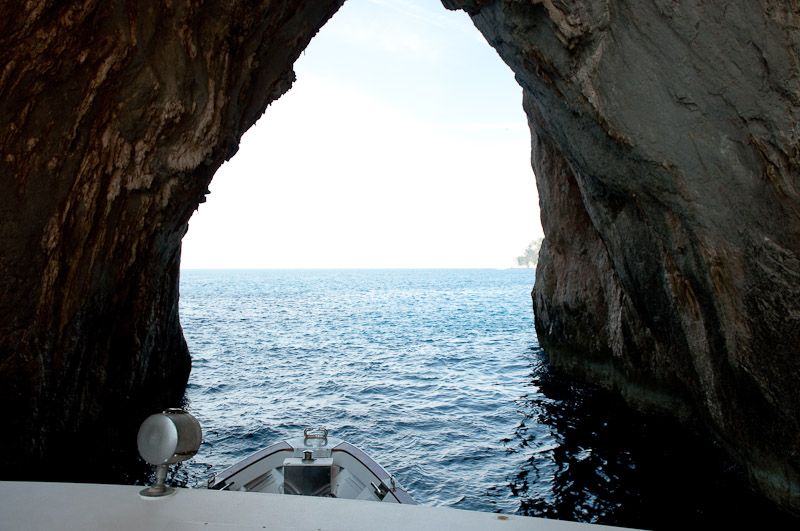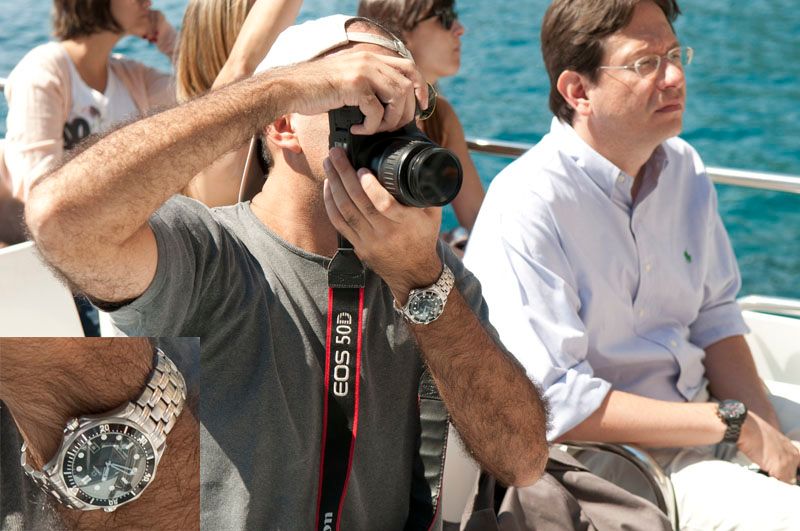 After a while of navigating through the waters of Amalfi, we approached a grotto where some divers were floating in the water.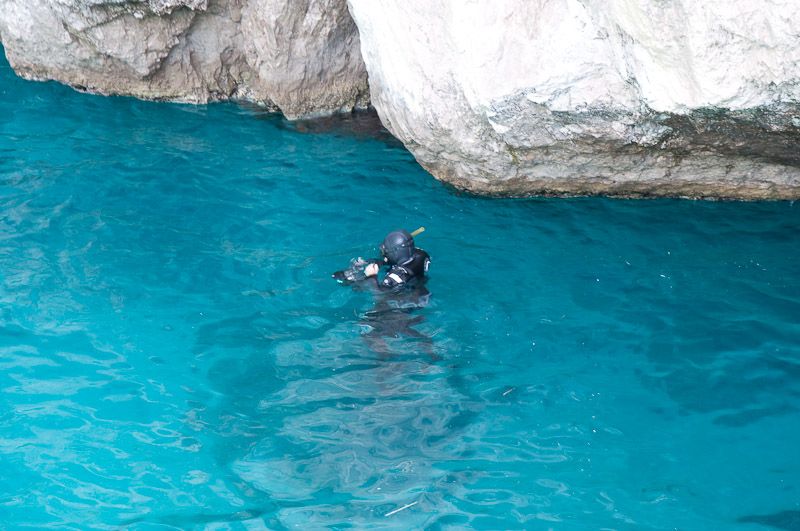 Then, we were all waiting for something to happen, and after a few moments, this beautiful creature came swimming towards us.
She handed something over to someone on the lower deck of the boat and immediately fled into the grotto again. That something was a cylindrical object that came into my hands just after the mermaid disappeared again.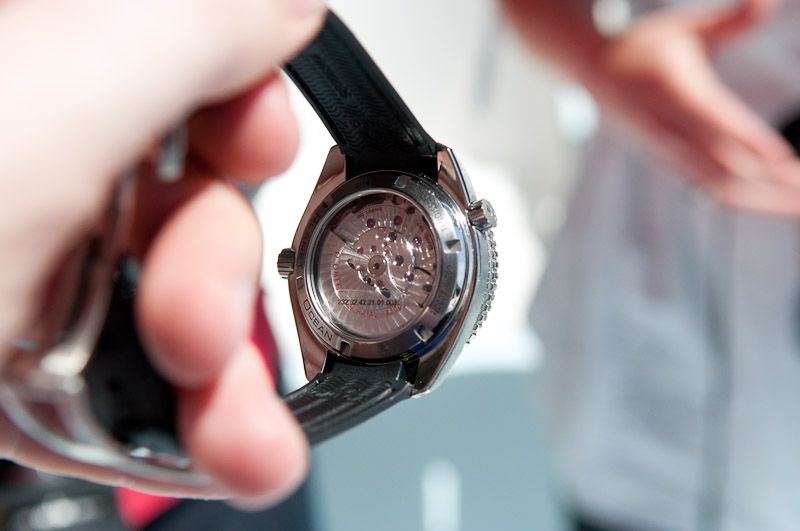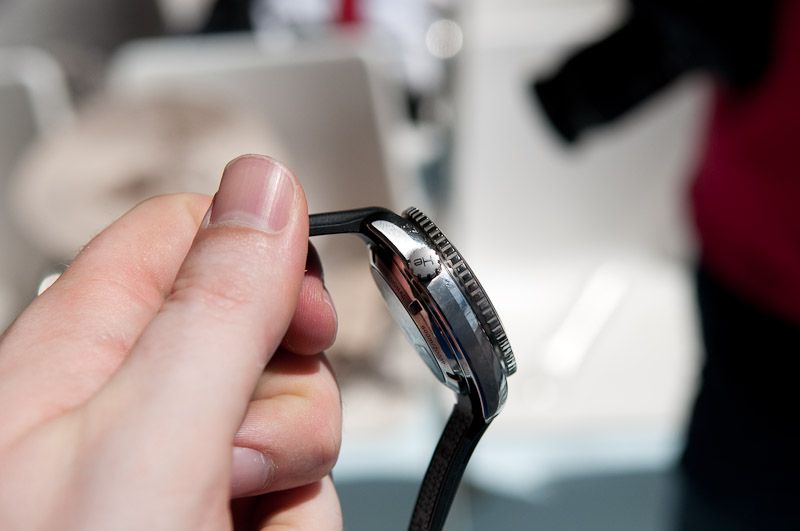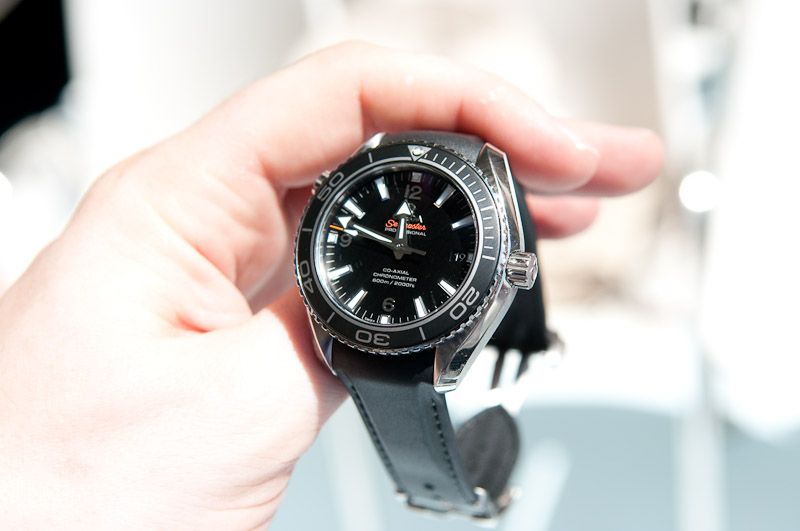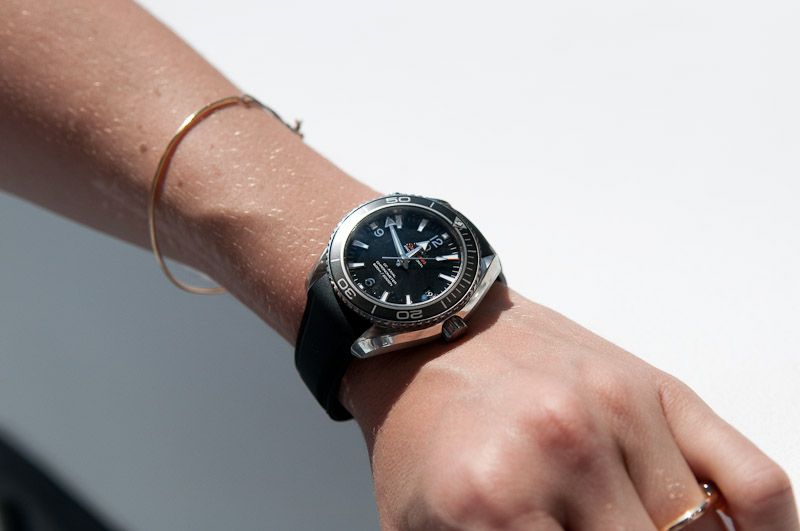 After examining and trying this 42mm Seamaster Planet Ocean with Ceramic bezel and caliber 8500 movement, we left the grotto and headed to a place where we could sit down and have a lunch. Furthermore, it would be the place where we could interview Stephen Urquhart and Jean Claude Monachon and ask them everything about the new Planet Ocean watches and Omega in general.
So we sailed for a few minutes and had to hop over on smaller boats to be able to reach the shore.
A wonderful location was welcoming us and we all got very nice looking (and tasting) cocktails.
(I don't know who these guys are
)
After a very nice lunch, with local products and superb wine, my group headed over to these small tents, where the watches could be seen on display and where the interviews would take place.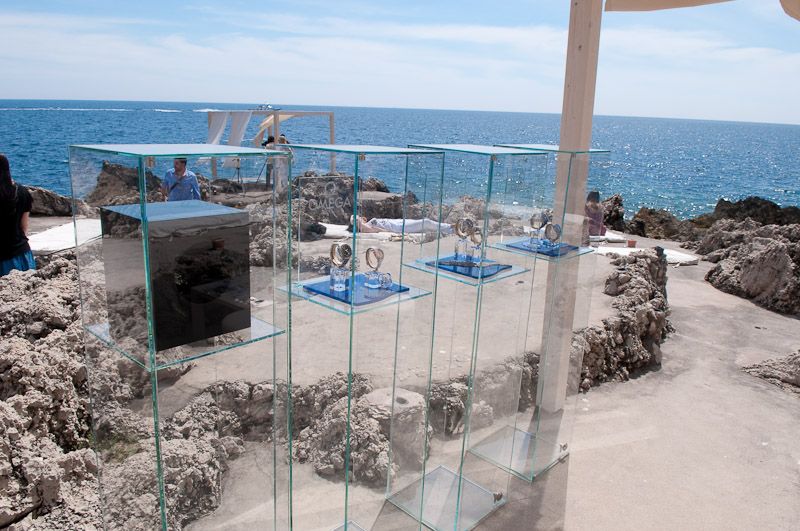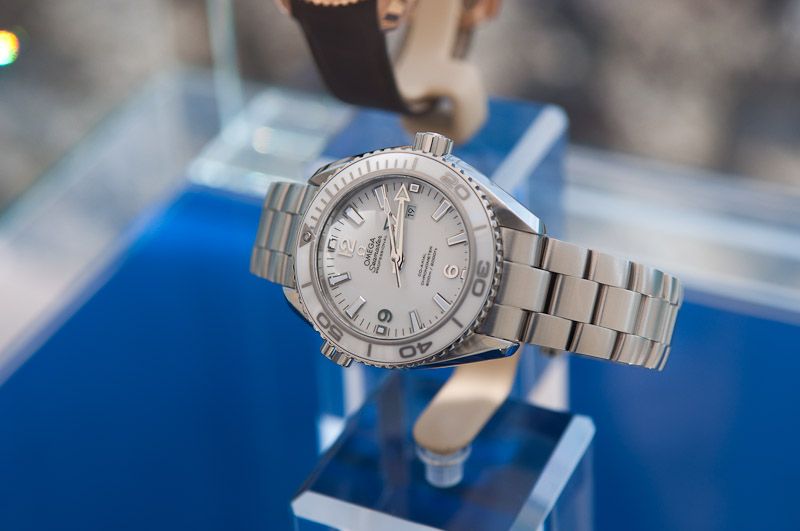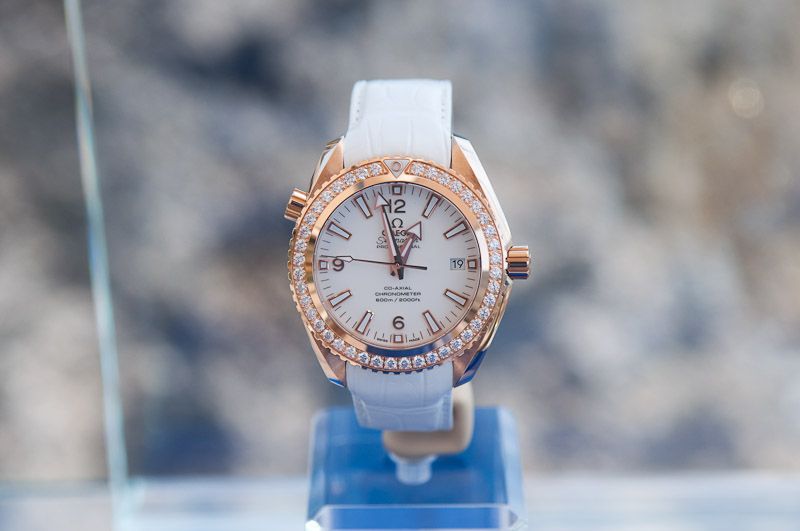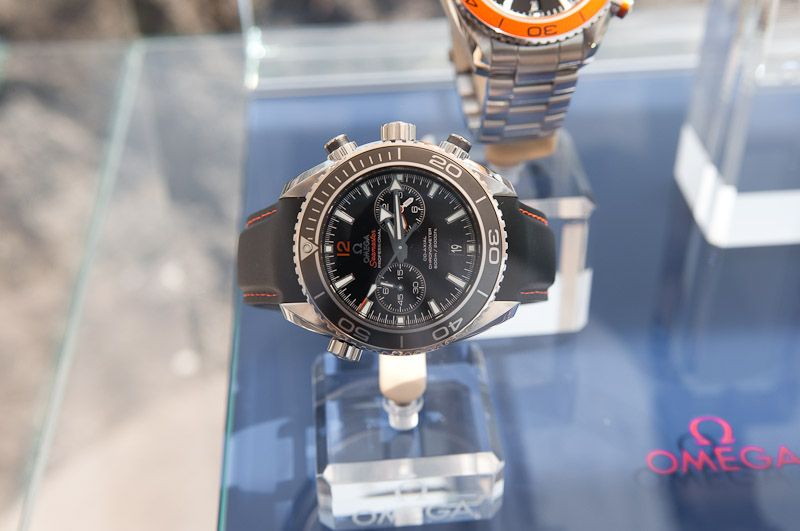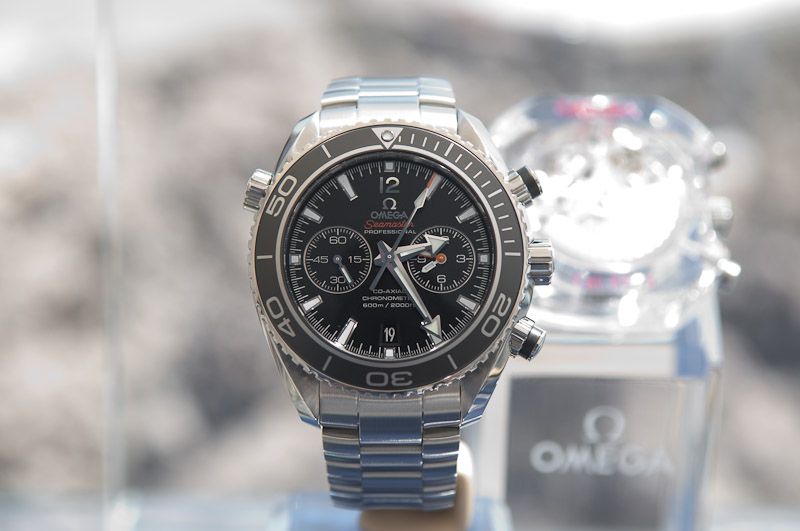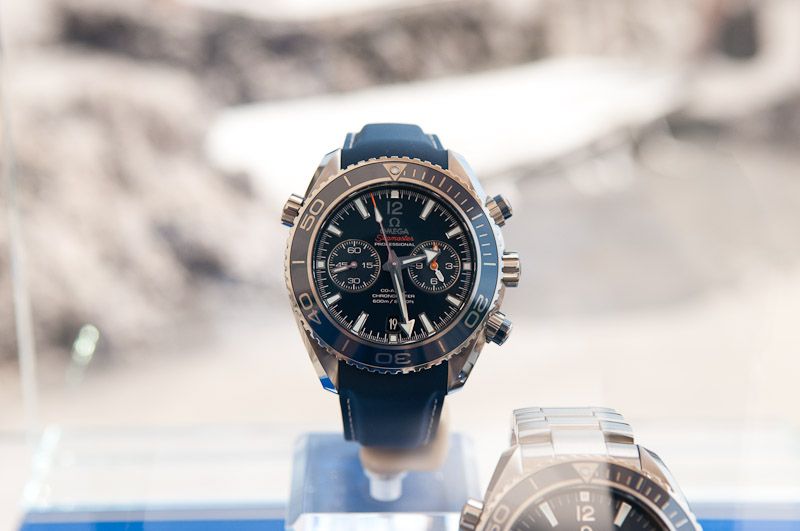 And the one I really liked (and was sitting in this black box, making it a joy to photograph the shiny hands and hour markers):
Just to clarify, these are the models presented in Capri:
Seamaster Planet Ocean 45.50 mm Titanium Liquidmetal® Chronograph
Seamaster Planet Ocean 45.50 mm Chronograph, calibre 9300
Seamaster Planet Ocean 42.00 mm, calibre 8500
Seamaster Planet Ocean 37.50 mm, Calibre 8520
Of course, in different styles and colors. However, the only PO available with the LiquidMetal (LM) bezel for now is the blue dialed Titanium versions.
Below, you see Jean Claude Monachon explaining the watches to us and answering some of the questions that YOU have asked here in the Omega forum.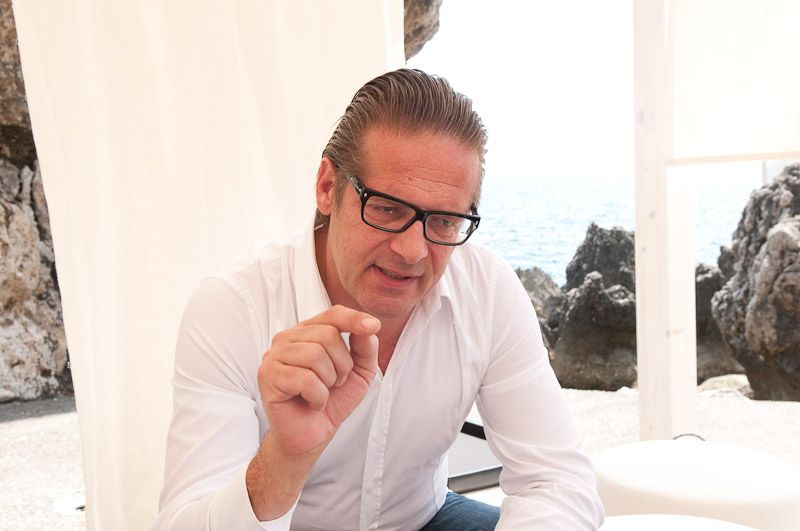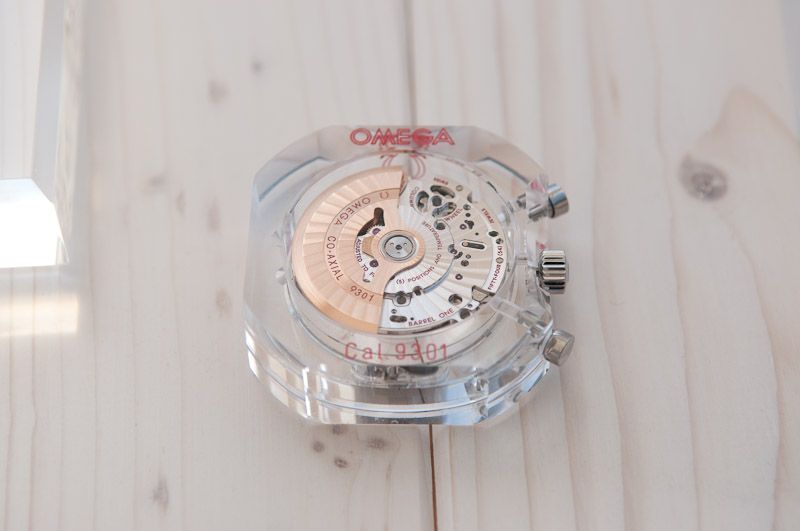 This new chronograph caliber 9300/9301 by Omega has been designed to fit watches sized 42mm and bigger, however, it will be only available in the 45.5mm Planet Ocean version for now. Omega is working on a small version of the chronograph movement to fit smaller watches though.
Perhaps told you in the past, but the caliber 9300 has not been based on caliber 8500 for that matter. This movement has been designed and built from scratch to meet the requirements made by Omega for their new chronograph watches.
Hayek asked Omega in 2005 to create their own in-house chronograph movement and the development of this new chronograph caliber cost them approximately 100 Million Swiss Francs in total. Keep in mind that the precise question was to develop a chronograph movement that could be manufactured in an industrialized manner.
George Daniels has not been involved in the development process of this movement and small adjustments have been made to the co-axial escapement actually. This was done to make it even more accurate/precise than it already was. Omega tries to stay between the -2/+2 deviation range (so easily meeting the -4/+6 COSC requirements) with this new line up of watches and movements.
The caseback of these watches are transparent, so lacking the anti-magnetism shield that the other Omega watches did have. Omega solved this with the use of silicium, which is less influenced by magnetic fields. However, magnetism remains a problem for mechanical watches and more suitable (and final) solutions are being worked on by Omega R&D department.
Another question asked is whether there would be a GMT version of the Seamaster Planet Ocean. Of course, the chronograph version has a GMT function by using the minute and hour counter of the chronograph properly. However, there are no concrete plans in creating a non-chrono GMT watch.
A ladies PO with a LM bezel and black dial will certainly be in the catalogue at some point, but probably not this year. Omega is focusing on these releases first, and want to have them in store in June (although they told me that they are probably not going to realize this for all countries they are being represented in). Omega will also be upgrading the website as soon as the watches become available, not sooner. They don't want to 'pretend' to have watches in stock already that they can't deliver yet. I love that Omega is at least being transparent about this. Kudos.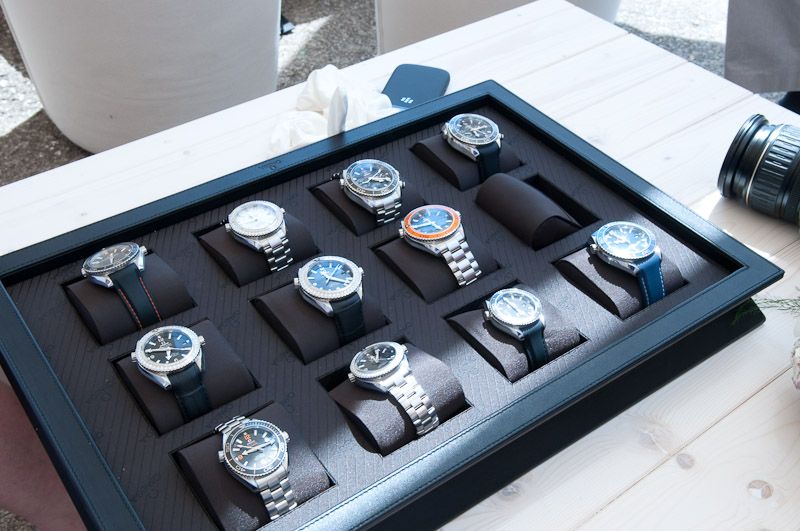 Next, we moved over to the next tent where we were able to meet Stephen Urquhart and ask him questions.
Stephen Urquhart spoke very openly about Omega, the Seamaster line-up and the forth coming new quartz watch for pilots (will this be the new Flightmaster?). However, the emphasize of his interview was with the current / new Seamaster Planet Ocean of course.
He told us that the LiquidMetal technology has not been industrialized yet, and will only be used in the Planet Ocean Chronograph for the time being. When this technology will become to be processed in a more industrialized manner, it will also be used for other Seamaster POs and perhaps even other watches within the Omega collection (think Speedmaster). For now, the whole process of creating a LM bezel for the Seamaster PO is about 3 times as expensive as a platinum bezel. So we've been told.
LiquidMetal is also something that can be used for other purposes in watchmaking, like parts of the mechanical movement.
Side note: In 2012, Omega will introduce a ceramic and gold bezel version (patented!) for the orange Planet Ocean. Can't wait to be honest, this certainly will look very cool!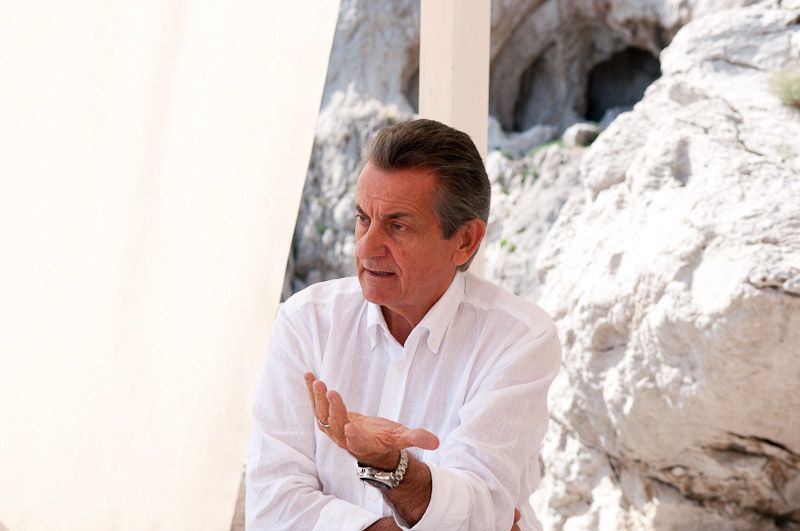 Another subject that Stephen Urquhart stressed is that there will be no quartz movement anymore in men's Seamaster PO watches. It doesn't fit the strategy and vision of Omega and will only be used in the ladies Seamaster PO watches (and certainly not all of them).
One of the reasons is that Omega wants to be able to repair and service all Omega watches (which they already can for all their previous and current mechanical watches) and it will be very hard for them to support the repair of quartz watches in the decades to come. This has everything to do with the use of electronics, batteries and other parts needed for quartz watches that are belonging to a certain era.
With respect to the boutique stores in the US, Omega wants to grow towards 50 of them and have some authorized Omega dealers besides them. Although some people made the remark that they don't see much advertisement and buzz about it, the number of sales in the US is very promising already. However, work still needs to be done in promoting them.
For the future, Stephen Urquhart tells us that 2012 will be the year of a new Speedmaster line-up.
After the interview, we went back to the boats and headed to the hotel again. We were invited to go to this other place to join the announcement between Omega and GoodPlanet, an organization by Yann Arthus-Bertrand.
A few Seamaster POs were lined up near the pool, so we could see them up close once more: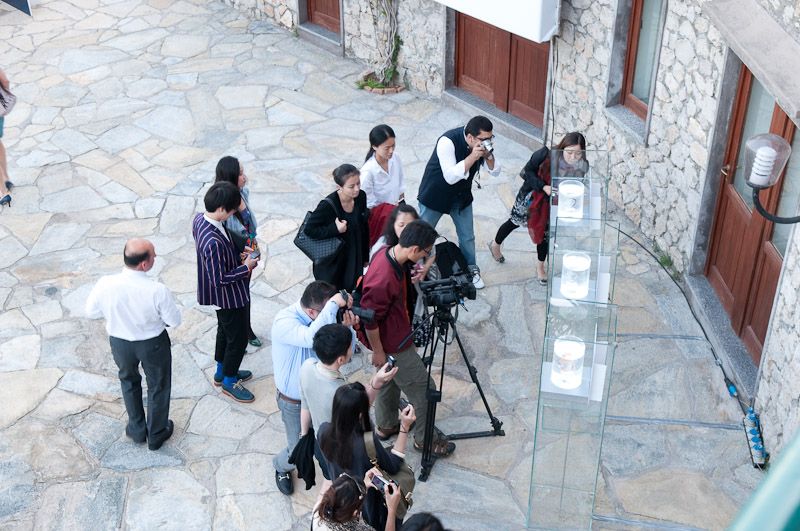 These Danish guys again...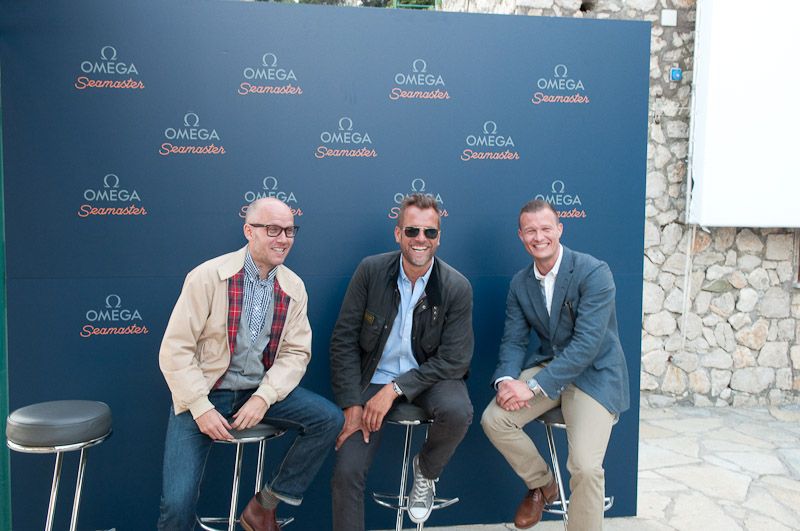 What followed, was a spectacular introduction of Yann Arthus-Bertrand and his work for GoodPlanet. Furthermore, Buzz Aldrin joined as well, which needs no further introduction as well.
The evening lasted until the night and diner was great! Hope you got a pretty good idea about the whole event and are as excited about Omega's new Seamaster POs and collaboration with GoodPlanet as I am.
Personally, I am very impressed by the new watches and the new Omega movements. The prices have increased, but can be explained due to the use of all these new movements in my opinion. Omega now remains in a higher segment of watches than they did a few years ago. I think many of us wanted for Omega to make this step and became an even more serious competitor to some other brands (we all know which ones).
Perhaps I didn't answer all questions you've written down, but there was only limited time of course. Questions that have not been answered can be sent to me by mail of course. robertjan @ fratellowatches . com (remove the spaces).
Next day, we all left Capri and headed to Naples again with high speed...
Feel free to share this page/post on your Facebook by using the little F icon at the top.