Orient Pocket Watch: Model CDD00001W

Specifications:
- Stainless steel case and chain
- 40mm diameter
- 11.4mm thick
- 50m WR
- Hackable and Hand-windable movement (cal.
48C40)
-
PR
indicator
- Sapphire crystal front and back
I have loved pocket watches since I was a child; however, the lack of any real modern alternatives has left me, well pocket-watchless. That is until I discovered, rather late, that Orient produced a limited run of these beauties -to showcase a new caliber movement (that was to be debuted in their wrist watches). Luckily, I was able to get one in time before the seller ran out (mine was the last one).
One of the problems I anticipated with incorporating a pocket watch into daily was their larger statute ... if it is truly is going to be a watch I stick in my pocket -I want it to be small; however, readability is also paramount. Suffice to say, 40mm is a perfect balance.
When I opened the box I was truly stunned at how beautiful the Guilloché dial is ... combined with the Breguet style blued steel pomme
hands ... probably one of the best dials Orient has created to date.
Anyway, now I am deciding whether or not this is a real possibility ... do I keep the watch? Is utilizing a pocket watch a feasible alternative to a wrist watch? Anyone who has one of these, or is a regular pocket watch user -chime in and lets hear some pocket watch stories
:think:
Also, how do you pocket watch aficionados feel this model compares to the vintage models ... is this a worthy successor?
Some shots still under wrapping ...
| | |
| --- | --- |
| | Click this bar to view the original image of 1024x768px. |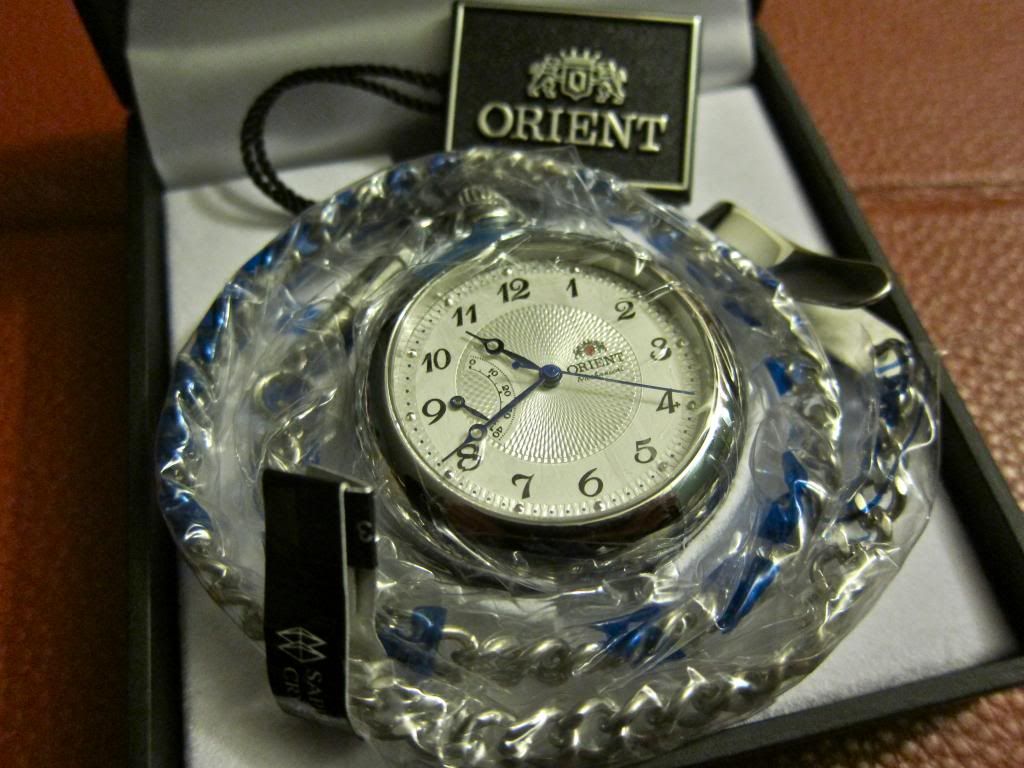 | | |
| --- | --- |
| | Click this bar to view the original image of 1024x768px. |
| | |
| --- | --- |
| | Click this bar to view the original image of 1024x768px. |