Discussion Starter
·
#1
·
For those being new to the Damasko thing this old post might be of some interest:
-----------------------------------------------------------------------------------------------------------------------------------------------------------
My harddisc crashed today so I'd try to restore my report on my Damasko visit last Saturday and here we go:
On Saturday, March 12th, I visited the DAMASKO company at Barbing, a small village close to Regensburg, the Donau and the Walhalla, and here´s my report.
(The Walhalla)
The DAMASKOs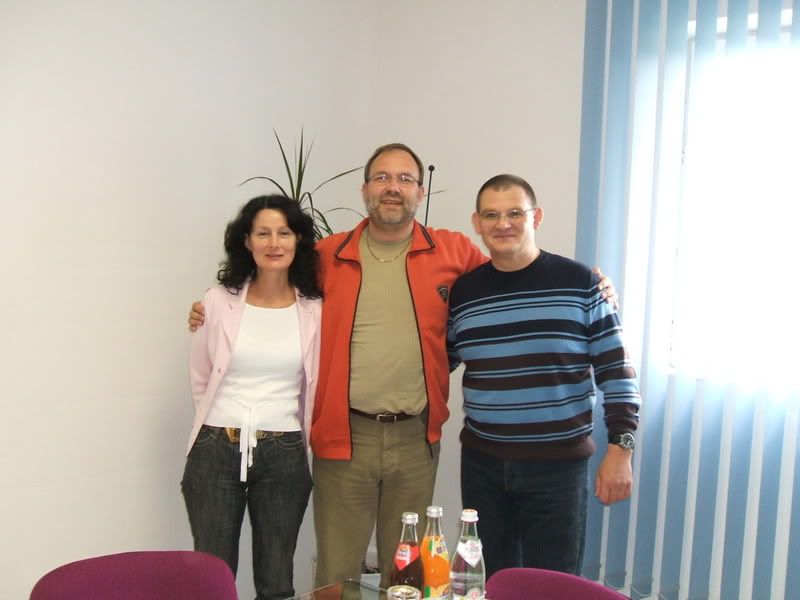 (Petra DAMASKO on the left and Konrad on the right)
The interview
WUS:
Mr. Damasko, first of all I´d like to thank you for your kind invitation and the possibility to have a closer look behind the curtains of the Damasko company.
KD:
Welcome to Barbing and welcome to Damasko as well.
WUS:
Foremost in 1994 DAMASKO, already known and established as a metalworking company, started to produce challenging mechanical wristwatches. What influenced you to come to such a decision ?
KD:
Since I was a young boy I was fascinated by fine mechanics and I learned it from scratch. I worked for several employers and the last big company I have been working for was the AEG (Allgemeine Elektrizitäts Gesellschaft). When the AEG closed down a couple of years ago I decided to go into business for myself and the "Damasko Konrad Metallbearbeitung" was founded.
It was my fascination for fine mechanics which finally (in 1994) lead to the first steps to develop a DAMASKO watch. Consequently another firm was founded some time later The "Damasko Feiner Uhrenbau". Both, the "DAMASKO Metallbearbeitung" and the "Damasko Feiner Uhrenbau" are economically separated from each other but are under one roof; I am in charge of the Damasko Metallbearbeitung and my wife Petra is CEO of Damasko Feiner Uhrenbau.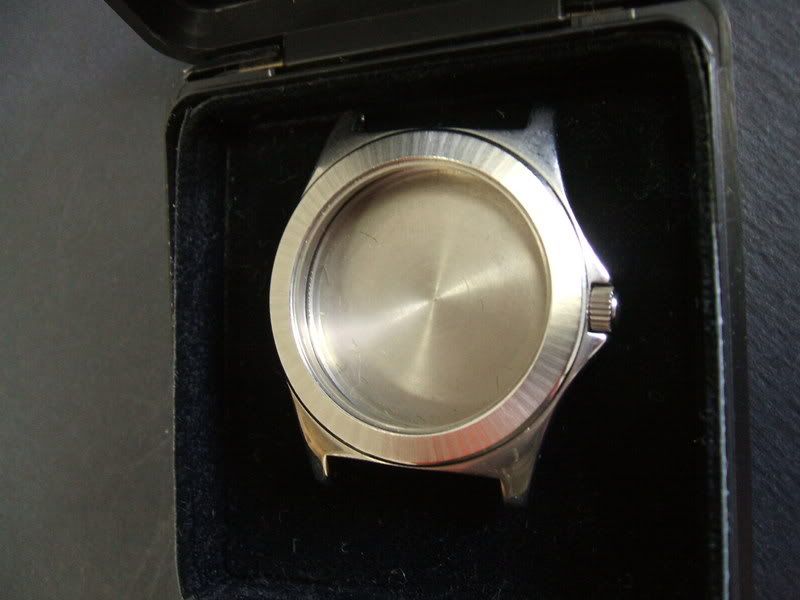 (The very first inhouse case)
The "Damasko Metallbearbeitung" has an annual output of app. 5 million workpieces which are divided in app. 1200 subject categories such as ball bearings in all sizes, parts for dental and surgical instruments, parts for satellite technique, piston rods, and (if requested) inkstand caps. Indeed we produced 10.000 inkstand caps for a very well known brand in Hamburg (note: Can´t be any other brand than Montblanc).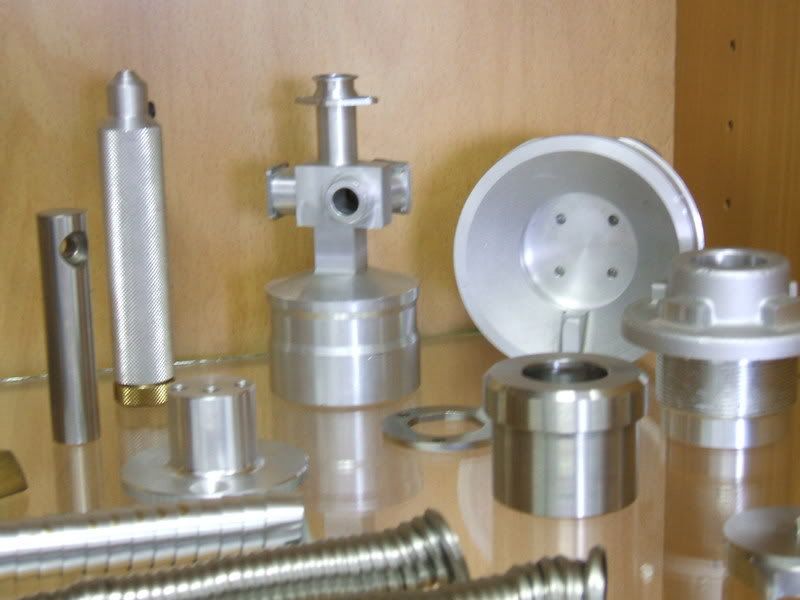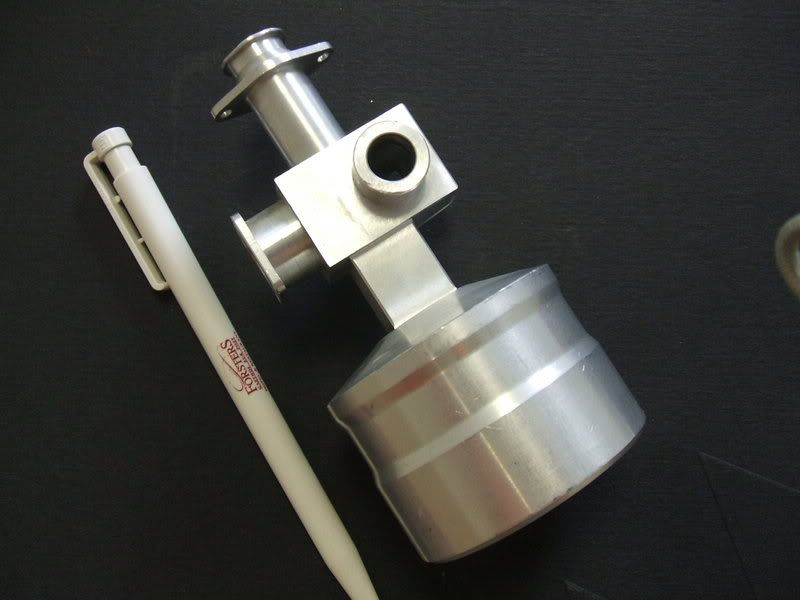 Currently we have 7 CNC machines in our machinery and we are proud to state that we are able to produce steel parts with a precision of under 5µ if necessary or requested.
Our newest addition to the machinery is a Mitsubishi wire erosion machine for Electrical Discharge Machining (EDM). For those who aren´t familiar with EDM:
EDM is a machining method primarily used for hard metals or those that would be impossible to machine with traditional techniques. One critical limitation, however, is that EDM only works with materials that are electrically conductive. EDM or Electrical Discharge Machining, is especially well-suited for cutting intricate contours or delicate cavities that would be difficult to produce with a grinder, an end mill or other cutting tools. Metals that can be machined with EDM include hastalloy, hardened tool-steel, titanium, carbide, inconel and kovar.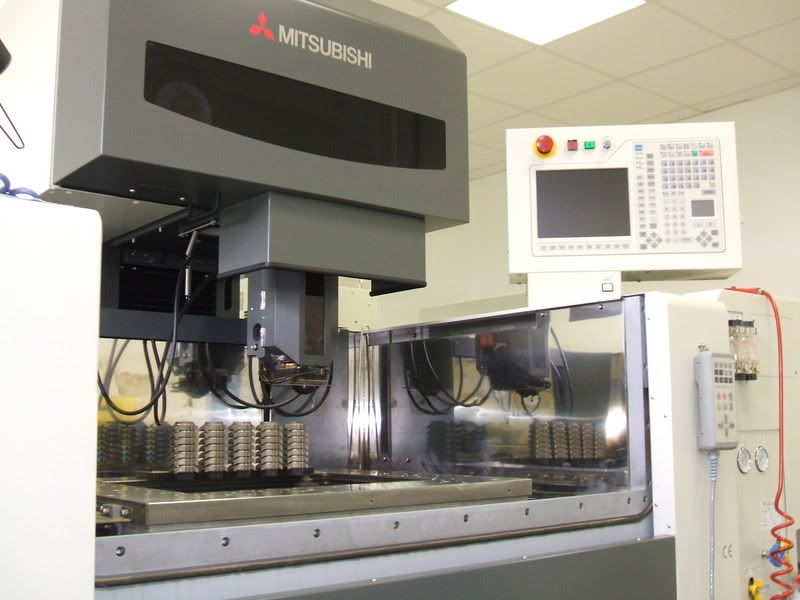 WUS:
All DAMASKO watches feature or are going to feature technical innovations, for example the oil-free escapement, the gasket system and its lubrication cell, a special bezel construction (DC 66)and last but not least the DAMINOX-process. Where do all these innovative ideas come from ?
KD:
Well, first of all I would like to mention that my major goal always was and still is to construct a watch with superior technical characteristics which should represent a very high standard. The most ideas or let´s say projects have been developed at home, sitting in front of the TV. While my wife is watching television I always have some drafts or paperwork on my knees I am fiddling about with.
It needed more than 3 ½ years of extensive work (at least the last two years) to realize the DAMINOX process which allows to harden austenitic steel alloy (316L, 904) to between 1000 and 1800 HV, depending on the composition of the stainless steel. So far the "ice-hardening" process of martensitic steel (we do use 1.41.08) was only the first step into a new world of hardened steel. Of course I had to face some backstrokes over the time but finally I succeeded.
All that is based on long years of extensive research which lead to several dozens of patents and I always feel proud when a watch leaves our factory.
WUS:
To my surprise the availability of ETA movements, especially the ETA 2824-2 and ETA 2836-2, as well as the Valjoux 7750 has been a great issue at Baselworld 2007. Is there any implication regarding DAMASKO and if so where does DAMASKO go in the time to come ?
What about alternatives like Sellita with their SW 220 (ETA 2836 clone) or SW 500 (7750 clone) which are announced to be ready in 2008 ?
KD:
I am aware of the discussion and some small brands like DAMASKO will have to face problems with the new SwatchGroup policy. It was stated that movements or so called ebauches will be available until 2010. But the watch ticks different. When ordering 500 movements you`ll probably get the answer: Ok, we confirm 100. That´s my current situation. I´ll get 100 chronograph movements and 100 ETA 2836-2 movements until the end of 2007 and the questions remains open if I´ll get any movements in 2008.
Sellita may be the one and only alternative but who knows if Sellita can answer the worldwide demand especially regarding chronograph movements. This is I frankly admit that a bleak situation for me and for other competitors.
WUS:
Damasko watches enjoy a huge popularity; here in Germany but as well in the United States. The demand is increasing. Some customers complain the waiting time being to long. In regard to what has been said about the availability of movements in general there´s no possibility of shorten the delivery time, right ?
KD:
To my sorrow: YES, you´re right. In the current situation I am working hard on every order but shorter delivery times shouldn´t be expected. At present I am desperately seeking for a watchmaker and metalworkers but until now I had no success. That´s why every watch is assembled and regulated by me myself. Every watch leaving Barbing went through my hands though.
WUS:
Btw you aren´t a watchmaker, aren´t you ?
KD: That´s right. I am not a watchmaker. I don´t know what I am but I have some autodidactic capabilities which helped me to learn everything about watches and their function by reading books, surfing the net or by contacts . Helmut Sinn is a friend of mine and one of "those" contacts. Step by step I learned watchmaking. I demount and assemble a Valjoux 7750 in no time (Konrad smiles).
WUS:
What about an inhouse (DAMASKO) movement then ?
KD:
WUS already reported that a DAMASKO movement is thinkable.
If a DAMSKO movement should be unveiled the decision to get stuck into the production of an inhouse movement should be taken as soon as possible. "DAMASKO Feiner Uhrenbau" and "DAMASKO Metallbearbeitung" still are a family runned enterprise. With three kids, two cats and 14 employees you have a certain responsibility and it´ll need a huge financial input to get things done if you want to do them right. But it´s not only a financial effort - you will need an investment of about 2 Million Euro- some supply questions are as important as the investment. I must be assured or at least convinced that the key components are provided / available in sufficient quantities. The key components are: ball bearing for the rotor, anchor, anchor wheel, spring, gears, minute wheel (what we call the "Wechselrad"), and jewels.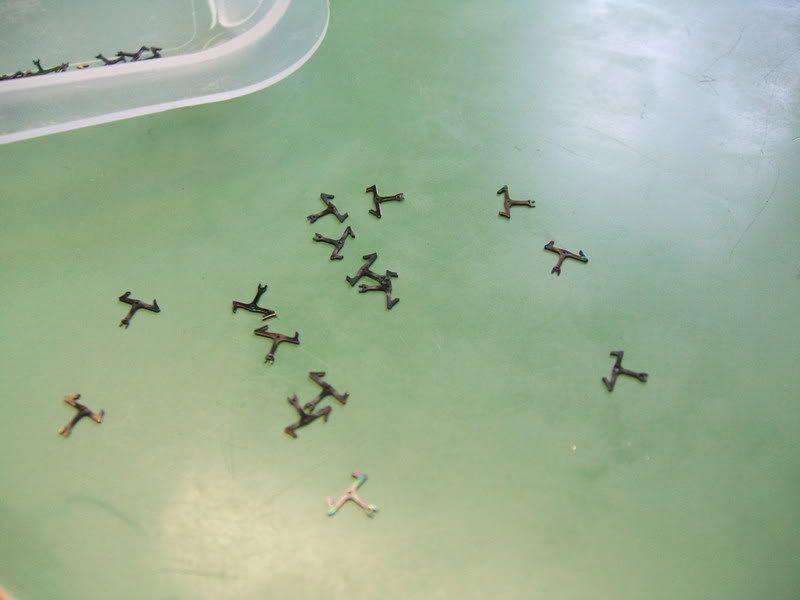 (DLC coated anchors)
For example: To get a minute wheel - like the Valjoux 7750 is fitted with could become problematical. As far as I know there are only two producers of this essential part, without it you have to invent another winding mechanism. That´s why I experimented with a ball-bearing-winding-mechanism. I am not going to produce this mechanism in series but it´s the product of brainstorming as well and shows what´s possible in watchmaking. NOMOS tried it by another construction named "Wippbewegungsgleichrichter"(= "teeter motion rectifier") and a duplex wheel with a loose clutch. The way NOMOS solved the problem is just another approach though.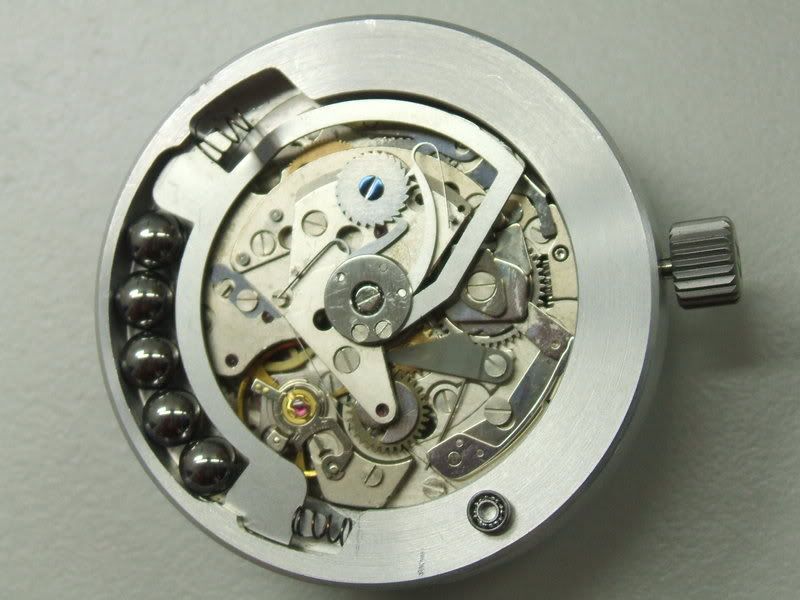 With reference to some of these essential parts "which I call key parts" - I made some progress in the last time. I experimented with a silicon carbide hair spring (balance spring) and it seems that the new spring will work out which would be another step towards an inhouse movement.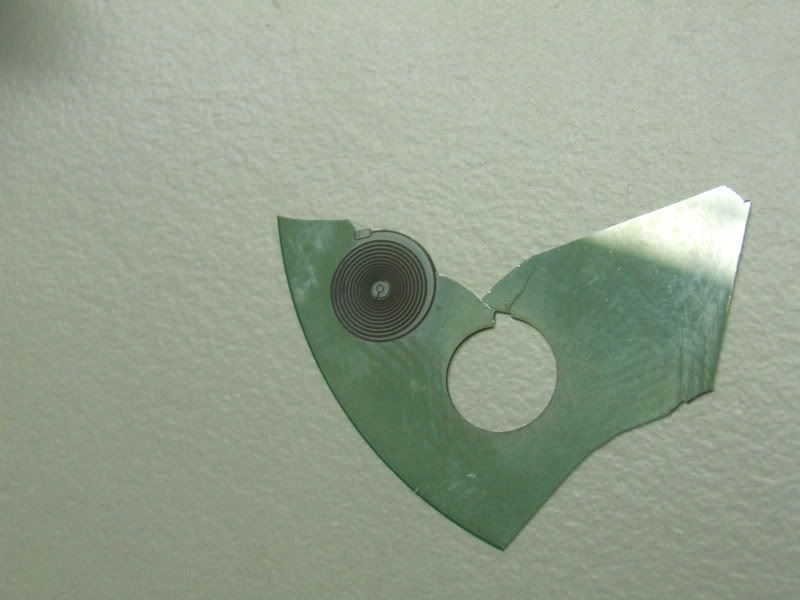 (DAMASKO hairspring)
In my imagination the DAMASKO movement should have the following specifications: 30mm diameter, winding up bi-directional, day-date-indication, fast day-date set up (the Valjoux sets day and date from 11 to 1, the Damasko movement should shift faster), central second or small second at 9, with the possibility of adding a GMT indication or mounting a chrono module. You see, the movement is already ready to be launched but only in my mind.
To summarize: Time will tell if a DAMASKO movement is / can be the solution to the regressive availability of ETA ebauches. The whole situation urges that this decision has to be made very soon, I think in the next two, three month.
WUS:
You already mentioned that Damasko is a family runed enterprise. Are the output figures a secret ?
KD:
No it´s not really a secret. The output has to be seen under the premise that we want to provide watches representing a technical standard which truly sets our products apart when compared to any similar looking watches. I want our watches not to fail. The missing watchmaker (we are desperately seeking for) is another bar to further and faster proceedings.
But to answer your question: About 1000 watches have left Barbing, so the owners are members of a relatively small club, probably without having known that until now. Furthermore I´d like to mention that all watches have been assembled by me and passed my eyes. So if there´s something wrong with a DAMASKO please blame me.
Today a DA 36 bearing No. 106 on its back will leave Barbing heading for Hohen Neuendorf. (Another smile on Konrad´s face and on mine too).
The next deliveries will go to Korea and the United States
WUS:
What about the DA 46 ?
KD:
Due to the "confirmed" small amount of movements I can´t offer the DA 46 yet. It would be unfair to announce the launch of the DA 46 not having the necessary movements in stock. At present my priority is to fullfill all the orders I already got.
WUS:
Seems like a reasonable plan to me, what about the bracelet then ?
KD:
I am aware of the fact that a lot of customers bought a DC 56, 57 or 66 or a DA 36,37 knowing that a ice-hardened bracelet will be available in the future. And I have to admit that the current situation overrode (all) my plans. The major problem I now have to face is the procurement of movements, otherwise there will be no Damasko watch for a certain time period. So I decided to concentrate on core business which has an existential component
for DAMASKO watches.
WUS:
Thanks for your upfront answers. I know that not every customer will be satisfied but a revealing answer is always better than no anwer. Last question. Any news from EADS ?
KD:
Not at present. The only thing I can tell you is that DAMASKO watches are undergoing a test series at EADS. The watches are tested under under-inflation.
WUS: Thank you very much for the time Mr. Damasko.
The pictorial
First of all I´d like to show you some pics of the machinery: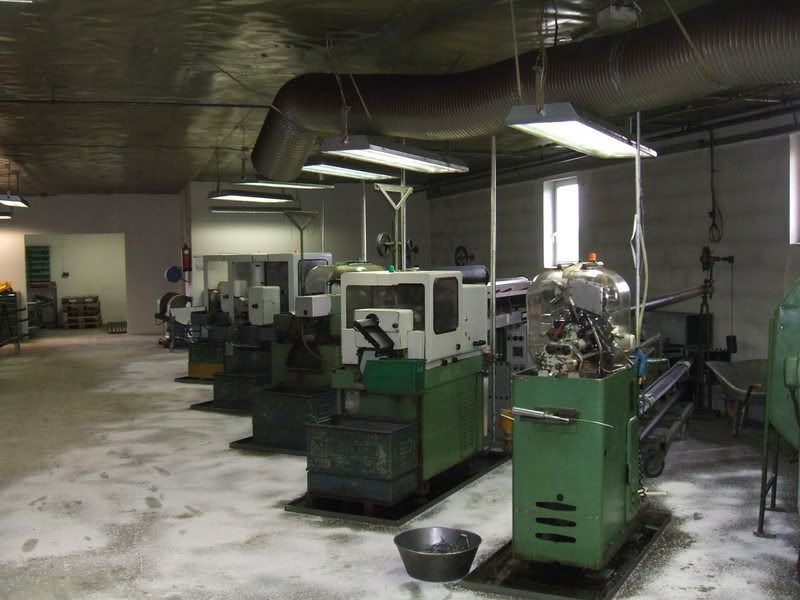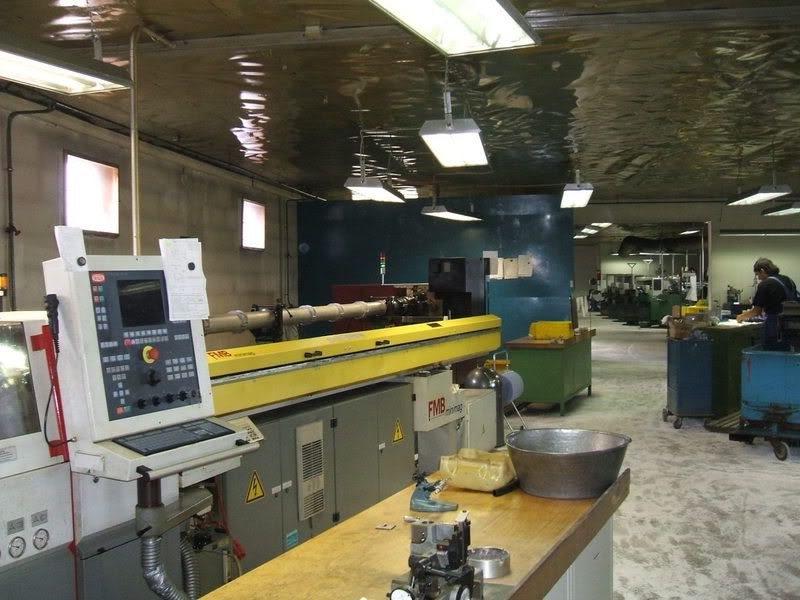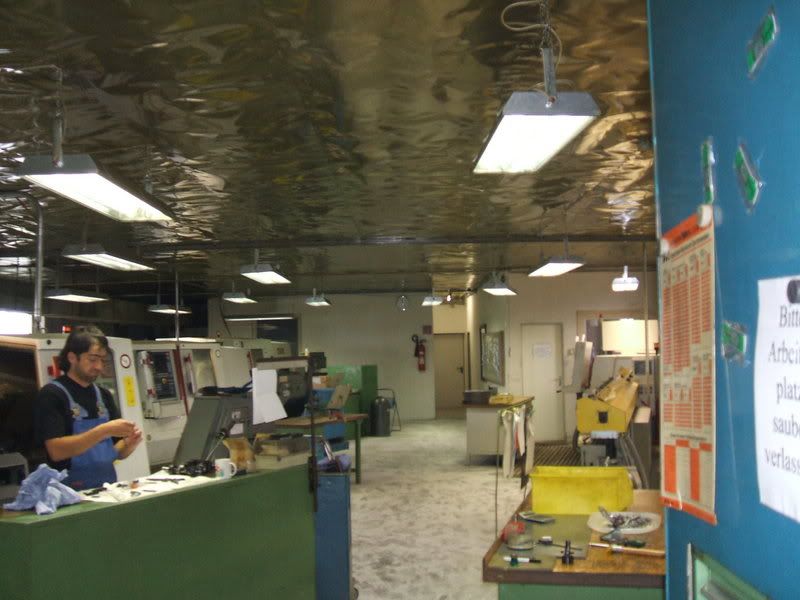 Some pics to illustrate the case genesis from a steel rod (as we now know: 1.41.08) to a watch: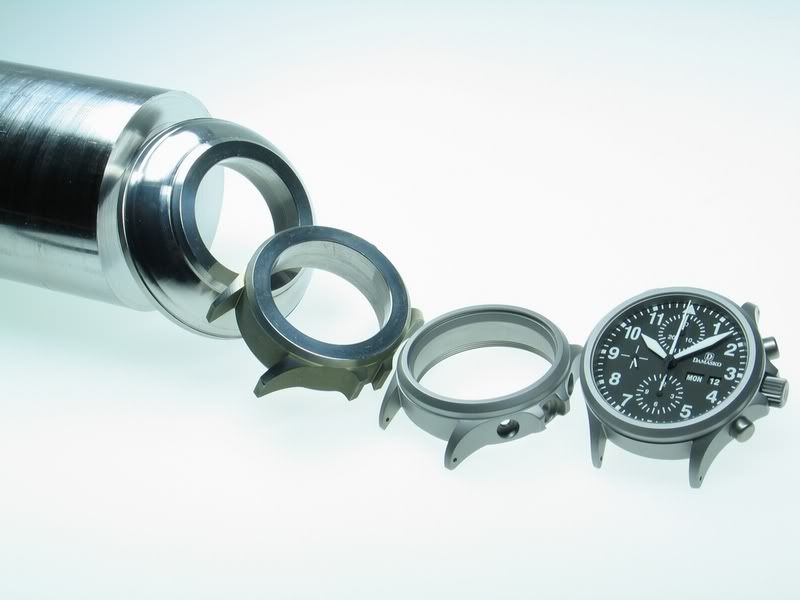 Rods for cases, case backs, crowns and pushers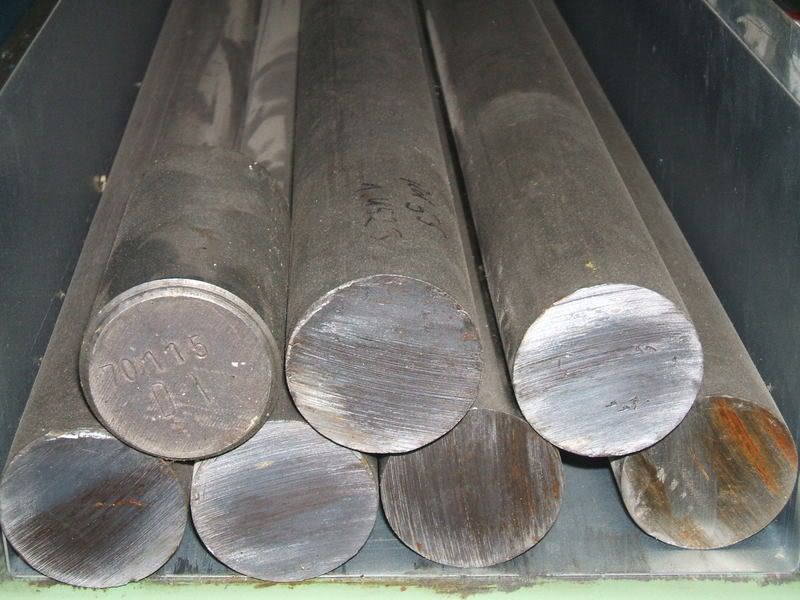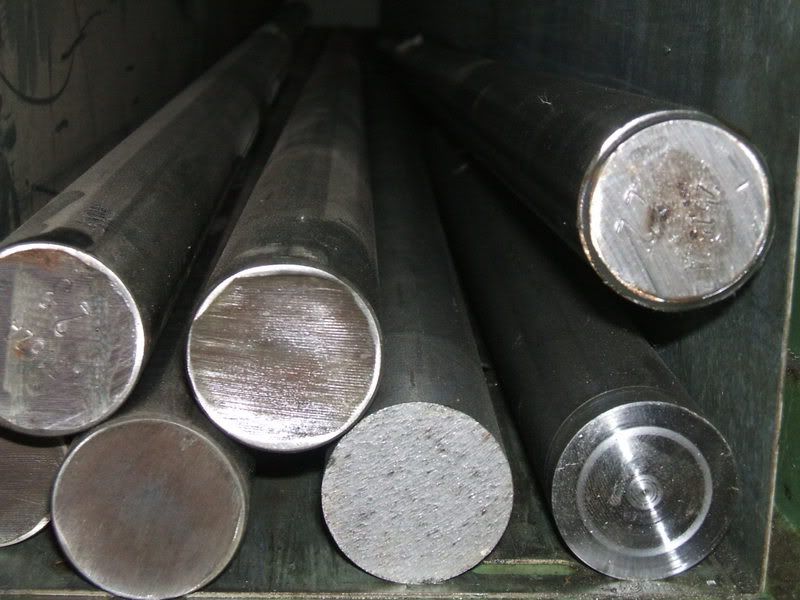 CNC-cutting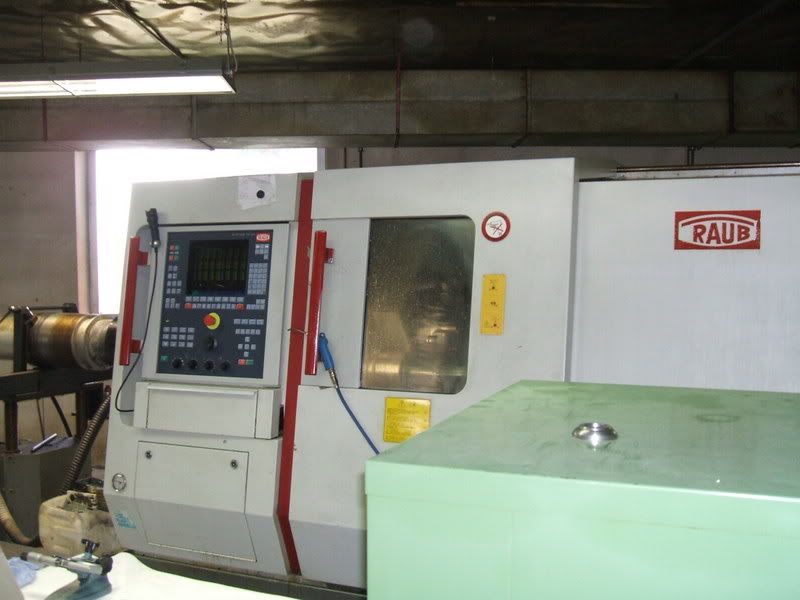 Steel blanks cutted out of the rod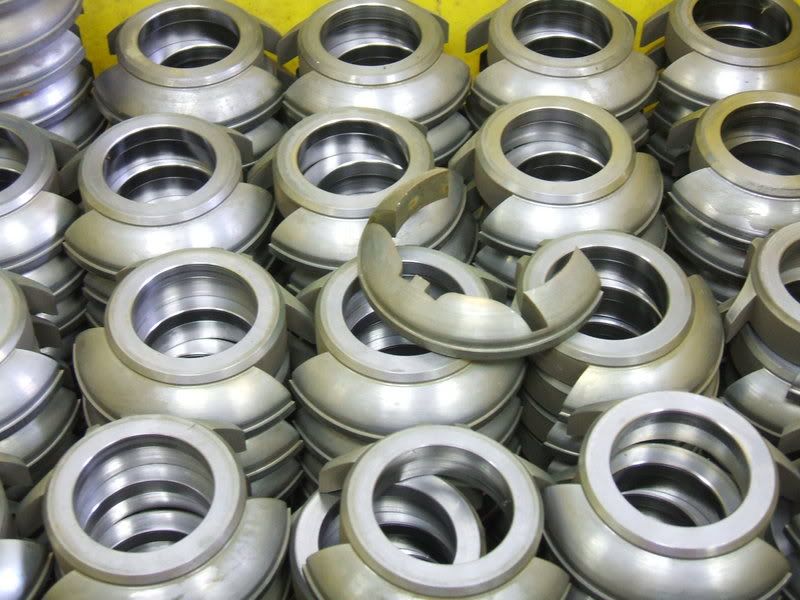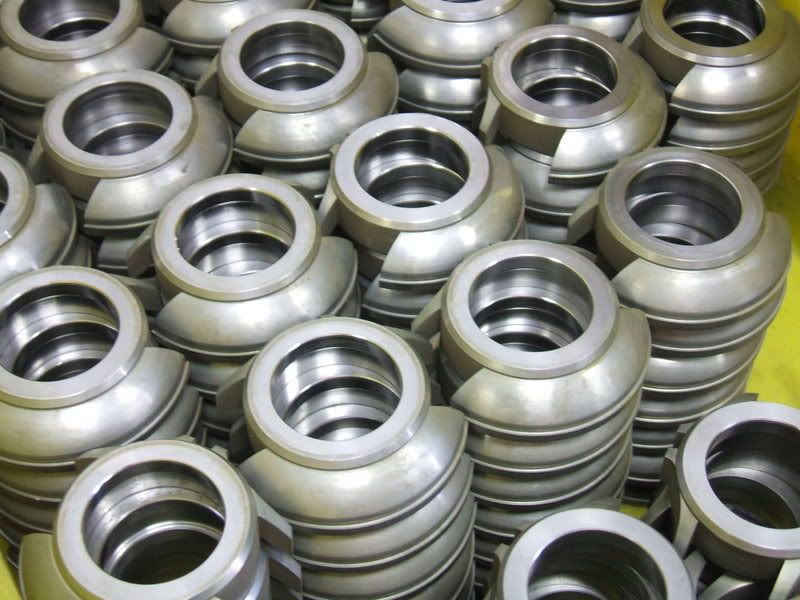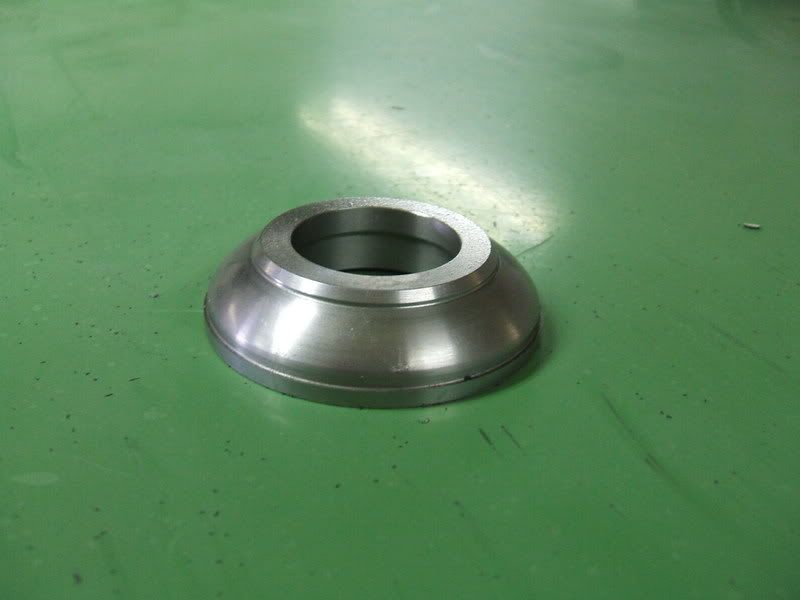 Cases cutted out of the steel blanks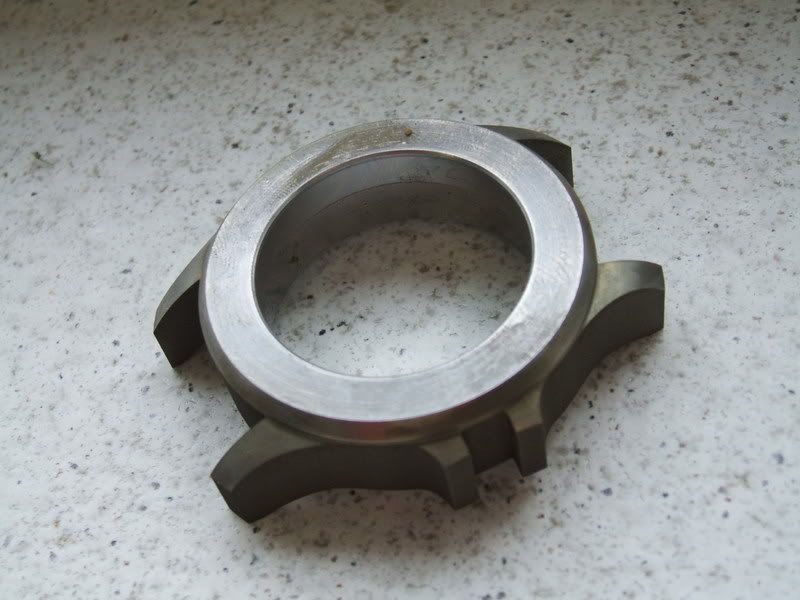 EDM-processing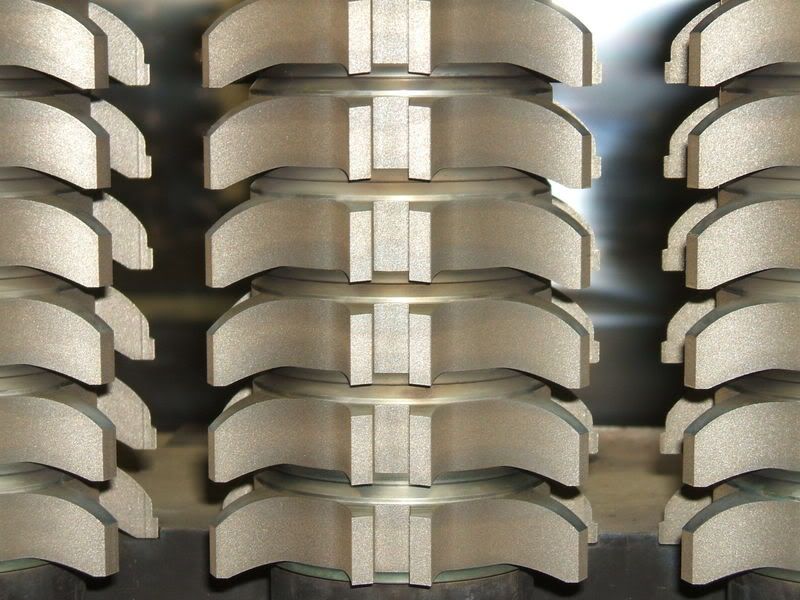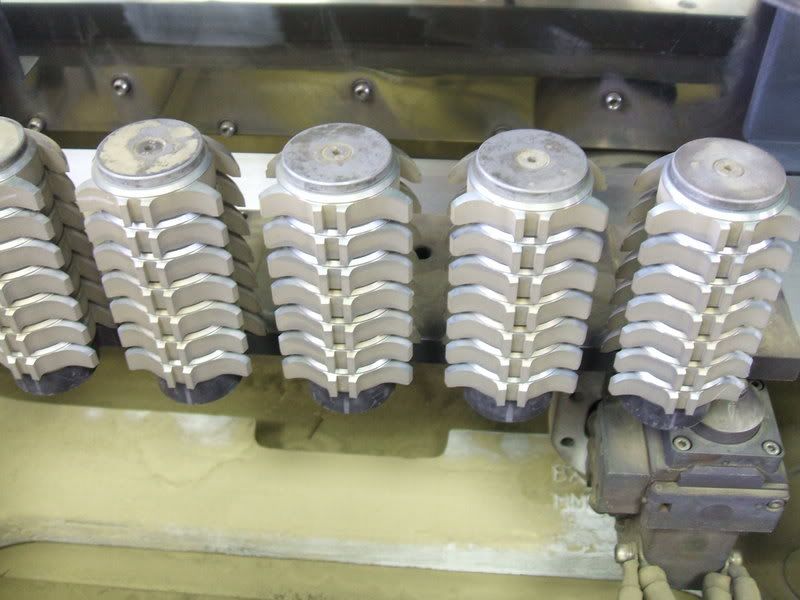 Polishing (stone wash, pearl blasting (with very small pearls of glas)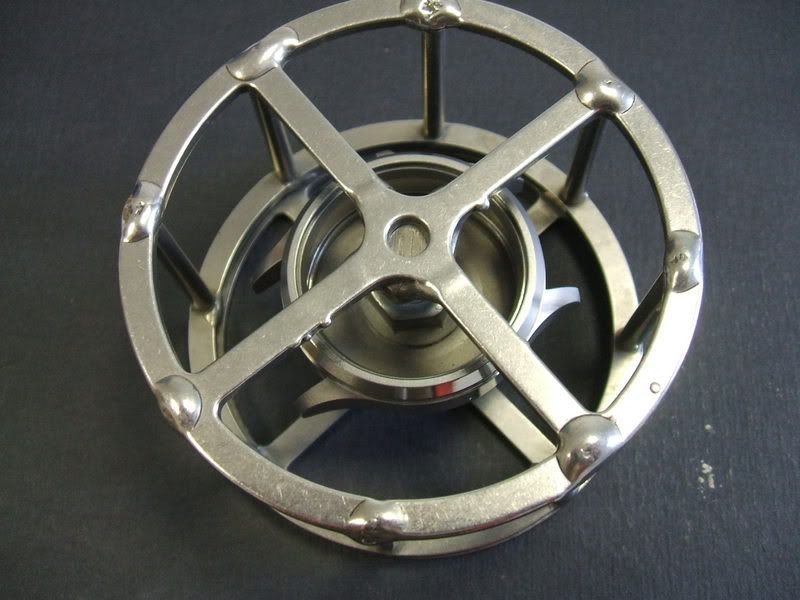 (case constructed by Damasko for the stone wash process)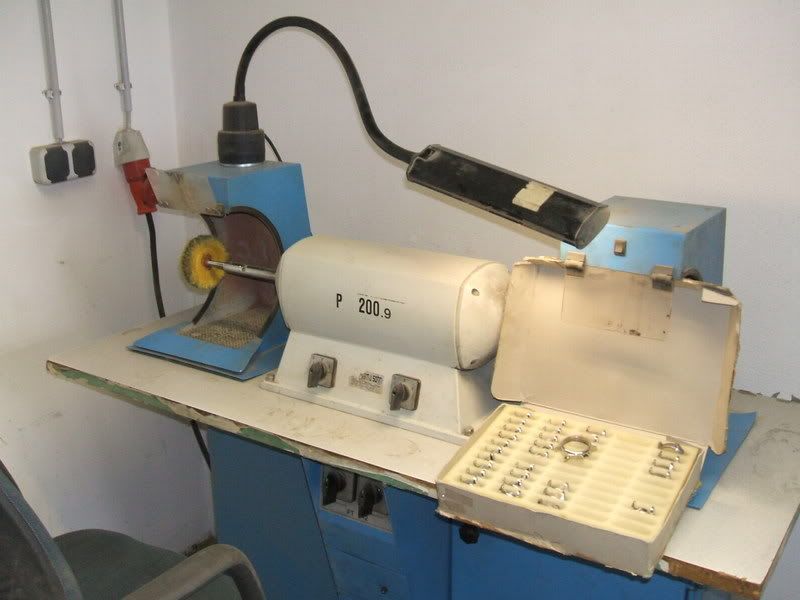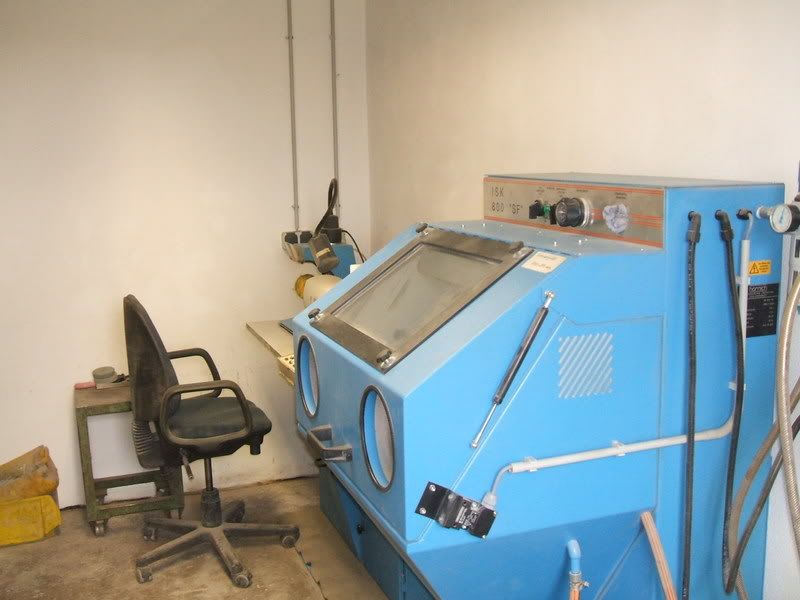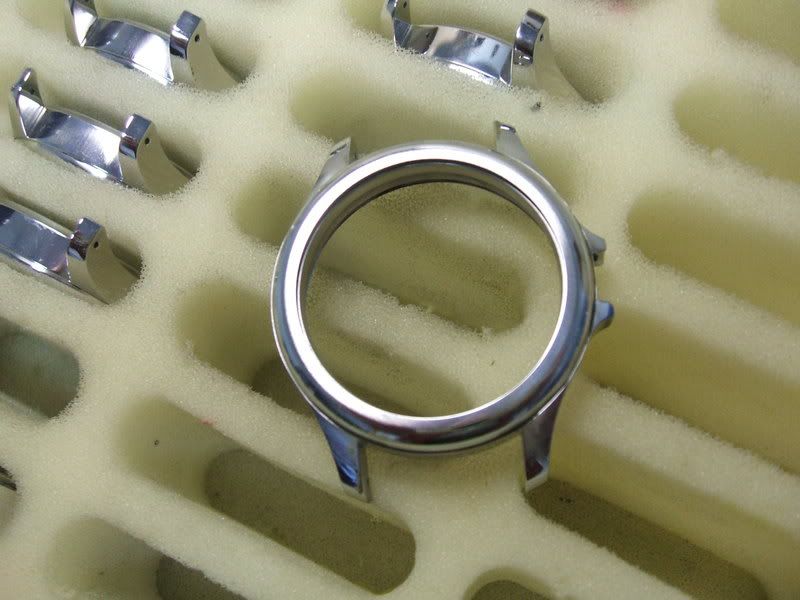 The heating process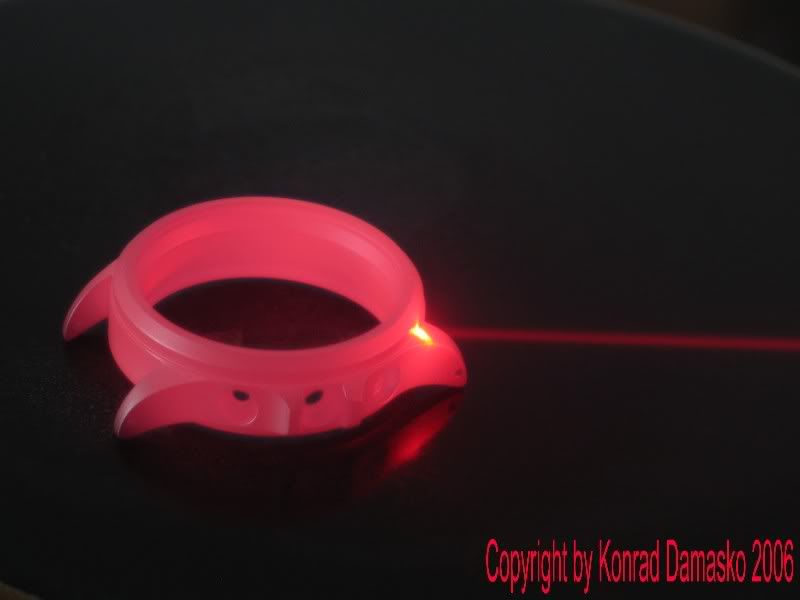 Setting the hands
Timing machine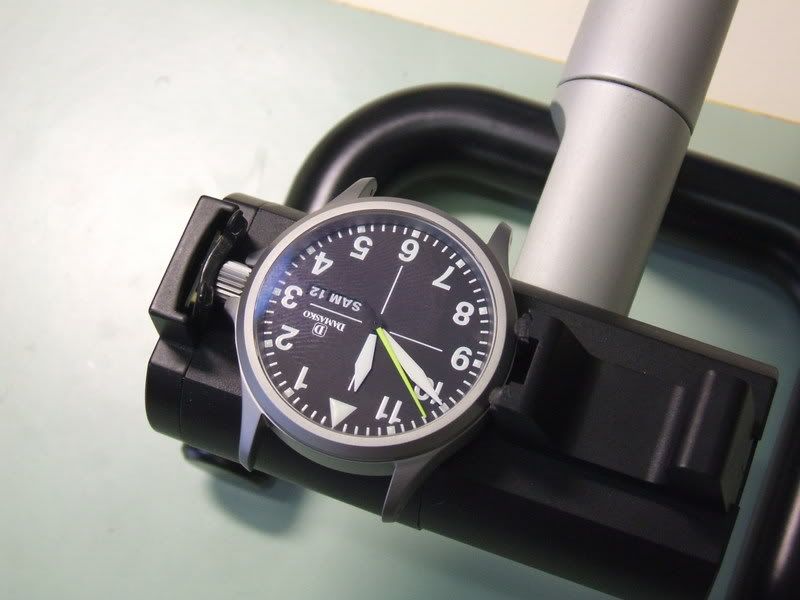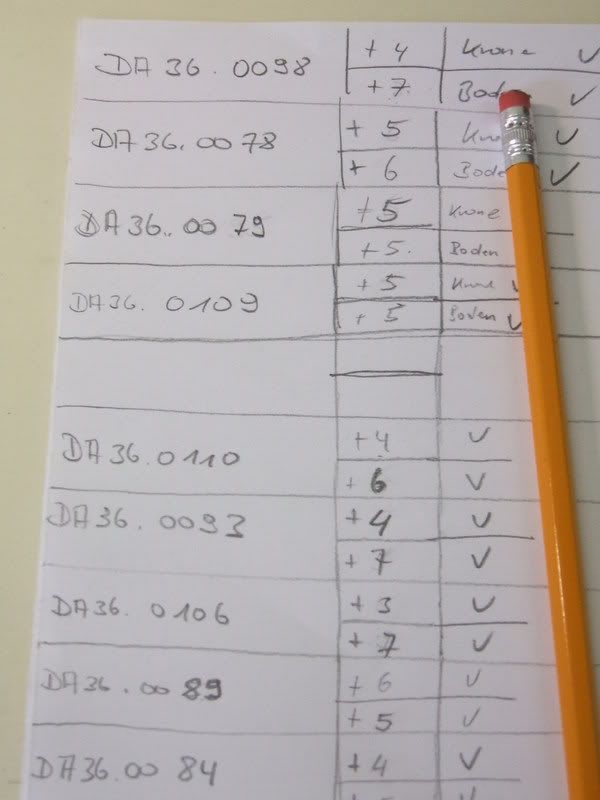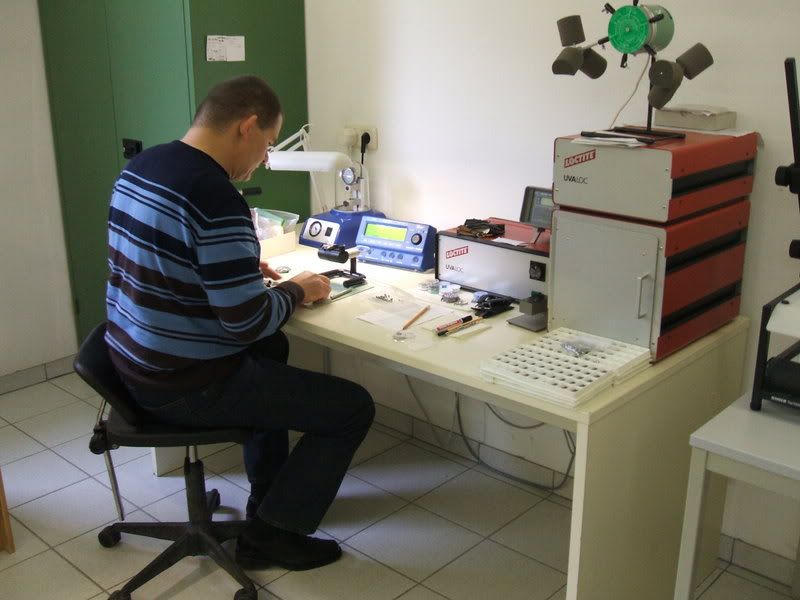 The crown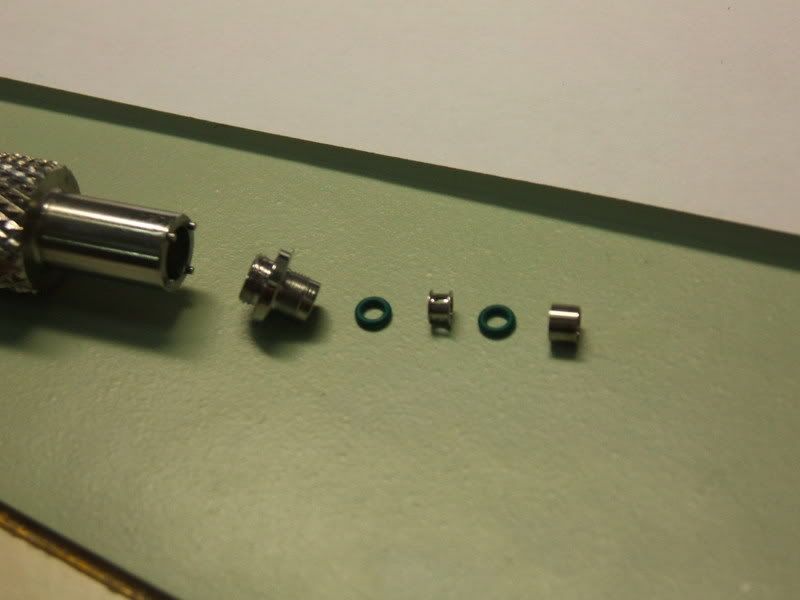 Out of the Damasko archives: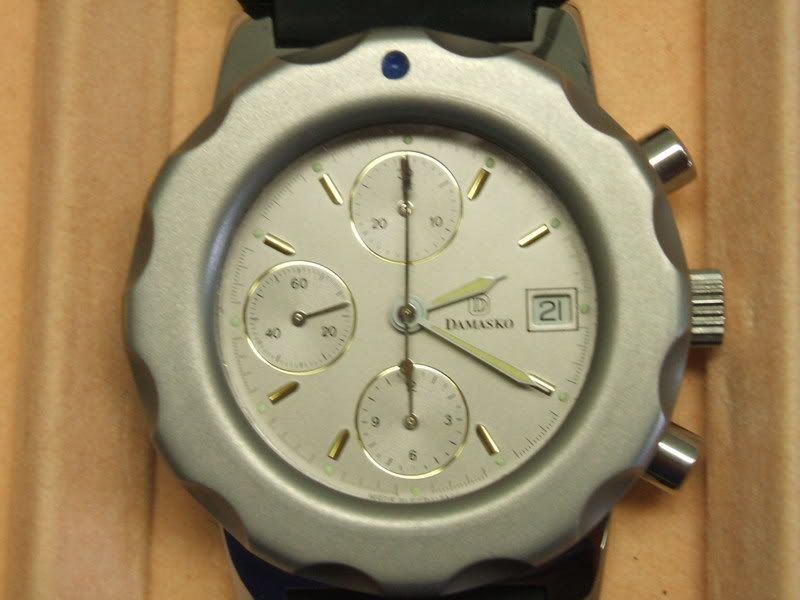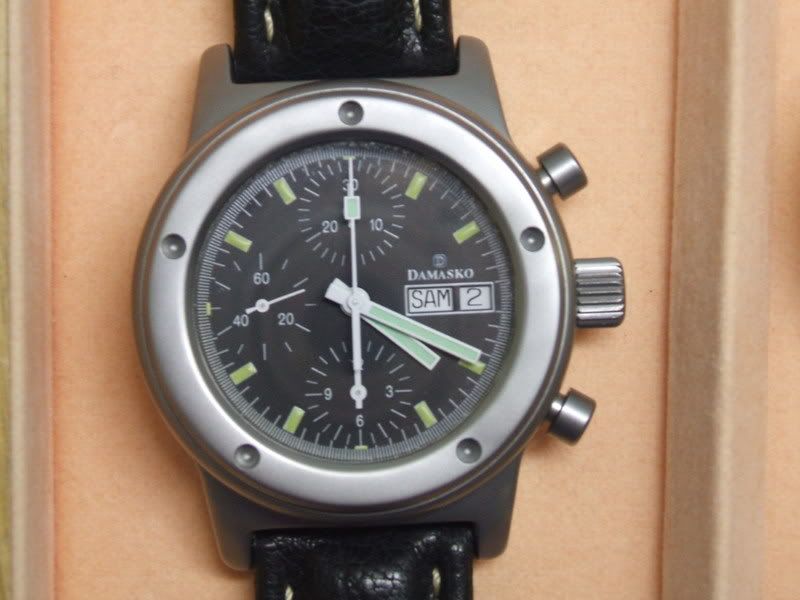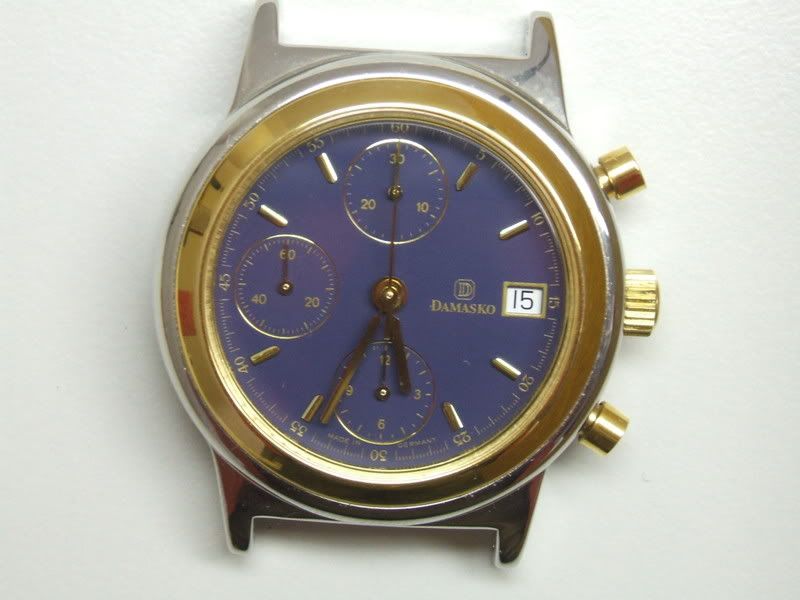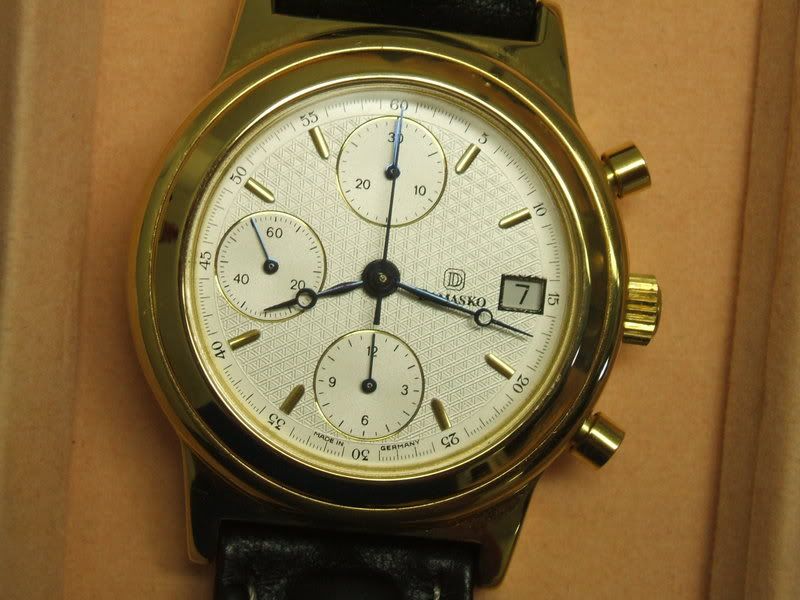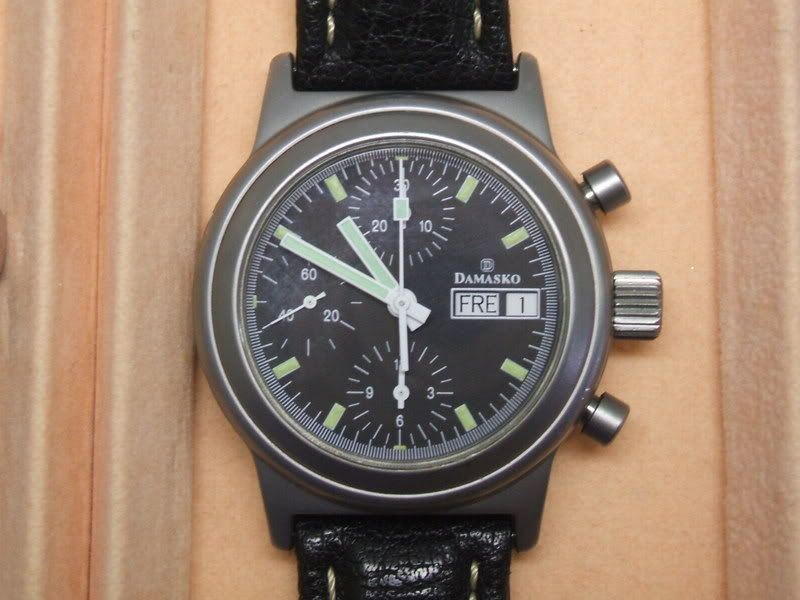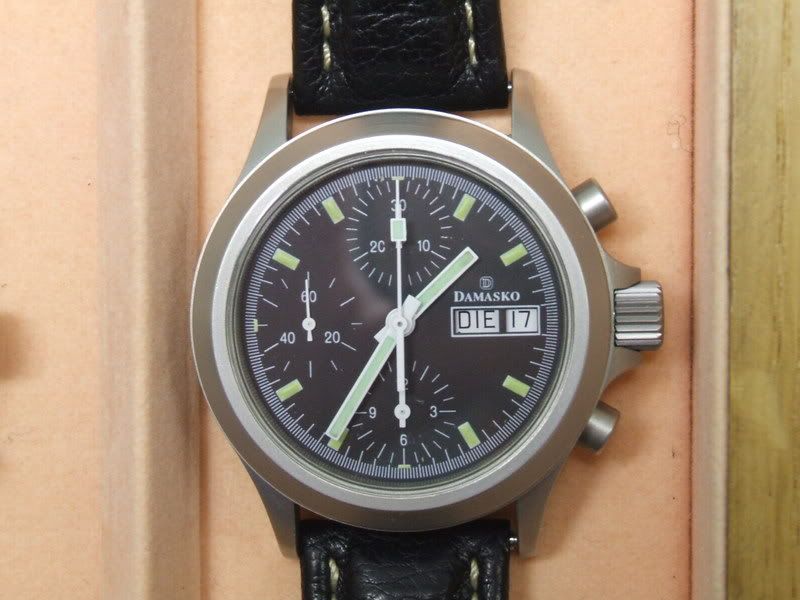 I hope you enjoyed reading. I hope to be back online as soon as possible.