Just received my Orange Watch Company (OWC) Milsub 9411 in blue dial, dark blue bezel, with date, with the ST-1812 movement. I only just received it last night, so I don't have long-term opinions yet. However, I'll give some initial impressions. Some quick specs
40mm diameter
50mm lug to lug
20mm lug width
300m water resist
Unidirectional ceramic 60-click bezel
Flat Sapphire with AR coating on the underside
Screw down crown with crown guards
Comes standard on a bespoke bracelet with interesting Torx screw connections everywhere
Snowflake hands
Date at 4:30
The watch is clearly a high quality timepiece. The fit and finish is superb overall. There are some initial quirks however. This is a dive watch of course, rated to 300m, however the bracelet has a butterfly clasp type opening. I'll post more pictures of this when I'm not at the office
But the clasp is a double butterfly opening without microadjust or diver extension, which I find very odd on a clearly well-engineered and otherwise well thought out dive watch. In my opinion microadjust on this style of watch is a must for a proper fit, and I don't really care about the diver extension, but just a note that there is not one present. The other quirk is the non-standard "spring bars", which are torx-head screw pins. This also proves a bit difficult to remove because (at least for me) it required 2 #6 Torx screwdrivers simultaneously and some serious manual dexterity to actually unscrew and re-screw these in. Because of this design, the lug holes are too big for normal spring bars and therefore we are stuck with using the supplied pins (an extra set was included with the watch). I should note though that these pins are of very high quality and are very thick, so I do think they will be very durable over the long term. I suggest adding some loctite to the threads to be sure they don't unscrew themselves, especially when worn on a NATO etc where some turning could occur daily.
The bracelet is otherwise of very high quality, with the same torx screws holding the solid links and solid end links together securely and tightly with just enough bend and movement for them to be comfortable.
The watch functions as it should with a 60-click unidirectional bezel, which has some play but nothing major and clicks precisely. The AR coating on the sapphire glass is superb. The dial is clean with a simple, but unique, OWC logo at 12 and "300m Automatic" at 6 on two lines. This version has a date window at 4:30 which is a black background with white text, so it blends nicely into the overall watch appearance. The shape also gets lost with the painted on square hour markers. The snowflake hands add an elegance and nostalgic sense to the watch, whereas everything else screams high-end modern dive watch, such as the polished sides, brushed top, curved lugs, and high quality ceramic bezel with lume numerals.
Overall this watch is a great value for the money and I wouldn't hesitate to recommend it to anyone looking for a high quality affordable dive watch.
UPDATE:
Each link in the bracelet can be removed with a torx #6 screwdriver, so it's highly adjustable and non-tapering making them all interchangeable. Also there are two half links included in the bracelet that take the place of most micro-adjusting needing. I would have still preferred a true micro-adjust bracelet, but this makes it able to fit any wrist quite easily. I've also added more pictures of the bracelet, bezel , and caseback for those interested.
Also - the cufflinks only come with the A-10 movement typically, but should check with Dan even then. It was a nice touch he added as a gift for me because of our extremely smooth transaction. Thank you Dan!
Initial pics (more to come tonight):
Quick note - the OWC cufflinks were a special addon and are not typically included as far as I can tell: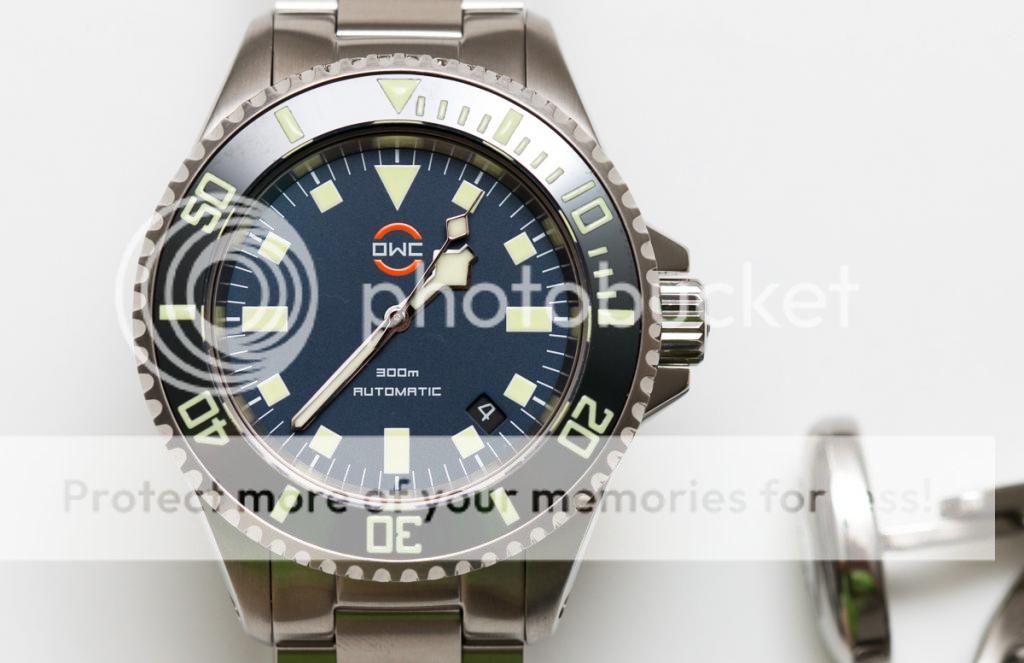 Cheers
Ross
More photos: