Discussion Starter
·
#1
·
Something less serious today, the Parrera Ceramic Day-Date Chrono in white (also available in black). I actually don't think this is a men's watch, but hey, who am I to judge of course.
I never heard of the company, but Ace Jewelers - one of the forum sponsors here - has these watches up for sale in their e-boutique. I got the white one for my wife, who seems to love white ceramic watches. Ever since the Chanel J12, a lot of other brands (low-end to high-end) are willing to ride this wave.
The Parrera comes in a very nice square box with a leather (or trying to be leather) interior and a pillow. First thing you probably need to do is sizing the bracelet, as it comes with a lot of links. The watch is 42mm in diameter, so it is made for almost every type of wrist. I had to remove 7 or 8 links, in order to get it fit to my wife's wrist (who normally wears 36mm watches to the max). Although the watch has a men's diameter, it looks very nice and tough on a woman's wrist. Very oversized. According to my wife, who has worn it for a day now, it is actually quite comfortable for such a large and heavy watch.
If you don't have a tool to drive out the pins from bracelets, please have your watchmaker do it for you, or the store you will buy this watch. If you do have a tool to remove pins, it is very easy. Took me 5 minutes.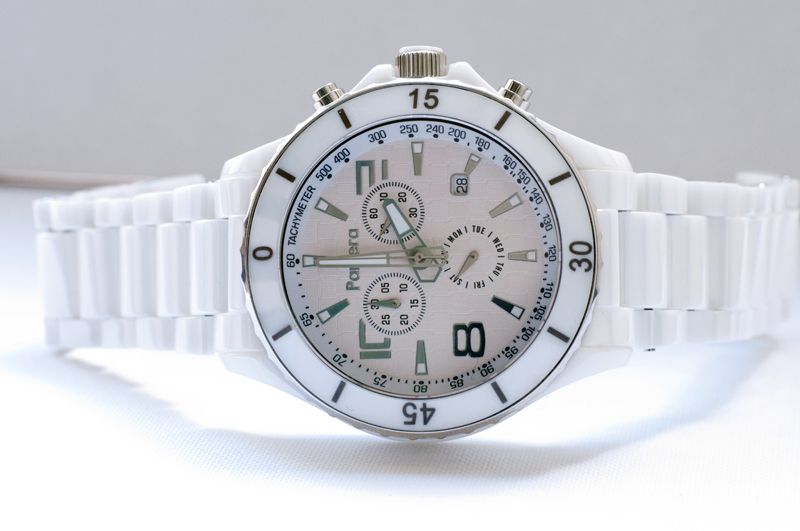 The watch is - as I wrote above - quite heavy, I don't have a scale, but I guess it is almost as heavy as my Rolex Sea-Dweller. The ceramic case and bracelet probably do the trick
As you can see, the bezel is white as well, which makes it a very feminine looking watch. A summer watch, to be more exact. Although it will suit ski or snowboard holidays as well. It is a tough watch, and is water resistant to 50 meters. The quartz driven movement feature a 60 minutes chronograph function, a day (subdial at 6 o'clock) and a date. The bezel is meant for diving, but I don't think you can actually dive with this watch. Swimming should be no problem though.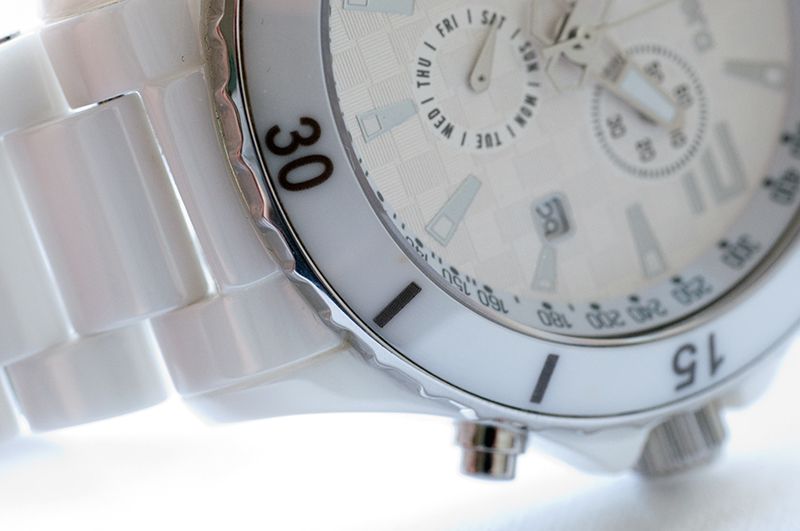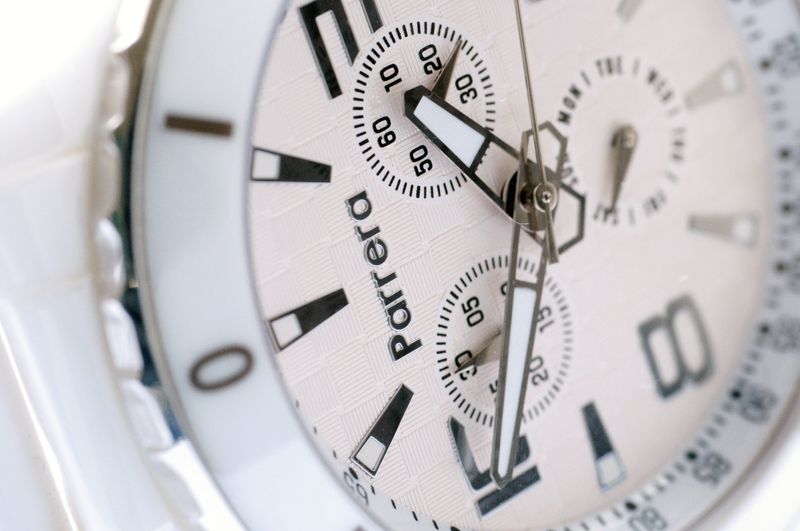 Cool thing about the dial is that it has this cream colour when you glance at it, but further investigations shows that the dial is just white with a pattern in it, which makes it go from white to cream and vice versa when you look at it from different angles.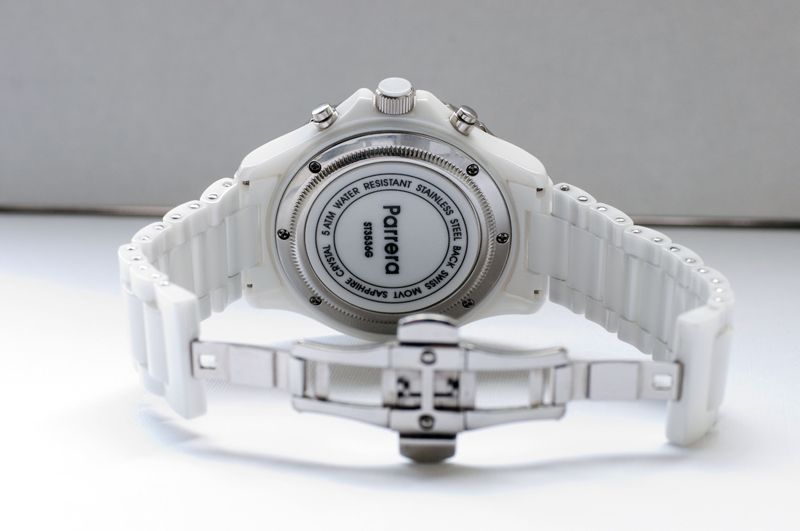 For safety purposes, the Parrera comes with a double folding clasp, holding the watch firmly in place. It works with a pusher to release the bracelet and just click it in place to close it again. The caseback is steel with some sort of ceramic medal on it, telling us that it is a quartz Swiss made movement, water resistant to 50 meters and that it has a sapphire crystal.
Price of this watch makes it a great gift for you girlfriend, wife or for yourself (of course). These watches sell for 250 EU.