And in the absence of facts, myth rushes in, the kudzu of history.
― Stacy Schiff,
Cleopatra: A Life
This isn't really my "wheelhouse" but I recently came across a post attesting inaccurately to the absence of perpetual calendar watches (perp cal; PC) that display seconds. To be sure there are fewer PCs that have second hands than there are simple watches that don't, but they do exist and they are all quite nice. So, below are the ones I know about. If you know of others, by all means, do share.
Patek Philippe 5159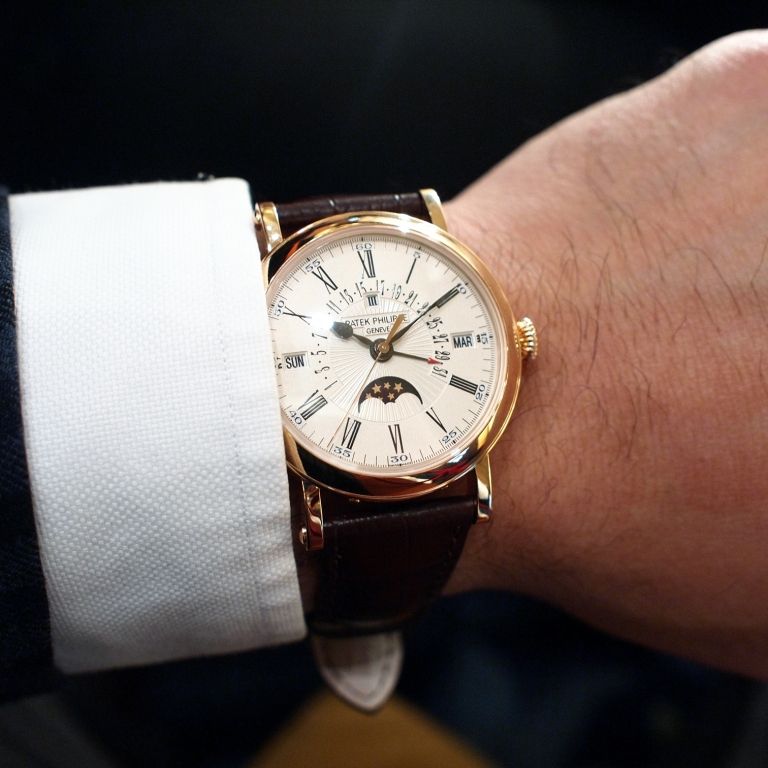 It's offered in gold and in platinum.
And
for those whose taste lean a little to the ornate or Victorian, there's the 5160
...same overall design and movement but with different styling.
They are, of course available new from ADs,
new from GMSes
, and t
hey also pop up on the pre-owned market from time to time
.
Then there's the Patek Philippe 5951 and 5270 -- Perp cal with seconds subdial and chronograph, one a monopusher and one not (a bit more than just perp cal, to be sure, but nonetheless...)
Patek 5270 - seconds subdial
To be sure, PP also offer prep cals that haven't a seconds hand. I can't say why...I know some of them, unlike the ones noted above, beat at 3Hz rather than 4Hz, thus forcing any would be seconds to tick rather than sweep. Maybe PP feel that with all the past hype about sweeping seconds hands, it's best to just do without one???
Vacheron Constantin also offer two perp cals, but like the 5970, they are PC with chrono functionality that puts the seconds register in a nine o'clock subdial.
Glashutte Original, another German maker, also offers the Senator Perpetual with center seconds in several style variations including the sleek and modern looking ceramic one shown first below and the boutique edition shown after that, along with the more conservatively styled variants.
And, of course,
there's the Senator Perpetual from 2001/2002, ref. 39.50.07.07.04 with the GUB 39-50 movement, and limited to 20 pieces
.
This one is just a Senator Perpetual
with
a navigator dial......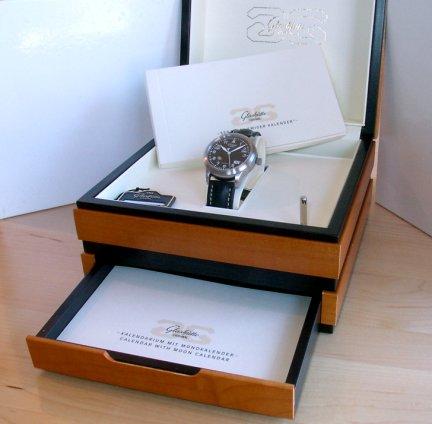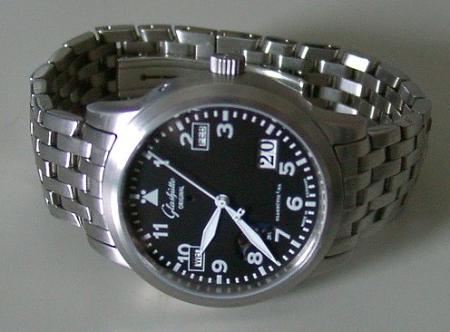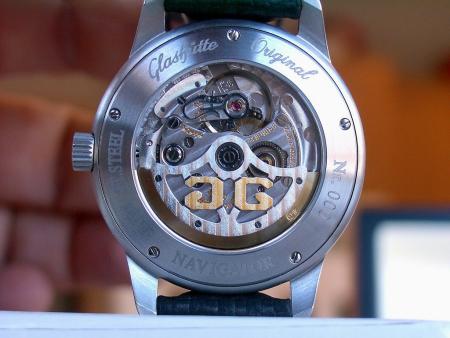 ......as contrasted with the Senator Perpetual Navigator that come near the end of the millennium's first decade that carries the cal. 100-70 inside.
Blancpain Villeret Perpetual Calendar -- The dial shows all time and calendar information, with two subdials having a dual function, the top for months and leap year, the bottom for continuous seconds and moon phase. The simplicity of the watch's appearance is preserved by means of under-lug correctors, four small buttons that are used to adjust date and moon phase indications.
IWC Aquatimer Perpetual Calendar Digital Date-Month -- This sport PC offering is one I'm hard pressed to see being purchased by folks liking the watches above for one reason: it's friggin' huge! After the 55mm Big Pilot IWC made in the 1940s for "you know who's air force," it's the largest watch IWC have ever made.
IWC Portuguese Perpetual Calendar (Ref. 503202) -- This watch from 2012 is a version of the 5032, but with an attractive black dial and an interesting moon-phase at the top, in which the top black disc rotates, revealing the shape of the moon as seen in northern and southern hemispheres. There are three other subdials, the one at 9 o'clock for day and small seconds, at 3 o'clock date and power reserve, month at 6 'clock, and four-digit year in a small window. It comes with a century slide so that a watchmaker can adapt the watch for 2100, 2200, 2300 and 2400. The other two digits operate automatically. It is made in pink gold. I'm not sure whether it's still available from IWC boutiques.
I'm not generally "into" complicated watches, but Nate's sartorial panache makes this watch geek's gizmo come off looking really cool as
he
wears the
watch
, as opposed to it being the other way round. (
Aloe Blacc Interview: Pop Star, Process Nerd, Watch Guy, Friend Of IWC | aBlogtoWatch
)
Here's the century slide, so that of course you won't be put out when 2200 arrives and showing that IWC have anticipated yours and your descendents' needs.
​
And, finally, the watch that inspired this thread, the ALS perp cal.
​
All the best.
If a writer omits something because he does not know it then there is a hole in the story.
― Ernest Hemingway,
Ernest Hemingway: A Literary Reference


P.S./Edit:
Apologies for the plug of sorts for Nate. I'm not given to that sort of thing, but seeing as I posted that IWC with it's lopped off numbers -- a design trait I just hate to no end -- but that manages to look decent to me, assuming the watch he's got on is the one pictured above. (It's hard for me to tell for sure.) All things considered, though I think the slicing of the "12" makes that numeral look like a Hebrew or Arabic character than like an Arabic numeral, overall, it's not awful, certainly not nearly so awful as the lopped off numbers on some of AP's ROOs. The overall smallness and thinness of the IWC digits makes the lopping less obtrusive, at least for me.
- T