Whilst browsing Ebay I cam across this Poljot 17 jewel manual wind watch fitted with a 2614.2. It's a little plain but there is something about silver dial watches that draws me to them and yet I don't have one in my collection! As the price was right I decided to buy!
The watch arrived about 10 days later and seemed to run. The crown had been replaced as had the crystal. The crystal was totally wrong for the watch, tall and square so I decided to replace it with a domed version from cousinsuk.
Taking the back off, it was clear that more work than just a crystal swap would be needed so I decided to service the watch. This was my first full strip down on this type of Poljot movement. The watch was really dirty and it was swimming in oil! I suspect the Ebay seller simply squirted oil into the movement to get it 'working' then put it up on Ebay!
I put the watch on the timer afterwards and was pleasantly surprised to see a clean paper trace in all positions, I managed to get the beat error down to 0.4ms or so with a rate of +8 to +16 seconds, not too bad and perfectly acceptable!
Here's some pics of the build up and casing.
Even though the watch is 35mm the dial makes it look bigger than it is with a narrow bezel, also it is just 9mm thick so it slides under shirt sleeves easily.
When I started to take things apart the areas marked where swimming pools of oil!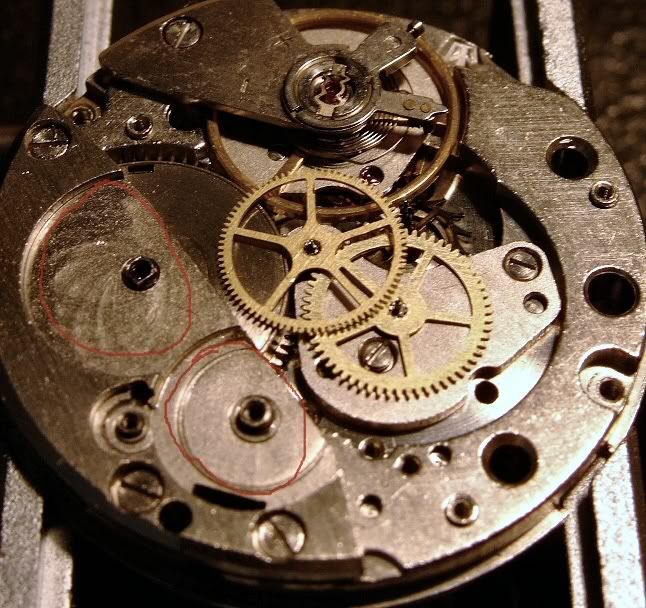 Two pics of the keylesworks, dirty and covered in oil!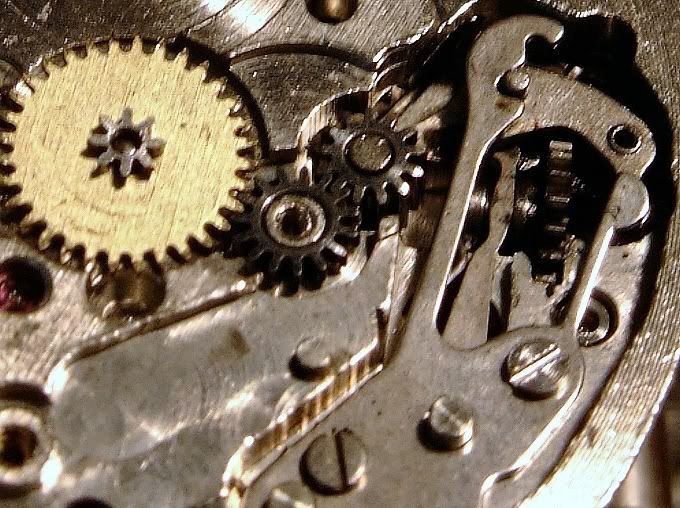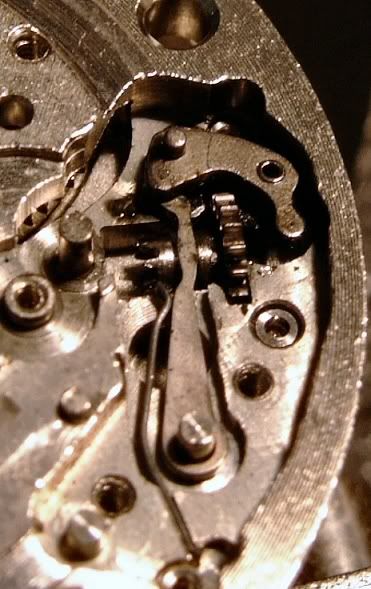 I took the main spring apart, it was dry and full of gummed up oil…I thought about trying to find a replacement but decided to just clean and reassemble this time.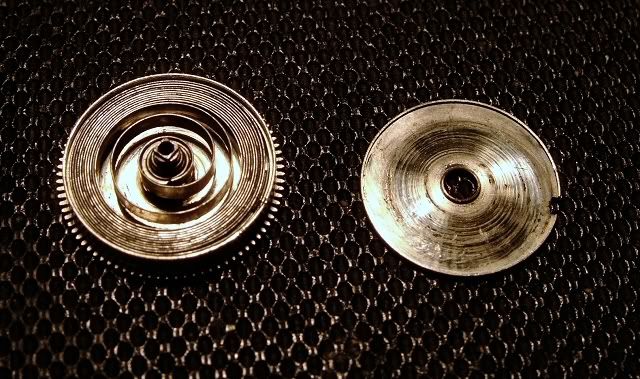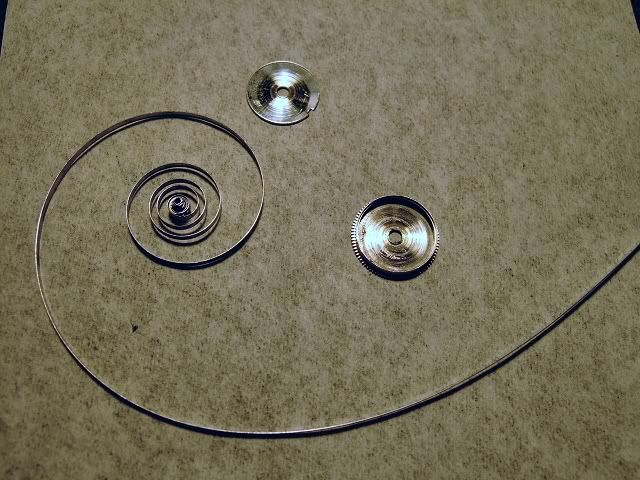 This is the balance wheel prior to re-assembly. The balance spring needed adjustment as the coils where not concentric, so I had to tweak the spring at the 'knee' to get the coils in the correct position…very delicate and tricky!
Starting the re-assembly with proper oiling! The balance jewels where in good order.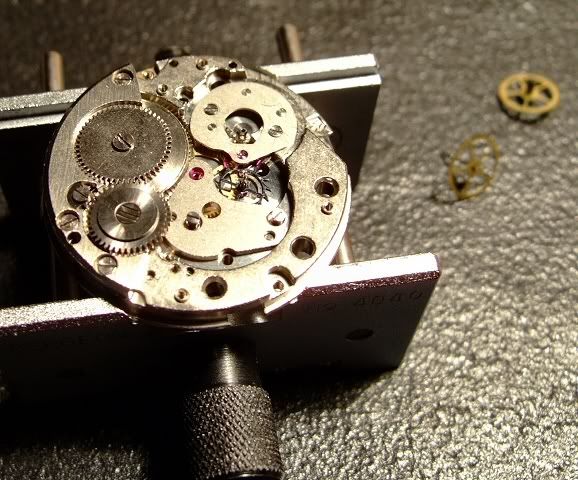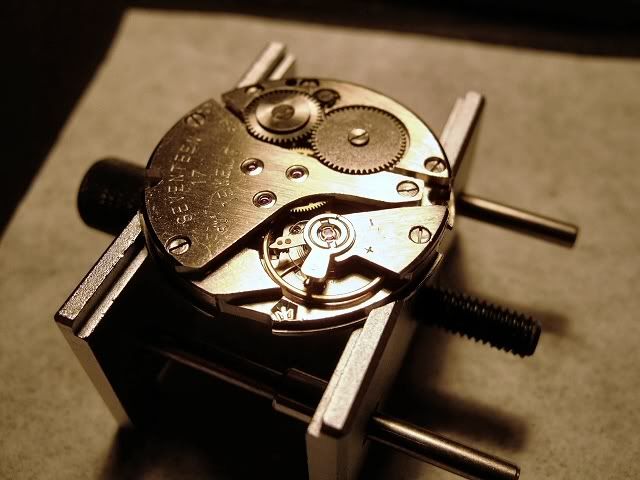 Dial side and date change mechanism. I love watching the date change on these Poljot movements, the Parrot lever seen in the first pic head butts the date wheel to flick it round! The way it has been engineering is very clever, perhaps I should make a video of it!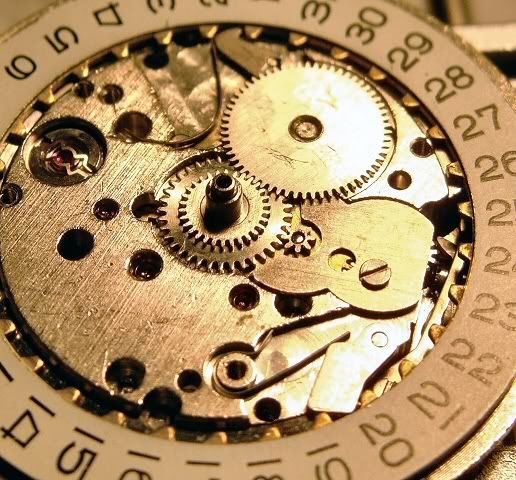 Here are the case parts. The movement is loaded from the front of the case, I've already replaced the crystal and I found a replacement crown from an old Poljot Stadium watch.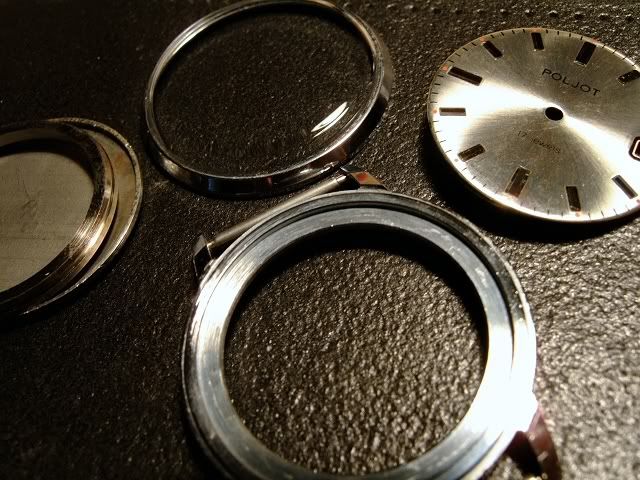 Back together and needing a strap…
Finished and very happy!