Discussion Starter
·
#1
·
WUS MEMBER DISCOUNTS…discount code on my site for month of May - use code
WUS10MAY
Premium Genuine Alligator Straps by:
Atelier Du Bracelet Parisien – A.B.P
Camille Fournet
Di-Modell
Noble House
Hirsch
Hadley Roma
Check my site for the full collection
A nice collection of the premium alligators available in today's market on my site + here's a little primer on alligator skins.
If you have any questions you can email me at
[email protected]
(also my paypal i.d. for direct payments), or my website
Freda Watch Straps - Watch Straps by Di-Modell, Hirsch, Hadley Roma, Camille Fournet, ABP
.
Alligator 101
Alligator straps vary in price, so I thought I'd give a brief explanation of how the straps are cut and they effect on prices. Below is a picture of an alligator belly, the source of alligator strap leather. You'll notice in the center of the skin the scales are much wider than the outer edges. This is where the premium cuts of alligator come from and are often referred to as "center cut", "large scale", "vertical" or "bamboo style" scale patterns. Depending on the lug width of the straps being prepared you only get 6-8 alligator bands out of this center section for every skin you purchase. The rest of the skin is what makes up the small scale and exotic grain straps. Using vertical cuts reduces the yield of every skin a manufacturer buys, they don't get as many straps out of each alligator skin they purchase.
Alternatively, some manufacturers use a horizontal cut from the alligator belly, this gets a better yield per skin, but the cuts are a mixed variety, more exotic style grain.
Below is a nice collection of square grain alligators, some of the best in the industry.
Atelier Du Bracelet Parisien – A.B.P. Genuine Square Grain Alligator – Matching Stitch
Hand made in France and an absolutely beautiful strap, large grain alligator, made for your precious or most beloved watch…. MSRP ???? Forum Price $377
Lengths are all 75x115, measurements below are Lug x buckle x thickness at lugs.
20 x 18 x 4.5 in Black, Brown, Tan
22 x 18 x 5.0 in Black , Brown
Camille Fournet
Forum Price $204.00) Luxurious genuine matte square grain alligator, made in France. Padding increases by size to accommodate larger watches. Customs available and more styles on order.
Currently in stock
Sizes/(Padding): 18x16 (3.5), 19x16 (4.0) 20x16 (4.0), 20x18 (4.5), 22x18 (5.0mm)
Colors: Black, Brown, Gold Brown
Lengths: 75x115
Noble House Stirling
MSRP = $302.00 (forum price $252.00) New Genuine Alligator with genuine alligator lining. Limited supply in 20x18 (78x115) & 22x18 (80x120) in black and brown, matte finish. Perfect square grain cuts, loop anchor and 6.2mm thick at the lugs. This is one of Di-Modell's best.
Viscount, Genuine Alligator
– 100m waterproof genuine alligator, the first of its kind in the world. UPPER: Louisiana alligator specially tanned W-R, Lining Oysterglove Supersoft. US List price $399.00, Forum Price $359.00
Available Lengths: L=80x120
"L" Series: Lug Width x Buckle Width x Thickness
18 x 16 x 5.6: Black, Brown, Gold Brown, Blue, Red
19 x 18 x 5.9: Black, Brown, Gold Brown, Blue, Red
20 x 18 x 6.2: Black, Brown, Gold Brown, Blue, Red
21 x 18 x 6.5: Black, Brown, Gold Brown, Blue, Red
22 x 20 x 6.8: Black, Brown, Gold Brown, Blue, Red
24 x 22 x 7.2: Black, Brown, Gold Brown, Blue, Red
<b><u>Hadley Roma Genuine Alligator Vintage Collection 2017-Matte Stitched or 2009 – Glossy Unstitched</b></u> Medium/light pad matte Genuine Louisiana Alligator. Colors: Black, Chestnut & Brown. MSRP $179.95 Forum Price <b>$152.95<b>
Widths (lug/buckle): 16x14, 17x14, 18x14, 19x14, 20x16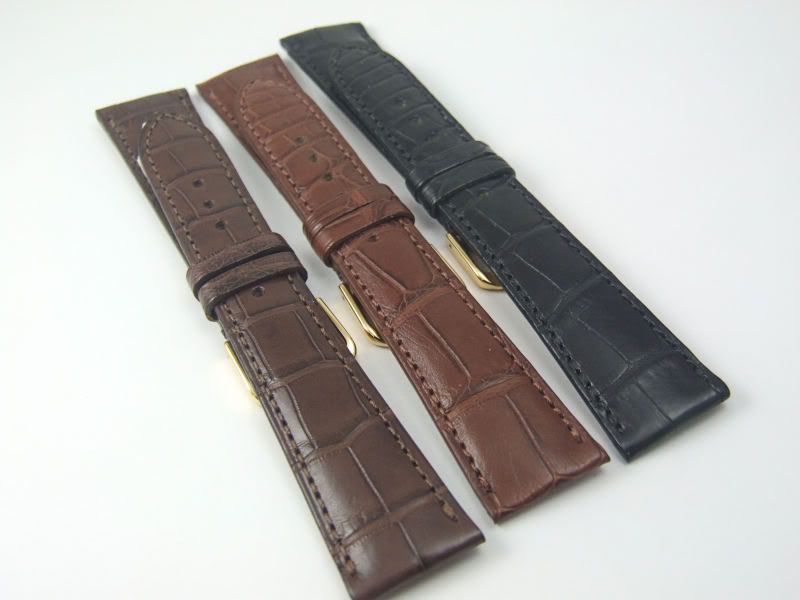 Return Policy – Returns allowed as long as the following conditions are met (non warranty returns):
1. straps can not be worn or tried on (it puts a bend in the strap and can't be sold as new)
2. tags still attached and packaging intact
3. must be exactly as sold.
Please take all measurements before attempting to mount the strap.
Shipping Charges
Inside the U.S. -
Order over $39.95 are free 1st class with delivery confirmation.
1st Class with delivery confirmation……..……$2.00
Need insurance?.........................................Add $1.00 per $100 coverage.
Need Signature Confirmation ………………+ $2.00
Priority Small Package (smaller mailboxes)…..$6.50
Express Mail Flat Rate………………………..$19.95(includes $100 in insurance)
Outside the U.S
Airmail, no insurance or tracking……………...$6.25 See Comments Below***
Airmail + Registered with $43.73 insurance…...$21.00 (add'l insurance $1.00 per $100)
Priority 4-6 days, no insurance or tracking…….$24.00 See Comments Below***
Global Express w $100 ins. & tracking………..$45.00
Important notes/terms of sale
The postal system around the world generally does an outstanding job; my experience has been a worldwide delivery rate over 99%. I provide (reasonable) evidence of shipment.
***If you are concerned about in transit loss, please select a secured or insured method as the terms are FOB shipping point, seller is not responsible.
Items insured must have a visible declared value equal to the amount of insurance coverage.
Please contact or paypal me at
[email protected]
. Thanks for looking.
Thanks, Kenny
Note: this post supersedes any prior posts or offers.