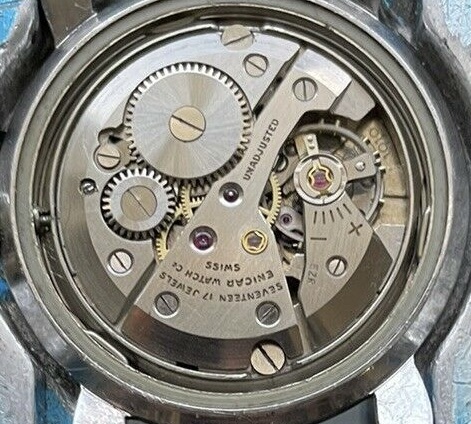 Selling my Vintage HEALTHWAYS Diver from October 1955...
I have actively collected Enicar Early Divers for a few years...They represent a very innovative and unusual design to achieve a Water resistant rating of 600 feet or 100 fathoms..Considering this was back in the 50's when most divers were rated at less than half that depth.
It has been in my Collection for some time..
.....................as I have 2 MORE Healthways 100 Fathom..... I am Selling this one.... as Shown in Photos..
Case and Back are in GOOD Condition..Shows Scratches but has Clearly engraved Back showing ALL CORRECT Numbers..
CORRECT ORIGINAL RARE LARGE Enicar Dive Crown....NOT Cross Hatched !!!
CORRECT AR1010 Movement Runs VERY Well and Keeps GOOD Time.....Serviced by Watchmaker 1 month ago....
Dial shows Aging but is ALL ORIGINAL..
I Left the Hour and Minute Hands alone as Matching to the Dial was too difficult...
Selling this Watch on a Leather Strap for $975 SOLD
Funds WIRED ...For Other Methods or
For More Info or Communications
............ Msg. Via this Site, Email me at
[email protected]
or call/Text.. 509 998 2640
I have Numerous References and Dealing having been Involved with watches for over 40 Years..
Thank you
Dale Arnold