Discussion Starter
·
#1
·
Hello again. My STW-1000 arrived earlier this week, and I've formed initial impressions. Quick recap: I like the watch – a lot. It "wears" a little larger than I expected, principally because the TV-shaped glass display, and the primary digits therein, are a fair amount bigger than what we're used to on a traditional "square" G. At the same time, it has a more aerodynamic, flat, shape that's less ridged and boxy than the classic G; its lower, plateau-shaped profile fits sleekly under a shirt cuff. So all-in, I think it wears more unobtrusively than the G. Approximate dimensions of the bezel are 40mm wide by 35mm tall, and including the buttons the watch is about 45mm wide.
Please pardon my glare-filled photos, which offer a comparison to the Casio GW-5000. The pics already posted by "Gordon" in his review above are better, so you may want to scroll up and refer to his pics as well as you read the below.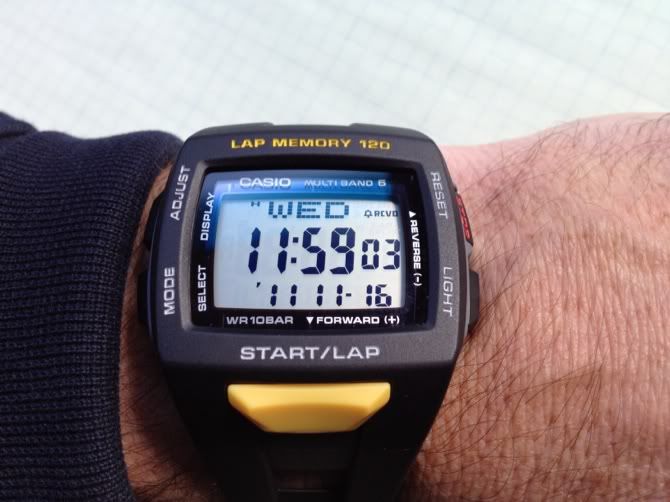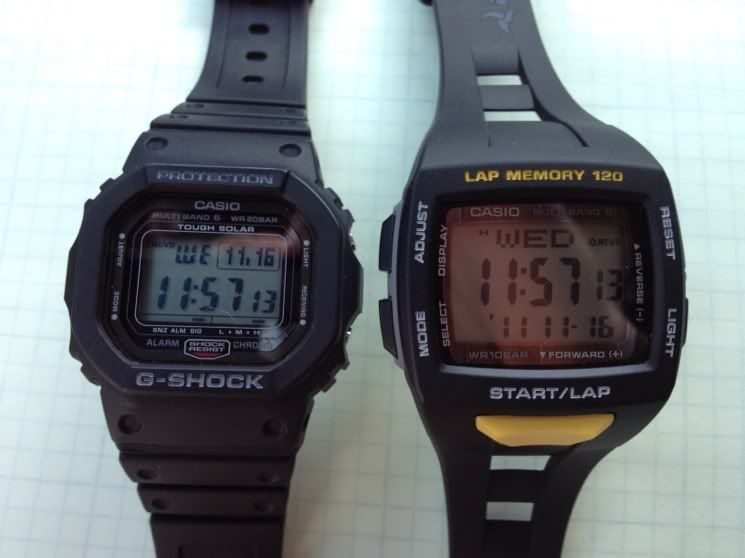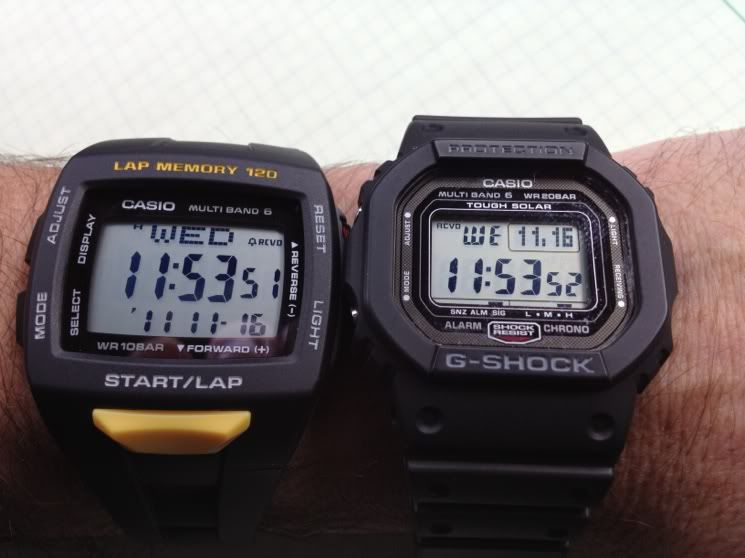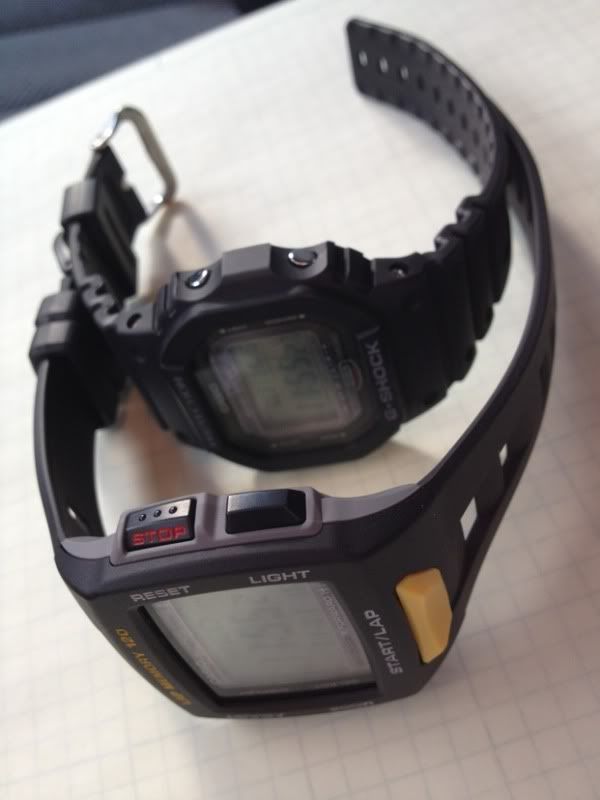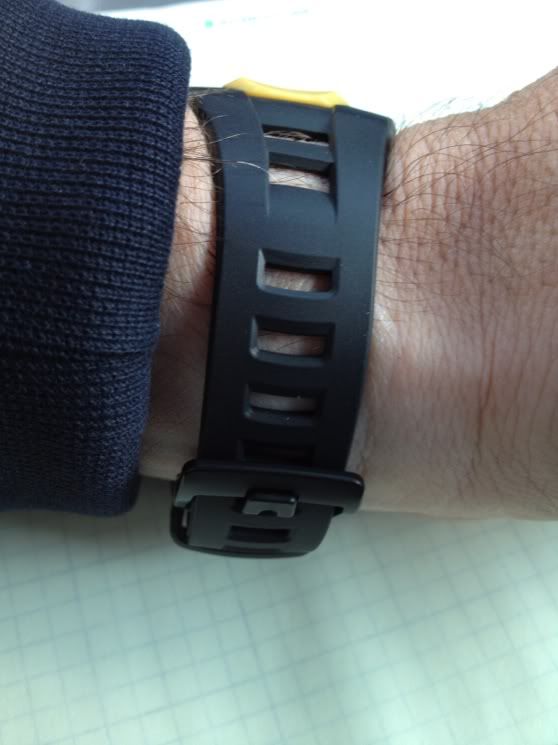 Likes, in comparison to my GW-5000:
Low profile ride height and a smooth flowing shape. Integration of the case into the strap is very nicely done. The seam is almost imperceptible.
Extremely light weight and super comfortable. Nice, soft & supple, ventilated strap. The watch feels even lighter than a GW-M5600. But it is of obvious quality; it's not plasticky. It is crafted of a dense yet lightweight resin, and therefore its low mass is achieved without resulting in a cheap "timexey" feeling to the watch.
Excellent legibility due to the new, larger digits and a vivid, contrasty display. The primary digits are about 7mm tall, versus about 5mm on the GW-5000.
Modes and "screen flow" are typical G: in other words, well thought out. The features are powerful and useful, yet perfectly intuitive for an already-experienced Casio user. Again, refer to the the pics already posted above by "Gordon".
There is a new "REC" mode right after the stopwatch mode that stores and recalls timed events by date and shows "best" lap times, etc. I haven't taken the time to really try that one out yet and see how useful it will be.
Configurable display. Easy and quick to change the fields that are displayed within each mode using the "adjust" button.
Shows current time (including ticking seconds) in all modes. Hurray!
I like the 5-button format with dedicated "Start/Lap" and "Stop" buttons, versus the 4-button format I've been used to.
Ease of button pushing. One thing that is a drawback of the heavily armored "square" G-Shock is that their buttons are so deeply recessed that they can be hard to press. Often I have to use my fingernails, and if they're greasy (e.g. when timing my BBQ grill) then fuggettaboutit. On the STW, the buttons are refreshingly easy to access and push, and their action is silky smooth. Much easier.
LOVE IT that in World Time mode, the STW has a "UTC" timezone in addition to "LON", because London goes on DST in the summer. (The GW-5000 has both zones too, but many Casios just have LON).
The STW's display glass is recessed below the bezel, so it should be reasonably well protected.
The illumination is now via LED, versus electroluminesence. The LEDs light up the screen with a vibrant bluish-white that's remarkably bright, clear, and striking. I like that you can select either a 1.5 or 3 second illumination length. It does have auto illumination also, as expected. Well done, Casio.
The watch came with cool JDM packaging, tags, etc. The manual is in Japanese-only (so it's a good thing the watch is so intuitive). The manual is packed in a little plastic tube that is implausibly small and tight – I'm not gonna try to take it out; it would probably never go back in.
Of course, the watch's 6-band atomic synch and solar power features are, for me, the price of admission nowadays. The watch arrived already accurate to the second; all I had to do was change the time zone from Tokyo to US-Central.
Drawbacks:
"Wears" larger than its dimensions due to larger display and bezel, it's flat, "rectangular platter shaped" profile, and the strongly tapering strap shape. It looks large on the wrist. Many people will consider that a positive, but I tend to favor more moderate-sized watches, so I am still getting used to that.
Nonreplaceable bezel. And a specialized strap. Versus a "square" G-Shock, whose protective resin can be easily replaced with commonly available parts when it gets banged up (even the GW-5000's "special extra soft" resin parts are readily available).
I think the engraved "LAP MEMORY 120" inscription on the bezel is gratuitous and unnecessary. I wish it said "CASIO" there instead. I am considering blacking it out with a Sharpie. Otherwise, I like the black & gray fuselage with small flashes of yellow and red trim details. Sporty, but not tacky or garish.
The strap has a "PHYS" inscription that is also gratuitous. Fortunately it is fully covered up by the tail of the strap, so you can only see it when not wearing the watch.
Having the two-digit year displayed first, before the month and date, seems awkward to my eye. Maybe I'll get used to it. Frankly, showing the year on a wristwatch is superfluous, in my opinion. (Although, this would have been the watch to have on 11/11/11 11:11:11).
I have to retrain myself that the light button is now on the lower right, versus the upper right that I'm accustomed to.
And of course, the STW lacks the heft, gravitas, and utter rarity & encoded uniqueness of the GW-5000's DLC-coated steel screwback case.
I'll see how I get along with it after wearing it a while longer, but the watch has already made an excellent first impression. I also think that at $160 shipped, it's quite a good value – maybe not the screaming bargain of a $100 GW-M5600, but what is?? Functionally, the STW-1000 offers new and useful improvements to the Casio state-of-the-art (larger display, LED lume, configurable display, time in all modes) at a very modest incremental cost.
It hits me how this new piece suddenly seems to make the mighty GW-5000 – the invincible "King of the Squares" -- suddenly look and feel old -- almost quaint. The steel pushbuttons in particular suddenly seem very old-school, the small screen-to-case ratio feels quite retro, and the ridges and fortifications that armor the case & buttons come across as a little ornate and old-fashioned.
In conclusion. Another winner from Casio. Digital watches are just inherently so much fun, and the STW-1000 is a great example of why. I appreciate a classic, aesthetically pleasing, three-hand analog with the best of 'em, but a watch like this one just engages you because it does so many things. It has screens, it has modes, it makes noises, it lights up, it has a radio inside, it counts up, it counts down, it wakes you up, it knows when you turn your wrist in the dark and lights up for you, it knows if it's in DST or not, it knows what time it is all over the world, and it powers itself from ambient light. A miracle on your wrist.
Cheers,
Dave