Discussion Starter
·
#1
·
Sometimes it's good to take a step back & explore those 'forgotten' brands, haha.
While everyone is searching for the best deal in town for those new Seiko models, I happened to stumbled upon this 'forgotten and not in my radar brand' while browsing around ; though I still buy G-Shock every now & then.
Casio Edifice series has not been in my radar at all, well..not because it's an Edifice or because it's a Casio. It just naturally 'skip' pass my vision whenever I pass by a Casio Edifice showcase.
However, my perception for Casio Edifice changed when I purchased my first Casio Edifice last week.
And I just purchased another Edifice on last Sunday.
And another Edifice last night.
This particular model, imho, is really a bang for buck timepiece. Solid watch with nice weight, Tide Graph, Moonphase and all the standard digital functions. It's just like getting a G-Shock but in terms of durability, I know this Edifice will not disintegrate over time.
Let's go into the basic review of this watch b-)
[ Casio Marine Advanced Line EMA-100D-2AV]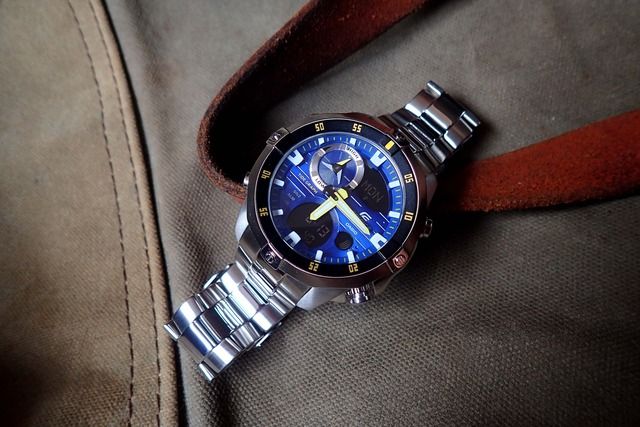 Looking at this watch on the display and handling this watch in your hand, is a totally different game. The actual watch feels solid, quality wise (for a Casio) and the bracelet (I have yet to remove the bracelet hence I'm not sure if it's SEL, my guess is, it probably is)
Dimension as below:
Case diameter excluding crown : 44mm
Case thickness inclusive bezel: 14mm
Bezel Thickness: 5mm
Lugwidth: 22mm
Case
Case is polished finished on the case-side profile and brushed finish on the surface, a pretty standard finishing for most watches. Case has absolutely no sharp areas, not even the lugs section.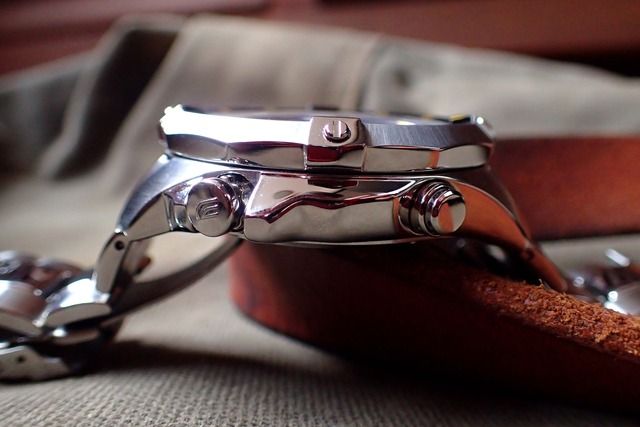 Fluid smooth case design (side profile)
Has a crown guard at the 4:00 position, not sure why a crown guard is needed since there is no actual crown, it's all pushers but it does look good with the crown guard feature but the 4:00 pusher has this 'threaded-like' design resembling an actual crown.
And this is the only pusher with the signed 'Edifice' logo.
Bezel & Bracelet
Solid 5mm thick bezel construction, 120 click, uni-directional. Has this Brietling Chronomat inspired style to it. Solid clicking actions, good grip as well as bezel slopes inwards at the bottom half and the bottom 'scalloped' design makes it easier to grip without slipping.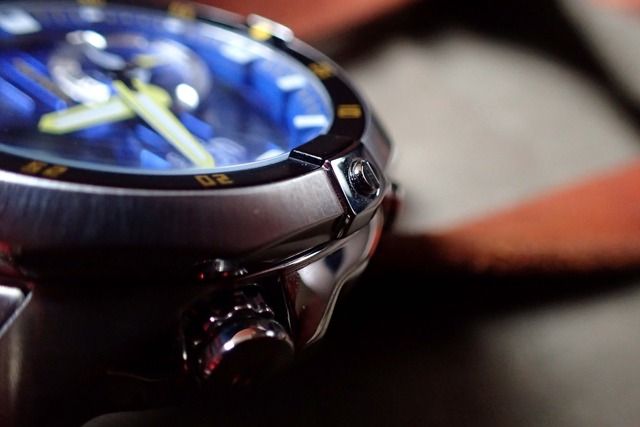 Oyster style bracelet with polished centre links, brushed on both ends. Bracelet feels surprisingly solid. Flip-lock bracelet, similar to our ever-familiar Seiko divers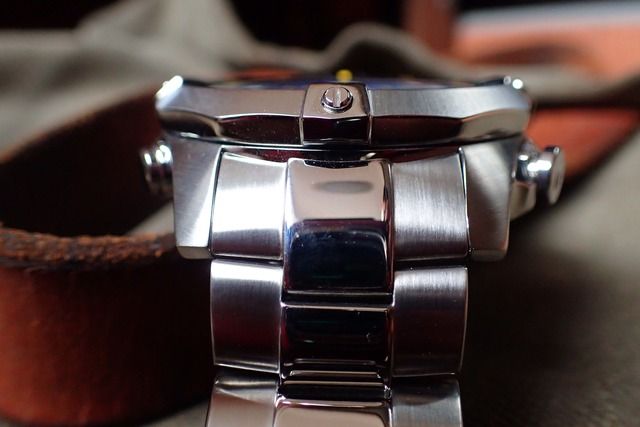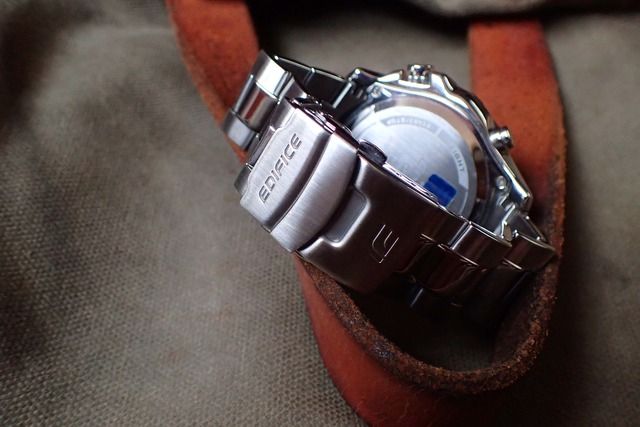 Bezel insert slopes downwards thus minimising the risk of knocking/scratching the slightly domed crystal. Crystal sits lower than bezel in this case.
Dial, Hands & Other Details
Blue sunburst dial with thick sword style hands, width of hands are in proportion to the overall look. Having yellow outline (on the hands) against the blue dial provides maximum legibility on telling time, even in low light area.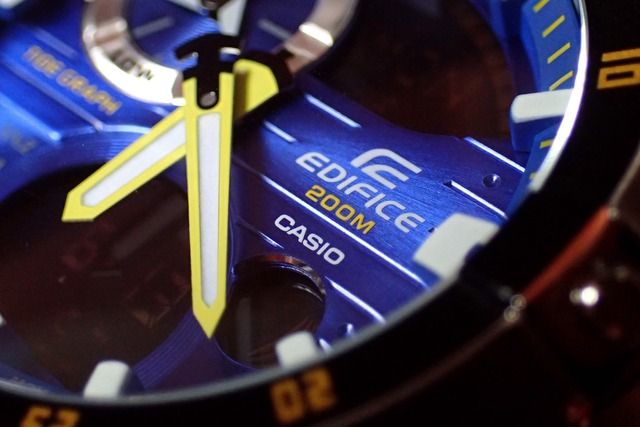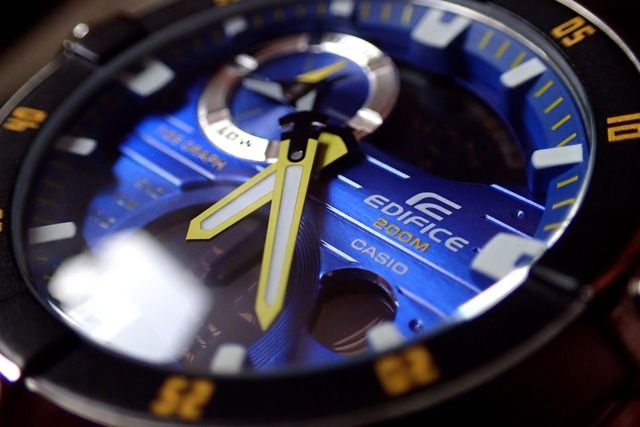 A Tide Graph subdial on the 10:00 & 11:00 position, with an interesting propeller style indicator.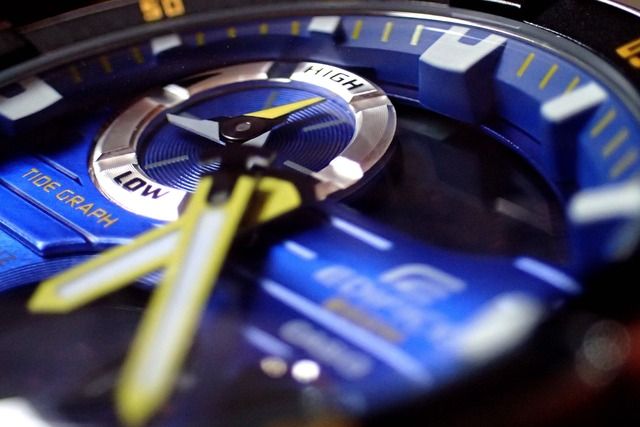 Close up of the Tide Graph sub dial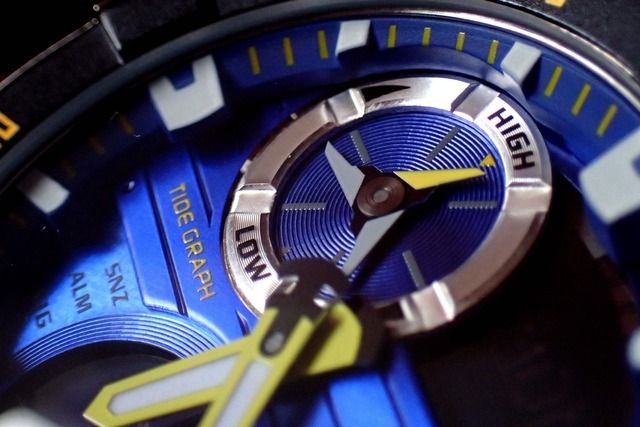 and oh, there is also this Moonphase indicator below Casio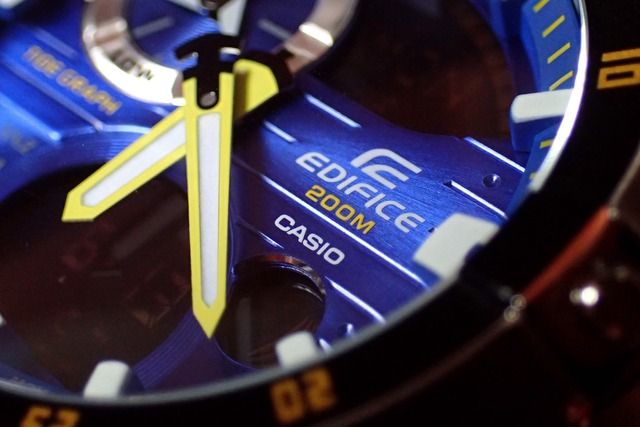 Caseback
The Mode Functions are indicated on the caseback unlike most digital watch which have it on the case or inner chapter ring and this actually makes the watch to be more 'formal'.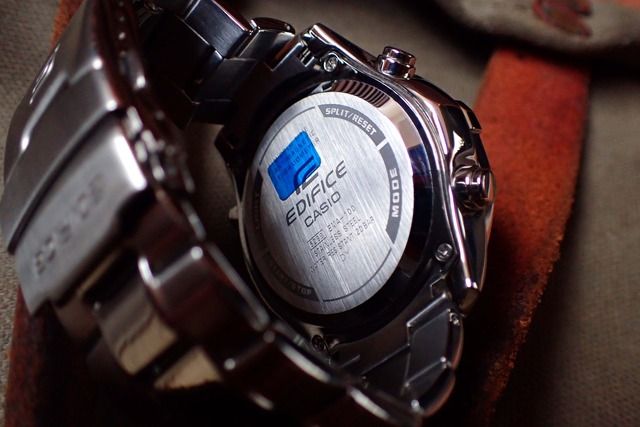 and last but not least, one cool feature for this watch is the illuminator! User can select either 1sec or 3sec illumination time in the Mode Setting.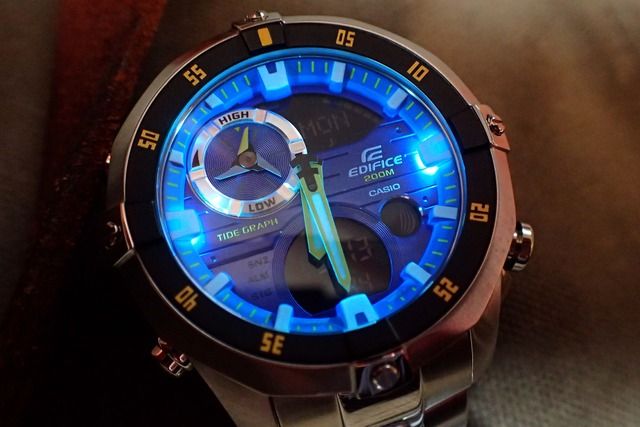 Overall, I will highly recommend this model to anyone who is looking for a versatile watch without looking too informal.
The only downside of this model is the reverse display panel. Reading time during the day is fine but when in low light conditions or in a dark room, it's practically impossible to read the time (anyway the analogue hands can do its job in the dark).
I think Casio is slowly phasing out this model soon as I do not see this model in most shops which carries Casio Edifice but it is still available on ebay.
and you know what, I'm so impressed with this model and it led me to another 2 purchases!
Casio EMA-100-1AV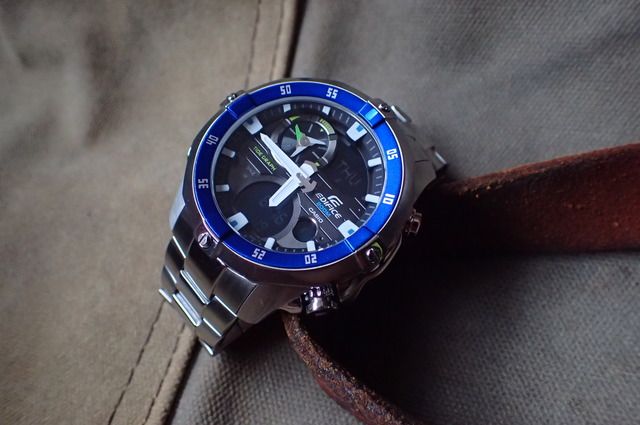 Casio EMA-100D-1A2
and these EMA series make strap changing a breeze due to its 22mm lugwidth, perfect for WIS!
last but not least, a Trio groupie shot of my EMA family
I hope this basic review is useful for people who are on the fence on their first Edifice watch, take a leap out & try one (at least I did!), you will be surprise.
Thanks for taking time to read my amateurish review :-!