Basic specifications
Diameter: ~43mm
Thickness: ~13mm
Lug to lug: ~49mm
Basic features
Smartphone connectivity by bluetooth
Radio synchronization
Tough solar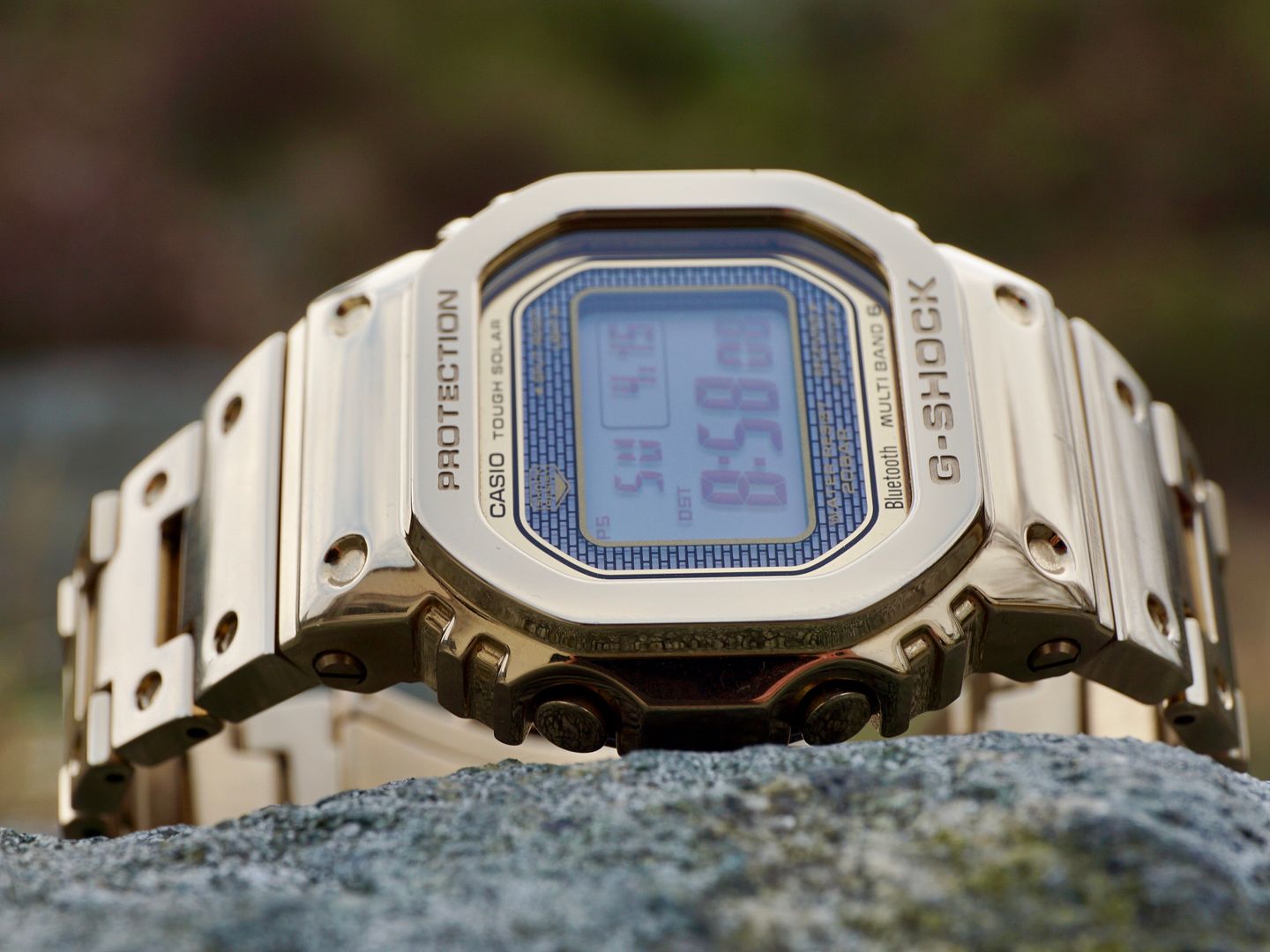 This years biggest news from Casio is the model GMW-B5000. It combines all the classic attributes we love about G-Shock with new technology in a modern execution. I always say that a watch collection isn't a watch collection without at least one G-Shock. Since 1983 G-Shock has been the product line within Casio that has stood for resilience and sustainability, both literal and conceptually. Kikuo Ibe, the founder of the concept wanted to create a watch which could withstand anything. During this process, Ibe founded the "Triple 10" concept, meaning a G-Shock should have a battery life of at least 10 years, a water resistance of at least 10ATM and be able to withstand a drop from 10 meters onto a hard surface. Today, the requirements have changed some, but the essence of G-Shock is still true to its original purpose. Many of today's models feature advanced functions such as GPS, digital compass, barometer and other functions which has resulted in larger and more expensive models than previously.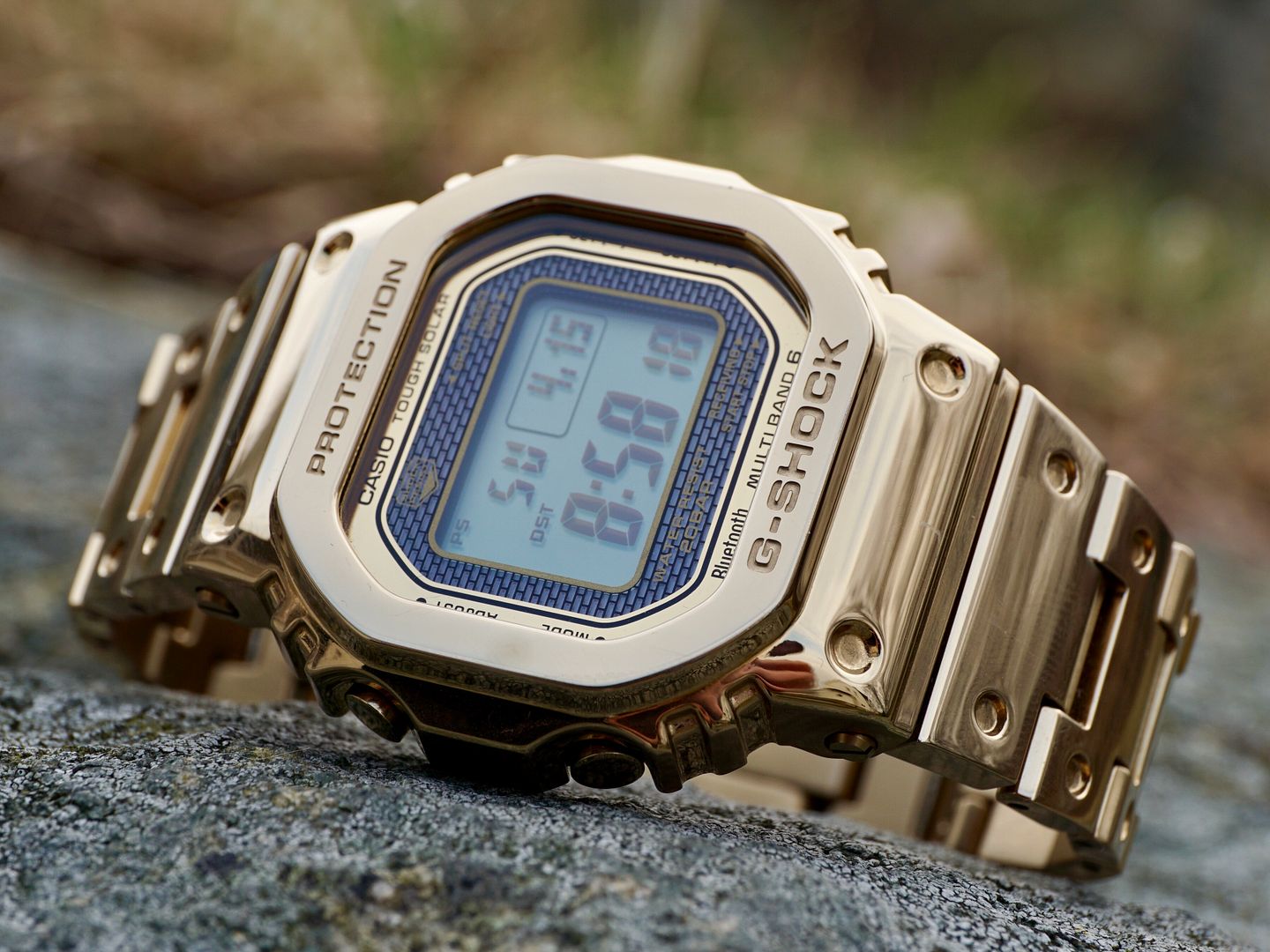 The GMW-B5000 is situated between these two categories of G-Shocks. It has the classic square shape that G-Shock fans love but it is produced in stainless steel instead of the classic resin material. There are two version available for the European market, a regular production steel version and limited edition steel version with gold-appearance.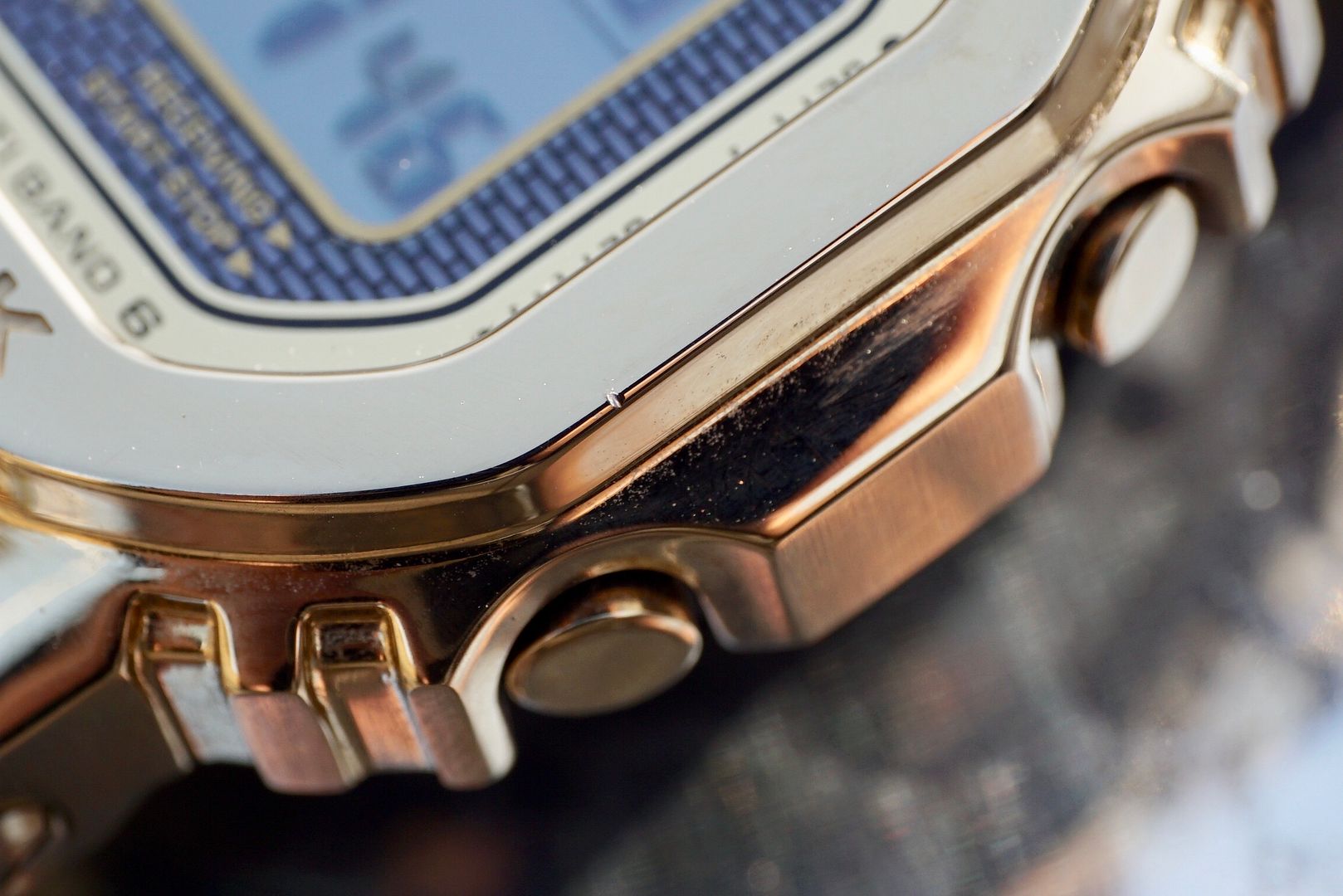 The gold model has an IP-coating (IP stands for Ion plating). It is possible to scratch an IP coating but the hard coated surface is hard enough to withstand regular abuse for everyday wear, it is for example not possible to scratch IP using a metal door key. G-Shocks have been produced in steel since 1996 but never before in this 5000-square shape. The GMW-B5000 is also equipped with a brand new module (movement) which feature solar charging, radio synchronization and Bluetooth. The Bluetooth function enables setting of time, alarm, timer and time synchronization by the help of a smartphone application, but even without the Bluetooth connection activated you get the basic functions that always comes with a G-Shock (alarm, timer, chronograph, world-time).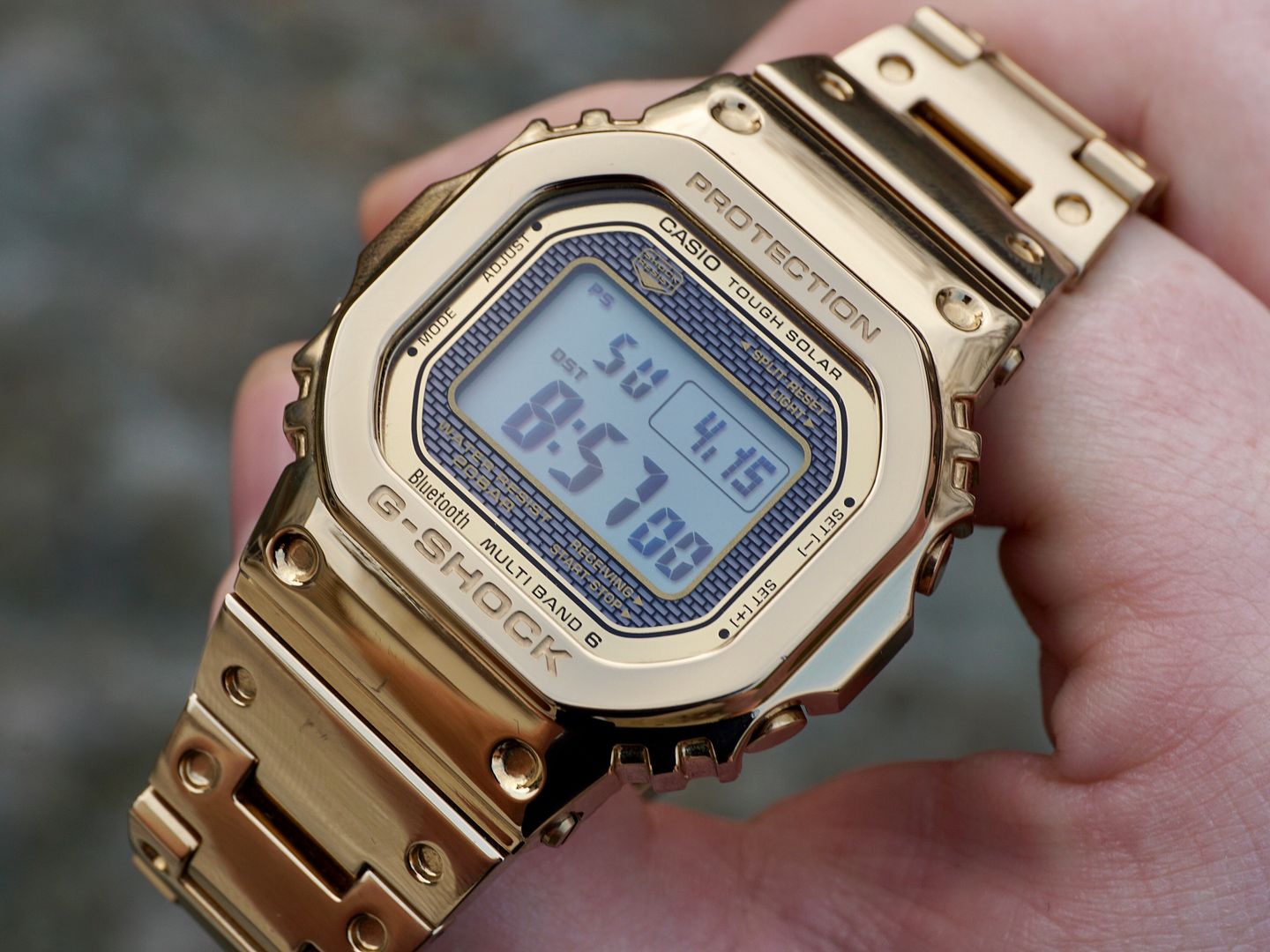 The display has also been upgraded in comparison to the regular G-Shock models. The GMW features a STN (Super Twisted Nematic) display which has a higher contrast and a better view-angle than the regular G-Shock displays.
There are also a lot of passive functions which normal users won't even know is there, like the energy-saving functions that puts your G-Shock into sleep mode when you don't use it, the automatic radio-synchronization for accuracy and improved display light functions. The GMW-B5000 is basically a refined and grown up version of the resin models which the 70s and 80s generations have grown up with. It feels like a regular ordinary steel watch and it handles itself if you don't want to engage in all the extra functions. Add that it's nearly impossible to break and what you get is a "do it all" watch that can handle most situations that don't require a tux.
Bracelet and clasp

The bracelet has solid link which are attached by regular springbars making the adjustments a breeze. The system is most likely very sturdy but it also amounts to a somewhat flexible bracelet.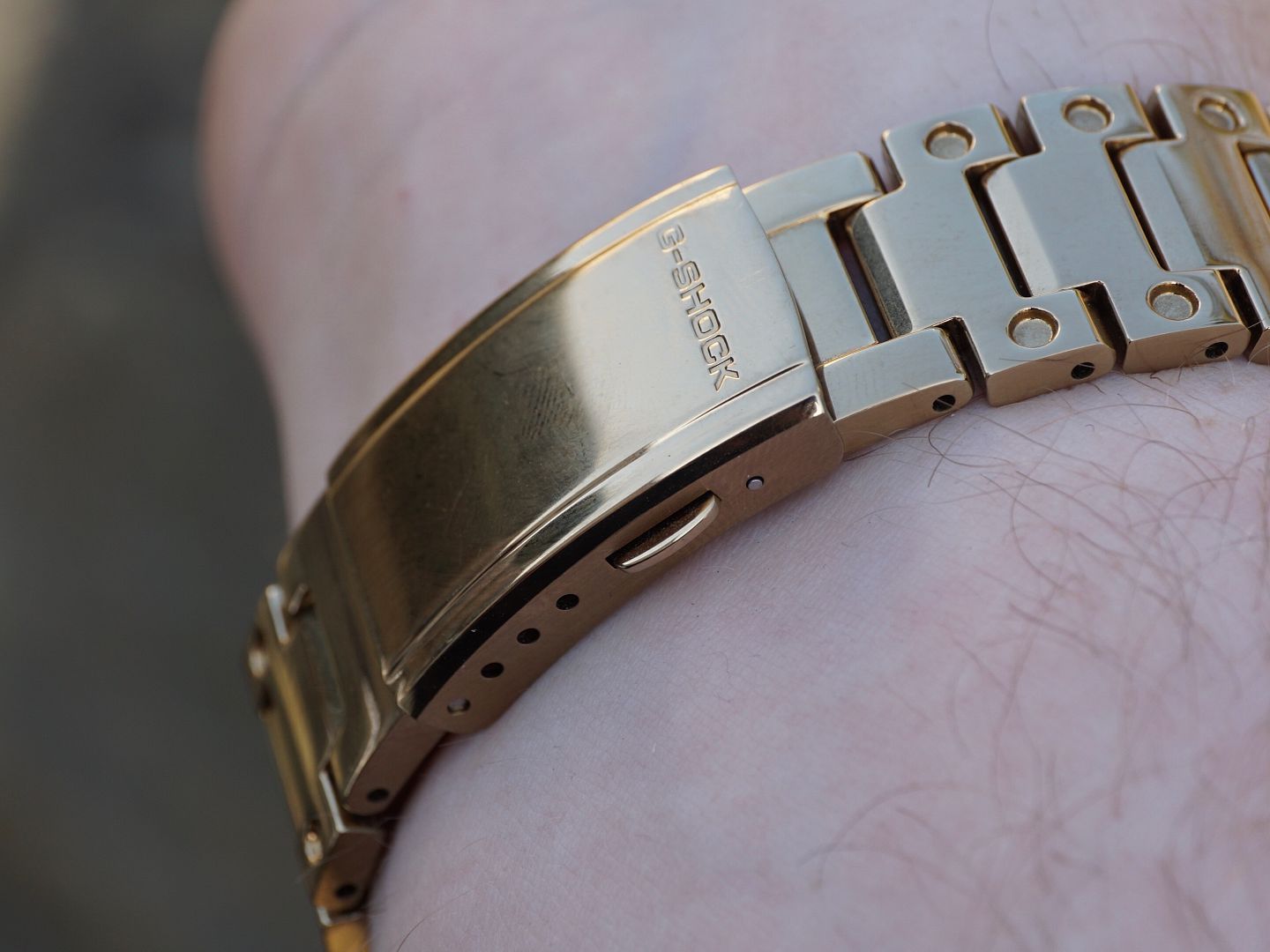 The solid bracelet is combined with a nice clasp made of CNC manufactured parts making the package raise the perceived value of the watch.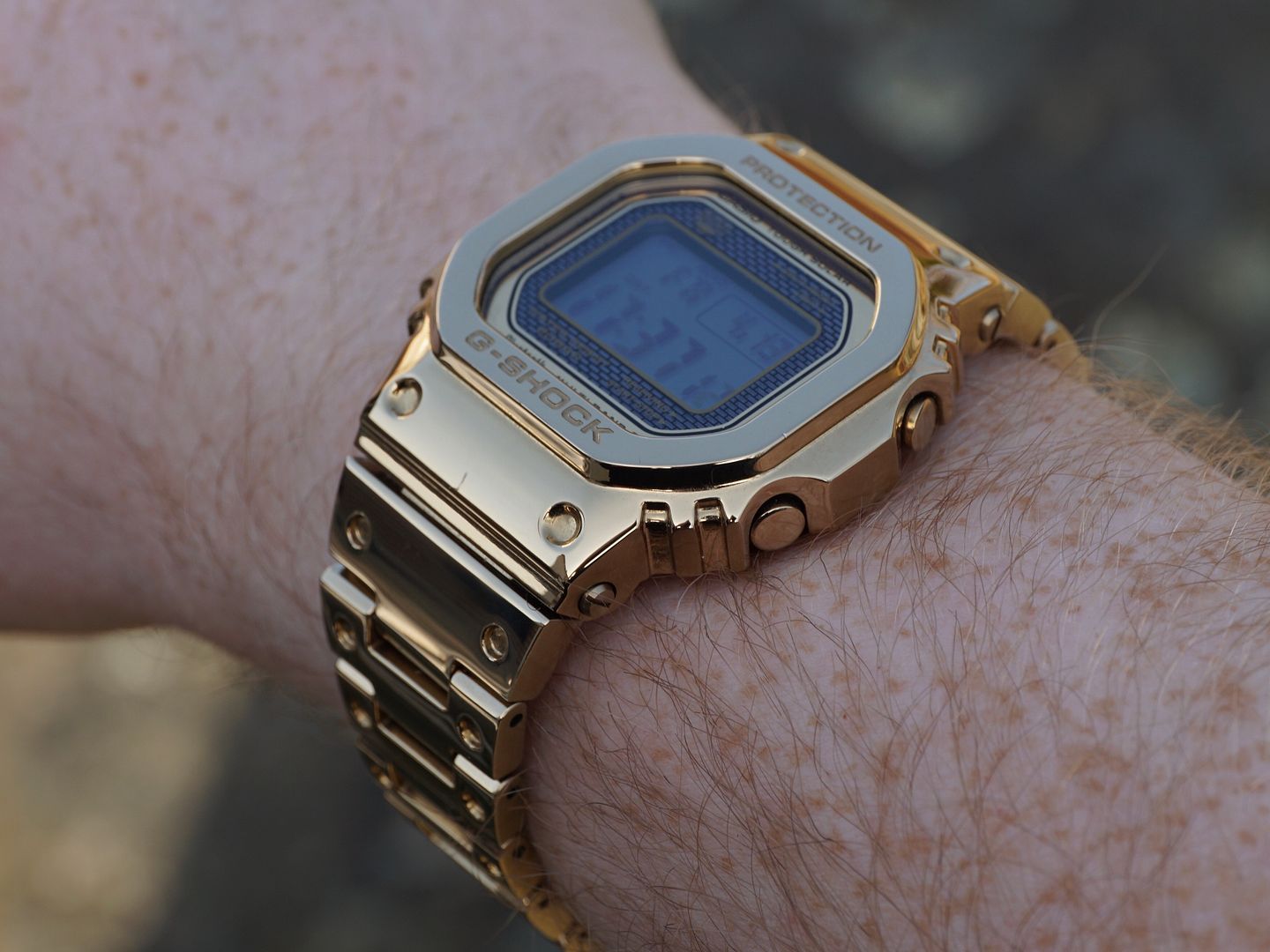 The sense of quality is a little higher on the steel version which feature both brushed and polished parts in contrary to the all gloss finished IP-version. An all glossy finish will also attract fingerprints and dirt which will be annoying to some.
The weight is 155 grams with the bracelet adjusted to my 18 cm wrist. It's heavy enough to differentiate itself to the resin models and is at the same time not too heavy for everyday wear. Most will find the 43mm size very wearable but wearers with very small wrists might have an issue with the integrated bracelet since it results in a long vertical measurement. A future model in titanium would make sense, especially since Casio is a Japanese company and the Japanese customers love titanium. The costumers that don't like metal bracelets will be glad to hear that there is a steel version available with a resin strap instead of the bracelet. With regards to G-Shocks history I think it's safe to assume that this model will be released in many variants in due time.
My only negative opinion about the GMW-B5000 is that we had to wait as long as 2018 for G-Shock to release it. G-Shock has finally grown up.
(I will add photos of the steel version when my personal watch arrives)