Halios Laguna
I had decided to buy the Laguna long before I ever saw it. The Holotype was a freakishly good first attempt by a new watch company and I loved its Tonka truck-ness (it was the Holotype that rekindled the WIS in me after a fair hiatus). The Bluering that followed was a real depature, though the existing Halios DNA was present in spades. It mixed uncompromising readability with a case so svelte it still catches my eye two years later. I was impressed with Jason Lim's capacity to bring an off-centre design sensibility into reality. It was this which made me take more notice of Halios than any other boutique brand. When he said he was making a sport oriented dive watch with a 1970's aesthetic I mentally cleared a space in my watch drawer before I had even seen the renderings.
Specs:
Brushed stainless steel case
43mm width, 49mm lug-to-lug, 14.5mm thick
4mm flat internal AR sapphire crystal
ETA 2824-2 automatic movement
Internal rotating bezel (non-screwdown bi-directional crown)
500m WR
C3 Superluminova hands, dial and bezel markers
Intergrated brushed stainless steel Halios bracelet
Isofrane 1968 rubber strap with Halios buckle
Initial impression:
The Laguna is a time warp. Its all about the retro feel and benefits from being dressed down slightly; leather, rubber, some nylon...mmm, nice.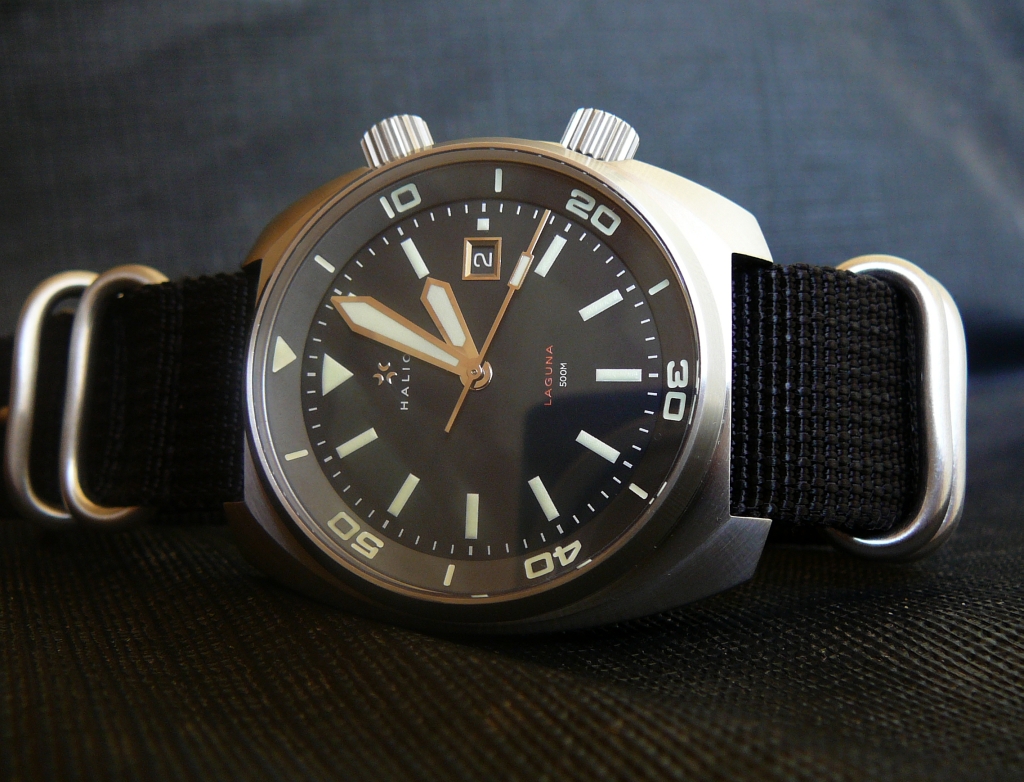 Case:
Done in a fine brushed stainless steel. Its a good size in every respect and will suit many more wrists than other divers of similar heft. The bezel enclosure gives it height that looks a little like it's standing up saying 'looka me!' but it provides a unique profile to the watch and is a visual asset. The lug-to-lug is under 50mm which makes the watch look wider proportionally and, effectively, square. Together with the bezel enclosure this creates a sophisication that is well beyond the standard slab-sided boutique effort. Interestingly, this watch could just have easily been a hooded lug design and would have worked really well. The case is
exceptionally
comfortable (especially on the Isofrane) and the Laguna could be used as a daily wearer.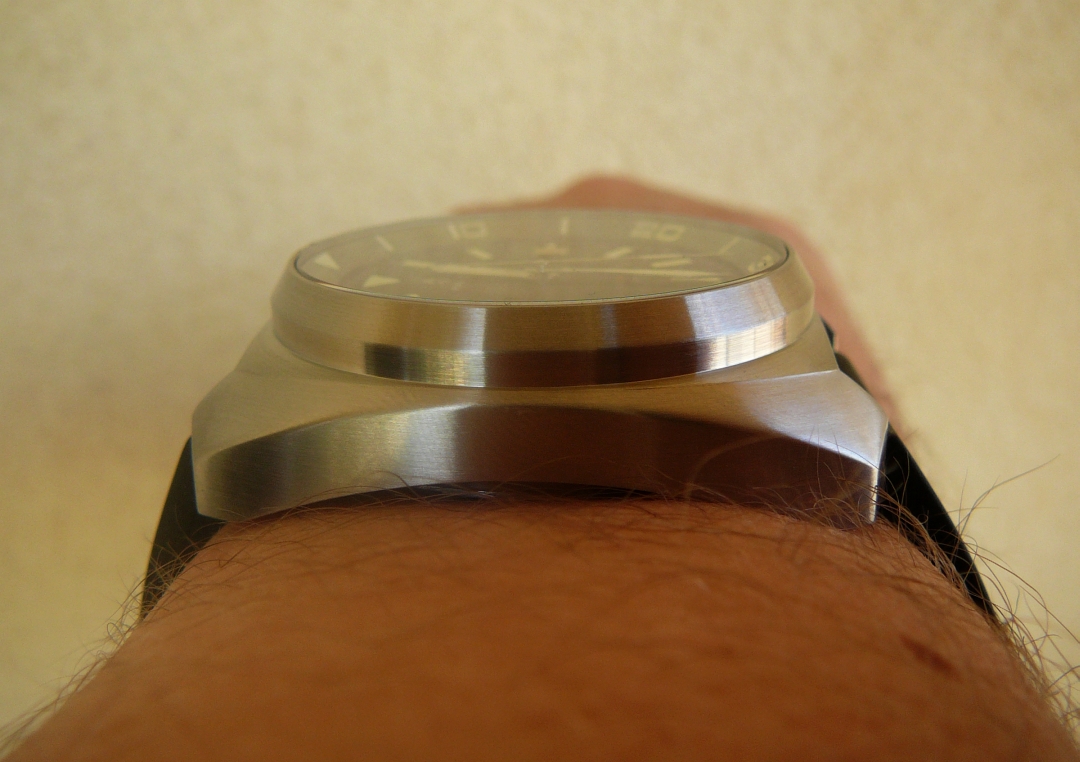 The lugs are well sorted and though the pin holes are set middle-ish to low there is no watch-head flop on rubber. There is a nice pin setup for the bracelet to ensure a snug fit to the watch (which is great attention to detail given the price point).
The case-back design is ok I suppose but seriously Jason, you really think the gracefully gliding blue shark engraving was better than my 'two palm trees and Halios moons on the water-front' effort??? Pffft ;-)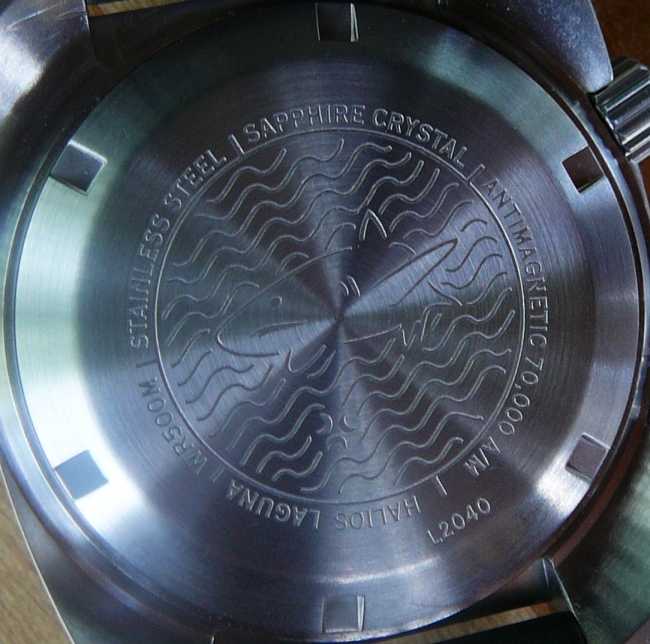 Bracelet/strap:
I don't wear bracelets but this one is a bespoke integrated effort; its really very nice, perfectly suited to the watch and fits precisely to the watch head. Halios have always put in an effort with their bracelets and this deserves genuine applause. The watch comes with an Isofrane 1968 series isoprene strap and stamped Halios buckle (on the underside) which look fantastic on the watch. I dont like big buckles at all but this one breaks the mold. It is shaped and chamfered perfectly to sit flat and be unobtrusive - its perfect. As a strap guy it doesn't really get much better than that - game, set, and match to the Laguna on the strap front. (sorry Raza)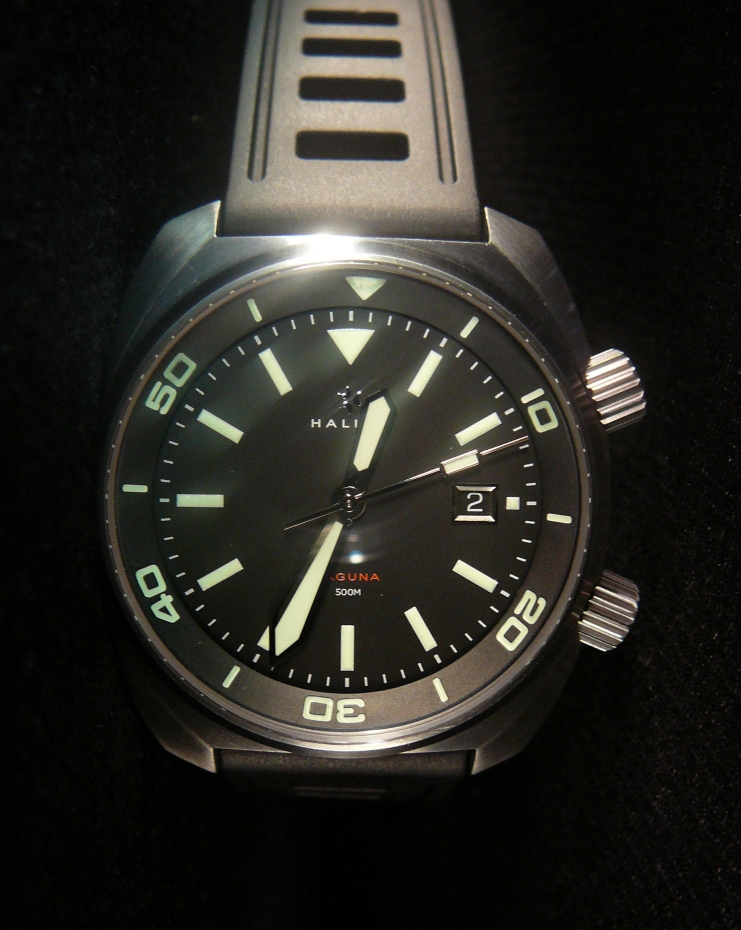 Dial:
The dial is a matt black which looks dark grey under direct light. It is clear Jason spent a lot of time on the aesthetic balance of the dial and it is amazing that he has been able to maintain the trademark Halios legibility while refining the markers and hands to virtually dress watch appearance. Its quite a feat. There is no brand with better 'at-a-glance' readability than the offerings from Halios...and nothing has changed with the Laguna.
The date at 3 is centered and white on black as it should be. The date window has a gloss frame which I didn't feel thrilled about in the renderings but in person looks good. The Halios logo is similarly embossed/raised and provides a balance for the date window frame. The rest of the dial contains only the painted Halios and Laguna names and the 500m depth rating. Its clean and crisp. The crystal is sapphire with internal AR. Because the dial is relatively shallow reflections are minimal and the overall effect is to make it seem like there is no crystal there at all a lot of the time.
Hands:
These are just about my favourite part of the watch. A refined sword shape with chrome borders and awesome lume. They are correctly proportioned and Jason hasn't put anything stupid on the second hand (a really annoying trend of recent times)...no lego blocks, no anchors, tridents, or logos. Thank god for small mercies.
Bezel:
There is an internal bezel...urgh. I was prepared to put up with it as a gadget because I liked the look of the watch so much but truth be known I am actually liking it. The action is spot on - smooth (non-clicky) and heavy. It gives an elegant visual impact with no loss of dive watch function (so yes, I'm seeing the point of it). The bezel slants backward at a highish rake, providing real visual interest and finishes seemlessly at the dial to provide a coherent appearance. There is nothing 'tacked-on' about anything on the Laguna - there has been a lot of thought put into each element and the bezel really works well on this watch - visually and functionally.
The lume on the bezel and hands is slightly more intense and sits physically higher than that on the dial. In person this gives the watch an interesting 3D depth that you don't pick up in photos. Its very cool without becoming gaudy or distracting. Moving the reflector on full lume at night will push Star Trek nerd buttons you didn't know you had.
There are 3 bezel colours available and having spent time with the black am happy with it. I think I would be equally happy with the black and orange too.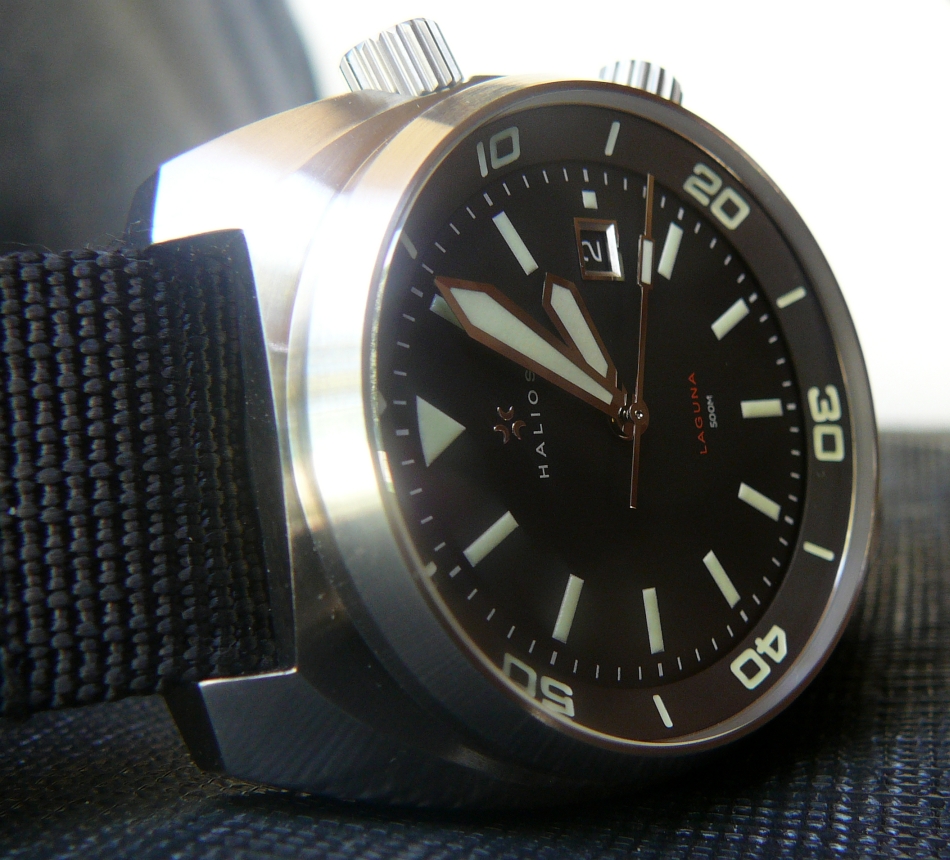 Crown:
The timing crown is a solid feeling deep-grooved screw-down cap style arrangement at the 4 position and is well sized for fat fingers like mine. When you unscrew it you can see an external thread and gasket being exposed - the opposite system to the bulk of watches we see around here. The bezel crown is the same in every physical respect, although it doesn't screw-down and sits at the 2 position. Because it its not a screw-down you can use the internal bezel underwater.
The crowns are both easy to grip and function sweetly. The external thread on the timing crown engages easily and there is no wobble at all. Both crowns have the Halios logo engraved on their ends.
Movement:
The Laguna comes with the base ETA 2824-2 movement. A good choice and not a lot more needs to be said. Mine has kept good time since I have had it though I have not tested it for accuracy yet.
Pros:
Awesome case
Highly transparent crystal
Internal bezel
Clean dress oriented dial
Great looking bracelet
Best strap/buckle ever
Usual Halios lume levels
Price (given the package)
Cons:
Internal bezel
Dress oriented dial
Conclusion:
My first love in watches is beefy tool-oriented dive watches. The Laguna is dressier than I expected and when it first came out of its box I needed a moment to adjust to what it was rather than what I wanted it to be. I have worn it a couple of days and I am seeing the watch for what it is now. My SAS SEA-1 feels like it tries to bridge the tool/dress diver gap by being a toolish diver with a gorgeous finish and shape - like putting a suit on Arnold Schwarzenegger. The Laguna is much slicker than that. The Laguna is Daniel Craig with 70's sideburns.
There are a few watches whose design, execution and price make them horological sweet spots for the everyman. The UTS 500m and Korsbeck Oceaneer are great examples (I wanted the Bluering to be one of those watches but it isn't). The Laguna isn't either but damn if its not getting
really
close. Halios have a history of making the right watch each time and the Laguna is the right watch for Halios to build a brand going forward. Quite simply, unreservedly, you should buy one.