Discussion Starter
·
#1
·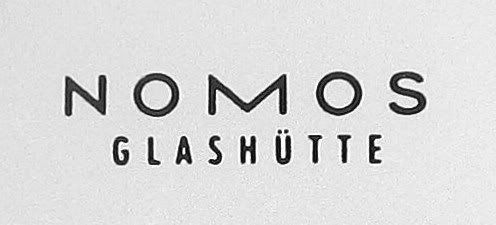 The NOMOS Tangomat Datum featuring the NOMOS Zeta automatic movement.
Summary: Love it, wears bigger than specs indicate, nice strap, beautiful movement. A very classy and understated dress watch.
Ok, now for those who want more info, here we go. Otherwise, just blow to the pics below.
The Company:
NOMOS is a German watch company, and a true "Manufactory" that designs and builds their own movements, and decorates them very very nicely. The website indicates that depending on the model, NOMOS does between 75 and 95 percent of the work on the calibers itself. I'm not sure what percentage the Zeta movement falls into, but have an email out to them asking the question.
The company is only 20 years old, but has grown quite rapidly. Given their relative newness to the watchmaking industry, they have achieved a high degree of success, industry recognition and technical prowess. According to their website, they are one of only 3 watchmakers in all of Germany to wear the label of Manufactory. This allows them the legal use of Glashutte on the dial
The NOMOS offices are in an old Rail station converted and modernized for their watchmaking needs, and are literally across the street from A.Lang and Sohn. Pretty cool.
*NOMOS has also created a Tourbillon for WEMPE, a video of which can be found below with other reference materials consulted while researching for this review.
The Presentation:
The NOMOS comes in a nice velvet lined wooden box. Pretty nice and straightforward, befitting the concept of the watch.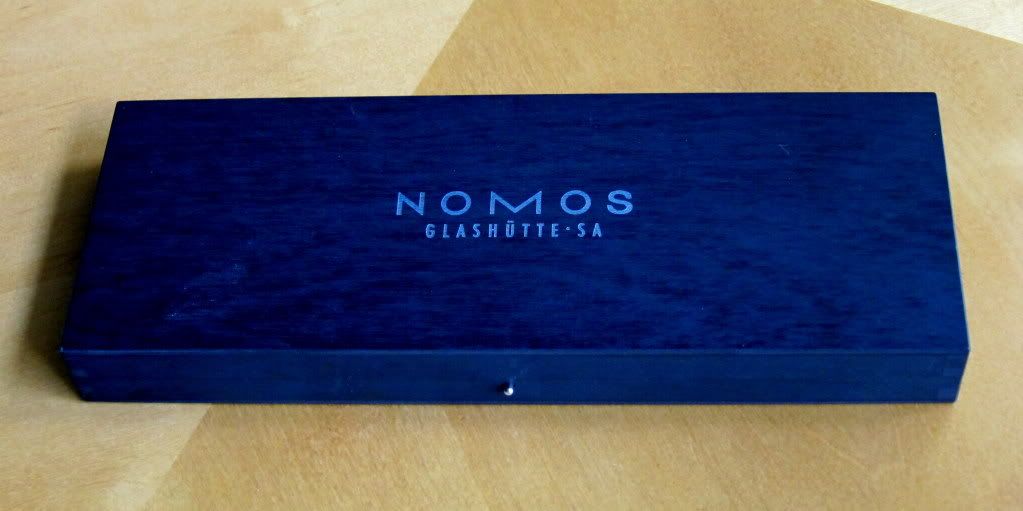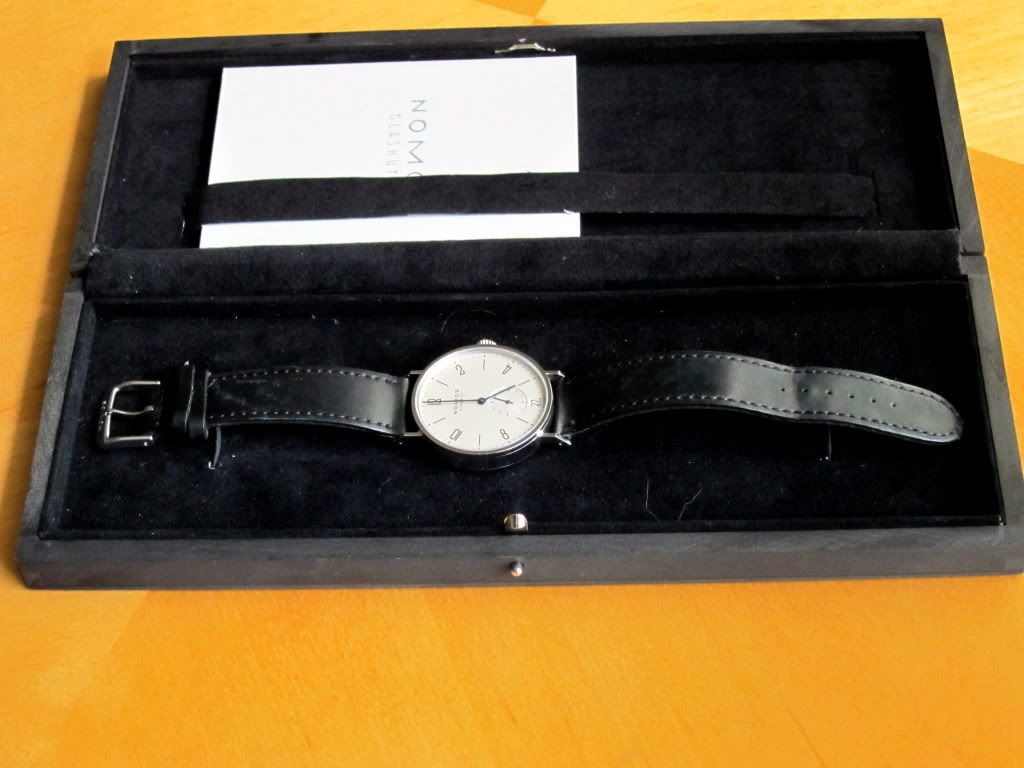 The Style:
The watch is designed in classic Bauhaus style. In researching this review, I learned that this style covers a range of design targets, and is certainly not specific to watches. Bauhaus was actually a design school in Germany, that was open from approx 1919 till 1933. Seeking to achieve a modernist design style, the primary intention was to integrate art, as well as technology and craftsmanship, while ignoring current precedents and achieving a new philosophy in design methodology. More can be found all over the web if you have an interest in learning more.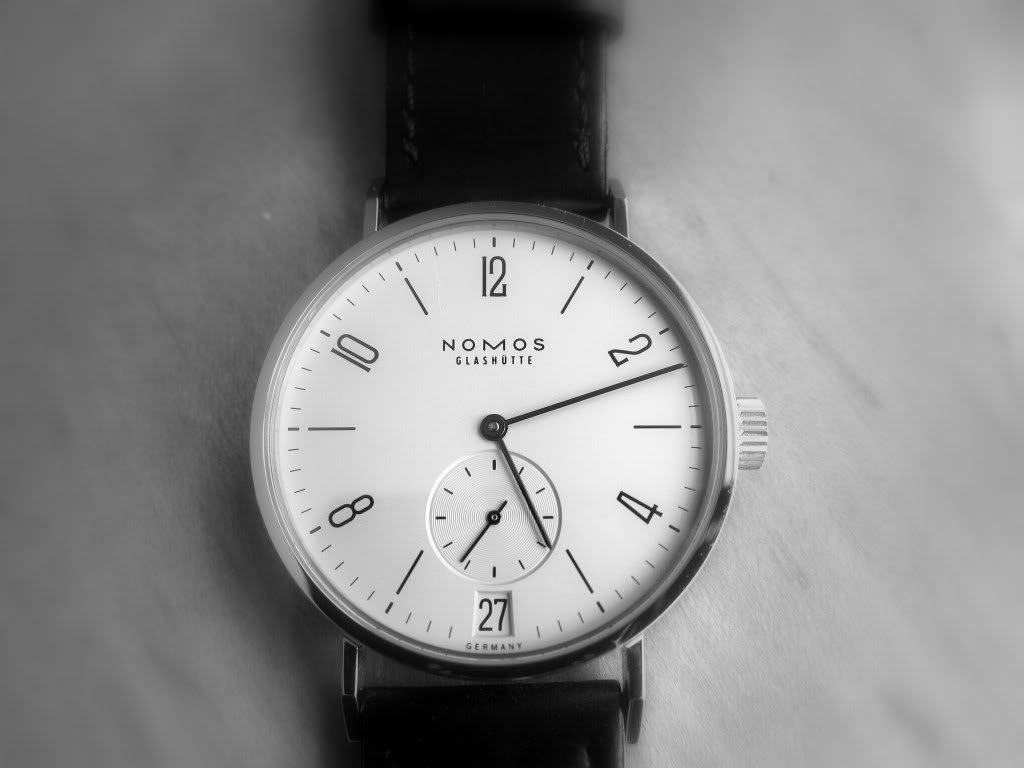 The case:
As stated in the summary, I was very pleased to see that the watch certainly looks bigger than it's spec of 38.3mm. It seems to wear closer to 40mm IMHO. Do doubt that perception is due to the very thin bezel, and large face. The height of the watch is 8.2mm, lug spacing is 20mm and lug to lug is 44mm.
The 316L Stainless steel we are all familiar with is used for the case. NOMOS has several paragraphs of information regarding nickel content on their website, for those who may have a sensitivity to nickel. Short version is "This type of stainless steel is not fully free of nickel, but it does not pass nickel on to the skin; the amount of nickel in the alloy is about 12 percent. Thus, the amount of nickel passed to the skin is less than 0.2 micrograms per square centimeter per week and far below the medicinally acceptable amount. Other stainless steel alloys might have a lower percentual amount of nickel in the alloy, but they pass more of it on to the skin. "
The design is very clean, and minimalist in keeping with the Bauhaus design style, and looks (to my eye) to be very well finished. The case is polished and IMHO, would look very nice if it was done in a quality brushed finish also. Interestingly, you can also get a model with a PVD treated case, which I would love to see pics of, but have not found any.
The case back, sporting a sapphire crystal, is secured to the case by 6 screws. Water resistance is fairly standard for a dress watch @ 3 ATM.
The Dial:
Well, the dial sort of speaks for itself. Clean and crisp, and thus very easy to read. The dial is galvanized, white silver plated. There is also a NOMOS model sporting Roman numerals, but not in the larger Tangomat lineup. As you can see there are minute markers, but no "sub" ticks to clutter the design.
Even numbers are represented by Arabic numerals, and odd by marks.
The date complication sits at the 6 o'clock position and is something I could live without on this watch, but it is integrated very nicely. One item to note on the date really relates more to the movement than the dial, but it's worth noting here. As part of the inhouse design, the date wheel sits around the movement. This is different than other movements where the date wheel sits atop the movement. This allows NOMOS to keep the height of the watch the same as the non-date version.
Also, each model in the lineup has specific text sizes, rather than using the same size in all models. A nice touch probably unnoticed by many, but a good example of the attention to detail at NOMOS.
The hands are oven blued, and look great. Not easy to get the true color in photos, but you get the idea. While the hands are thin, they are not too thin to the point it would be hard to tell then time, as they standout very well against the white dial.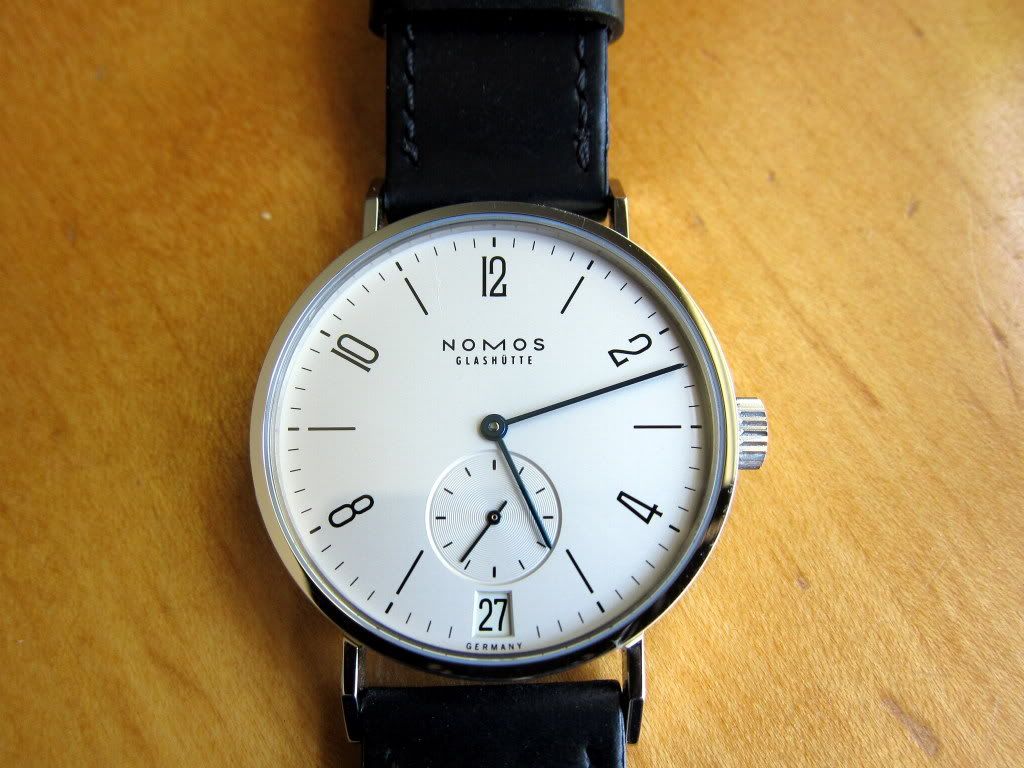 The Crown:
Nicely sized and easy to grip. It pulls out smoothly,and winding is Buttery smooth. The crown is signed, not with a logo, but the NOMOS name engraved into it. While some cool logo would be sharp, that's not in keeping with the NOMOS approach, so having the name is consistent with their design goals. An interesting item to note: the crown only pulls out to a single position, not two like most. This is more a function of the movement than the crown, but seemed worth mentioning.
Setting the date is no doubt funky. At the end of this review is a link to a video on how it's done.
The Crystal:
Sapphire front and back. No mention of AR that I could find on the NOMOS website, and none that I can tell myself, so I would assume there is no AR.
The Strap:
The strap is a thin and smooth leather called Shell Cordovan leather. This is apparently a very high-end leather using Texan Workhorse leather. There are several advantages over standard cow based leathers including a finer grain, superior water resistance and richer natural oils, which allow the strap to look newer over a longer period of time.
The Movement:
Well, it's just beautiful to look at. Among the links found at the end of this review, it's worth going through the NOMOS site if you are interested in that kind of stuff, as there is good information on several of the processes used, such as the CNC machines, Blueing of the screws (300 degrees in an oven) and other info. I also have a link to a very good post @ WUS from Mike Stuffler of a tour he took of the NOMOS factory.
As I am not a movement expert, all I can really note on the movement is that there are several things going on. The lower baseplate is decorated with a perlage technique called "Langeleist Perlage" after former head watchmaker, Rainer Langeleist.
The ratchet wheel has a Sunburst pattern to it, which I find to be super cool and I think this is a distinguishing characteristic found on Glashutte watchmaking.
On the three quarters plate, you will then find traditional Glashutte Ribbing. My understanding of how this is different from Swiss style Cotes de Geneves, is the angle used is slightly different between the two. Regardless, it's beautiful to behold. The rotor appears to have the same treatment, as well as carrying the NOMOS name. There is no mention anywhere I can find about the material used to make the rotor, so I will assume it is standard SS.
Other items to note, would be the use of Nivarox 1A spring which is rustproof, antimagnetic and stable at varying temperatures, as well as use of Incabloc shock protection. Every NOMOS watch also goes through a 120 hour test during which is is shaken, flipped and rotated, while checked for accuracy and performance. Any necessary adjustments to ensure reliable time keeping are done at this time.
Also interesting was that NOMOS regulates the watches in multiple positions, and the target timekeeping is zero to plus eight seconds per day, which would put average timekeeping within 1 minute per week. They also specifically state that no NOMOS watch should ever run slow. I could not agree more with this approach, as I would prefer my watches to be slightly fast, as opposed to slightly slow.
Better to be early to a meeting than late.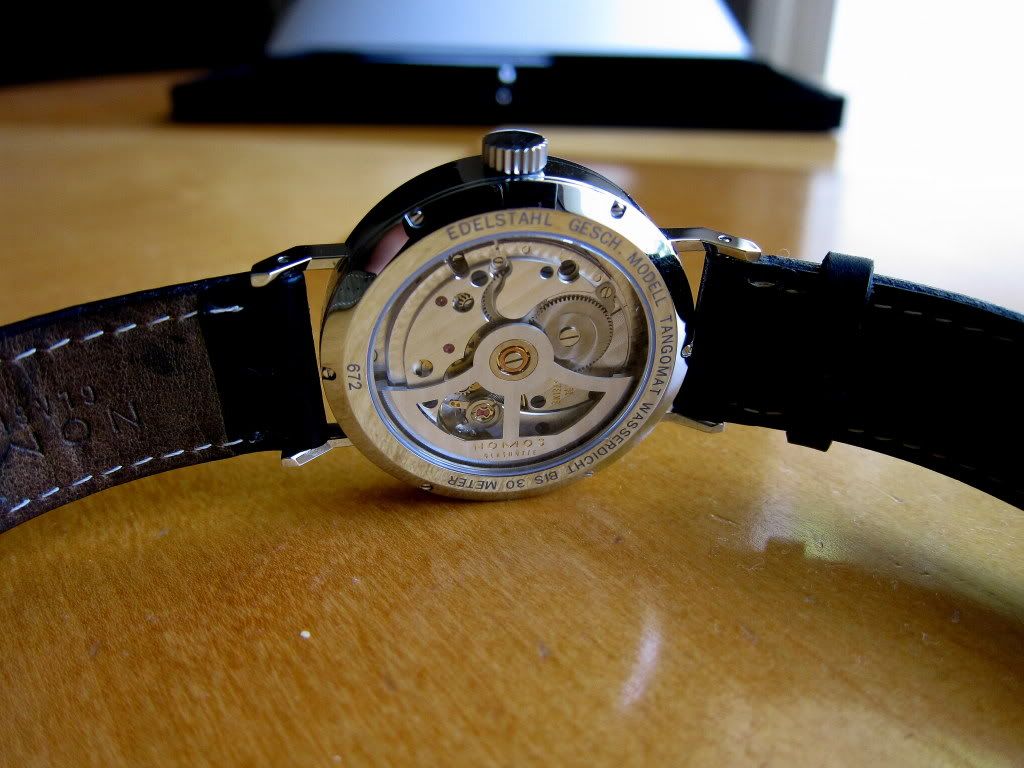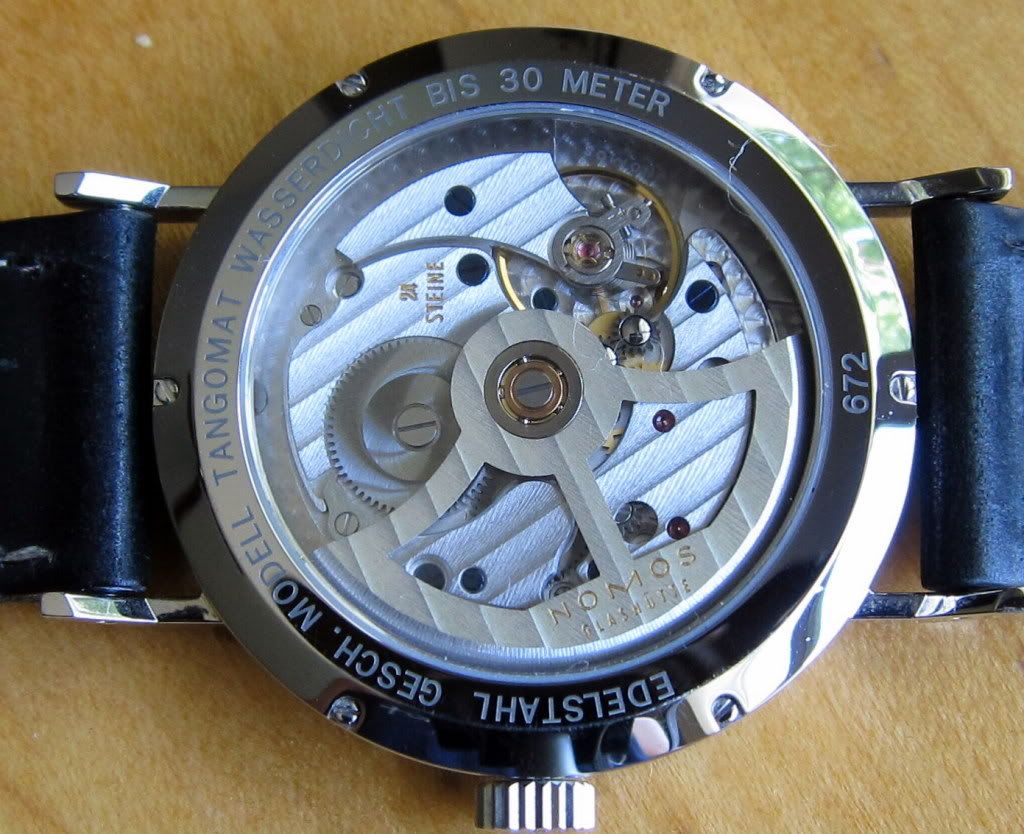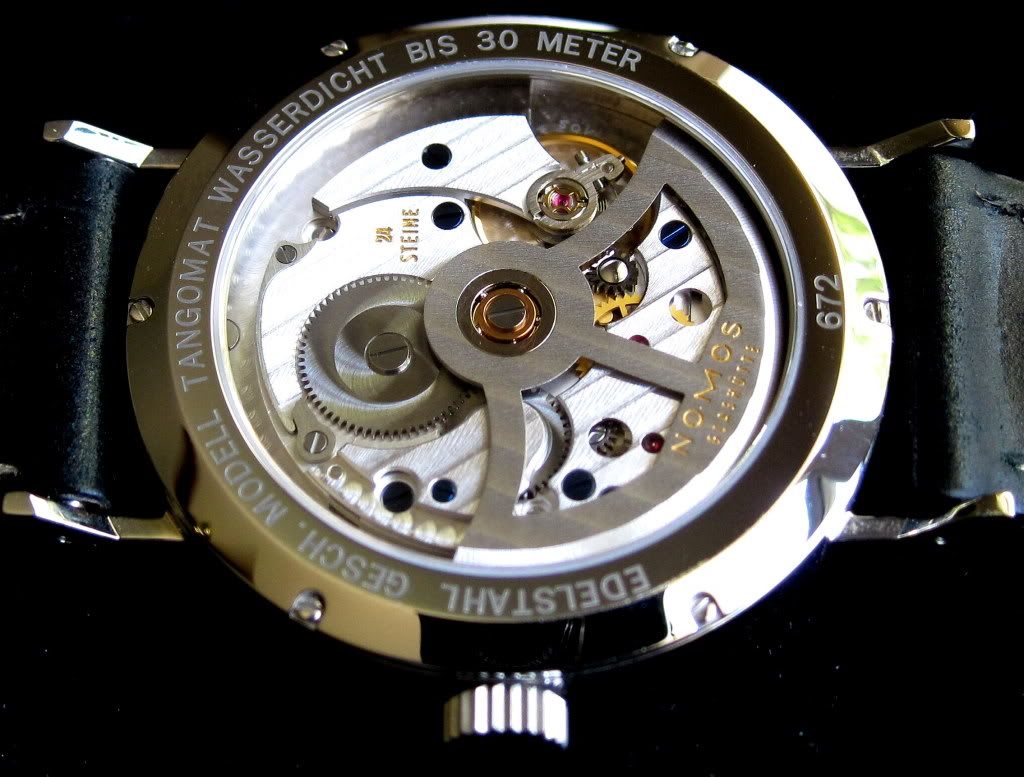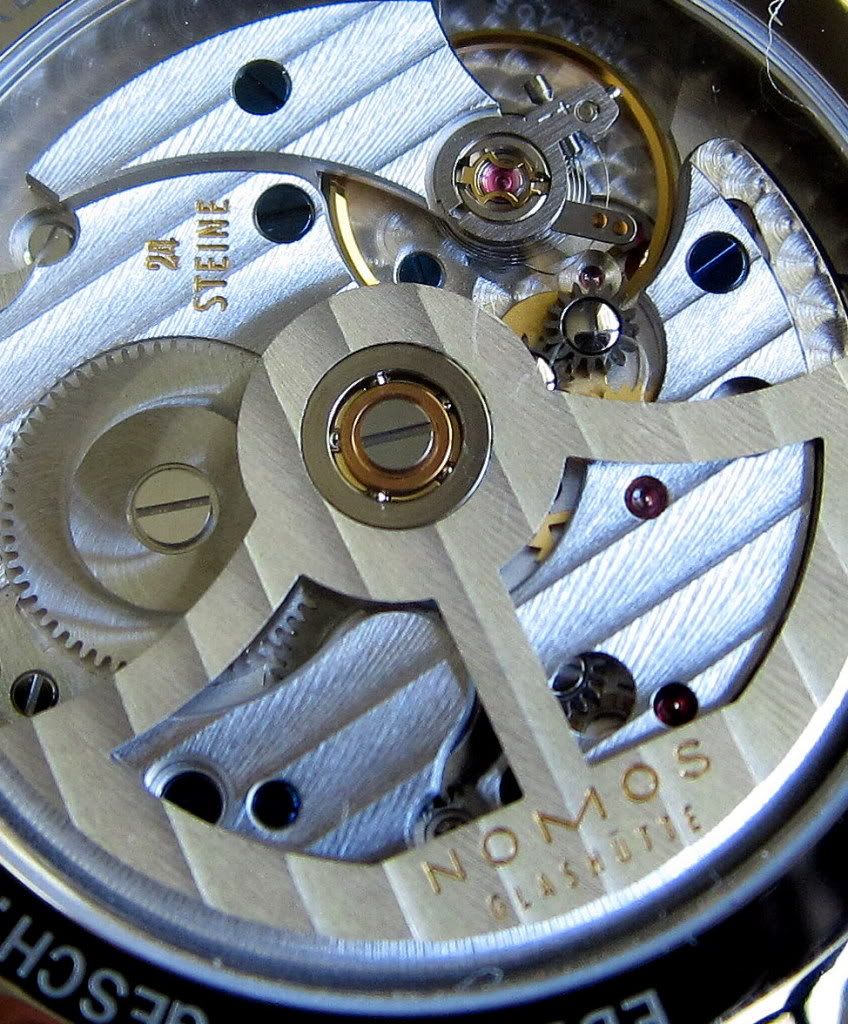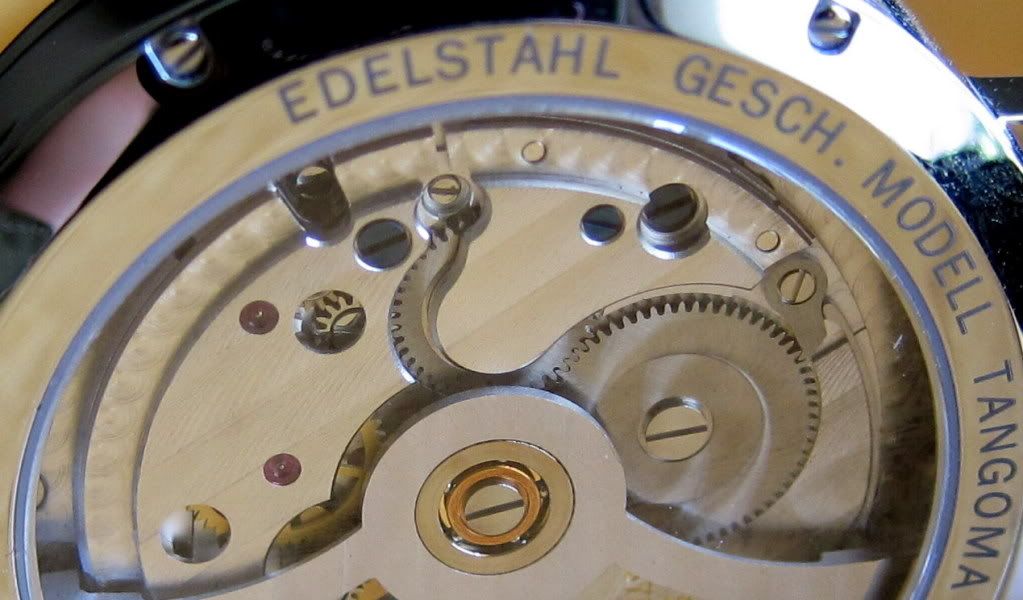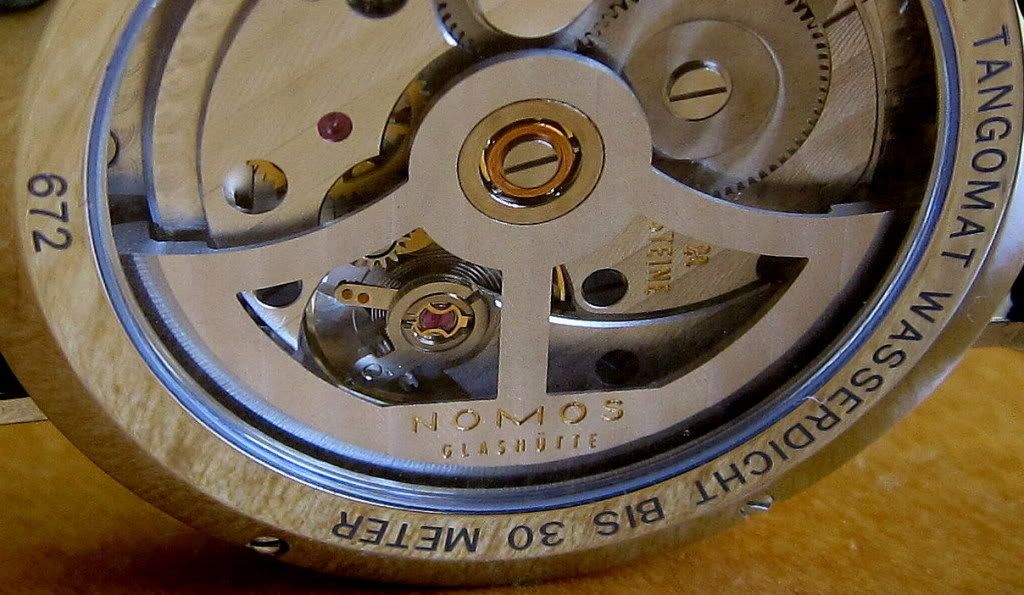 Here are a couple of crappy wrist shots, so you can get a sense of the size on a 7.25 wrist.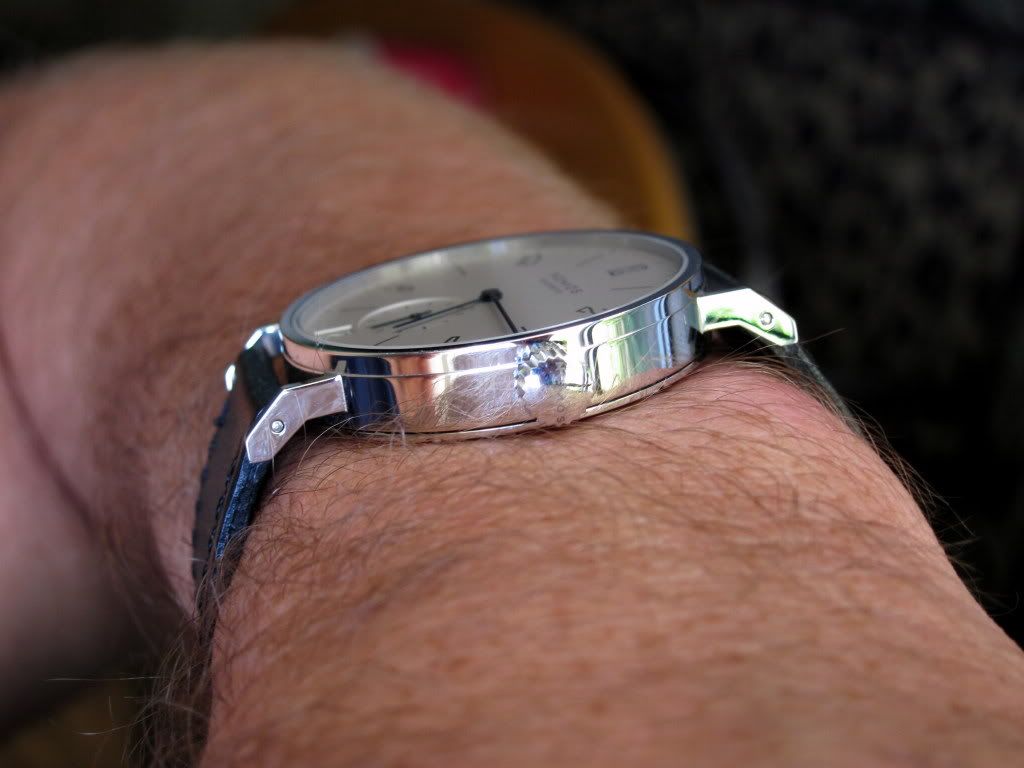 I know this was long, but hope some of you found it enjoyable and informative. My overall impression of the watch is excellent, and for anyone looking for this size or style, you should certainly put NOMOS very high on your list.
I'm excited to have this beautiful German watch in my collection.
Thanks for looking.
** References used while researching this review.
NOMOS Offical Website (english version)
http://www.glashuette.com/index.php?id=1&L=1
Photos from Michael Sandler @ TZ. Much better than mine. An interesting note, this is my exact watch, as I purchased it from the member who bought it from him.
http://forums.timezone.com/index.php?t=tree&goto=4297022&rid=0
Visit to Nomos Factory by Mike Stuffler
https://www.watchuseek.com/showthread.php?t=20961
Link to Technical Drawings of the NOMOS Automatic movement (thanks Mike Stuffler)
https://www.watchuseek.com/showthread.php?p=1558771#poststop
Euro Magazine profile on NOMOS
http://www.europastar.com/europastar/magazine/article_display.jsp?vnu_content_id=1000972874
Early WUS thread on the Tangomat
https://www.watchuseek.com/showthread.php?t=2315
Youtube Video no speaking just some Jazz (not my video)
Youtube video on setting the date. Yes, it's a little funky.
Youtube video of WEMPE tourbillon by NOMOS