Hi all, I am reasonably well known on TZ-UK and RLT Watch Forum so thought I might advertise this watch to a wider audience here.
I've had to take the difficult decision to sell my RLT38 Chrono.
This is no reflection at all on the watch, which is a fine piece of work by Roy Taylor of RLT Watches in England. RLT38 is a Limited Edition of 10 watches, hand made and regulated by Roy before delivery.
If you don't know this watch, you can read its background in this thread over on RLT Forum:
http://www.rltwatches.co.uk/forums/index.p...43&hl=rlt38
Valjoux 7750 Automatic Chronograph keeping superb time
Beautiful black and white dial and hands
40mm Swiss made Fancy Square all steel NOS 70's case, 13mm thick, 22mm lugs
Screw on back, custom engraving with a unique design by Born (resident artist around RLT and TZ-UK forums) indicating this is watch 7 of 10
Heavy mineral crystal
Custom key ring and "number plate", again marked 7 of 10
Fuzzy felt watch box, cushion etc.
Warranty from 12 Nov 2006 (paperwork from Roy included)
The watch comes on a fine black leather strap with RLT signed steel buckle (although as you see in the pictures it looks great on a Hirsch Rally or brushed steel "lumpy" bracelet).
It looks and feels great on the wrist, is a striking piece with great visual integrity thanks to the graphics on the sub-dials, which echo the shape of the case really effectively.
The condition of the watch is exactly as it arrived from Roy; I've worn it no more than about 20 hours - pretty much "new in box" to my mind.
I would like 325GBP delivered by Special Delivery in UK or similar arrangements internationally. Will accept Paypal with some arrangement to cover their fees.
Cheers,
Steve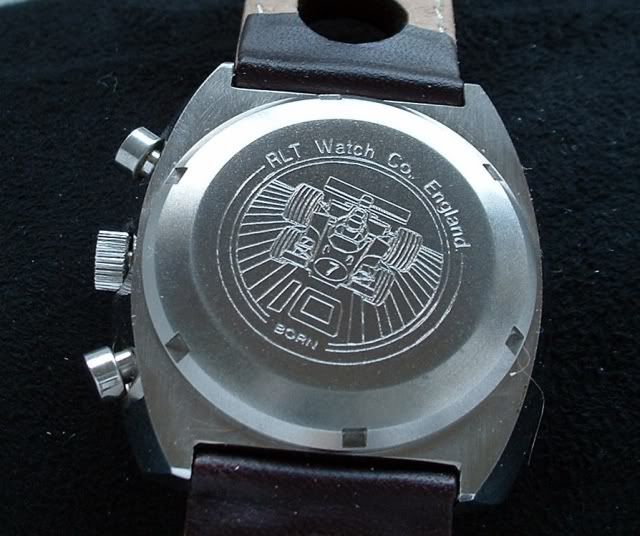 (excuse hairs etc... :roll: )