Discussion Starter
·
#1
·
X-posted from the main forum is any of you Chinese mechanicals folks are interested.
I thought I might put down my thoughts on a new watch I got in that you are unlikely to have seen before.
I've been living in Shanghai for the past few years and have access to the Chinese e-commerce site Taobao. I'm always buying straps and the odd interesting Seagull but this one jumped out at me when I first saw it. Its a San Martin Soul and comes from a micro-brand based in Beijing.
www.sanmartinwatch.com if anyone is interested.
Anyway I absolutely love California dials and am bronzo curious so at the price decided to take a punt. I was given a build slot to select (of 200 pieces in total apparently) and then waited a couple of months for the watch to turn up.
There were a couple of options of movement. Seagull 2130 ETA clone and the ETA2824. I chose to pay the extra for the ETA movement as it wasn't much more expensive. I also since learned that movement choice influenced the grade of bronze used. The Chinese movement apparently comes with a Bronze/Tin alloy whereas the ETA's come with a Bronze/Tin/Phosphor alloy for your extra coin which has a slightly pink hue, rather like pink gold when polished up.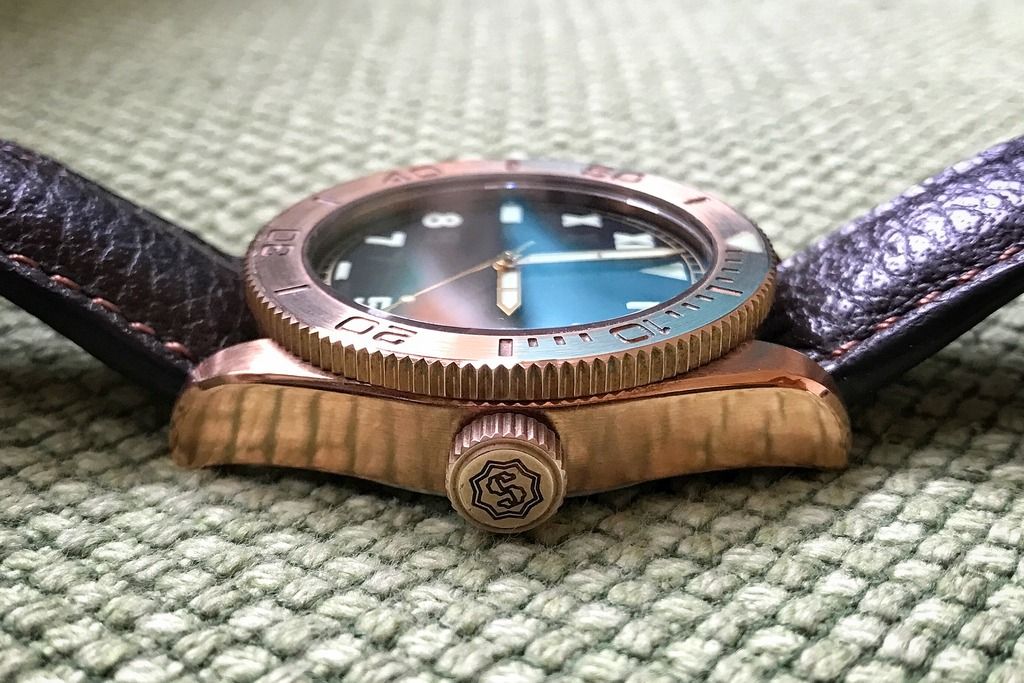 The watch came in a nice waterproof hardshell case and was supplied with leather, rubber and Nato straps. These were all quite basic and so where put to one side immediately in favour of this awesome 22mm Buffalo leather Rios 1931 from Panatime with an included bronze buckle.
The ETA2824 movement winds very silkily and the screw down crown engages and winds in smoothly. The dial is beautiful with inky shiny black depth to it. So simple and easy to read the hands at a glance with C3 Luminova on the hands and numerals. The dial is also available in brown or green but I thought the gloss black looked excellent. The 120 click bronze bezel turns quite stiffly but has a nice lume filled triangle at 12. I believe the crystal is sapphire and must have an anti-reflective coating since its legible at some very shallow angles in strong light.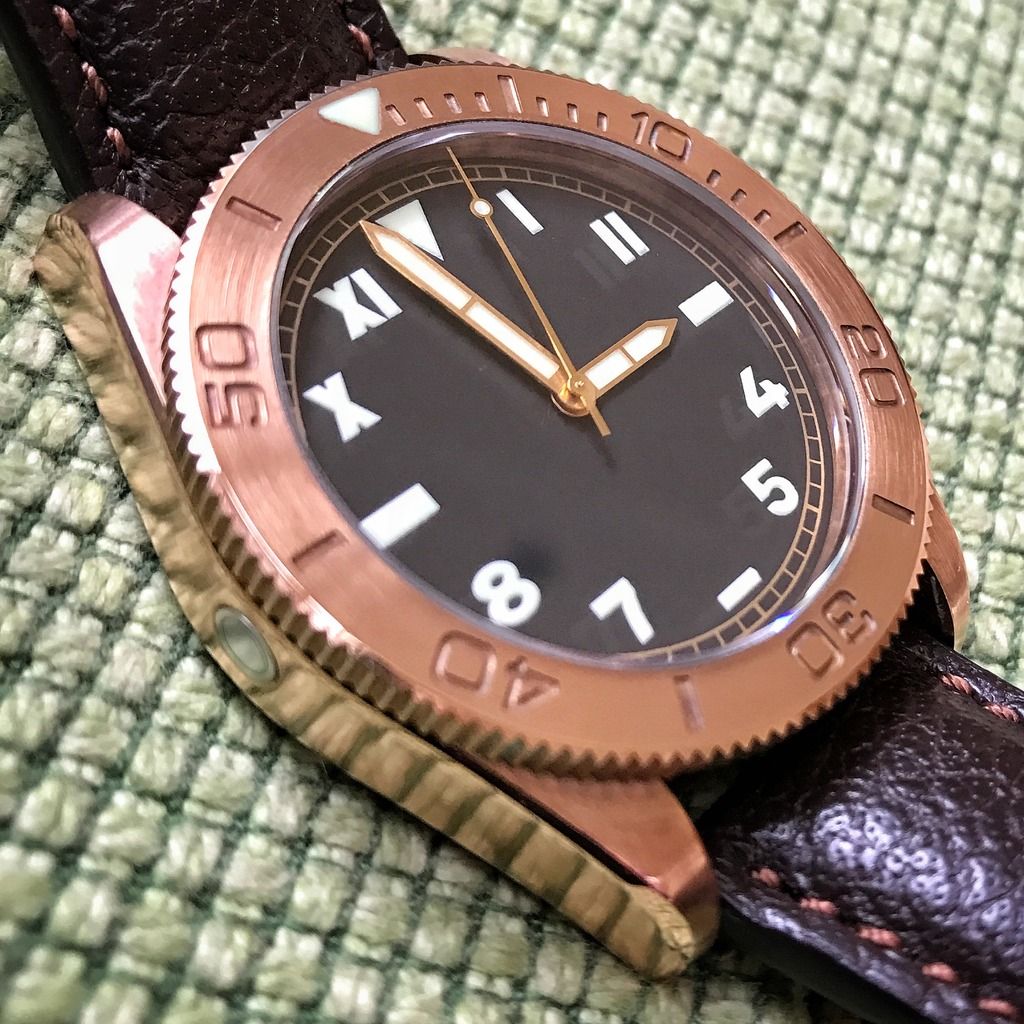 I guess the most interesting part is the case which is clearly modelled after the 41mm Tudor Black Bay. I have a Black Bay Blue and comparing them side by side they are not exactly the same but the influence is clear with the slab side, downturned lugs and slightly proud crown. Overall dimensions are a reasonable 41x49.5x12.5mm. There is a Helium valve in one side which is a shame as its made of stainless steel and doesn't work visually with the bronze but the watch is rated at 500m so it may have been a necessity. Some of the finishing was a bit rough in places and the patina had already begun when I received it so I gave it a once over with some Brasso so that I could observe the patina develop from a shiny shiny new case. Therefore the pictures here represent the watch polished up on day one. Finally the 316L stainless steel case back contains an engraving of Patrick from Spongebob Squarepants which is the icing on the cake!
Overall I'm really pleased with it so far. I think it looks magnificent and am looking forward to watching the patina develop.
No affiliation to the brand at all. Just a happy customer who is now tempted to pick up one of their bronzo pilots watches next