Deployed GSAR & CSAR i got from USA Servicemen
many people who know me, especially from the military watch forum, know i like to snag mil watches from American servicemen either active or retired. being located in the philippine islands is a plus for me as there are so many USA servicemen either living or visiting here or participating in military activities.
since there is so much interest in SARs on this forum, i'd like to show a couple of SARs in my collection that were used as intended. one survived the deep tropics deployment while the other endured deployment in the iraq desert environment.
first up is this GSAR. this watch i got from a USA serviceman who was stationed in the southern mindinao island group here in the tropical philippines. he told me he along with a few other servicemen in his group was issued this watch and he didn't have to pay for it.
he was visiting cebu city for some r&r when i spotted it on his wrist. it was in very rough shape, and after some friendly conversations over a week or so i was able to make a trade with him that he was pleased with. i traded him a freshly serviced original seiko 6309-7040, and then started the rescue mission of getting this GSAR back into spec.
he had managed to beat the hell out of this watch while down in mindinao, breaking off and loosing the crown, and the original rubber strap was destroyed as well. when i spotted the watch on his wrist it had a crudely installed crown from a seiko diver, along with a generic rubber dive strap trimmed to fit between the lugs. he had this crude field type repair done by a local watch repair guy near his deployment in zamboanga city.
due to the non-sealing crown, there was a thin film of green mold on the dial and hands from the moisture getting inside the watch! the outside was surprisingly void of damage and scratches, but the bezel insert was so caked with grime that the markers were barely visible.
i had my watchmaker Godfather begin to rescue this watch by taking it apart and surveying the damage. my initial concern was saving the dial and hands. much to my surprise, he was able to clean the dial and hands with mild solution and they survived the jungle torture test perfectly! he was at first hesitant to touch the dial, but after investigating the type of finish and markers, he did some testing and then was confident enough to mix up a solution that contained just enough chlorine to remove the mold. amazingly, the dial is as mint and perfect as it was new. the bezel insert also cleaned up perfectly and the markers are still as new. these SARs are one tough watch!
the rest of the watch was another story. the movement was still running but nasty dirty. he had to replace a few parts and specifically the rotor was badly stained and the bearings were shot. the stem was of course toast, as the shoemaker, er watchmaker who fixed it before had snipped it and spliced a seiko section and crown. the tube was completely mauled as well. with the help of fellow MWR members including jack at IWW, we were able to source all the original parts we needed to save this watch, including a new signed rotor, stem, crown, tube, crystal, and all seals. i added an original marathon bracelet and now it's once again back to specs and fully waterproof. the case still looks great and no deep gouges or scratches. i didnt buff, polish or otherwise refinish the watch as i always like to keep my stuff as close to original as possible. :-!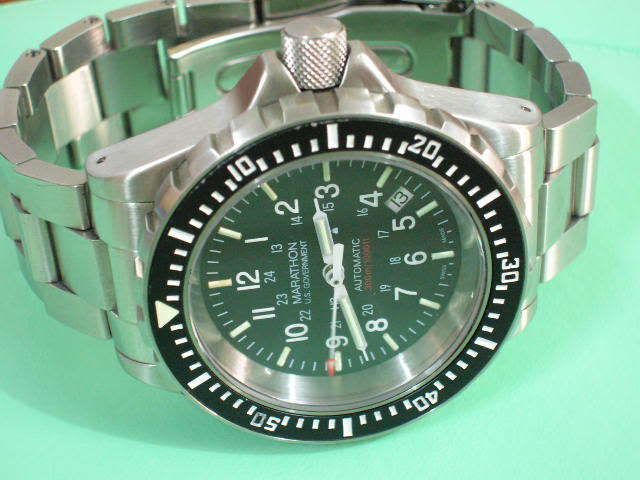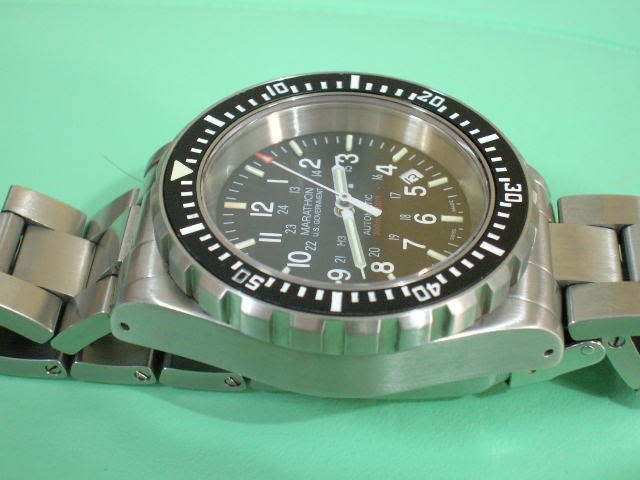 not a trace of the "jungle mold" on the dial and hands anymore!
next up is my desert survivor CSAR that was originally worn in iraq by an American serviceman who is a helo pilot stationed there. one of our filipino neighbors works as a truck driver in iraq and knowing i am a watch freak, he got this for me from the pilot who is his friend. this watch was not abused as badly as the GSAR, and aside from me having a complete cleaning and movement service performed, was not damaged or need repair. a few minor bruises but overall a nice looker and freakin HUGE!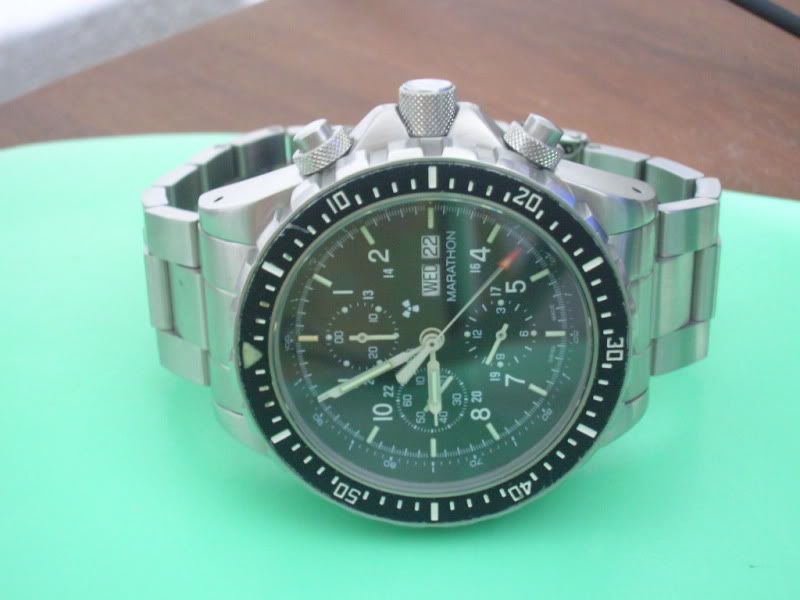 hope y'all enjoyed my little SAR collection and all the best!
janice ;-)