Alright guys, I'm not sure really where to start. I guess I'll start by saying that this was one incredible trip and for those of you who missed it, you
really
missed it!
Everything was beyond great....the diving, the accommodations, the food, the watches, the weather, the camaraderie...absolutely everything.:-!
Like I said in my last post, when we arrived in GC, we hit the ground running. The very first night we had a night dive planned. THOR and Whse made the dive but my plane was delayed, so I missed it. All I could do is stand on the dock and watch the lights of the dive boat in the distance. It worked out well, since it gave me time to unpack the gifts that DOXA sent and unwind a bit from the day's busy travels.
Speaking of unwinding, Ocean Frontiers had everything ready to. The gear baskets were brought up and once you give them your gear, you don't have to worry about it until you leave. It's waiting on the boat for you in the morning, all set and ready to go. When the diving is over for the day, they take it, wash it and hang it to dry for the next morning. Next morning, same thing...all ready to go and all you have to do is go diving!! They really know how to take care of their guests!:-!
Oh, and did I mention the DOXA gifts? Well, the DOXA team really came through for us, setting us up with the orange cap, a watch roll and the new DOXA Sub patch! Thanks, thanks and thanks to all at DOXA who were more than generous for this truly pioneering event. You guys rock!!:-!
As soon as the dive boat returned to the mooring, I went down to meet the returning divers. The first skiff returned but no THOR or Whse, so I waited. The the next boat arrived, "Is there a THOR or Whse aboard?" I asked. The divers just shuffled past, not saying much. Then I hear "You need to know the time?" "No, I'm looking for...." my words were cut short by a dive light illuminating a bright orange, T-Graph Pro! I can't think of a better way to make an into. than with a DOXA! That was great!!
Alright, so now that we'd met, it was time to talk watches. There was a great representation of the Sub line. Whse brought his 300T reissue Divingstar, T-Graph Pro, Caribbean GMT and 750T Pro. THOR had his 600T Pro and I had my COSC 750T "Double R" Carribbean. That's another cool thing about meets like this, you get to see DOXAs that you may have never seen before. Until then, I'd never seen anything but regular 750Ts.
Well, after talking watches and swapping diving stories, we decided to call it a night. I went back to my room and crashed knowing that the morning would come early and the day would be maxed-out diving, relaxing and generally having a blast.:-!
DAY TWO
Boy, the morning did come early. I woke up around 04:00 hrs, unable to sleep...excited as a kid on Christmas morning. We met at the dock at 07:45 to begin the adventure. Here we are ready to go, The few, the bold, the "Searaiders"!!:-d (Left to Right) Myself, Whse (warehouse) and THOR.
Dive
#1
took us to a wall dive called "3 Sisters". The wall is absolutely awesome. A sheer face of coral that drops straight down to 6000 ft. You look down and it's nothing but deep blue...totally unreal:-!
After we splashed in and dropped down the mooring line, we started out on top of the wall and dropped into a crack at 65 ft. The crack turned into a tunnel-like cave, the dive masters call a
swim-through.
The swim-through goes for about 25 yards and then opens up at 100 ft right on the side of the wall. Here's a shot of Warehouse and THOR doing a camera check and hanging out in the "Big ol' Blue"
Dive #2 took us to a reef site called "Ironshore Gardens". The Gardens were a series of massive coral heads and out-croppings, loaded with fish, lobster and a green moray eel or two. Here we are exploring the Gardens...
Warehouse on the left and THOR on the right, dropping in.....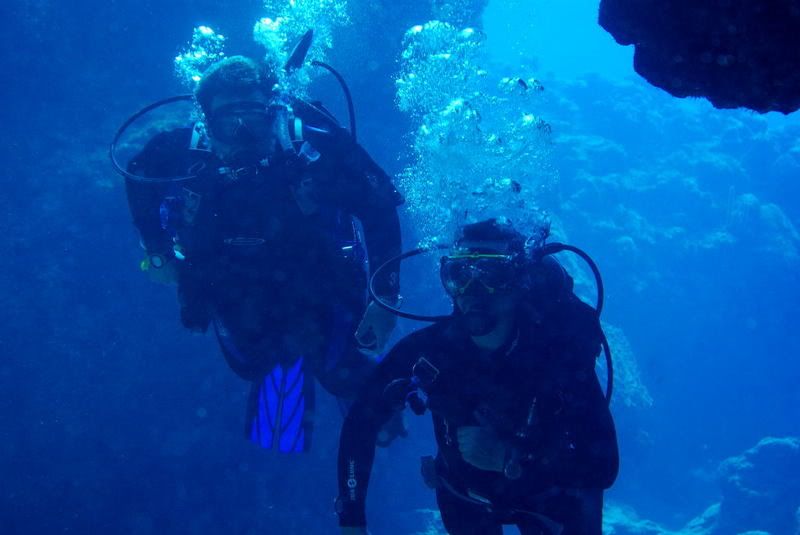 Now, to show those DOXAs in their natural element. Warehouse proudly displaying the T-Graph and THOR with his 600T.:-!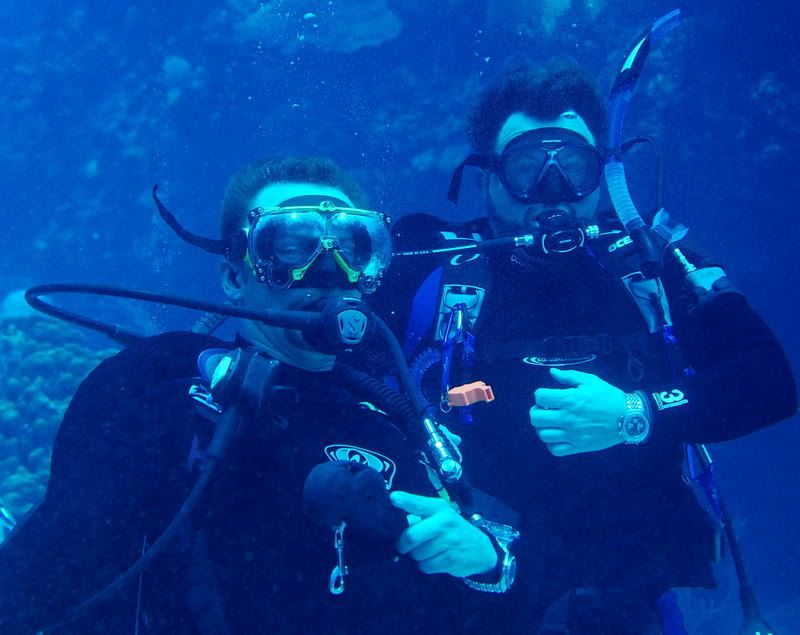 Another good shot of the T-Graph....
After the morning dives, we grabbed a bite to eat and rested a bit knowing the diving wasn't over for the day. Our next dive was a trip to "Stingray City". Stingray City, for those who don't know, is a spot where masses of stingrays live and feed. Once we splashed in, it didn't take long until the welcoming party arrived. "Welcome to Stingray City, Boys!!!":-!
Warehouse and his "new friend"
Let's see those DOXAs!!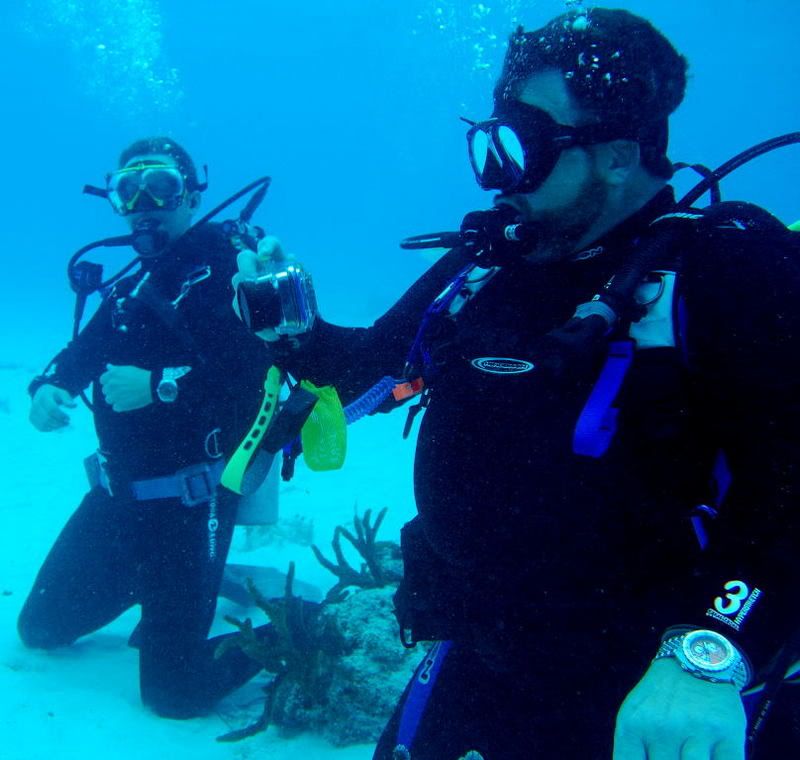 Here's the resident Green Moray Eel......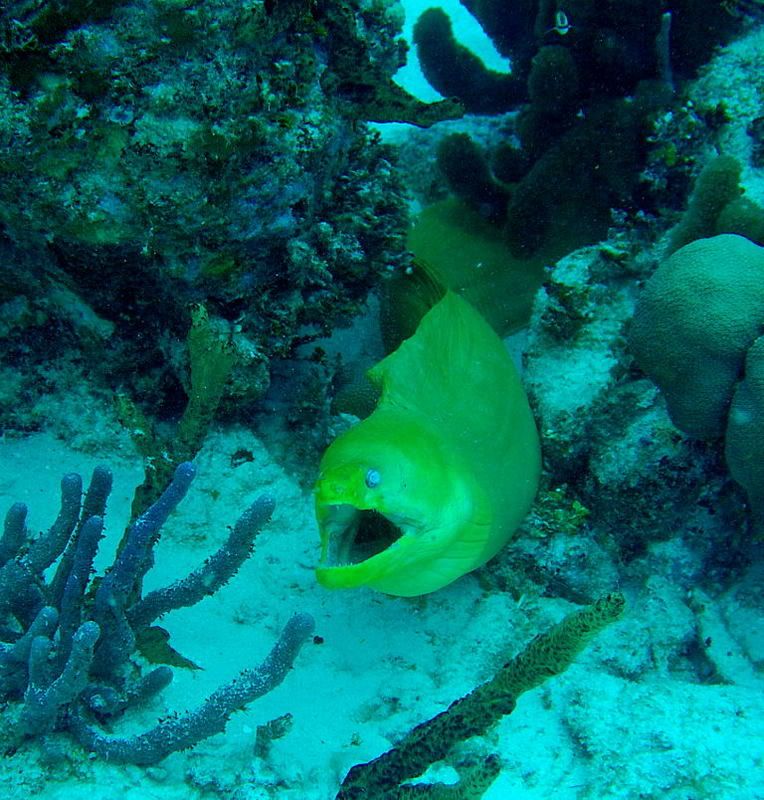 THOR with his new buddy "Ray":-d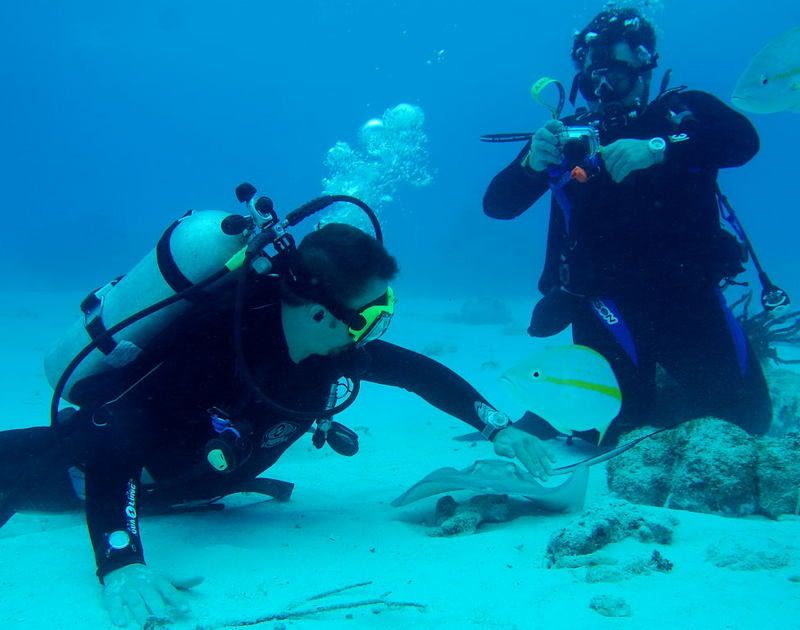 Come to find out, ol' Ray likes DOXAs too. Here he comes in to check out the 600T.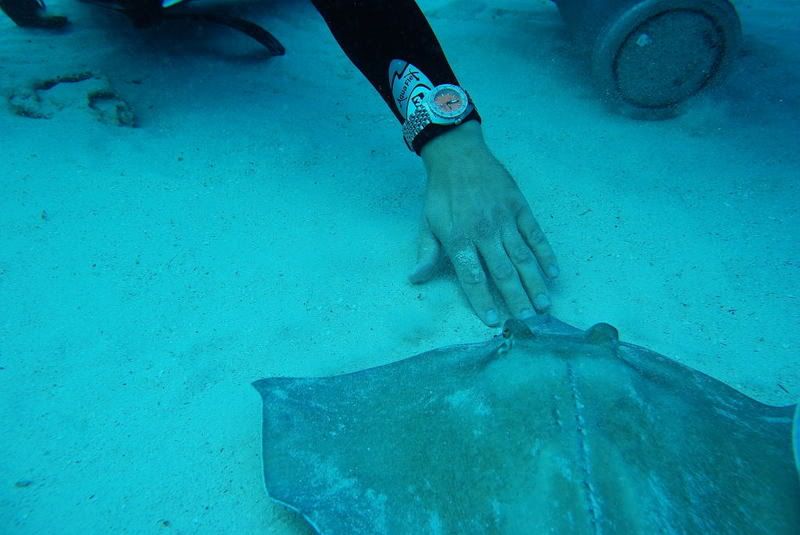 During the feeding, I'd put my camera down from time to time. Here THOR picked it up and took a shot of me proudly sporting the Double R.|>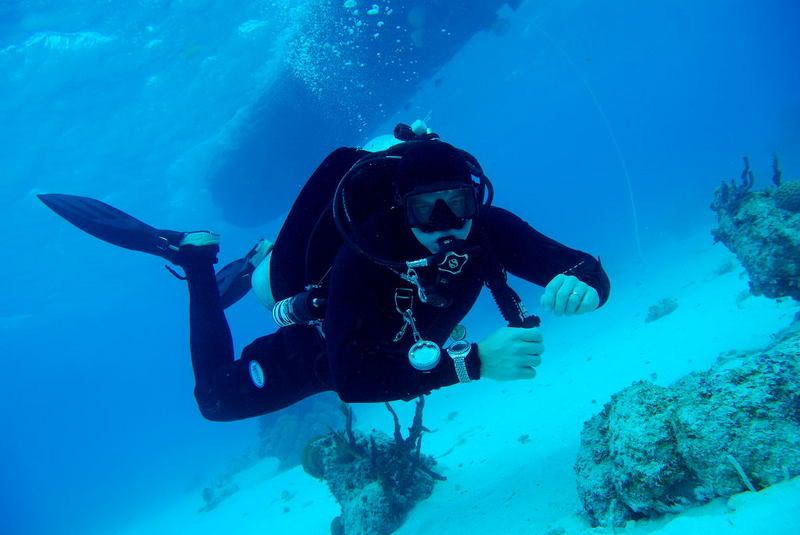 After the Stingrays filled up on squid, we started to explore the coral heads around "the city". This guy came as a total surprise, especially since it was the middle of the day.
He couldn't sit still, so it wasn't long before he moved off to find his burrow.
Well, now it's time to go. "Hey Warehouse....where's the boat?"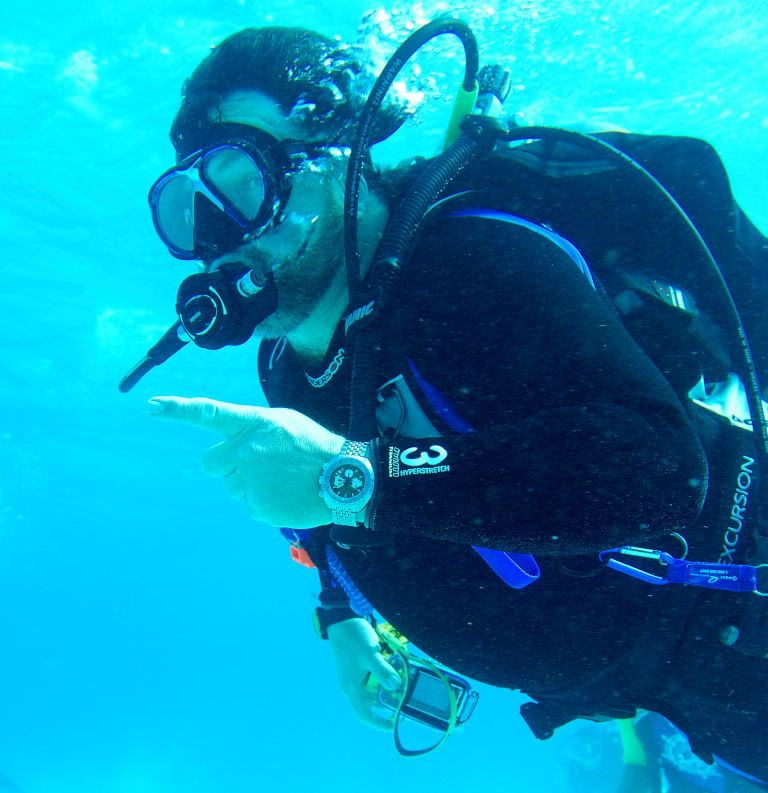 Oh yea, that's right. THOR found it.:-d
After all that diving, to say that we were hungry would have been an understatement. We were starved, and looking for some good eats. We didn't have to look far.
The Lighthouse
was right down the beach from Ocean Frontiers, and the food was incredible.:-!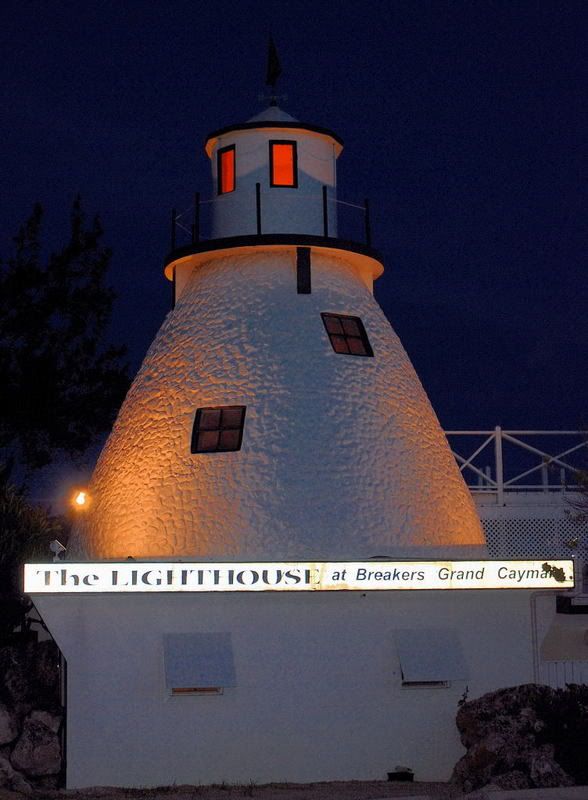 After an unbelievable meal of conch chowder, broiled Caribbean lobster, shrimp and fish, it was time to relax with a good drink. Nothing like a Mojito to help finish off the day.;-)
With the first day of diving under our belts, we were tired, sun drenched but full of excitement for what lie ahead. It was the first full day of diving but what a day, a perfect day...diving, dining and hanging out with good friends. Trust me guys, it doesn't get any better than this...or maybe it does? Stay close for the next two installments of "Searaider 2007". You don't want to miss it!!:-!:-!:-!